Head to head: iPhone 6 Plus vs Lumia 1520 camera samples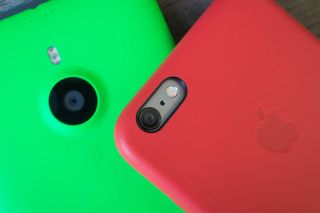 It's hard not to compare the recently launched iPhone 6 Plus to Nokia's phablet, the Lumia 1520. Last week we showed you a size comparison. Today, let's have a camera comparison.
The Lumia 1520 features a 20-megapixel camera with f/2.4 Zeiss lens. The iPhone 6 Plus has an 8-megapixel camera. It has f/2.2 aperture, and larger 1.5-micron pixels compared to 1.2-micron pixels on the Lumia 1520. Which one takes better photos? Let's look at the following camera samples.
I turned off the flash on both the devices and left everything else in Auto. By default, the Lumia 1520 takes 5-megapixel photos in addition to 16-megapixel photos (19-megapixels if you choose 4:3 aspect ratio).
Also by default, the iPhone 6 Plus camera has HDR mode on automatic. It will take an HDR photo if it thinks it needs to use it. Both the HDR image and regular exposure images are saved to the camera roll. This all happens instantly, and most users won't even notice unless they look at the yellow HDR marker that appears at the bottom.
Nokia is planning to do something similar with the upcoming Lumia Camera. With Rich Capture turned on, you can capture HDR photos that can be readjusted after taking the photo.
The images below have been resized to be web-friendly. You can download the original files here.
iPhone 6 Plus samples
Image 1 of 7
Lumia 1520 samples
Image 1 of 7
Here are my observations after looking at these images on a bigger display:
The iPhone 6 Plus images in daylight consistently appear brighter than the images on the Lumia 1520.
The images on the Lumia 1520 appear to have more detail and slightly more contrast.
In low light, the images on the Lumia 1520 appear brighter than the iPhone 6.
Both perform well at getting the right white balance.
Which is better?
Which camera takes better photos? This is a very subjective question. Some people like images that are brighter, others like more contrast, while a few purists like accurate, non-vivid images. After looking at these photos, tell us which camera you prefer.
Get the Windows Central Newsletter
All the latest news, reviews, and guides for Windows and Xbox diehards.