Lumia 1520 vs iPhone 6 Plus size comparison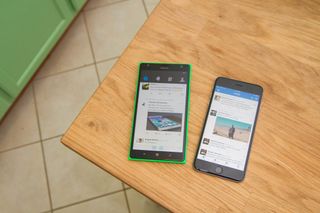 If you haven't heard by now, the iPhone 6 Plus came out today along with the iPhone 6. Windows Phone fans are probably wondering how Apple's new phablet compares with Nokia's own phablet, the Lumia 1520. We'll have an overall comparison ready for next week, but first let's compare their size.
We've placed both the Lumia 1520 and the iPhone 6 in front of our cameras. Make sure to watch our video.
The Lumia 1520 measures 6.41 x 3.36 x 0.34 inches (162.8 x 85.4 x 8.7 mm). The iPhone 6 Plus measures 6.22 x 3.06 x 0.28 inches (158.1 x 77.8 x 7.1 mm).
The height and thickness of the two devices feel and look the same. It's the width of the devices that you can certainly feel the difference. The iPhone 6 Plus feels narrower and overall easier to hold in the hands. Keep in mind, however, that the Lumia 1520 has a larger display with 6 inches compared to the iPhone 6 Plus' 5.5 inches.
While the iPhone 6 Plus feels better to hold than the Lumia 1520, the placement of the power button is a lot more practical with the Lumia 1520. The power button is not easy to reach with one hand on the iPhone 6 Plus. It's placed very high on the right side of the phone. The power button on the Lumia 1520 is placed closer to the middle, making it easier to reach one-handedly.
Speaking of one-hand functionality, the iPhone 6 Plus features a neat little trick that pulls everything on the screen downwards when the home button is tapped twice (not clicked). It surprisingly works well and we think other phablets should borrow this feature from Apple.
Another thing worth mentioning is the different materials used on the Lumia 1520 compared to the iPhone 6 Plus. It's plastic versus metal. There are other resources who can better explain this scientifically, but the metallic iPhone 6 Plus feels colder in the hand compared to the plastic Lumia 1520.
What are your thoughts on phones getting bigger? Are you a phablet fan? Is the iPhone 6 Plus tempting you away from the Lumia 1520? Let us know in the comments!
Get the Windows Central Newsletter
All the latest news, reviews, and guides for Windows and Xbox diehards.