Your sword is all that stands between the world and evil in Iron Blade: Medieval Legends
Iron Blade: Medieval Legends is a fantastic mash-up of arcade and role-playing games. You'll travel the medieval European countryside, seeking out an evil Lord and his minions who want to take over the world.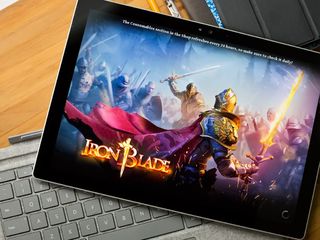 You join forces with the Templar Knights to defeat these threats to mankind, earning legions of treasure and upgradable gear along the way. The graphics are full of detail and bone crushing animations add a bit of life to gameplay. Your battlefields range from the streets of Paris to the fields of Scotland to castles in Transylvania.
Iron Blade is one of the more recent offerings from Gameloft and is a wonderful addition to their portfolio. The arcade action is an enjoyable way to spend a little down time and the role-playing storyline helps feel the itch for longer, marathon gaming sessions. Add the free price tag and Iron Blade: Medieval Legends is a Windows 10 game that is hard to resist.
Iron Blade opens with a few storyboards illustrating the game's backstory where the demon Lord Baal is set to return from the dead and attempt to claim the world as his own. You must join the Templar Knights to destroy Lord Baal and save the world.
But first, you need to survive a very basic tutorial that covers the basics of combat and character management. Iron Blade supports touch, keyboard and mouse controls during combat with touch or mouse controls offering the more responsive commands. Keyboard controls work, but I found myself hunting keys that was time consuming, allowing the enemy to get the upper hand.
Once the tutorial is complete, the game transitions to the main menu filled with gaming options. From the main menu, you can access your hero management screen, visit the game shop, claim rewards (chests) and jump into gameplay. Along the top of the main menu, your gaming resources are displayed that include game energy, coins, gems and more.
Iron Blade has three game modes that include the main campaign that offers nine chapters filled with evil enemies to crush, a fortress mode for player vs. player action and an events mode that holds time-limited gaming challenges.
Hero management is where you can equip your character with weapons and armor, upgrade gear and weapons and merge existing gear and weapons into stronger items. The hero's attack and defense ratings is dependent on the gear they are equipped with. How do you get new gear? At the end of each mission, you are rewarded with playing cards that can unlock new items or advance existing item's experience level (goes towards upgradability). You also earn gold that covers the cost of upgrades and fusing items together.
Arcade action for only the bravest of souls
The campaign mode holds nine chapters filled with missions or quests in which your hero must face numerous groups of enemy soldiers and monsters. Prior to each level of play, a brief synopsis appears detailing the mission, rewards and difficulty level. There is also a chance to change out your hero's gear as needed.
Gameplay approaches things from more of an arcade angle than a role-playing approach. The hero advances through the various missions or levels within a chapter automatically. When confronted with an enemy, you control the combat sequences.
Through a series of taps, clicks or keyboard keys you attack and defend against enemy attacks, regardless of the game mode. You can hack and slash at closer enemies with your sword and let loose with an arrow against a distant enemy between sword strikes. There are a few special attacks available at the bottom of the screen such as multiple arrow attacks to allow you to launch an attack against a group of enemy troops.
Each mission within a chapter progressively gets more challenging, leading up to a boss battle to end the chapter. The bosses can be a handful and often require a combination of standard and special attacks to defeat.
Iron Blade is a fun game for all occasions
Iron Blade: Medieval Legends is a fun game to pass the time with. Missions only take a few minutes to complete, but the main storyline and additional gaming modes offer a healthy amount of gaming for when you are in the mood for longer gaming sessions.
Graphics are outstanding and very reminiscent of Gameloft's Gods of Rome (opens in new tab) Windows 10 game. Judged solely on eye appeal, Iron Blade easily scores five stars. While I would have liked to have seen a Windows 10 Mobile version of the game, the larger screen of a PC or tablet helps the graphics shine a little brighter. The multiple options for game control only add to the game's versatility on the PC platform.
Gameplay is regulated by power units that are earned after successful missions or time. While I'm not a fan of regulated gameplay, Gameloft affords you plenty of energy to get your feet wet with the game and if successful, running out of energy should not be an issue.
The only knock that Iron Blade may get from gamers is that it is too much arcade and not enough role-playing. The arcade action makes Iron Blade simple to control, but that shouldn't translate to the game being too easy. I don't mind automatically running from one fight to the other — it eliminates a lot of aimless wandering and gets you into the action quicker. While I found Iron Blade to be a fun game to play, if you are looking for an Elder Scrolls-type game, Iron Blade may not be your cup of tea.
Overall, Iron Blade: Medieval Legends is an excellent addition to the Windows 10 store — especially for a free game. If you have given Iron Blade a try, let us know what you think of things in the comments.
Download at the Windows Store (opens in new tab)
Windows Central Newsletter
Get the best of Windows Central in your inbox, every day!
George is the Reviews Editor at Windows Central, concentrating on Windows 10 PC and Mobile apps. He's been a supporter of the platform since the days of Windows CE and uses his current Windows 10 Mobile phone daily to keep up with life and enjoy a game during down time.
Shame it's not in mobile, it feels like lately even Gameloft have been avoiding mobile development.
But I'll be sure to grab it on the tablet though, will be great on those long trips out to gigs. As an aside, clicking on the link on my phone does bring up an issue I wish Microsoft would address. Why can't I select to download it while on my phone and have the installation happen on my PC? Both devices are registered to my account, and you can do that stuff with the One, why has the functionality not come to PC yet?

I agree with all your points....hopefully GL releases on mobile later(along with Gangster:NO). Also your point about downloading for remote install is one of my small annoyances that MS should resolve. It annoys me too that I can initiate a download to my Xbox from the Store either.

Maybe because it will be available on win10.arm?

So I have to wait and buy a new device that hasn't even been announced yet to play a game that could easily run on the product I already own because... reasons?

OMG, why you can't press "full screen" button in upper corner ? Its raping my eyes..

Agree this game is great!