It's time to embrace the change with Windows 10, not dismiss it before it arrives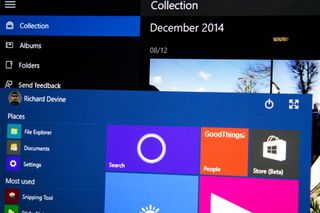 In the week that was Microsoft was the talk of the town. From Windows 10 through the enormous Surface Hub and the HoloLens, the Redmond event left the tech world – and arguably even further beyond – talking about Microsoft. Satya Nadella himself said that Microsoft wants people to love Windows. And a lot of work is going into making that a reality.
Just as Windows 8 was a big departure from Windows 7, Windows 10 is bringing about change, also. The thing about change is that it's a necessary evil. To continue to grow and develop, change is inevitable. But change frightens and frustrates, we become creatures of habit set in our ways. But it's going to happen, so we should embrace it. Not write it off before it's officially even here.
One of the hotter points of contention seems to be the visual changes. Hamburger menus are in, sideways scrolling and the "Metro style" appears to be out. And it's OK to be unhappy. Lots of Windows 7 users despised what Windows 8 became, and now lots of happy Windows 8 users are looking at a fairly big change for Windows 10.
The thing is this. This is the way Microsoft is going with Windows 10. Be it on a phone, a tablet, an Ultrabook, a desktop PC or even the Xbox, Windows 10 is the future and this is what it (currently) looks like. If everyone was instantly pleased, Microsoft wouldn't have done enough. Because Windows 10 shouldn't be built to please the crowds of fans. Windows 10 should be built to be the best damned operating system it can be.
Hamburger menus aren't an "Android thing" or an "Apple thing," they're a standard used in many applications across the board. Windows Central has one, right there on the homepage. Why? Because it does what it does very well. It hides important options that need to be quickly accessed but not always visible. On mobile they're usually opened with a gesture, a swipe from the left or the right. Simple, natural to use. They're familiar to many. They don't belong in Windows Phone 8, I'll admit, but the key point is right there. Windows 10 is not Windows 8 or Windows Phone 8.
So yes, you really, truly may not like the visual style of Windows 10, and that's OK. There will be just as many, maybe more that love it, you can't please everyone. But don't get bogged down. Embrace what Windows 10 is going to do for us. A unifying platform across mobile, desktop and games console. It hasn't been done before. Microsoft is taking a bold step to unifying our entire device collection. And it could be glorious.
That's what we should try to take away from what we've got so far. Being in the Windows Insider program isn't just kick ass and a way to see the new things early, it carries responsibility. Through your feedback, Microsoft will shape the future of the platform. If you don't like something, say so. Through the right channels and back it up with some facts. Don't just hate, help create.
Windows Central Newsletter
Get the best of Windows Central in in your inbox, every day!
Managing Editor - Tech, Reviews
Richard Devine is a Managing Editor at Windows Central with over a decade of experience. A former Project Manager and long-term tech addict, he joined Mobile Nations in 2011 and has been found on Android Central and iMore as well as Windows Central. Currently, you'll find him steering the site's coverage of all manner of PC hardware and reviews. Find him on Mastodon at mstdn.social/@richdevine
My Surface 2 approves this message :(

Love to help create.. Agreed... But we all have in a way stood up for metro... We fought for ( literally sometimes) it.... It is very saddening indeed.. :(

It's difficult to support change when that change is replacing something unique and better with something just like the competition. If we wanted chrome and hamburger buttons, we (Windows 8/Phone 8 users) would've all just bought Android devices years ago.

Better in your opinion. Unfortunately Microsoft has to sell Windows to other people who may not share your opinion.

Maybe that strategy would've worked in 2011. But I'm sorry, but that ship has sailed. If Microsoft thinks they can "win back" people from Android and iOS by creating something that looks and works like Android and iOS instead of something unique or different, Windows 10 will be an even bigger failure than 8. At this point, people have thousands of dollars invested in those ecosystems between apps and hardware accessories. Those who stuck with Microsoft the last time around are demoralized and weary of the struggle, and finally had enough since Microsoft has no respect for their loyalty all these years (being notably silent about upgradability before announcing WP8, killing off Windows RT by simply talking around the upgradability of ARM-based tablets until they had no choice but to finally address it). If you liked Windows 8, this is the end of the road. I'd argue that you'd get a more Windows 8-like experience with iOS 8 at this point. Meanwhile, those who chose to go the iOS/Android routes in the past seem quite content with what they have, as it is. Why would any of them spend more money to change to something that's almost like what they already have today? I reailze you're trying to make lemons out of lemonaide for the rest of us here, but it's too tough of a pill to swallow for most who were happy with Microsoft's old "new direction." Sadly, the last hope I, and many others, had for a better alternative to iOS and Android is being turned into the two very things we've been avoiding. The point of my comments as a whole are that Microsoft takes its loyal users for granted, and many of us have finally had enough of it. They've thrown what we want under the bus in a diluted dream of recapturing the mass user base who moved on, five or more years ago.

I agree with xpxp2002 you are loyal to Microsoft embraced the changes and fundamental design of windows 8 windows phone 8 only to see it changed it up drastically again for windows 10 what about those that loved windows 8 don't they get a say on it? As far as im concerned at this point hamburger buttons aren't going anyway they just need to give the modern start screen back its own glorious screen without the ugly status bar at the bottom because of the desktop that windows 7 users and the rest of the world felt more comfortable working around in at least let my tablet and PC look like windows phone one of its screens and then when I navigate to desktop so be it take me to desktop with its ugly status bar and cramming modern start screen into start menu button, tweet me people if you any varying opinions or agree @noelitaux

@noelito Drink water, mate. Did you just type one whole sentence? :O


I really dont get what you're crying about. You sure as hell can switch to the windows 8 start screen if you wish too. Or are you complaining about somthing else and i am missing the point.?

Not in the latest build. The Start screen is gone. The closest you can get to it is to open the Start menu full screen. Posted via Windows Phone Central App

U are wrong! Microsoft is finally getting closer to the users and involving them in the actual building of the OS. U Sir. Need a hug and a week off work ;-) regain some of that Optimism.

I do not agree, that this is a step back! Windows 10 is about synergy and delivering a product that are the best at what it does and is suppose to do! I like both WP8.1 and W8.1, and they function very very well, i really love using them. But i think that Windows 10 is the essense of these two.. it has evoled, to be/become a better product. It is not about "going back on a promis" or "letting down faithfull consumers" its about creating a refined product, with all the feedback gathered through the "process" of WP8 and W8! What works, can work even better.. but it depends on what you want to do, and that you as a consumer agree with MS on what you want your product to do and represent!

In a way it is a step back. My live titles on the desktop are now 1 click away. While before they were in my face all the time and with just a glance I could see what was going on. I am sad about it not being there. I've been using W8 since day 1 with a mouse and keyboard and never had an issue, so much QQ in IT...sucks

So... just reenable the start menu?

Exactly what I was thinking...

Lol, People are basically disappointed it doesn't look the "same" anymore... Damn the new features and possibilities of the OS itself. The amount of people that will be interested and more familiar with Windows 10 far exceed the amount of people that are upset with the design choices, which aren't even final.

It can evolve without abandoning it's attractiveness.

Indeed. Microsoft has no respect to the loyal fans.

Octonabz, Microsoft isn't here to be loyal to the minority who actually liked Metro 1.0. They need to return to what works to please the larger consumer and business base that demands legacy and familiar experiences; you know, the people that spend money and make Microsoft a profitable business. Bruised egos should be put aside and realize there are bigger things in motions like universal apps instead of whining about hamburger menus and other elements are iOS and Android-like. Every company will play both leader and follower at some point. Microsoft has to ride that line and so far it looks like they are doing it okay so far. People in this dicussion need to realize you can't have this b.s. hipster attitude about how Windows is evolving into something that looks and works like the mainstream. Microsoft has to win people back and make money. Be glad they are getting back on track. End of story.

I have to agree with those that say if Microsoft tries to make Windows look too much like the other platforms, they will lose more users than they gain. While no one is a bigger fan of what they are trying to accomplish across PCs, devices, and IoT than I am, they have to be careful not to throw the baby out with the bathwater. The Metro design language is a valuable asset - a real differentiator, particularly on phones.

Microsoft is not trying to make Windows10 as other platforms, and what is so "un-metro" about the current UI, can u elaborate? We are talking abt universal apps remember, so win phone has the back button and the bottom ellipses menu but what about the PC, imagine if your applications have the close minimize maximize buttons at the bottom. they would suck right? thats hy exactly menus are being moved to top and hamburger button comes into picture.

I agree. I've got a surface 2 and I will get no Windows 10, right? And the fact that the big developers don't create apps for Windows 8 is a problem, since they will stop with that at all and start developing for Windows 10. So, no support for me anymore. And I don't get it why you would want to create a Windows 10 app-game, since that is a full-machine. To me it feels that the Windows App Store will be a 'luxury' store, since you can install true applications. Why would you want to play Spartan Assault, if you can play Halo 4 (or another) on your device? Just an example. The way I am being left behind with Windows 8 RT makes me definitely turning my back on Windows "forever". I've had Windows Phone 8, but I started to get irritated with the thing, because all the new apps were missing, just like with Windows 8. Now I have an OnePlus One and will get a Nexus 9 with Bluetooth keyboard, since Office is on that thing as well. What is the unique selling point now? Android/iOS have stuffed app-stores and all MS software is on there. Why still use Windows? It's just.. I don't know.. why would developers want to work with Windows 10 if they already didn't for 8? I just don't get it.

You should support the products of you want the apps to come. Giving up completely just because you want the new apps isn't helping. Keep using the platform on a secondary device. At one point Android didn't have all the apps iOS does but people didn't jump ship.

Is there any confirmation that they actually aren't doing a 10 for ARM / Surface 2?

I think that people are afraid of the possible "Windows Phone 7.8 update" for RT.
So that the ARM/Surface non-Pro would just fet a face-lift.


The thing is, Microsoft knows a majority of people who will use Windows 10 may already use Android or iOS phones. So, those users will feel right at home with the hamburger icon. There are some signages that are universal, which help in easier access. As a user of Windows Phones, I don't find the usage of the hamburger icon odd.

It looks like Windows 10 is keeping far more of Win8.1 than it is bringing in outside influences. They should be refining what they did best and stealing what the other guys did best.

I've been a huge lover of Microsoft all my life. I hated Windows 8 on Every single device that wasn't a surface pro tab. It just doesn't mesh well with everything, therefore Microsoft to accomplish this continuity between devices had to make adjustments so that Win 10 works well and feels good on All days. Not to mention the ridiculus amount of customers who hated Windows 8. I worked in computer sales for several years and you wanna talk about having a rough time of selling actual computers throughout this Win 8 debacle. Also have you even looked at the preview? I work on the administration side of IT now, and I won't let a Win 8 computer come through my doors, so I can't know or talk about the administrative side of it. However, the consumer side of Win 8 and Win 10 have commonalities.

I get that it has made your job harder, but for that you have the tech media to blame. They've brainwashed consumers into hating something many have never even used. I have Windows 8 on a Surface and on several PCs that don't have touch, and I like it better than Windows 7 on all of them. I've been running the preview as well, and I simply don't like it. The fact that the Live Tiles don't stay on screen all the time annoys me, and this regression away from full screen apps that self-manage memory and self-close is a step backward. While Steven Sinofsky had his team use telemetry to build the UX for Windows 8, a lot of the design decisions in Windows 10 so far seem arbitrary. Microsoft caved to the demands of people who know nothing about UX design and built something that is exactly what those people said they wanted, but what they asked for looks and works horribly in practice. As for me, the only Windows 10 change I want is the notification sync between phone and PC/tablet. Everything else is a downgrade. Given that there are more widely supported tablet options out there, my next tablet may be an iPad instead of something running Windows 10.

Absolutely! If you can't sell it to enough people, its a fail...even when it isn't.

Problen here is that Windows 10 is not the best of both worlds. Admittedly ModernUI fans are few but point stands also another way around. Microsoft has to sell products to also those who share that opinion. Of course optimal solution is not easy to find. Personally I have no problem with windows 10 but I can see that those whohave been using metro on tablets for longer time migȟt have trouble adjusting. Throwing away their opinions on basis of "Microsoft has to sell" seems little rude to me.

How is it rude? It's reality. It's a for-profit business with share holders. Like any good business, Microsoft has to move on when stuff isn't working. Zune fans loved Zune but it's gone. There are people who swore by Encarta but it's a footnote now. The winds of change are okay. I have to remember that every time a network cancels a show that I love! Lol

I don't think this is a good answer. So are "other people" - people who are not interested in Windows at all, mind it - more important than people who invested time and efforts for Windows in the last 2 years at least? Now I'm official offended. Nice piece, Richard: you tried hard, but you obtained the exact opposite result.

Many of us did get Android devices years ago, we just learned better and switched :D

What xpxp2002 said. I bought into the platform because of the standard of the interface it set. Now it is all being thrown under the rug to appeal to the masses. Why didn't they just do that in the first place? All the standards they are adopting were already there; it's not like they came after and ended up being better. While in bit especially adverse to change, it is frustrating when one of the reasons you adopted the platform was how it worked, and they are kinda giving up on that. Like pivot pages, etc.

Little fun fact for you. Google didn't invent the hamburger button. Yet another thing taken from the Xerox Star which had it back in 1981. Apple and Facebook are the ones who resurrected it for use with mobile formats of apps and it has quickly become a standard on mobile websites as well.

I'm okay with the hamburger menu too.. But it was here too in windows phone.. The three dots at the bottom of the screen have all important commands that should be kept hidden... Microsoft is loosing it's uniqueness.. But becoming more like android it would be easy for the developers to port the apps to this platform.. I think windows 10 should be a welcome change.. Because this windows is good in functionality! Windows 8 was a beautiful upgrade but it lacked functionality and ease of use somehow!....

"Yet another thing taken from the Xerox Star " Hahaha! YES! I used a Star and recognised it right away too.

It isn't just the hamburger button which is needed to be clicked to list the menu ..in touch devices we can simple swipe left or right isn't it great n useful?? ..just don't go with d look of hamburger menu button!!

The hamburger menus aren't the problem. The problem is that they've removed a ton of functionality and created multiple competing visual "styles" that all draw from Metro, but conflict with it. There is no continuity of design in Windows 10. In fairness, 8 had a problem with the desktop and modern environments clashing, but all they needed to do to fix that is remake the desktop in Metro design, and then go about adding features like Action Center, Cortana, etc. Instead, Windows 10 is about one thing: catering to the whiners who want everything to go back to XP, which they falsely remember as being some kind of panacea. It's ridiculous on all fronts: the users, and Microsoft's response to them.

Correct. Change is fine, so long as it's progressive. Switching tracks all the time, especially to go back towards legacy styles, gets you nowhere in the end. Also, what on earth is a 'hamburger menu'? I'm none the wiser for reading this article, just more concerned that things are going back in reverse.

Honestly, the hamburger menu is common in the android design language, but I think windows does its own thing with it, it looks nice and feels right! After all: Windows tablets/PCs dont have hardware back buttons, so it would be much more simple to use than the on screen back buttons on Windows.

I haven't been following this debate too closely.... I'm much more concerned that there are no Lumia flagships until W10. But for me, the reason I don't like the hamburger button in my apps is because it doesn't look like Windows phone. If Microsoft wants to make the hamburger a consistent interface in Windows, then that's ok... And I think it's probably a good idea, because most third party apps keep their Android interface (with hamburger) anyway. At least this way they won't stick out.

I think people are looking at appearance without understanding the backend. Just because Android has a similar design doesn't mean that it's programmed the same way as it will be on W10. If the programming implementation is different then devs will be rewriting the UI anyway, so what's the point of changing appearance if the same amount of work goes into it as the old times? Who knows how the APIs will be. The point is, MS should have done the opposite, i.e. Make the APIs similar for easy porting but when it would be rendered on screen it would look like the old WP8 design. That would have minimized dev work and still kept the UI that we have started to love. I don't know. I'm rambling.

I wonder people asking now... What kind of android phone is that? Lol ;)

Windows 10 with Start8 in Windows 7 mode is almost perfect for me. I loved the Metro interface. My computing is from a comfy chair and a projector, so the apps of Windows 8 (and 10) make the computing experience absolutely wonderful. I have installed Windows 10 on every computer except for my bookkeeping computer, and now dislike having to go back to Windows 7 on that computer. After a few days with the Windows 10 interface, I am beginning to prefer it over the Windows 8 interface. Now if Spartan can match Chrome for speed and we can get the plugins from Firefox/Chrome, and we get the option to install Apps to another drive besides the root drive, I will be very happy. I noticed in Settings that there is a setting to change the default drive for installing Apps, but it isn't active yet. I cannot wait to get rid of Google, but Internet Explorer just dosen't cut it. I opted out of the Google experience after trying to delete my history, and discovering just how much Google knows about you and how much work it is deleting the history when you have multiple computers synced through Google. Bad Google. BTW, screw Capchas!

Yeah, I like the direction they are going to, except the Start Menu. They somehow managed to include in the last build a Start menu that in my opinion is inferior to both the Windows 7 and the Windows 8 versions. And worse than the one included in the previous build. Other than that, there are some rough edges, but that is normal for a preview. I just hope they don't rush to release it until everything is polished.

Agreed! I don't mind that look at all.. I love it!

You could reuse this speech to describe iSheep. Minus the Insider stuff.

Change affects most in similar ways. From an iOS perspective those guys had a largely unchanged platform for 6 iterations. The habit was strong. Then iOS 7 came along and well, we know what some of the reaction was!

Not to the same extent users on this site have expressed themselves. Users here are putting Apple fans and hell, even Blackberry fans to shame with their insistent complaining. Then they back it up with "Well, I only said Windows 10 is the most retarded UI on the planet and M$ will fail because I want to *help* Microsoft. So stop dragging me down!!!!!". Like... It's getting really bad.

Well said Rich :) And we Windows lovers are here to stay.... :)

What else are the writers on this site are going to say? Hey Microsoft we think what you're doing stinks?! Hell NO! They wont. They want to stay in the good graces of Microsoft. They are always saying everything is for the better even when it's clear somethings are not. But hey, I guess they have to have to do what they have to do. But that doesn't mean I have to buy into it.

I've seen articles here take Microsoft to talk for crappy changes. They aren't afraid to call them out. This article is just an honest take on the state of the platform and community.

I can't say I read "every" article, but show me two examples where they've called out Microsoft on something "significant". And yes I realize that is subjective.

Have you been here long? While the majority of the pieces here may be positive, there are definitely articles calling MS out as well.

Yes, I read all the puff pieces you probably think are hard hitting. :)

I was going to use the word opinion somewhere, but then I remembered this was the internet, so it doesn't really matter what I say. Criticism is criticism and as long as it's constructive, I welcome it. If all you're looking for is a negative spin and click bait, there are plenty of sites out there for you.


@Duffau Believe me, I visit and read many web sites. There are some sites that stricly save their best negative articles just for Windows Phone and Microsoft. I agree with you 100% "Criticism is criticism and as long as it's constructive, I welcome it.". But the lack of effective criticism on this site sometimes boggles my mind. For example: After Microsoft decided to take the Music program out of the OS and started converted it into an app not only did they promise to release updates on a regular basis because that's the reason they were creating the app they took things out that they've never put back in. When was the last time there was an update? Not only did they take away many great features for the built in OS Music program they aren't even making any pretence that they will even add those back in. This site especially has some clout to speak out on such things. But you see most WP users are just happy the platform is still around. They'll accept anything without question. I don't want Windows Central to be negative just to be negative. I want them to be more critical in some changes rather than just acquiescing to everything Microsoft does.

I like your spirit, but I think you're putting too much responsibility on this site and this conversation is not the one I replied to initially. This is a news site with a side of editorials. When the apps were separated from the OS, everyone complained, literally everyone. It is completely unfair to say otherwise. But this site stated exactly what MS did, that this was something new and they would work to improve it. No one could have predicted this situation. Then there's windows 10 coming up and the presentation showed a universal music app; my only guess is that the updates have stopped to prep for the new app. I can't claim I know what will happen, and again I'm only talking about this because you brought it up, but this site lists what MS and "reports" state, as they should. There are editorials once in a while (much less than some of the other sites) and that is usually the opinion of the writer based on given circumstances. But now you're blaming them for something they didn't do, which is unfair IMO. You can't tell someone how to feel and I think there are a few hard hitting pieces by Dan. I think there is definitely some criticism here, but I can't tell the author he should feel like criticizing someone based on my own beliefs. Then the whole opinion blah blah blah comes in. You know what I'm talking about here.


There's a reason this is my #1 and the #1 site for Windows Phone news and Microsoft news in general. This is why I'm somewhat disappointed in WC (my opinion) :) they don't call Microsoft out once in awhile. Like you pointed out, maybe they know things that are potentially coming in the near future therefore it would be counter productive to be too critical. Truthfully I see WC as a place with some clout and their opinion matters. Maybe I'm way off and my thinking is unwarranted. But as a person who supports all things Microsoft I wish them nothing but success. But I just hope they don't ruin WP in search of that success. :) Thx for the great input.

The reason my replies became serious was because I realized you too were serious and with good intentions. It is very difficult to find balance in the media with MS. The overwhelming majority is negative. If nothing else, people could find this place a safehaven for MS news. I still think there are some editorials here that do criticize, but I digress. Thing is, I don't think this site's articles have as much clout as you say IMO, no offense to the WC staff. I think the uservoice definitely has clout and the comments written for the articles here have clout (I read in one of the articles that MS employees read those). Oh and for some reason the verge; those people can call a cure for cancer made by MS an abomination to mankind and Bill Gates will still be guest editor for them. Either way, we have uservoice and we have the insider program. Between those two, I hope we can get a good OS going by release (hint, music and messaging). I'll be doing my part.


lol so biased and angry, chill bud.

Awesome article Richard. Agreed totally.

Well said Richard. I'm getting tired of the complainers on here.

The complainers complain why a undescribed menue is in the most far corner of an operation system where the dotted menue explaining even unexplained icons was there right at your fingertip

At your fingertip on a phone, maybe. I still need to two-hand my Surface Pro 3. So location means nothing. Unifying the platform doesn't mean leaving your phone as it is.

Why not?! That's what I don't get! Why ruin something that worked?
I'm definitely giving negative feedback on this when the phone previews comes out

In addition to your negative feedback, don't forget to help create as well, like suggesting better ideas!

Well the Better idea is just being replaced by the ios android deisgn paradigma

Windows 3.1 worked. There was horror when it was changed to 95 and it changed things. The world progresses, for example taking 40% of your screen with a non actionable title at the top is superfluous and kind of bad design, regardless of how nice swiping through screens is.

Richard, I think you're now another favorite author of mine.

Well as long as you don't hold your surface on the top of the device the menue should still be at the bottom.

Clearly he is talking about the phone. This was a phone site first afterall RIchard. So unifying the platform means making the ergonomics of your phone worse? But we are supposed to just be cool with it for the sake of change? Oh sorry, I am complaining again.

The struggle to please everybody will result in pleasing nobody.

Adrian has nailed it. For Phone use, the existing ... (three dot aka ellipsis) at the bottom of the screen is way easier to operate than a top left menu icon. "Oh, but you can edge swipe fron the left to activate it" say the sheep. So how exactly is that going to work on >8 inch devices, where left edge swipe is the task switcher? To enable this UI cack, one of the most elegant parts of the WP UI is getting culled - the Pivot Control that lets you swipe from mode to mode. Oh no, we can't have that any more because it was never part of the dogs breakfast that was the Windows 8 Modern UI and WP (or W 4 P) must fall into line. We are going to have to put up with tabs or mode buttons (shudder) just like every other P.O.S OS, even though they are nowhere near as easy and simple to operate as a Pivot Control. Likewise, long press pop up menus are going to appear in a box, making the items in the box smaller and therefore harder to select, than the screen wide popups we have in WP, just because again boxed popups are the Win8 way. WP is elegant. Microsoft's attempt to move WPs Modern UI to "full fat" Windows with Win8 quite frankly stunk. Win10 is cleaning up some of the worse of Win8, but it still stinks. And now in the name of convergence, instead of the birthplace of Modern UI informing a better way of building a UI for full fat Windows, the stink is heading our way and infecting our phones too! And then the likes of this buffoon Mr Devine wonders why people are not happy with this situation!

facts correct - attitude still like a whining baby
to click "Up" or "Down"????

I agree 110%, great article with good arguments.

Why not? What do you have against it? As I said at the end of the post, feed it back. It might not change, but complaining about it here won't do any good to anyone. Tell Microsoft why you don't like it, give them reasons to change it. At least complain constructively.

I agree. Also, from a developer point of view, the side panel is really easy to use. Let's say I have a few options I want to be visible in every page of the app. Using the standard BottomAppBar I'd have to add those buttons again along with their event handlers. Plus, every time I navigate to another page I can see the CommandBar disappear and then be loaded up again. Using a side hamburger menu everything's so much easier instead :)
And it looks enough "metro" to me, I don't know why all the complains.
As Richard said, it's useful, that's it ahahahah

A couple of comments about the hamburger menu: First, I think most complain not because of how it looks, but where it is positioned. On larger phones and tablets, the use of the hamburger menu makes using two hands or constant repositioning of the phone a must. Menu controls should not be at the top of the screen in a mobile os. The controls should be located as close as possible to the natural location of the fingers when holding the device. Usability and quick access were the design philosophy of WP7/8 that drew me to the OS. I will get used to the new way, but I still believe it is a step back in efficiency. It was mentioned I the article that the site uses the hamburger menu. In this case the limitations of web design come into play. I have seen no one figure out how to place a menu at the bottom of a contiguously scrolling page that works effectively on all browsers. I've seen some stupid ads that have come close, but I am pretty sure they weren't supposed to behave that way.

I think you're right. I like the design of hamburger menus, that's not the point. But on phones bigger than 4" (every flagship) it isn't easy to reach the button to open the menu. The right down dots are really easy to use with one hand. It's the same reason why the address bar in Spartan should be at the bottom.

Well said and i agree with you 100%


Guys!! Come Windows 10 apps has hamburger menu style but the thing is in touch devices you need not click on the button to list menu .. Just swipe left lists the menu ..its great n useful!! Wat else you want???

It would be poor design to have multiple "pages" in your app that all use the same appbar actions. (not to mention the navigation stack nightmare) A pivot would be what you're looking for. Or more importantly some MVVM to mitigate the issue entirely Just saying...

I like hamburger menus....says the lazy developer pushing out web wrappers for porn.

Very well said Richard, well said.

They might be able to cure this issue by allowing a swipe from the bottom up to open the hamburger menu on mobile devices. Either way, I don't care. It's functional. Pivots often times weren't for cross platform apps.

To be totally honest they should just use the same symbol thats used in some W8.1 apps. Just the Downward pointing arrow - "V" - serves the same purpose, does the same things. People cry less, and it still keeps a little uniqeness (is that even a word?).

While my initial thought was that this might not be a bad idea, I must disagree respectly before finishing this reply: If Windows 10 (as a whole) is about to get a larger user base than 8, some things (many things?) should be familiar to the end user to make the transition smooth to the new OS. The "hamburger menu" is universal to all other operating systems and many website user interfaces. It would be like (on a lesser note) trying to change the icon for the power button on thousands of devices and systems. Why? :)

Why sandwich/hamburger menu have to be always placed in left or right upper corner? Do they expect me to have six inch long thumbs? Three dots menu is by far better placed.

You often don't have to "reach" the hamburger icon. A swipe gesture from the left or right inwards usually opens it. In that regard, what does it matter where it is?

"Often" and "usually". Hmm.

Lol yes, like current apps always follow the same design language. Nice try being dismissive of a valid point.

1) did I say they do? 2) inconsistency is never desirable 3) I wasn't dismissive 4) the way I understood the story was mostly if not only about MS apps. Nice trying to be dismissive of my valid point. :) ps. making hamburger menu accessible with a left swipe would be a UI choice that would pretty much rule out one possibility for more gesture harmonization between the various W10 variants - some people (I have no strong feelings about it either way) have repeatedly asked for left swipe from the edge to swap between apps also in phones.

Richard just change the title to spoon feed them that we don't need to reach the button to list the menu in Windows 10 touch devices ..simply swiping left or right lists the menu!! ..i tried my best with many comments they dint read d article fully nor understand ..r just leave let them realise wen preview version comes n they will find it great n useful!!!

Unless the left swipe can be initiated from the center of the screen, it is still an awkward gesture for right-handed people on even slightly bigger phones. If it can, we are losing a one way to operate the phone, there is a reason why Sailfish OS has identical functionality for both left and right edge swipes.

I just wish the hamburger menus are at the bottom of screen on mobile phones. It hard to reach it when I'm using my Lumia 1520 with single hand. That's the only thing I don't like in new OneDrive app.

This would alleviate a lot of complaints. But it would also seem intrusive while scrolling. The current 3 dots is truly the best but sadly is being put to pasture. I'll just enjoy the future of Windows for what it is. And if I don't like it I'll switch, but I won't complain about it anymore. It's a waste of energy and brings about negativity.

You dint have to reach the hamburger button .. Simple gesture to left/right will open the menu!!!

My complaint is that it is put in the furthest corner from my hand. Some apps make it part of the navigation system so you need to use it in a normal scenario. I don't like having to stretch for something that is used normally. Also once you open it, the various items are in the furthest distance away from my hand. If they are just using for settings I configure once then I don't care. If there is a gesture of a button to open it then it is okay. Even better is when we can open it and the items without stretching. That is why I like the app bar.

For Windows 10 touch devices they is a gesture to open hamburger menu with simple swipe left/right!!!

It works well on PCs and tabs but the phone interface should not have changed so drastically

For me, it's hard to reach. I have a 1520 and really like the hardware, but reaching the top corner of the screen is cumbersome.

I dislike the hamburger too but I would complain less if buttons were on the bottom of the screen instead of the top of it.

There's a lot of Linux out there. For free. Make yourself out.

I agree with the people above, the three dot menu at the bottom is much mor convenient to use, and I've never felt the hamburger menu was natural. The three dot feels more fluid how it comes out of the bottom of the screen and all the options are easy to reach.

I like the hamburger menu, it's a little easier to hit than the ellipses

Wish we could upvote entire articles... Agree 100%.

I remember quickjump.net had something like that it got messy

Change is necessary evil. Read it with Bane's voice.

I've no problems with the hamburger menus and really quite enjoy the visual styling of W10. Its more of what I wish 8.1 would have been.

Yeah, I dislike the whining. How about focusing on REAL issues, like the new cumbersome multitasking gesture for touch? That's an actual usability issue that could be easily fixed if people made Microsoft aware of it. Just change it from showing task view on a swipe, to having the swipe work like in Windows 8 and to open the task view on a swipe back, just like how Windows 8 opened the list of open apps. I'm baffled that they removed that functionality.

Please could you explain this again? I haven't installed the W10 preview but don't tell me they removed the swipe in from the left for multitasking?? That's one of my favorite features of W8/8.1 I absolutely love it! :-(

They've changed the swipe in from the left, not removed it In Win8, swipe in brought the next app in the stack to the front. In Win10, it brings up a horizontal list of thumbnails/cards of all open apps, a task view, like you get with back button longpress in WP. Vb4 was just saying task view should be activated by a swipe in and back, like its equivalent was in Win8.

Exactly. In Windows 8, you used a small gesture to quickly swipe between open apps and the "back and forth" gesture to open something similar to Task View. In Windows 10, you ALWAYS open Task View, which is a hilariously incompetent move on Microsoft's part. Then again, it's the same Microsoft that told me that the shitty as fuck low contrast scroll bar on Windows 8 is also by design. You know, the one that basically turns invisible on longer pages.

Right they use the feedback help them to help us

Now that was a nice speech Rich. You have convinced me to go forward and I shall!

Waiting for windows 10 for phone!!!! #Lumia 730!!!

I personally don't see why everybody is bitching about the "hamburger" menus. I admit they should probably be placed a little differently (maybe on the right side of the window bar instead of the left) but they're simple and easy to use and everybody knows what they're supposed to do.

Some people treat these companies like sports teams. Hamburger menu has been on Android, the opposing team, therefore it's super evil to some people. It's ridiculous.

Hamburger menus are still Modern UI. What changes is UX :)

But "tablet mode" should function like a tablet, not a touch screen desktop. That's the problem. All of the work put into Windows 8 to make it intuitive for touch was lost. Sure, it is useless in desktop mode. But that's why it shouldn't be lost! The only people who would use the side swipes will be those who use a tablet... ie those who used Window 8. The left side swipe is especially useless when you consider there is button on the now permanent taskbar that does the same damn thing. I'm not adverse to change. But Microsoft should give us more control. Throw in options that change ALL touch gestures to how we want them. And yes, I did provide this feedback via the app. In the "touch" subsection there are endless topics discussing how Windows 10 has lost all intuitiveness when dealing with tablets.

They've specifically said that they're going to continue adding more touch UI elements over the next few months, but commenters like yourself seem to only have selective hearing and skip that part, then complain about it.

It's an easy mistake to make when the bulk of their presentation took place on a Surface Pro 3. Some people may take that to mean the touch experience hasn't been completely borked.

They only used a Surface Pro 3 to show off Continuum, which only works on a Surface. They then followed up with "we will be adding more touch controls in the coming months".

That is incorrect, Continuum does not only work on Surface, it works fine in my Dell XPS 12 hybrid. When I flip the screen to go to tablet mode I am asked if i want to use it just like it does on Surface. It's actually cool that the screen flip triggers it.

Well, then Dell must've had the right drivers because MS specifically said in their presentation that it requires OEM implementation and Surface owners would be getting it first.

Works on Yoga convertibles too.

Well, then Yoga must've had the right drivers because MS specifically said in their presentation that it requires OEM implementation and Surface owners would be getting it first.

I am hoping they have a plan for tablets that will come to fruition by launch. Using on a Venue 8 Pro is terrible. It really is like using Windows 7 on a tablet. The direction they are going with the desktop seems fine but all of the good things about Windows 8 on touch seem to have been abandoned. Just keep on providing feedback and see what happens.

I agree, touch users should be given more options. With a mouse you can still easily access the App Control menu with a right click, but with touch? You have to swipe from the top, click the hamburger, click the App Control option, then you're finally there. I understand that Microsoft is trying to get rid of hidden menus, but there are a lot of apps out there that use it still.

Then at least you're doing your part as an insider.

I have been running 10 on an old desktop and i find it to be alright at best. It really is just like an updated 7 with the ability to run metro apps. If the "tablet" mode isn't almost exactly like 8.1 runs, then they are not doing this right. The only REAL problem i see with 8.1 as it runs now on a tablet is having all the options available in atouch environment, not bey having to go into the desktop control panel. Similarly, one of the things i think is wrong about 10 so far is going up to the left to find the settings option, opens the setings on the right like the old charms. If charms are gone, then settings, etc. shouldn't fly in from that side still. All in all, 10 should basically be win 7 that runs modern apps in desktop mode, win 8.1 in tablet mode, and a common (touch or mouse frinedly) control panel regardless of shich mode you are in, nuff said.

This... very much this. As it stands right now, Windows 10 will have no place on a device like the Surface Pro 3 (or even SP1&2). They took an ancient Start Menu, forced it to breed with the touch optimized Start Screen and what comes out is useless to fans of both... The absolute best solution would be to simply switch between a Windows 7 style Start Menu and Windows 8.1 Start Screen with the use of Continuum. I love swiping my way through the Start Screen, closing apps with a simple flick of the finger, accessing options with my right thumb, switching apps with my left. The Start Menu that is in the current TP build is neither comfortable for use with touch or with mouse/keyboard. It's just a clusterf*** of bad decision making.

Have you noticed in the presentation that they opened task view with a single swipe? They fucking crippled the multitasking functionality in favor of a shitty point and click menu with pointless virtual desktop functionality.

WRONG! I use the mouse and the touchpad on my keyboard to mimick finger movement. I MUCH prefer the Charms and I MUCH prefer moving my mouse to the left to see running Metro apps. All of that is GONE in Windows 10. I want all that BACK in Windows 10. Of course, I'll never see it.

Agreed. Hamburger icons are not that bad and the flattened look is still metro. Can't wait to lay my hands on my touch tablet to engage with computing future ...

I agree. A previous article on the site last week called it Metro 2.0 and I agree. Or Modern 2.0, I guess. To me it's a matured version of their design, not a copy of someone else's. And their work should mature and evolve with time. It's natural and good.

Don't just hate, help create. WC phrase of the year.

Such a wonderful mentality. We can all help in our own way. That is quite the honor.

I don't think it's that much of a departure from W8. Just a bit more compromised to make it more intuitive for the unfamiliar. And since the lack of familiarity worked against W8 as a product, this is a good thing commercially.

Love this. I've seen people 'complaining' about certain UI changes. Each time I ask "Did you.provide that as feedback?" People tend to forget that the User Feedback app is there for a reason. I have been incredibly pleased with the direction the OS is taking. I've used it in both Keyboard/Mouse mode AND Tablet mode and find it to be a fluid transition. MS really cares what people think and they've demonstrated that so far. The builds will only continue to get better up to and beyond release!

The feedback app is really wonky. It seems broken at times. But yeah, I'm providing feedback through it and uservoice.

but you forgot to give feedback of the feedback itself being wonky? Do that,too! :-)

I think some people derive some perverse pleasure in complaining and bashing things, its like a kind of hobby. So MS is trying their best to make this huge project come together, they are not perfect and they are trying hard, but some folks only know how to kick and scream like spoilt kids, instead of presenting their arguments like decent mature people. I just don't understand the thinking :-(. Well freedom of expression I guess!

Did you just complain about complaining?
:-p

Thank you for writing this. So. Much. Hate. Over a silly hamburger menu. Another point to make is that the hamburger menu works very well with a mouse as well as mobile. For the "One Windows" design to be consistent across devices this needed to happen. Besides, what functionality does it REALLY take away? Reachability on a 520? I have a 1520 and no issues whatsoever reaching the menu. And most hamburger menus are designed so you can swipe left or right to access their contents anyway.

Can't swipe left on Modern Windows (x86) apps to activate hamburger. You must click or tap, even worse if you're full screen and have to swipe down to show title bar then tap hamburger menu then tap app commands to bring up something that was just an initial swipe up or down in 8/8.1.

My Lumia 1020 approves that message

That's really great article.

As an old geezer, all I can say is learn to embrace change. And don't take it personally when a change is made to a feature or shortcut that you have learned to love and use all the time.

Personally i've always hated the hamburger menu. Feels too much like a 'fancy ladida website' made by hipsters with macbooks. I prefer the ways of WP7 and 8 with its unique style but i will admit i didn't like that at first (went from WM6 to WP7). Yes, changes get made, UIs have to change to stay fresh and users will eventaully embrace the changes. Just like they did with Windows 8. Atleast Microsoft are doing the menus properly unlike some 3rd party apps who have a horrific implementation of it. Can't think of any names atm but some of them don't respond nicely to the back button... open the menu, hit back to close it and the entire app closes. That's reason enough to rage-uninstall for me As long as apps take note on how to use it properly then it should be fine.

Hamburger menus are a constant across many different OSes while WP's "unique" style was only used on Windows.... Now which one is hipster?

Dude... It's obvious Windows Phone is the hipster, not the other way around.

The biggest problem with your argument is this - "Because Windows 10 shouldn't be built to please the crowds of fans." That is exactly what Microsoft is doing. They did the same thing when they backtracked on the always connected plans with Xbox One and when they started selling a Kinect-less version. Microsoft is giving into the bloggers who bashed Windows 8 while typing on their MacBook Pros. They are trying to please the people that wouldn't use a Surface even if Microsoft sent them one for free with OSX installed and a $100 bill taped to the touch screen.

Their sales have gone way up since they unbundled Kinect. What's your point? Sometimes tech bloggers are right.

I agree with where you begin about the bloggers all the way to the ending of your comment.

But a lot of people didn't like win 8/8.1. Including me

1000% agree. or is that 625% agree as that's my current device?

And developers can mix hamburguers menus and panoramas, doing an unique style for windows.

I don't have problems with the hamburgers menus, only if they do the way was done in the OneDrive app, the smart way.
My problem is with buttons without subtitles, without circles around it and without be center aligned. What is the logic of to align things in the right of the screen??? And, how about normal people that are buying their first smartphones: How they will know that these buttons/icons stand for if they do not have any kind of clue/tip/legend/subtitles???
Modern UI was supposed to be simple and easy. I think know isn't.

Maybe you haven't used windows 8. Command bar buttons are always left and right aligned.

To be clear, there are two big problems with hamburger buttons, and they relate almost uniquely to iOS: Hamburger button menus aren't a standard UI element in iOS, which means they are implemented differently in every single app. Some times they pop above the screen, sometimes below, sometimes they can be triggered through a swipe. Inconsistency is the enemy of good UI. Even worse, iOS traditionally puts the back button where the Hamburger button is often placed, which leads to all sorts of UI issues. You end up sometimes with two small buttons in the same area (see Amazon app on iOS), which is terrible. Neither Windows Phone nor Android have these issues as back is handled with a specific button, and the UI element is part of the standard toolset developers can use.

whoa...i logical, clear, thoughtful, and calmly explained argument. can't understand how your comment got approved, Jeff ;-)

I wish ms implements all this well...than being a UI disaster... Especially in case of android... Look at new round button... Takes unnecessary space... And not always required... Better implementated in windows phone hidden and in bottom of screen... Ya I acknowledge ios back button issue and also there button placement is always mess... And never adhers traditional practice... It implements always reverse... Like if a message box.. Asks yes or no.. It shows no then yes ... Same is copied in android many times... Hope Ms brings a sensible ui layout...

"You can't please everyone." Gotta agree with that!

I disagree with the /s in your disagree

Perfectly said Richard...its time to stop the complains and embrace the future...and we should help Microsoft stick to what it will do over the next 6 months...all those initial bullshit complains bogged down Windows 8...

Thank you Richard for this great article.

Nice article. I like the way Rich wrote about Hamburger menu :-D Get ready to welcome the change folks :-) I am ready ;-)

Solid points. Especially for those in the Insider Program. We're there to help shape, but let's make sure we're not just complaining but backing up ourselves. The hamburger may not be everyone's cup of tea, but it is a standard symbol across many platforms. Standard symbols are a good thing. Now, if it's a matter of functionality and such, then yes, send in that feedback. I love the look of Windows 10, I think it's a mature-looking Windows 8.1 and just hope that by the time it fully launches that it is the best OS it can be because Insiders are focused on making it so.

I dont see any problem on that.

My computer only supports drivers up to 7 will the drivers work on windows 10?

Windows 10 is going to be a huge, huge success for Microsoft. #Promise #Challenge

Hope they being back the charms bar

I agree. The charms bar made the tablet experience fast and fluid. It was a very compact, easy to access, way to get to so much functionality. Hopefully they will improve the quick actions experience to be better than the charms bar for tablet users.

I constantly try it on my laptop...

"Windows 10 should be built to be the best damned operating system it can be." Almost cried. Really.

Liked Windows 8, love Windows 10

I don't have any problem with the hamburger menu... But if it would be implemented across windows phone built in apps, then the third party apps would be in another design language... I think that this would destroy the UI consistency across the phone....
That being said... I am a Windows fan and will be one for a long long time but just worried about this problem...

Developers haven't even started making apps for Windows 10 on phones yet, though. Or desktop really for that matter. Microsoft pushing all this stuff out so early gives everyone chance to be ready. It's the same reason Apple always gives its developers early access to new OS versions.

So expecting almost every major app on WP to be ported to the new design around the Windows 10 for phones launch should not be too much to ask...

Developers have no access to the API yet, so they can't take advantage of Win10 features. Best they can do is build for WinRT (8.1) API, but I doubt bigger companies are willing to put in money / effort before Win10 (as who knows what it will break / introduce).

Yeah, I can't imagine they'd likely build an RT app in wait for 10 APIs. Case in point, The Netflix app on W10 breaks. If you set the app to full screen, in tablet mode and try to swipe down from the top or the bottom to get app buttons (like every W8 app currently) a swipe from the top shows the strange new hamburger menu, and min/max/close buttons. Swipe from the bottom shows the taskbar. It's broken, and it sucks. I can't imagine people making apps for RT that will be inherently broken on W10. This breaks fast closing an app as well.

haha because developers are constantly updating their apps for Windows Phone right? Please. It is about to be one ugly mess when Windows 10 gets rolled out.

It would be interesting to see the hamburger menu at the bottom though. That's for sure

I hope they keep they keep the three dots menu at the bottom of phone because on larger phones and tablets, it is easier to reach the bottom than the top usually. Especially 1 handed.

Sooo... Despite bringing back the start menu... people have found new and creative ways to scream and moan? Thank you for ignoring them Microsoft. I was getting bored of Windows 95 GUI anyway!

In what way is the start menu customizable? Where are the app list features? Where are color options for tiles, formerly known as accent colors, or transparent tiles for that matter? This is not moaning but requesting hard -won features from W & WP 8.1! Not to talk about features where MSFT is just about to be falling behind, again. Why can I connect to my VPN with a three year old Android, but still not with my W8-tablet? "Look, it's 10" will not suffice to sell more phones or tablets.

It's a tech preview you freaking child! CALM DOWN.

GOOD ARTICLE!! I just need to add that they should find a way for phones to put the hamburger down or to open it with a gesture(especially in the use of phablets). At least to try something before give it all in for hamburgers for phones. I even have a PRO for hamburger:no more annoying differences between what developers choose to put on elipse buttons on the botton. One hamburger on every app(even if its content is different). But i have to admit that usability is a stronger CON.
PS. I also thing that pivot menu should stay in some scenarios, especially in places where apps menu is simple and where swiping is not a gesture for something else. Looking forward for a good version of insider for phone to submit my feedback. Lets use our privilege to build windows alongside with microsoft.

This. The only problem I have with the hamburger menu buttons is that they're usually placed out of reach on phablets.

Hamburger menu system was first implemented although a quite differently in Ms office 2007 as office button in 2007.. It is just to save space.... So why not in modern/metro 2.0 at least we are still different from android/ios (both designs are quite same and evolved one after another... ) ; intact they have bored some visuals from metro style ... Look at app category switcher in play store. Similar to one in metro.
It's just evolving... Lets Wait and watch how final product comes out to be

Brilliant write-up Richard. Change is the only constant out there, and those who can't embrace it, can't progress.
And people will whine about one thing or another. First, it was the lack of Start Menu, and now that it's back, they've started going full retard over hamburger menus. As long as the Windows (phone) platform continues to develop and provide the unique user experience that users have come to love, little UI changes don't mean squat. Besides, I dig the Windows 10 UI. Keep it up Redmond.

The point is: Neither is the start menu completely back, nor is the app list with all it's features retained. It may both come to W10, but there is no transparency in MSFT handling features.

What unique user experiences exactly are you speaking of?

Yes rightly said hamburger menu is no evil or android thing .. It's became general standard started to be used in web world for responsive mobile version sites!!

Richard Devine, well said! *standing ovation*

Richard, your our knight in shining armour!

I am loving Windows 10 and where it will take us! My main concern is that in Windows 8 they ignored the desktop mode user. And now in Windows 10 it seems that, while it Win10 will have a lot of improvements, the tablet user seems to be getting less attention. That could be because this is an early build. So I will criticized, discuss and complain as appropriate, but I am very excited about Windows 10 on phones, tablets, PCs, Xbox, IoTs, and HoloLens.

That's nothing but bull. They did NOT "ignore" the desktop mode user. Everything you ever did in Windows 7 you can still do in Windows 8. The ONLY real difference--and it's a lame one--is that ridiculous Start Menu. I lost ZERO desktop functionality in Windows 8. All my legacy programs worked just fine, windowed just fine, could be customized just fine. There's no excuse.

I got used to Win8.1 in my workflow and I absolutely love it. I have Win10 preview on a smaller tablet just to try out the new things,and the more I think about it and experience it, the more I realize that these design choices make a lot of sense and they're ok. I hope there will be a 'sideswipe' alternative to make the hamburger work on the phone. Because as of now, I have a 1520,and that button would be at the top of the screen, which is lame.
But talking from the desktop, this would be a welcome change actually. Windowed apps will be wonderful on bigger screens, and task switching is even faster than it was before. There are tiny little quirks that need to be ironed out, like i cannot switch between snapped programs in a super quick way the way win 8.1 does....but I am sure that kind of thing will be figured out.

Want to embrace it on my HTC One. Waiting.

It isn't hate for the sake of hate. The grudge about Metro/Modern style going away is only for the phones and smaller tablets less than 8". Windows phone brought something new to the competition with its clean neat looks and awesome large sized typography. It was a breath of fresh air. But now it is going away. And that makes us sad. Admittedly, that same style was not that intuitive in Windows 8/8.1 and the work Microsoft has done to address this in Windows 10 is admirable.If I've to say so myself, Windows 10 is the most visually appealing OS for PCs that Microsoft has created. But consistency don't necessarily mean to imply single UI language across all device types or screen sizes as Microsoft learned with Windows 8/8.1 and WP8/8.1. It only need be consistent across a given device type or screen sizes.
As such, Microsoft should continue with Metro/Modern language in phones and tablets less than 8" and continue with the design language that is already shaping up to be awesome for PC users and greater than 8" tablets.

So, the burger is more or less three dots, but top-left, inaccessible for one-finger devices. Because it has to be top-left for... err... what purpose, exactly? With the same argument we should force rtl languages to render ltr, because it's easier and more consistent to do so. Why can't the burger rest bottom left or bottom right?

Very nice article... Love the way you guys (@ windows central ) write articles..... #LoveMicrosoft

Hamburger menus are not in. In fact, Apple is going to denounce them in an upcoming event. We need to innovate away from them, not play catch up

And what about those awful icons on Windows 10?? Yuck!

If u can't beat them, join them. Honestly I love win10 more on the tablet I guess because it seems they geared it more to the tablet, kinda. My hands dont have to leave the tablet to scroll. No more scrolling left to rich in metro. Just a flick of the thumb send me through my apps. MS is getting smarter and focusing on usability. No problem with that in my eyes

my issue is, most people have dismissed Windows 8 based on metro only, not on any real issue in software or hardware.... seriously, windows 8 has given me the least amount of headaches since Windows 3.1.... quite possibly the most stable OS i have dealt with and hop windows 10 keeps that momentum going. granted, not a fan of the hybrid start menu, but can get used to it with no issue as long as the rest of the OS is rock solid.

When something changes for the better it should be embraced, when something changes for the worse it shouldn't. Windows 10 makes some really nice improvements for desktop users but it takes a bunch away for Surface/Tablet users. Hopefully they will address the touch interface before it's launch.

I completely agree with this. It's why I'm using the Start Menu in Windows 10 instead of finding ways to disable it.

I think the problem is not the hamburger menu, the problem is inconsistency, some application have 3 menus to interact with. Icons are different (and in my opinion the new explorer icons are ugly). The border around windows are ugly, some parts of the OS feels so empty, just white and gray colors and texts, ... I know this is not a final version and I hope they fix these issues before the final release. But I think they have a long way to make this OS finalize.

This is one of my favorite tech articles, ever. Couldn't agree more, Richard. It's incredibly challenging to appease every person (impossible with this type of user base, I would say), but Microsoft is doing their best with our help: the people that have a passion for technology and, in many cases, Microsoft as a company, who will either make or break their products in the masses' minds by word-of-mouth.

Hamburger button accessible with a swipe.... I'll be okay with that.. :)

Has everyone forgotten that there has always been a menu there in windows? Usually its for maximize, minimize, close, and maybe some other option depending on the program i.e. cmd prompt. All the burger button does is show a menu that's always been there with windows 10 specific options. Truthfully its not change just revealing a menu that's always been there with similar options.

One word.... Windows 10 is amazing.... Speechless

Love the title and can't agree more!

Yeah! Hamburgers and *&%%ed up OneDrive is on the menu. And we're all gonna eat it up.

Ho Richard! You're such a great poet! Hajaja!!! Even if I don't like that start menu, whatever, the cross platform concept still great, the unmatched mouse and touch friendly modes still great, but that row of apps on the left look so ugly, they should hide it somehow.

I think you are preaching to the choir, buddy :)

What's the point of using Windows phone? It's always been behind Android in features and that is not changing any time soon. I liked it because it looked great to me but now it just looks like Android. That's ok, but why get Windows phone if it doesn't look any different? I've used my father in law's note 4 and it thrashes my 1520(although I'm impressed that this keyboard somehow knew I wanted to type 1520 there) - it's extremely quick to take better pictures than anything my 1520 has ever done in its 10 second prices to take one picture(yes I'm exaggerating), it's pretty sleek and it has every app in the world, it also doesn't lag ask the time, had a better Wi-Fi and the list goes on. Right now I love my 1520 because the OS looks so great that even after 18 months I still smile like an idiot just using it, but this new design is just dead - there is no spirit in it and it's all exacerbated by what it means. Microsoft, a multi billion dollar, multi national goliath has given up - why shouldn't I? If they are going to make everything look like it was designed by Google then why shouldn't we all just use Google and Foss stuff - they seem to have a much better implementation of everything anyway.

+1520 I do that too. I mean smile like an idiot while looking my 1520

I'm still waiting on speculation of Windows now being a "service". That was a huge point in the announcement and not one site has mentioned it. Does it mean subscription model? Does it mean it will always evolve without big bang releases? Desktop in the cloud? ....

No on the subsciption modlel. I think they meant it like... do you have to worry about OneDrive being updated in the server? No, it jst happens. It's a service. Stress-free updating.

Left upsided hamberger menu is hard to touch with one hand..... I love '...'Menu

Cortana has a hamburger menu in WP8 and nobody complained.

Hamburger menu is ok but should be on the bottom of the screen on phones.

Waiting for the final version

I know February wont come , soon and i wont get comfort till then :D

I think the current implementation of hiding the desktop shortcuts when in "tablet mode" is a mistake. It means on my tablet I have to switch back and forth between modes to get to them.... Maybe a touch friendly desktop is best for that mode. Also, the taskbar currently stays up.... Always. Like even when you are watching an app like Netflix. I'm sure it's temporary... Hopefully.

Ok well get it out there then and I will embrace it. Thanks

Best read of the week so far. You are right on the money.

Progress for the sake of progress isn't progress, and change for the sake of change isn't necessarily good. The question we must ask is: Is the change necessary & is the new layout or appearance superior in terms of functionality & user-friendliness? I have been asking myself that question a lot since installing the Insider Preview. I cannot say that the answer has been 'yes' the majority of the time, & I have shared my thoughts with MS. To me, it seems they took the opposite track they should have. Instead of integrating elements of the Modern UI into the legacy UI, they should have integrated functionality of the legacy UI into the Modern UI. Many choices they have made don't make much sense to me, they're simply change for the sake of change & don't improve functionality or user-friendliness. IMHO

No Rich. We do not have to like this change, sorry. Stop making it seem like this is a great and necessary change. It is not.

I'm embrace change and learn to use the tech. I only provide constructive suggestions and don't come to this site or any others to be negative like many of the forum members here and other places.

There's the resuming screen in windows 10 for phones?

I don't mind the hamburger button menus as much as I mind the damn circles for profile pictures on Windows 10. It's driving me nuts.

Will windows 10 be upgradable for fre for windows 8.1 users?

Yes, during the first year after release.

Yes for all version of Windows 7 - 8 and 8.1 it will be free upgrade

The Windows 10 UI is dumbed down and not as ambitious as Windows 8, but that's what will make it 10x more popular than its predecessor. Android and iPhone users will effortlessly use the touch interface. Windows 7 users will easily pick up the mouse and keyboard navigation. The taskbar will be always visible, even on small tablets, and that wil remove the "discoverability" issues people had with the Charms. It's not as pretty, or as forward-thinking, but it will work.

The only thing I have against the hamburger buttons is that they're usually placed at the top corners of the screen and it's difficult to reach them with one hand. Apart from that I like them.

I think this is spot on. Be part of the solution, not just dig your heels in the sand and refuse to budge. I find that most of the people that complain about "the new" ARE the ones in technology. Those people that SHOULD be embracing new things. Instead, for whatever reason, they are the ones that are usually the most entrenched. Why? The average consumer doesn't care about the things most people in technology do. They just want something that's simple and works for them. If you can't keep up with the pace of technology, may this isn't the right industry for you?

I like Windows 10 so far. The only feature I want back is hovering in the top left corner to change/show recent apps. Also, returning to the full screen start screen when I exit an app.

Will windows 10 be upgradable for free for windows 8.1 users?

Yes for the first year. After that it will most likely be subscription based

Wrong. It will be free DURING the first year after launch. After that it will be updated for free for the lifespan of the device, as MS confirmed.

Wrong. What you're saying is windows 10 will be free for the lifespan of a device. That's not financially feasible

well, just got back to windows 8.1 after trying out 10 on my surface, i actually liked that "hamburger menu" but they should use a combination of that and the pivot pages

I think Microsoft should have improved their design

You said it right. Exactly. The unifying factor is electrifying. You don't have to wait until you get to yo laptop or pc yo access info or documents. They will be right there with you on yo phone or tablet on the move. Walaaa. Do i need say more? Just imagine......

Will this app be updated too, to mimic the new windows 10 design

Not all lumia phones get windows 10. Is that true ???

I'll embrace it when they deliver. They've promised a lot.

It's not a question tu embrace change or not. Hamburger it's a terrible idea! I hope they "merge" in notification/action panel and restore volume & brightness !

Earlier builds of Windows 10 offered Windows 8.1 Start Screen option but Windows 10 core. Now with the 9266 build there is not an option to use the 8.1 start screen, I think we could all agree for those of us with Tablets that should still be offered and on a larger screen should use the hybrid start

Anyone think the font/symbols they're using in the windows 10 app bar look a little iOS7-ish? Too thin a font IMO. How they change it.

Technically this was said as well for Windows 8, but look how that turned out. Yes 10 seems to be going in the right direction for most, but not all, and that will still cause change, cause 10 to evolve further. If anything Microsoft's vision is maintaining a seem less experience no matter where you are, it it should be better on Windows at some point. Shorthand of it, be open to what Microsoft has in store, but know that being with MS you'll be enjoying a much more seemless and integrated experience with them; visuals will change, experience shouldn't.

A part of the problem with placing hamburger menu and other options at the bottom would be phone devices with no hardware keys. Having too rows of soft-keys at the bottom might lead to a lot of miss-presses. Having said that, if possible, perhaps the ideal solution would be to have the option of dropping the top navigation bar to the bottom of the screen - but that might not work for all apps that well.. just a thought.

MS is killing it! Don't be a hater. Get used to the beautiful new OS and you'll love it. The humburger menu is great! It's clean and useful.


Not being a "hater" just stating myself that windows 10 is great for desktops but not tablets

WP8 was beautiful, refreshing, and well thought out to provide an optimal experience for touch screen operation. With Win10, we are sacrificing some of the best features of metro design in order to make our touch screen phones work like our mouse & keyboard desktops. The hamburger button should at least be moved to the bottom of the screen, and the address bar in Spartan needs to be moved to the bottom of the screen as well. It's a shame that the world wasn't yet ready for metro design. It's like Marty shredding a 1980's heavy metal guitar solo in 1955. Instead, we're now stuck holding onto the start menu and ui/ux from the mouse and keyboard era. Hopefully MS won't be scared to innovate again. Maybe they can take baby steps this time, and gradually move everyone forward away from the Windows 95 mentality.

How dare you make sense. You're supposed to blindly embrace this crap.

Can use your article to inspire my colleagues at work regarding our first ERP system start ?

I aproove your message, but what people dont seem to get, is that most people that are against the burger, are against so because of how much of a pain it is to physically reach. Stretching your thumb to the opposite of the screen is a devolution from swiping from the bottom. Making modern ui evolve is good. It just has to evolve in the right direction. Here are my suggestions:
-Extend the functionality of the App bar (allow devs to put any control in it)
-Use a burger, but put the button to the bottom right/left or top right.

Amen!!! This was a great read!

I was about to go with Android when Windows 7 came out and rocked my world. I loved Metro. I understand the need for continued change and I knew metro would not last forever but I don't see how switching to a design that everyone else has been using for a long time is "embracing the future." Isn't that the opposite of innovation?

I'm okay with the design, but its going to be hard reaching menus on the top with my 1520s big screen. I'm not too concerned, but I feel like it is going to give my thumbs a major workout.

I think there will be swipe gestures

I understand the concept of change but from what I've seen so far, this seems more like a total retreat from Windows 8, the Start Screen and its UI that many of us love. Perhaps Microsoft should go the route of two operating systems. One for mobile and one for the desktop PC.

The key outstanding issue is STILL the Start Menu. While much better, they have to bring back the classic Windows 7 All Programs drill down. People will be lost without it. And yes, I know they folders appear in "All Apps", but it's just not the same. Apps and Programs are different. Having to scroll down to W to get to "Accessories" is not acceptable. Other Metro visual items are fine... Performance is still poor but the direction looks good.

Literally the most moving, inspirational, motivational article I've ever read on Windows Central

I always liked Windows 8, but MS isn't going to backtrack, and eventually you'll be forced to upgrade. I give MS points for being bold and trying something radically different. It didn't work for them, but at least they got everyone's attention again. So long Windows 8, you were misunderstood.

All you people slamming Windows 10 because you love Windows 8/8.1 are going to find out that you are a serious minority when it comes to what people want in this OS. I like the way it is looking and think the direction they are taking is going to be a big hit. That does not mean I love EVERYTHING about the new direction, but it is going a HUGE improvement in the eyes of most people. Windows 8, 8.1 was NOT a hit. Realize this truth of this.

W7 people will slam it, because there is no real start menu. W8 users are unhappy, because all progress in the applist is gone. WP8 users will be stuck with MSFTs poor choices coloring their tiles, being unable to change colors. No progress under the hood, apps back to starting point, and an debatable multi-desktop feature, where even my three screens find no use for. A long road for W10 to go before it will be a hit! And as such, debate os necessary and required.

I got hungry reading this

For more Win10 af course...

I would like to see more people like u. I all most love Avery thing on windows 10 I can't wait for universal apps this is really big release in history of windows.

No, the hamburger does not do "what it does very well." Study after study shows the exact opposite, and many in the design community agree that it is not the best way to do the things that people use it for. http://exisweb.net/mobile-menu-abtest http://exisweb.net/menu-eats-hamburger http://www.webdesignerdepot.com/2014/06/how-to-solve-the-hamburger-icon-problem/ http://www.o3world.com/blog/usability-and-the-hamburger-icon I agree that we must embrace the future or be left behind, but let's not be spreading falsehoods in the process.

Completely agree. Id wager a bet that people care less about WP apps looking more like iOS or android, and care more about the apps and the ecosystem not being one they've bought into.....Apple and Google have people on a tight leash. Getting rid of metro won't bring more users.

"The thing about change is that it's a necessary evil. To continue to grow and develop, change is inevitable. But change frightens and frustrates, we become creatures of habit set in our ways. But it's going to happen, so we should embrace it. Not write it off before it's officially even here." And, with this, Richard is trying to get kicked out of England =P

I like these kind of articles.

I believe the Start Menu in full screen doesn't look as modern as Windows 8 one primarily because of the only background optioon being solid colors and that the icons should be a bit larger (around 10 percent larger). Also, some gestrues don't hurt specially if they offer alternatives. PD. I already passed my suggestion! =).

The mouse gesture for the Charms Bar is particularly great. At least for power users who understood it.

We can never approve Hamburger ... If you want others to love yo you you'll make others hate you too. This is not how its done. Instead the old design and UI should be promoted in such a way that everyone gets addicted to it . Its great , it needs to be there.

i like that win 10 for phones has significantly decreased size of text on top of apps/hubs that was eating screen space. if hamburger menu would be usable via side swipe its all ok imo. i only wish to get bar with buttons on bottom instead on top, because its more mature for one hand use. new apps look great, but i miss circular buttons. on the other hand i hate the new start menu. they simply mirriored the way it is on phone, but it doesnt work as good as previous version. tiles are too small, spaces between them are to thin, vertical app and tile lists are crap too. worst thing in new build is that they removed metro IE, but didnt add spartan yet.

And as apps for phones/small tablets less than 8" will have different installation packages than apps intended for large screen tablets greater than 8", convertibles, 2 in ones and PCs; it is not even difficult to have consistent UIs along similar set of devices. Now that Microsoft has implemented vertical scrolling in windows store and other universal apps with hamburger menus; it makes total sense for PCs and large screen devices since most peoples are used to that UI. But horizontal pages and pivot controls were sort of awesome with its neat clean looks, super awesome typography in phones and small tablets. The only thing it needs is a little more colour that is more accent colours and more background theme colours as well as wallpaper support in the background. Plus user changeable different sizes for title/header typography and all ribbons, bars, menus placed in ellipsis button in bottom like steps of a staircase.
Do this and we might have sort of perfect design languages for different screen sizes. Also, Microsoft needs to enforce universal apps for existing apps like if facebook inc. makes facebook app for Windows then it also need to make universal app to work on XBox, small tablets and phones as well. Also, if Google has youtube app on Xbox then it needs to make them available universally for PCs, convertibles, small tablets and phones. And so on and so forth for other apps. Also, Microsoft needs to reserve the rights of editing UIs for apps before publishing so if apps have UI deviating from Modern UI, have buttons and hamburgers at top, or unsuitable for use on PC with mouse and keyboard then Microsoft should reserve the rights to edit their UIs to suit their respective device types within similar sets of screen sizes. Also, Microsoft also needs to add native support for digital ink, printers, keyboards, mouse and other bluetooth/nfc enabled devices universally across all versions/SKUs of Windows 10.

I had to roll my tablet (Dell Venue 8 Pro) back to Windows 8.1.1. Not that I don't like the visuals, but because here are too many bugs for it to be usable on that device. I used it for two days, gave as much feedback on the experience as I could to Microsoft, then rolled it back (although I still use it on my secondary laptop, where I think the experience is just great). Visually I really liked almost everything, although I'm still debating about the start menu on a tablet. Feels like a menu (duh..) and no longer like a "Home Screen" I expect to have on a tablet. Also gave that feedback to Microsoft. Other than that, I'm liking the new visuals, although I'd love to see a bigger evolution of the flat design. Microsoft did a big thing by bringing flat UI design to tha masses, but when I read and learned more about Google's new "Material Design", I feel it is a major improvement on UI design, and I feel Microsoft should do something about it.
But yes, Windows 10 is different; I agree with most of Richard's comments and opinions in the article. People should give MS their feedback so they change whatever the majority of people may not like, and improve on the things they are going the right direction on.

They should put buttons for menus at the bottom of the screen. That's my only problem so far.

*sigh* all you guys do is complain.

I will most likely install Windows 10 Preview on my PC but only for when the Phone version preview arrives too. Should be a nice combo.

Good points on the article and yeah will be using and have been providing my feedback

best article in recent days with some message in that, richard devine

Well...even tho Microsoft has done a gud job on the windows 10 and the device's that they revealed,we windows phone users have a huge problem on the windows phone 10!!!...i don't knw bout but windows 10 on phone is not what i expected!at all!!..we deserve better!it is the same wake ass os!and the worst part is that we were so excited about it when we saw the concept and designs...and i knw,i dont expect the os to be exactly like the concept and stuff but @list the one thing they could have done for us is"change the serious ness of the interface's,redesign the slimness ness off the interface,make it more futuristic!,stoping the non sense of the limitation of usability!....but NOPE..all they did is make our phone luk like our pc!really!!!!

How do you know how Win 10 looks/works on the phone ?!

Check it out on Microsoft page...the only major change is the "setting"..and ya that's a big step but come on!!....i just don't think that jumping a big step from 8.1 to 10 is worth,just for setting,and universal app bla,bla,bla...

Perfect communication. I can't agree more with this. I'm using W10 on my machine and I like it. We all just need to get used to the new UI and provide proper feedback

Well, the only thing I need to do before sounding my opinion is to actually try and use it. I really wish they release the insider program for phones sooner.

This article sounds a lot like what I've been preaching through the forums the last few days. The UI design language Microsoft is going with can mean a bright feature for Windows 10 --- on phone, tablet and PC. The Windows Phone 7/8 metro style UI was great for phones, but it doesn't translate well to the large tablet and desktop space. The Windows 10 design languages conquers all three spaces.

Not liking the clutter they are introducing into Win10. Win8 was clean, uncluttered and modern. Win10 feels regressive. Yes, I have given Microsoft feedback.

I'm ambivalent about the hamburger menu at the moment. On a large screen device it does the job well, but on smaller, space-restricted devices, the three dots is better IMHO. Vertical scrolling is also easier than the horizonatal, 'page-by-page' scrolling seen on Android and iOS. I don't see why there can't be a setting that lets the user decide what's best for them. Feedback to MSFT - that is the only way to be heard. I will sign up and have my say..

Windows 10 is fine for desktop. On the tablet, it's a downgrade. I'm all for change, hence the reason I'm on Windows 8. But Windows 10 is not really change per se. It's going back to the past with all that desktop clutter on my start screen. If it was optional, it wouldn't be a problem, but at the moment it is not. And as it stands, I'll stick with Windows 8.1 for tablet and upgrade my desktop.

I agree that a nice tone is important, and its a good article. But that people will simply have to accept change is a impossible request to ask without complaints. So much is changing and evolving around people today, there life is full of it. And how much we want to be super powerful nerds, we are just humans, and I believe that since few actually understood PC computers (and very few today) the learning curve with Windows 8 was steep, and have become even more steep) and some were forced to learn something new again (something some fans fought for), and now we get a new experience. If you ask me, Microsoft have created a mess of the OS through confusion, and while Nadellas message was good, that they want us to LOVE to use a PC (Its the right idea). I cant help to think that Microsoft have missed the boat, along time ago. Its just that its a big boat and its not going to sink very fast.
This is just some thoughts from a old man who seen change so many times. And everything is changing faster. But are we as humans equipment for all this change? Also, I hate that we as a species have become slaves to a screen, and slaves to technology companies that can do what ever that pleases them. But I'm loosing my trail here...
Just as I lost faith in Windows Phone with the 8.1 update and the separation of hubs, Windows is still just something we need to get powerful jobs done. Its obsolete, and I believe that Microsoft is moving TO fast for them self's AND for there customers. Change have to come gradually and logically, and W10 is still a alpha. A bit of a messy alpha, and hamburgers are good to eat. So ill hope we get dessert.

I've been in this industry long enough to know that you either constantly improve your product, or you die. Plenty of companies figured they'd just ride the wave of the status quo and they'd be fine, and they were all wrong. Not everyone will like the changes you make, but that's not the point. You find the best middle ground between improving your product and attracting new customers, and keeping the old stubborn ones just satisfied enough to where they may bitch and complain, but they don't switch. So far, I like some the changes, dislike a few, but considering how far out the final release is, I'm just going to continue sending feedback to MS and wait and see how Windows 10 grows. Oh, and if the location/style of the Hamburger button is your biggest complaint, I'd say MS is on the right track.

The trouble is they moved from having a design language to having none. That is my only issue particularly for the phone app interfaces. Universal apps are meant to share code but not to impose design principles that make sense on a PC to a phone. WP8 metro had a lot of commonsense ideas e.g. using different font sizes to show hierarchy of items, just look at the WPCentral app as an example. This is disappearing and being replaced by a mish-mash of design approaches so much it really looks like it was built by committee and not one design team. Android is even trying to fix this themselves with material design. This matters because as app developers we were given resources to design for WP that actually made sense. Question is how are they going to explain this new approach to us i.e. are they going to push using hamburger menus the way they did with panorama screens and pivots is it now just free for all? Perhaps the new SDK will explain...

Totally agree with this. As all branches of windows are supposedly now one team, I would have thought this would have been the first step. Unfortunately they seem to be more concerned with adding everything for everybody and not unifying the experience into something beautiful like metro once was.

Not all change is good. Change is fine when it's progressive. W10, what it looks so far, for small devices, looks like a cluttered UI nightmare that almost recalls the final iteration of Windows Mobile 6.x

Thank you, Windows Central. People need to know that "Metro UI" is a 2011 thing and we need the revamp for the Modern/Flat UI. Windows 10 UI is gorgeous but need a name like "Metro" :)

Win 10 is currently HORRIBLE for tablets, this is not a change I'm willing to embrace. MS are making the same mistake again. Win 8 forced a tablets OS on a desktop and Win 10 is forcing a desktop OS on a Tablet. The difference is it was EASY for Desktop users to bypass the Win 8 start screen and never use it or see it. Right now Tablet users cannot get around the desktop, the always on taskbar and the lack of swipe features compared to Win 8.1 The current Tablet mode is pretty horrible, it forces an always on screen desktop taskbar that takes up vaulable screen space on a tablet and still stick the desktop their but the kicker is the desktop can't even be used in Talbet mode. It's like MS just threw out a perfectly good Tablet OS in Win 8.1 to apease the Desktop users and in turn have gimped tablets. The Soltuion is simple but it seems they are not going to do it Desktop mode = Win 10 Tablet mode = Win 8.1 UI with refinements and Win 10 engine improvments, Cortana, Spartan etc.

I disagree. I'm using it on a tablet right now.

I'd like to know how you're using yours. Are you using as a tablet without mouse and keyboard? I have mine on a SP3 and compared to 8.1, it's painful.

I'm using it without a keyboard or mouse on my SP3. Tablet mode, to be more accurate. My only usability complaint is with the browser.

You dolt, he didn't say you can't use Window 10 on a tablet. I agree with most of what he said. Except I love everything about Windows 8.1 and I hate everything about Windows 10. I have EVERY BIT of functionality on the desktop that I ever had with Windows 7. We've moved to Windows 8 at work, and as person responsible for running the IT dept, I haven't skipped a step. I get all that aspects of Metro that I've looked forward to since I started using Windows Phone and can stll be just as productive while moving FORWARD.

I feel as though it's a good idea to start off this response in a way that will help you out the most. That's why a large portion of it will likely be focused on telling you about the difference between adding to a discussion and what you're doing. When one adds to the discussion, they provide a viewpoint with reasoning. If it's scientific, facts are brought in. If not, then less empirical things are used as reasoning. UI issues, for example, are subjective. When one doesn't add to a conversation, they're likely throwing insults and cliche stories about supposed knowledge on the subject. Their post may come across as a bit of a ramble, but the main purpose is to try to somehow invalidate what the other person said by invalidating them. Take this discussion. He said it was horrible to use as a tablet, which I disagree with. He then asked how I use it, and I answered. And then you came in, in a way that seems to be your method in this conversation, and completely misinterpreted my posts as an excuse to insult me. That is bad, Scuba, and you should probably reflect on what type of a poster you want to be in the future.

I totally agree. A lot of people here thinking we're just complaining. It's just plain painful in the usability department.

http://youtu.be/MpzTLZU8UTU This video review is exactly dead on in terms of how bad 9926 is on tablets. It's a cludgy design that is an insult to design.

Haters gonna hate hate hate. Ugh Taylor swift

Please, make the control box (Minimize, Maximize, and Close) to always show!

My complain about the windows for phone that I expected to gave interactive live tiles and I didn't get that yet ... Maybe in the next few builds. We all need functionality and may sacrifice some UI changes for functionality.

What's interactive live tiles ?

I have to agree desktop users are boring and ruining cool UI's. This is not even a joke, unfortunately.

Windows 10 is awesomesauce... and I loved 8.

The great thing about windows is that if you don't like the way something works, or looks, someone else probably didn't either and made an app to change it. Thanks to Start8 and ModernMix, my windows 8 desktop looks just like windows 7. Even better as I prefer the flatter UI.

I knew Microsoft did something huge when they showed off Metro. Look at the current UI design trends. But I also knew that they swung way too far out into left field to be mainstream. Everybody who was inspired from it, created a design language that was closer to the center than Metro. Now it's Microsoft's turn to do the same. It might not be as beautiful as original Metro but it will attract way more users. Windows 10 has the best chance of being a platform that rivals Google and Apple's app stores in terms of size.

I'm missing that pure tablet feel...

I liked windows 10 at first, but I hate this new build. It forces metro on you. You used to be able to choose how much or little of metro you wanted, but that option is gone. I removed all my metro icons and have a giant hole of nothingness. I hope they put it back to the earlier builds.

No it does not. Don't like metro, unpin all them and you have just a start menu. Like them? Then fillerup!

No what sucks for Tavlets user is it forces the desktop on you even in tablet mode. WHY do they force a static desktop taskbar in Tablet mode?

Do we really need an article about hamburger menus just because people are being whiny whiners about it? I love the hamburger menu, it does its job very well and it reminds me of HAMBURGERS!

I don't neccessarily care for vertical scrolling in apps, but on the start screen it made sense. The main thing I hope they fix in the coming builds are the icon sets. The latest icon sets in this build look absolutely awful. Also, so far, getting to the settings from modern apps is virtually impossible without a mouse. The charms bar worked well in this regard. Not sure how to mitigate that.

Microsoft is going to get all their non paying, non evangelizing, non loyal, super userbase back and then, they're going to discover how overated they are. Apple already priced out that crowd because they realised a long time ago they just want a free ride. They aren't buy Music passes and subscriptions to Office 365. What they are is a nice fat number to hide behind and claim success to the investors. We, the evangilist are the ones paying for these services, devices and serving as a free promotional tool. And as of last week we were told to kick rocks, becuase there aren't enough of you. We were told Metro is effectively dead and long live the Start menu. And the fans cheered loudly. The Verge took the Advertising money and wrote beautiful stories. All the details were blured that really impact all these windows Phones, Windows RT and Surface devices. You know, all the devices that the real fans that loved Microsoft over the past five years purchased in this android and iphone world of today. How about some apps that are best of class on windows devices? Screw you, buy an iPhone, we'll have them ready for windows in about a year. How about a 1020 successor. Screw You, Maybe in the summer if we feel like it. How about some real deatils about the tablet mode for this $1500 Surface Tablet I bought. Screw you, look at how advance these 10 year old Hamburger menus and this new Old Start menu is. Its so disaapointing but typical of this new Microsoft. Now granted, Windows 10 will be fine and many of us will buy it,but Microsoft has another thing coming if they think this slight wont be remebered. No more loyalty. Oh hell no. Since windows is a mashup of Android, OSX, iOS, Windows 7 and as little as possible of Windows 8, you can be certain that I'll be spending more time with those ecosystems. This XBox music pass that i really like, hey, Spotify will suffice just fine. That 1020 and 1520 I was first in line to pick up, good luck with that when Apples investment in pilaging the imaging teams gets them close enough in the camera department. In short, I'm fine with a non microsoft world.I don't say that becuase I don't still love some of their products, I say that becuase it's clear they don't really give a $h%T about me.The user that supported them the last 5 years and kept them atop the money pile when all all those new bandwagon riders we're predicting their death.

But no company can survive on just the evangelists. Windows is not installed on 1.5 billion machines because I love the metro design. It is like trying to invent a better mouse trap. Or shovel. What I came away with from the presentation last week was the impression that what is coming for Windows users is light years ahead of what was recently released on IOS and Android. Yeah, people line up for the next iPhone like sheep to be shorn. Few can tell you what they are even lining up for. No particular feature. No great improvement. Just the next... It. Apple played to the least common denominator. Heavens. Let's not go any farther than countless rows of icons. And in some respects, we need to that off this "where's the next 1020" business. People obviously turned out in droves for that. It is a niche device. We are all crying for a flagship device. Meanwhile, Apple essentially has 2 devices. Take them or leave them. They are the ones who don't care. As long as people break out the lawn chairs and the press fawns over them, Apple is happy. So as long as we sit here as a community and bitch, the Windows phone community will never be seen as more than a band of petulant children.

I would be happy to embrace all the changes on my Surface RT. I chose it at that time because I liked the concept. And I am still happy with the device. I even got my family to buy Surface 2. I would prefer Windows 10 before some kind of another update that is rumored - Even if it is the below 8" OS version. I mean it is for ARM anyways.

It is just weak from ms that a really unique ui gets dropped just because it was to hard for most Users to adapt to it as quick as desired! In my opinion win10 ui should have been win8 ones and vice versa. So every one would have been slowly introduced in this awesome modern ui! Nevertheless at this point i will not upgrade. It is so touchunfriendly atm and looks just overloaded. PS: where is the touchfriendly ie? Just my 2 Cents as a surface pro 3 user! (yes i know the tp is not the consumer preview but i doubt that the cp will take it to a new level)

I believe the modern version of ie will be scrapped to make room for Spartan

As with all things in our beloved OS, I am sure that it can and will be customized. You don't like the hamburger menu icon, then I am sure there will be a third party app to change it. Windows has always alowed a level of customization.

We cannot even change the tile colors. So much for "customization".

At this point the design language is not finalized and it shows in the preview. I am more interested in function and if the right things are included. It is really weird to be complaining about WP when we only have the desktop version of W10 that is not even truly set up for touch.

My new beef with Windows 10 for pc is the loss of the modern start screen a crammed into the start menu button :( Posted via the Windows Central App for Android

Windows 10 is off to a good start. IMHO.

Maybe integrate Cortana. Like "Hey Cortana, add this to my OneNote." Then proceed on dictating your notes.

"Take a note" has been implemented from the word go. It will probably come to PC, no feedback needed.

What's inexplicable is that the day after Sinofsky was sacked, Microsoft didn't announce that desktop installs of Windows 8.1 would retain the familiar UI instead of the useless, on standard PCs, 'Modern'

If we humans stayed the same because we thought things were already good enough, we wouldn't all be here now having this conversation because there'd be no computers, let alone the Internet. In fact, there probably wouldn't even be any language to communicate with. Evolution is vital for survival and rapid, positive progression. Same goes for software too. So, bring it on - hamburger menus 'n all! ;-)

Sorry but I won't embrace this Windows on Phones interface. I stayed with windows phone because I loved Metro, now they are killing Metro, might as well go Android and have more apps.

Metro is not gone. Live tiles still exist on the new small and large start menu in Windows 10. Same on mobile OS and web

Metro was more than live tiles

You really believer yourself, don't you?

Well I beg to differ on the topic. Microsoft's platform will never be like Android or IOS. The windows UI has changed over the years for better functionality and productivity. Be it on the desktop,tablet, or phone, this is progress and has nothing to do with fan base loyalty. You as a fan have obligation to embrace most everything that is new on your respective platform. Making judgment before trying it or complaining about it is not helping the platform grow. Not sound foreboding, but this is not a Windows made just for you but for everyone that sees it as appealing. If you are a customizing queen then this platform is not for you. We live in social time where people look then pass judgment, rather then trying out. Assholes dress in Armani suits too. Try before you criticize. After all this is what true fan does.

Great Article...please everyone try to Help...

Windows 10 is good, just slow on hardware I'm using. Very slow, high disk usage.

Little concept based on the 9926 build: what would you think if the notification column was transparent and of same color as the taskbar and start menu ? http://a.disquscdn.com/uploads/mediaembed/images/1666/9167/original.jpg

If ur talking bout the phone version That would be amazing!!!!!!...that wat i waz expecting when wi,dows 10 came out!

I installed the Windows 10 preview this week and at first was very frustrated at the changes from windows 8.1. I found the start menu/screen very hard to use compared to that of windows 8.1 that I'm used to and love. But after playing around with it for a few days and figuring out the quirks and how it works I think that it's not that bad now but still needs more touch input polish for tablets like what I'm using it on. The rest of the changes with the notification tab, multiple desktops, updated control panel/settings menu are all a big improvement and overall it's a good move forward to unify desktop, tablet and phone.

Thank you for this article. I sincerely hope some of the complainers will pay attention, though I doubt it. Still, it needed to be said. Nice article. I'm embracing. I've had to fight through learning how to do a few things over again, but I've figired most if it out in the last few days and am starting to rock a few things. Still have more to learn, but looking forward to it.

Tbh I'm really looking forward to windows 10 yes I love the metro style on my pc and tablet but with windows 10 I've been able to enable it on my test laptop. So all the good stuff of Windows 8.1 and some great new features to look forward to. Winner

The hamburger menu sucks. Why? You can't reach it on your phone. For example, look at the screenshot in this article. There is a hamburger menu on the top left, and 2 buttons (or 1 button and '...'?) on the top right. No matter in what hand you hold your phone, you can't reach both. Even if you can swipe to open the hamburger menu, you can't reach the other buttons on top. That's why the current menu is so good (swipe up from the button of your screen): Your thumb is always there. Hamburger menu causes the functions in that menu to be used a lot less. A/B testing proves that regular menu buttons are clicked up to 20% more than hamburger buttons. Hamburger menu always needs an extra action to access a feature. Windows Phone now has the option to show the most used buttons (as icons) in the lower menu bar. Those functions, you can access with a single tap. With a hamburger menu, you always need at least 2 actions (tap/swipe to open, and tap the item). And all of that, on the top of the window (see point 1) I can probably talk about it some more, but other people have already done that for me ;-) I hope Microsoft doesn't use the hamburger menu, as it has many disadvantages. In case you want to read some more about why NOT to use it, here are some links: http://www.demacmedia.com/design-user-experience/reduce-ux-friction/ http://www.webdesignerdepot.com/2014/06/how-to-solve-the-hamburger-icon-problem/ http://techcrunch.com/2014/05/24/before-the-hamburger-button-kills-you/ https://lmjabreu.com/post/why-and-how-to-avoid-hamburger-menus/ http://www.lukew.com/ff/entry.asp?1649 http://level-level.com/het-hamburger-menu-AD-wel-niet-doen/ (dutch)

Short of hamburger menus and circle avatars, I'm ready to embrace Windows 10 because it sounds like it fixes a lot of what W8 did wrong, while keeping what W8 did right and bringing back what pre-W8 already had right.

BS. Just utter BS. Where was that attitude when Windows 8 came out, huh? And what about the much-lauded "choice"? Windows 8 was a completely refreshing approach, while still holding onto almost everything from Windows 7. If people were HONEST they'd admit the only real issue was that they missed their stupid Start Menu. They could still puke a million icons on their desktop, they could still open 50 windows (and pretend they are being "productive"). Meanwhile, those of us who understood and embraced Metro could continue to enjoy literally the best of both worlds. But Windows 10 ruins all of that. It is IMPOSSIBLE to configure Windows 10 to look anything like, much less FUNCTION anything like Windows 8 from a Metro point. EVERYTHING in Windows 10 is desktop. Turning on Tablet Mode just makes SOME aspects try to mimick Metro behavior, but in reality holds no resemeblence. I'm beating my head against a wall trying to make Windows 10 even SOMEWHAT acceptable. It is NOT. Don't give me that garbage about "dismissing" it before it's "official". What a load. It's official ENOUGH.

What he said! Lol with that being said the supporters of the modern start screen with live tiles must submit their feedback I think a fair compromise is still cramming the modern start screen in the start menu BUTTON and when I choose that screen expand it the only thing present is live tiles and a back drop nothing else and I want the choice to be able to boot to modern start screen over desktop Posted via the Windows Central App for Android

As a fan of 8.1 and Metro I can live with all this change... Although it feels like going backwards except what they did to OneDrive. I don't want to have to sync entire folders to see what is in them. I use OneDrive to save local storage.

Release cortana internationally. as long as one chooses a language which cortana has been released, one must have access to this assistant despite which region you are

Yes because what we need is every OS being the same, and looking and working the same way. This attempt to hold the hand of people and assure them that 'It's ok, it works the same...here's a Hamburger!' is just sillyness. You jump to a new system, harden up and learn it. It'd be like travelling to another Country to experience exactly the same things you have at home, kinda not the point. In terms of UX and UI, it really does feel like going backwards to appease people who don't know any better.

I am sick and tired of the nay sayers. If you don't like what is happening in Windows 10 use the feedback button to give your opinion. Don't just say you liked it the old way at least give reasons for it and even give feedback on how they could improve something you don't like. At last but not least... WINDOWS 10 IS NOT A FINISHED PRODUCT YET. Seriously, help Windows 10 be the best it can be.... No OS is going to please 100% of the people otherwise there wouldn't be a market for Apple or Google etc. And lastly, finally the tech world writers are starting to warm up to the idea of Windows 10... That is probably the biggest step forward for Microsoft. The tech world crucified Windows 8 when it launched (Even though it out performed Windows 7 in so many tests) which ultimately put a negative mindset to the consumers. If that doesn't happen with Windows 10 then that is a big hurdle that has just been climbed.

What, you don't think that's EXACTLY what I've been doing from the very first release of Windows 10? I've swamped them with my complaints about each aspect they have screwed up in Windows 10. What a cop out to say it's "not a finished product yet". Do you really not get what we're saying? Those of us, albeit a minority, who were perfectly fine moving from the old Windows 7 style to the Metro aspects in Windows 8 (losing NOTHING in functionality on the desktop side) have embraced where we THOUGHT Microsoft was going. We GOT it. Now what Window 10 represents AS A DESIGN AND USER EXPERIENCE DIRECTION is a joke! Whether you agree or not, it just kills the whole Metro experience and diminishes it to just some small pieces puked onto a tired old desktop FOCUS. Windows 10, from my perspective, goes completely backwards, and an NEVER be the "best that it can be" because Microsoft is trying to make it a better "desktop", not a better user experience, which I have felt from day one Windows 8 and Metro represented.

Come to the light... Embrace the change.... It will be okay... Learn something new... Lol

you are missing the point (just like Michael bay missed the mark when he made pearl harbour) 1. the WP 7/8 UI was not and is not the reason people don't want to leave their android and iphones behind - you know that, right? no UI change in the world will affect people to switch to WP 2. as a community, we sure complain a lot, but guess what we didn't complain about?> - the WP ui, then why won't they actualy fix things that need to be fixed? about the UI rage - there is a very solid thought about keeping actions at thumb's reach and uninteractable items like titles at the very top. this is something that android failed to do since day one and ios forgot all about it when they moved to bigger screens. no hamburger in the world will rock the ground beneath this tought and as a foot note, honestly, Miscrosoft seems to change and "fix" the things that people really love like the WP UI, the hubs, the panorama/pivots/ the start menu etc. it is a bad marketing desicion. there is a lot to do in WP (actionable live tiles, more apps, deeper social apps integration inside poeple hub etc.) to fill 2 WP versions

Personally I will upgrade my W7 ins a month later after making an image of my entire hdd lol. Not leaving anything to chance :P.

My main issue is location. The top left corner is the hardest point to hit with a smartphone which is why Apple customized the UI for the bigger screens. They need to allow some type of alternative interaction other than pressing the button. Be it swipe from the left, or whatever.

This site was about Windows phone first and foremost. They're ruining their UI on phones and tablets. A task bar on an 8 inch tablet? It worked well the way they had it and they're ruining it. Windows 10 is fine on the desktop but their design choices for the phone have no good rationale in user experience. What about the users you already had? I stayed with Windows phone because the design was that good. Now it looks more like Android but has way less apps. Why do they think this will be retaining customers? They need as many US customers as possible but they seem to love upsetting them.

Well let's get real here.... The vast majority of US customers don't like WP as it is otherwise the sales would be higher...even if they were available more than they are. They need to overhaul it so that they will, wither the the current supporters like the changes or not. There are plenty of reasons why WP sales are low and how it looks is a very big one. This is also evident in the desktop version too... You know this is human nature... We use products we like and the vast majority of the world says that Windows has to change... It's not always perfect for everyone.... Great write up Richard................ Cry me a river then build a bridge and get over it

Windows Phone has won multiple awards for its design and its low adoption rate in the United States has had little to do with its design and everything to do with its lack of features and apps. We did not have a notification shade for 4 years because MS didnt think it was necessary. The main reason no one in the US has adopted Windows Phone is because of the lack of apps. PERIOD. Not the design. Stop trying to say that the design was the issue because it was not.

Keep deluding yourself.... WP users all think apps are the only reason sales are so low... It's not, people who buy the other platforms do so because of several reasons and looks matter a great deal. Ask yourself this, besides the overall look of the device, what is the first thing they see when they try to use it? I've seen first hand the looks of folks who have never seen a WP before but have used the others turn one on.... People hate change... They like familiarity.. It's human nature. I understand the feelings of those who like it, I really do and know that it's really efficient the way it is, but you and those others who know the benefits can argue till the cows come home won't change the fact that the majority of users don't like the looks and Microsofts people know that too. Cry me a river if you want but then build me bridge to get over it... Posted from my HTC M8

Apps are the number one reason why sales are low. It's pretty obvious and I'm not really sure why you think that design is the number one reason. Is it a factor? Sure. Is it the largest factor? No. If all platforms had the same exact app catalog we would be fine and we would probably have a large user base. I can not count the times on this forum or others where I have read "I want to get a Windows phone but they don't have the apps I need". Keep telling yourself it's the design. It's not.
If you like the new design that's fine. A lot of us don't and it has nothing to do with being comfortable or familiar with the old design. The current design is well suited for one hand use and it's gorgeous. I don't know how this new design will perform yet but it's design is a metro skin of Android. If what you say is true then people will be snatching these things up like hot cakes with the new design. Regardless of the apps they won't have right?

Well, here's some "real" for you. I'm not those customers! And I don't CARE about those customers. Microsoft made me a much bigger fan when they came out with Windows Phone and when they came out with Windows 8. I pushed their products harder than I've ever promoted anything in my life. I was excited about what the potential was with the Hub concept, integrated social, live tiles (and potential for more interactive live tiles). And then they came out with Windows 10. Back to the tired desktop and the death of any potential that Metro might have had. Metro apps will eventually be diminished to nothing more than super-widgets and you people will still pretend you've got a modern operating system. So, now I push people AWAY from MS.

People refuse to accept change, simple as that. Windows 10 bridges the gap between desktop and mobile in it's looks and it's behaviour. That has been their goal for many many years I like how it looks and am excited to see the finished product in action. Cry me a river then build a bridge and get over it

No, it bridges nothing. If you actually believe that there is ANYTHING in looks and behavior of Windows 10 like that of Windows 8, you need to seek professional help.

There are a few issues - 1. They can always say "it's a TP, not finished, things will get better"
2. I don't think they're actually reading and or listening to the feedback, maybe just to some small things.
3. No way they'll change something drastically just because of insiders feedback. With each new build it seems they're doing what they feel like, creating a very good OS for multiple devices, but messing with the UI a lot. People care about the UI, if the UI is bad people won't care the kernel can also run on a phone, as cool as it is.

I agree that at some point we have to agree to certain changes and iimprovements to a point of compromise for windows 10, "the necessary evil'. I do see development. I think growth is still clowdy at best right now.I know growth is a big word. I refer to growth as an improvement over previous versions. The new desktop is refreshing, but I truly believe that the tablet experience is a step backwards with regards to the tablet experience, especially on a surface pro device. In that regard I do not see a growth but a step back, the compromise is too big. I'm not saying I'm writing it off, but the direction that microsoft is showing with the current winodws 10 in its current form, has too much emphasis on the desktop experience with mouse and keyboard. As I currently use windows 8 on my surface pro, I don't see aows 10 for a surface pro for release and seriously hope that if there is a surface 4 coming out, it has an option to choose winodws 8 for the best surface pro experience. If microosoft does show it is capable of improving a relevant enough change and growth for tablets and surface pro on the tablet experience, I might embrace it then. I do not think the dramatization of "the necessary evil". it suggets to me that the inevitabliliity offers no choice. Well, yes, the help with feedback maybe. But the fact windows 10 will come and what is not to your liking, there is still windows 7 and windows 8. In my experience they are also still good today in their own right and still a valid choice. If not well, then to windows 10, or wait for the next best thing.

If I had any problem with change I certainly would never have embraced Windows 8. But I DID and in a huge way. Why? Because I fully believe it's the right direction. I saw WAY more possibilties than the average person. Windows 10 is a move BACKWARDS, only recognizing that some vestigial aspects of Metro had to come along for the ride. That's it.

Richard, I've loved Windows Vista and Windows 8. I agree 100% on change is necessary. We need to constantly adapt or we get left behind. Evolution does not exclude humanity. Darwin's rules on the subject apply to all. And I like where Windows 10 is going. It's past time we were there.

I got a Pentium 2 and I'm so sad Microsoft won't support windows 10 for my Pentium 2 that I'll buy a new iPad Air 2. This is how some of you sound like. Cut the crap and welcome to the real world.

What I don't like about Win 10 is that they tried to refresh the whole windows experience with the Win 8 start screen and then dumped it because of the negative reactions. Now they try to combine both worlds and it does neither of them right in my opinion.

After a few days with the last build of Windows 10, I'm extremely satisfied! Sure it's a little bit unstable and it lacks somethings and all but... Let's be fair here okey! It looks better than ever! What's wrong with you people making all this fuss about the freaking Hamburger Menues and the damn new UI Design?!! This is the way it is! It's modern, it's snappy and it's feature rich!!! So shut up and ADAPT!!!

Change should be embraced when it benefits the user experience. Until then its a disservice to accept this inferior crap.

I think I prefer the hamburger to the three dots thing. May be they can do a swipe up, from the bottom edge to do what an hamburger would do. Just a thought. Ribbons from the left. Acrion centre from top. And hamburger from the bottom?

Love the 'hamburger' because it works great no matter the application. I say kill the 'back button' on Windows Phones and give us a real way of getting back and forth within an app. I hate jumping into an app and having to hit the back button to reach a spot. Or worse when you reopen an app and you have to 'start all over' in your navigation. They added it in the OneNote app, why not others?

I agree with author. Most of all, I want function - style is at best secondary. Metro/Modern WP style had multiple drawbacks. Worst of it, to me, was text being so large that it doesn't even fit the screen.

The frustration for me here is not 'change' its the lack of innovation upon metro which was built. It was a unique, stylised and beautiful interface. Whoever the original designer was he brought something new to the table. Since then things have gone backwards. This overall feels more like devolution than evolution. Nothing metro since windows phone 7 has been consistent in design principles. I was hoping for something more after all this time.

This is the biggest BS article I have ever read on this site. You trivialize the problem as people complaining about a "visual change." This is not just a question of style preference. If you are using Windows on a phone or tablet right now, the sole reason or main reason may be the user interface and ease of use. Lord knows nobody chooses Windows phones as their first choice because it has a far superior app store or because there are more hardware choices than any platform or because it has the best games or business applications. So for Microsoft to throw up their hands and say they're adopting the UI "standards" used across Android and iOS is to throw into question the primary reason for many to use Windows at all. I'm glad people are speaking up and expressing their anger over the hamburger menu design and the death of pivots. They are explaining why a hamburger menu in the upper left corner of your screen destroys the capability of one-handed use on 5" or larger smartphone. This is not merely a superficial matter of visual preference or style, but one of useability of software on a modern touch device. Putting the address bar and controls for Spartan browser at the top of the screen does not make sense on a modern smartphone where you cannot reach the top of the screen easily. Would you tell people to stop complaining if they moved the keyboard to the top of the screen just because it became the "standard" on Android and iOS? The fact of the matter is that Windows Phone UI did a lot of things superior to the poor design that became standard on Android and iOS. iOS and Android were created in an era where 4" phones were considered large. Windows Phone either by chance or extreme intelligence was a design that adapted remarkably well from small phones all the way up to phablets. To abandon this design is to abandon everything that made Windows phone great. If the Windows phone UI is now "standard" and the app store is below "standard" then reasons to continue using this platform are vanishing before our eyes.

4Tiles, it bears repeating that many pointed out in this section that clicking the icon is in fact unnessary. You can swipe from the left edge for the menu. I do agree about the address bar being on top being an issue. That does make one-handed use an issue, and having it on the bottom was one of the few good things about IE for WP.

Well put and it is obviously a heated topic because finally windows central even did an op ed about it. I am sad to see pivots and ellipses ultimately go in bundled native apps for Windows phone I've voiced my concern feed back opinions on twitter, user voice, on here and super site at this point it is a done deal for Windows phone gets fat with hamburgers and I'd like to add I use a 5.5" android too and find it tedious to leap up my finger or slide my phone down to reach that hamburger button bleh Posted via the Windows Central App for Android

Very well said, Daniel. That's why I usually agree with your points if view.

Too true. Pretty sad when you look back to all the old Windows Phone Challenge videos Ben Rudolph did promoting how WP did things better, but now it seems more like, "look we can do this too!". The modern UI even in the new office apps I find disappointing. Seems more like a slimmed down desktop UI than anything new or innovative. If this was the direction they were always intending to take the wait imo has certainly not been worth the while. It's like they've run out of ideas. They should have looked at this... http://www.youtube.com/watch?v=O-5V7tZUL_4

Yeah. That was really needed to be said. Many people are throwing feedbacks like they dont like that design or function, without any explaination. Some even said they didn't like the 'Hi' and colour changing thing during installation. What is that? Why these things bother to people? Appreciate the newly added features, if not, then explain. If somebody doesn't like something doesn't mean nobody likes it. I just hope Microsoft does not change the beautiful window boundary design on the basis of feedback.

Richard, you got something wrong. People are not happy about "hamburger menu" because of it's shape. Because of it's placement. When using a computer, searching for navigation on top of the page is a habit: a home page icon or logo mostly placed on top left corner. That thing has a reason: we are reading text from left to right, so automatically our eyes start "scanning" the page from top left corner. Therefore, it's a good idea to place navinational elements to top (preferably top-left) of the page, app or whatever. But, if it makes so much sense why when it comes to phones, people constantly complain about this hamburger menu? Because top-left corner is the hardest place to reach with your thumb when you are using your phone with one hand, especially on big phones. Original or not, it's bad design.

Wunnle, as many pointed out in this section, clicking the icon is moot. You can just swipe from the left edge to get the menu activated. There is no obligation to reach up, nor is there bad design here. By having a hamburger, newcomers to WP will likely have a more intuitive experience. Isn't that what you want? Or should it be "house rules" and tough titties to those who don't like the old Metro language like you?

If swiping from left is going to be a thing to open this menu, then it's a solution. But in this case they have to abandon horizontal metro menu too and it's not the case in new OneDrive app design for example. That being said, I don't see any horizantal menus (swipe-able ones) in the new apps we saw in presentation so maybe swipe-from-left-to-activate hamburger menu is really MS' plan. Who doesn't like the old Metro Langua-what? I like it. And I don't care about "house rules", design has to evolve of course. I like my platform and I don't want it to go in a bad direction. (plus I use a L620, I can reach the menu just fine. It's not about me)

I don't mind hamburgers. I miss the start on the right and the easy access to other menu: I can miracast my screen in two-three clicks or change the brightness in a second, now it's a little less intuitive and a little more complicated.

So the point of the article is: change is inevitable, so get used to it? Talk about a straw man. No one is resisting change for the sake of it. They are saying that THIS CHANGE (upper left corner menus) is a bad one! We've been starving for change, begging for change. Most of Windows 10 is loaded with positive change. This change however is a stark regression. This is MS dumping the Zune and foisting a terrible Windows Phone Sync client on us. This is MS dumping a usable Music + Videos app in favor of a non-functional Xbox Music app. This is MS forcing the Windows 8 start menu down the throats of desktop PC using Windows 7 users. MS has developed a pattern of lurching backwards and forwards. They fix a handful of things and break a handful of things instead of incrementally improving. There are NO user voice topics begging for hamburger menus and bemoaning the old action bar. I suspect that this change is coming because MS thinks app developers are going to be more likely to port apps to Windows 10 if they can have a consistent UI, but I am very skeptical of this rationale. ISVs are certainly cost conscious, but it's market share, developer tools and a anti-MS bias not a divergent menu UI that's stamping out their motivation. MS is taking a positive differentiating feature and throwing it away. It's too late to save it and it's just sad.

lt"s be honnest windows 10 targets Android and IOS users so they feel like home when they use windows phones and thats why Microsoft whas making apps for Android and IOS so they know how they prefer their apps and made windows 10 like they would prefer to use it , because like always Microsoft has no respect to us the people that backedup windows phone since windows 7 or befror that ,they don't give a damn about how we prefer Metro then other things and thats the only reaso i solde my iphone 3gs and bought an lumia 800 ,820 and 925 and tell's us that MiCROSOFT think they got us on their pocket and target other customers by ignoring why we prefer the platform

Can't embrace it, tablet mode still sucks.

No. I think you missunderstand peoples contention, ham-burgers or ellipses or watever are fine were needed. thats not the principle issue. i think the hamburgers work really well on the pc ui for universal apps anyone who has seen the new ui for the people app or photos can attest to this. The problem lies in the age old microsoft problem where they say one thing whilst kinda doing another or not really explaining what they ment. They said same Windows 10 core, shared universal apps but a tailored experience for each specific device, thats the issue here the phone is lost.... just look at the new outlook for phones or spartan for phones. all the action buttons in outlook are at the top. spartan now has two bars the most useful of which is at the top. all the images of hamburger menu's is in the top left which is impossible to reach one handed (right hand). Not all is lost though i am quietly confident Microsoft will fix this. the reason being is that none of the ui styles are consistent between app teams this means the ui detailed will be added last just like in normal windows engineering. i love the look of the messaging app... i think spartan would work great if they combined the two bars at the bottom of the screen similar to wp 8.1. also dont get me wrong i love windows, writing from my pro 3, ill use windows 10 for all my devices regarless of these quite frankly minor quibbles. i LOOOVED windows phone right from the 7 series annoncement, please dont let it loose its soul to andriod and ios and no andriod apps on windows 10, i like rudys idea make visial studio a first class environment for android apps and allow universal apps to work on android with very minimal effort.

Where is Spartan and Outlook email?!

I hate the hamburger menu. I dislike MS health app for this and don't like onedrive. The reason are for two things: It is really far on my L930 and occupies more vertical space than bottom fly out. BUT now we will have unified platform, and that's are no adequate way to avoid it on desktop or tablet and it works fine there, so we will unique chance to see many more universal apps that share functionality and we have to deal with this tradeoff ;) I think that profit is higher that this loss.

Great article. Windows 10 feels like it's truly going to be the beginning of Microsoft re establishing their dominance in the world of computing.

Windows 10 will be shaped based on Customers choices right? Can we have a poll and see if people like metro style or hamburger style?

Hamburger menu may be efficient but not beautiful. I still prefer the Hub, Pivot and Panaroma controls.

Happy to be a part of great platform. I'm sure windows will definitely become world's no 1 platform in a coming 2 or 3 years.

Great article Rich! People need to recall the words of Alvin Toffler..."Whatever got you here won't be good enough to keep you here, and it's certainly not good enough to get you ahead". I've been considering loading the W10TP build 9926 on to my Surface Pro 3 and have created a library of over 100 articles on the topic. Recurring commentary from Windows 8.1, 8 and 7 users through the majority of those articles is wanting to go backwards to the old way I used to have things. My research on whether or not to load W10TP had me on the line between do it or don't do it. Your article has gotten me across the line and I will download and install it this afternoon. Parting words for all the naysayers: "Lead, follow or get out of the way" - George S. Patton "Cowards die a thousand deaths, the valiant die but once" - William Shakespeare "If you're not moving forwards, you're moving backwards" - Me

"Because 'change' is not a destination, just as 'hope' is not a strategy."
Rudy Guiliani, former Mayor of NYC

I am gonna hold on to W8.1 and WP8.1 as long as I can and then move on to something else.After 3 WPs and countless PCs I can't go backwards anymore with MS.

If windows 8 was successful MS didn't have to take this route. Not everyone will be happy but as long as more people buy W10 over W8 then MS can build off that momentum. SPARTAN

I really would like to buy into W10. At the current state of affairs, I just can't. Richard said, we should embrace change. I'm not noticing any change. The whole uservoice and feedback interaction with MSFT is just plain hopeless. You could and should expect them to really check into the top 5, better 10 requested items in each area and give details about their plans. Instead, every now and then we get crappy tweets. The whole point is more than ridiculous, if you contrast this with numerous OSS projects offering a far better communications experience with a fraction of the manpower. A few examples. As a Win7-successor on the desktop, W10 doesn't cut it. I rely on recent docs in the start menu. There still are none in W10, and we can bet they won't come. The omission of this was remarked since W8 was a preview. Minor things as the ability to color tiles in W8 were asked for since iteration 0, when it was a prototype. Three years later, we are still unable. W10 doesn't enabled it, to date. Also, no information about (semi-)transparent tiles, or those exploding tiles or interactive tiles for that matter. VPN is barely usable, if you've luck being on a tablet, you are still stuck to crappy add-ons. On WP, there is no way. Said and asked for many times. MSFT and appliance companies are instead playing BS with each other, with their customers as a playball. The number of occasions I asked for a DLNA-client in the music app from different MSFT-teams is appaling. They will not implement it, they want to force us into the cloud and onto paid services. We still have no gapless feedback on WP-devices, will W10 change this? Will W10 universal apps are still be forced to resume 5-10 secs, which is crap for a music app? I've expected them to show W10 not only live on a laptop, but also a tablet, preferrably a phone. They didn't. According to a friend of mine, they keep the taskbar even when in tablet mode. Desktop apps still have a titlebar, metro apps not. Make no mistake. The tech world is currently blended by HoloLens. Wait till the RTM version of W10 is ready. They will then reiterate the points against W8: slightly better, but still poor integration of desktop and tablet mode, unusable desktop apps in tablet mode, start menu a shadow of it's former self on the desktop, ugly colors, no progress on the backend beyond MKV-support. In the current customer market, MSFT needs to pump out an OS that delivers all features Android has plus a couple of differentiators. In the future biz market, Apple and IBM will act as a competition. MSFT is in trouble.

Friend... I must say you and your fellows have such a enormous talent to write a article and i know this is because you all love windows and all of us too.. We will support windows as much we can... Go microsoft... You have to repeat history once again...

Windows 10 (for PCs and tablets) will be good. The Phone version, despite the hype about the single platform, will be affected by at least one huge major issue outside english-speaking markets, that is App-Gap + the fact that whoever has invested a lot of money in another platform doesn't want to invest as much in the Windows OS to rebuy the apps (provided they exist, and in my case they don't). I have over 200 euros of apps installed on a Galaxy Note II which i have ported on a Note 4. The latter has been bought because Microsoft has been unable, in 4 years, to equip its devices with very basic functions. Now, Win 10 for Phones may fix that, but the app gap will remain and that represents a daily issue for people like me who need specific apps (and there are many). So, they can also share the markets with the desktop platform but also that is lacking apps that i need. I think the OS on phones will gain some momentum in English speaking countries and some other markets and will fail again in Asia. The reason is simply that Windows for Phones provides a very unfriendly ecosystem for Asia. Can't have certain keyboard inputs, can't find language software, can't find a variety of small things that other OS have had a standard for long years. I am sure that the desktop version will be good (been using is as insider for months and it's indeed fast, simple and efficient except for those areas MSFT is fixing like terrible browser and terrible onedrive experience). But the experience on the phone for people like me is terrible. I expect 10 to make things better but not so better to allow me to do without my Galaxy Note (starting from the multitasking, to the multiple language tools i have on Android, the choice of keyboard with swipe also for chinese, multiwindow and an ecosystem designed for maximum productivity). I am sure though that it'll attract some users in the western markets, if properly implemented. Rather than people not wanting to embrace the concept is the concept that's lacking too much. It would be different if they added what's missing (I still need to see) and would allow users who have poured a lot of money on Android apps to be able to reuse those apps on Windows. That would make the platform reasonably appealing.

Forcing me to use the Win32 OpenFileDialog instead of the FilePicker introduced in Modern 1.0 is just a no go. I now have shortcuts in all my network drives to all my other network drives trying to scroll the tree menu on the left. Picker was better, except it didn't automagically show UNC paths like File Explorer / OpenFileDialog. They could have fixed that. I hope the eventual option will have pickers for tablet mode and Win32 controls for non-tablet mode. I'm not holding my breathe though.

Fix the icons, add transparency, easy to skin and speed up the start menu.

While i don't particularly like or dislike Win10, one thing is clear. By unifiying across hardware platforms there is, by default, underlying limitations. A major disadvantage is it must be operable on the lowest hardware. That is inclusive of phones, tablets, desktops....whatever. My point being by mandating fluid performance on phones desktops are left with unfullfiled potentional due to their superior specs [mostly]. Until we get a holographic projection standard moniters are way better to view content than on a mobile cell phone. Desktops are the standard for high-end hardware. So even though phones are used much more frequently by nature there is still a place for advanced desktops.

I will curiously embrace all the new will come this year! Gladly, i wanna see!

The hamburger menu placement is the quintessential reason for lothing Android design and loving Metro design. It is placed at the farthest point from a one handed, right handed user's reach. Even Android once had a hardware menu button at the bottom within easy reach. The idea of Metro was to be enjoyable to use, and it was. This past year has seen a continuous flow of enjoyable to use aspects replaced with clunky conformity while offering more features and options. To "love" our devices, they need to be a joy to use. Similarity to competitor's devices does not necessarily help in the love dept. Replacing the things we love will something less is beyond frustrating. Zune/8.0 Music/8.1 Music etc. Also 8.0 carat placement that was replaced with 8.1 carat placement, etc, etc, etc. Now upper left corner hamburger, URL from bottom to top, elimination of horizontal scrolling, etc, etc.

(hamburger or ...) Menu on top or menu on bottom?
I say:
LET THE USER CHOOSE!
Windows Central Newsletter
Thank you for signing up to Windows Central. You will receive a verification email shortly.
There was a problem. Please refresh the page and try again.