Jawbone reportedly stops making its UP fitness trackers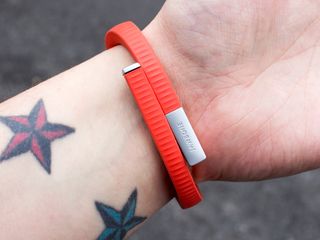 A new report claims that Jawbone has stopped making its line of UP fitness trackers and has sold its remaining inventory to an unnamed third-party company.
The report comes from TechInsider, which states:
Jawbone has not released a major new fitness tracker in over a year. In addition, Fortune reports, again via unnamed sources, that Jawbone has stopped making its Bluetooth speakers and is looking to sell that business as well.
Windows Central Newsletter
Get the best of Windows Central in your inbox, every day!
I had one before my ms band and it was rubbish. Sold it on after a week.

My missus always had trouble with hers syncing and accurately recording that she stopped wearing it.

For me nothing comes close to the MS Band I had the one and upgraded to the two after trying others and for me nothing comes close including smart watches I just hope ms start making ones in different colors

Smart watches are horrible. Say for example; apple is telling people that they can listen to music on their watch... Seriously? Who tf does that? And why would anyone even consider this? Microsoft has the right idea here. Apple, on the other hand has been following the rest of the tech industry ever since the passing of the late Steve Jobbs

If the watch has built in memory and or data like some of the Samsung watches, I get that. Not having to have a phone with you to run/bike while listening to music is a big benefit to me. Not many wearable options as a WP user though. I do enjoy my band 1 and have been debating on a band 2. My only issue with band 1 is how fast it wears out with normal wear. Bought mine on launch day, had to replace it about 6 months later. That one is already worn out. Same with my wife's, replaced it about 7 months in.

Actually, Apple Watch has 8GB intenal memory of which 2GB is reserved for Music. In addition, you can pair a Bluetooth headset with Apple watch and listen to Music without the Phone. The implementation is really nice - wish Microsoft had done that with the Band 2.

Oh, I bet that is nice. I have an iPhone 6s that I just got for work. I don't really care for it, other than the apps and Apple Pay. May have to look into Watch a little then... Thanks for the info.

What about battery performance? Using the device for all of those functions and fitness, keeps it on the charger, not your arm. It's not smart to do things just because you can.

The wear issue got addressed in Band 2. It is holding much longer due to softer band.

Good to know! I do really like my band. You may have helped me decide on buying 2.

You should like the upgrade since its cheaper now. I still dont like to wear while sleeping but wearing 2 is way more comfortable, the curve really helps. Remember one thing, Band 2 sizes are a little larger than 1. So if you are on border make sure youbtry one before buying.

Right because in a world that revolves around you, just because you don't need it, no one does

MS has less than 1percent market share....MS should just give up....oh sorry, wrong thread LOL!

Four messages in a row (and they're all the same). That's what I called commitment❗

Lol everyone downvoted you but I laughed
-Vigor

im not sure why the downvotes , but I also laughed as I was typing it haha. what happens when I get too many downvotes? does my head explode?

still waiting for their WP app that they promised a couple of years ago

Yup, https://www.windowscentral.com/e?link=https2F%2Fclick.linksynergy.co...

I have never seen anyone with an Up. They are rarer than positive comments about MS from our regular trollers. As for Apple, well, you walk down the street wearing one of them, you ARE going to get mugged. Band 2 is my fave. Does everything I need, and some...

The band still needs a lot of work connectivity wise (like better cortana implementation), but I know we won't get it as an update we'll have to fork out for a new version.

They would rather sue FitBit than try to come up with a better product. Shame....... Posted via the Windows Central App for Android

I didn't realize Jawbone was in such bad shape financially until I read the fortune article. I really like their speakers and headsets. It is a shame that mismanagement of the company will end of life some really nice products.

Well, they suck at making headsets too. Got rid of their user forums.

Sucks, I like my UP3. Not a fan of any of the fitbits, they're all ugly to me. The UP looks like a regular bracelet.

Smartwatch is useless and boring, it's not convenient to buy them, they aren't functional like mobiles, even in music what is the fantastic or fabulous in putting your music in a smartwatch, your mobile can do all of that and more, we all have wire or wireless headphones that don't take much space in our pocket or our ears.
The watch that is helpful but, unnecessary in our life is the fitness tracker like Microsoft band,Fitbit...etc.
Beside they offer some tweaks like notifications and messaging.

Because some people may not want to take their phone when they are exercising but still want to listen to music? Or reserve phone storage for apps/games rather than music.

You want to take out your phone every time you want to skip a track/check a message? With a watch/band, I'd imagine it'd be easy to check while running.

I went through three of those pieces of crap before switching to my Samsung. Good riddance.

Market is ripe for Nokia Withings to take. Classy battery efficient wearable's.

I never liked any of their products.

Good move on their part. I've had two and they were pieces of junk. Never worked right and died a premature death.

It was always a very uncomfortable band to me. You have to rest your wrist on that large bump and I find myself having to constantly lift my wrist which is an unnatural way for me to type on the keyboard.