Joe Belfiore runs through what's new in Windows Phone 8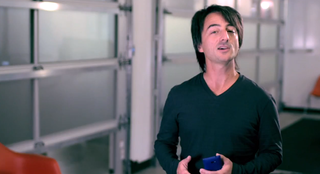 Microsoft has published a video on its Windows Phone YouTube channel that shows off the new features in Windows Phone 8. Joe Belfiore from the Windows Phone team is the best choice to run viewers through everything, so be sure to check it out if you happened to miss yesterday's event.
Taking viewers through Live Tiles, Live Apps, Data Sense, Office, integration with Windows 8, as well as camera innovation in the Lumia 920, Belfiore ensures we're all eagerly wanting more.
Windows Phone 8 adds new functionality, as well as new hardware, to the platform. While there isn't a long list of new features available as many wanted to become reality, Microsoft has certainly delivered an alternative choice to Android and iOS.
Source: YouTube
Windows Central Newsletter
Get the best of Windows Central in in your inbox, every day!
Rich Edmonds was formerly a Senior Editor of PC hardware at Windows Central, covering everything related to PC components and NAS. He's been involved in technology for more than a decade and knows a thing or two about the magic inside a PC chassis. You can follow him on Twitter at @RichEdmonds.
Pretty comprehensive video. 920 all the way for me. Anyone know a good black market these days for kidneys???!....

Negri electronics is good and reliable.

After 5 years they have added another ro of Icons... iPhail

Awesome and true Apple is over

Saw this yesterday. Really nice video specially with Joe Belfiore. He is such a great speaker. He is genuinely passionate about his work and WP and does not sound like he's trying to sell you something. I also loved the jabs thrown at iPhone and Android.... "After 5 years... they've managed to add another row of icons" LOL but so true.

Joe used to be on the ehome team.... Windows Media Center... too bad they killed it, it's my favorate Windows app.....

and he did great things for Media Center... I've been following Joe for years now...

But more importantly they broke lots of other stuff. Apple just fired a couple execs, we'll see what happens.

I'm glad that fired that Scott guy. Mr brainwasher.

Forstall clearly behaved a lot like Steve Jobs. The whole thing about Forstall refusing to sign the iOS 6 crappy maps apology letter reeks of "Just hold it a different way."
Jonny Ive is now overseeing the UI experience. Expect some changes.

Sea of static icons... lol

I call them dead icons ;)

1:08 the iPhone 5 is on sprint.

Also, the Android phones are Motorola's. So they hate sprint, Motorola, ios, and Android. :-)

It's a sea, an endless sea, I say!

I like how he put emphasis on "Accurately" smart jab at apple maps or imaps whatever the hell its called lol

Anybody see the gorilla too during the Lumia 920 camera demonstration? Starting at 6:55

Haha yeah, though I was just seeing things

haha I didn't see that at first.. cool way to introduce a product with all these humour!

Love the vid, the 920 is my choice!! I love what you guys have done with windows phone 8. I just want to know, will windows phone 8 have screen capture? I would love that feature!!

Didn't you watch the Windows Phone summit event back in June? They will all have screen capture functionality built in.:)

I missed that, but I'm glad we will now have that feature! I'm crazy excited!!



Joe has the cutest kids. The kids corner feature will appeal to a lot of parents especially seeing as how Windows Phone is the only OS with such a feature.

The kids corner is a hot feature!! I love the idea of private rooms as well.

Only OS with such a feature built-in. My wife's android has a Kids Mode app that doest a similar thing. But regardless, I am stoked for WP8 and a Lumia 920 :D

Some heavy hitting at competitors and a nice look at some of the new features. Would like to see a comprehensive video like this for all the enterprise features. Also liked how they handed devices back and forth.

I like the hand at 7:45 that takes the phone, rotates it to the camera then drops out of frame. Cracks me up.

Or the Gorilla in the background xD

He almost gets hit in the head by the 920 at 8:50. LOL!

Maybe for a standalone Kids Corner commercial, but not for this overview.

Now one has to wonder how much of all these stuff won't be made available to current Windows Phone 7 users.
Honestly, I perfectly understand not getting everything that required new harware or W8 core (real voice-IP support, NFC, kid's corner user account, etc.), but other than lacyness to update a diyng platform I can't see why wouldn't we get stuff we've asked for so long like high-res uploads to skydrive camera roll ...
It is even more annoying for those that participated on the feature requests website, since we are now getting e-mails to let us know that "what we asked for has been implemented in W8". Well, it's great that they did, but I was personally voicing my opinion on what "would I like to get on my WP7".

HOLY CRAP @ WORD FLOW! That's fantastic!!

Agreed. I liked that too.

I thoroughly enjoyed that video, it put it in laymans terms for all those individuals who don't know much about WP and it compared it to what they know with easy to see features

Why is Steve Perry doing Windows Phone vids?

Reminds me more of the dude from "Perfect Strangers."

10:53
2 chainz? Really, Joe?

I saw that and DIED! looooooool This video is so amazing

I think WP Central needs to set up 3 phones, WP8, iOS and Android, with comparable home screens, on the same network, and then send identical messages over all of the supported services to do a comparison showing how well the live tile system works at putting relevant information front and centre.
I would love to be able to point to something like that when talking to my friends about how well WP8 surfaces the information I care about.

That would be perfect!!! A perfect tool in a debate of operating systems.

''Unlike Google Play'' hahaha

Someone hold him down and cut his hair, please.

That is a great introduction to WP8 for new people. He really made it simple and usable for the average person.

I think word flow is seriously underrated... That was pretty damn cool!

This video is awesome showed me what to look forward to once i get my new wp8 device but best part is seeing 2chainz in Joe Belfiore music hub lol

OMG Kids Corner my wife needs this for sure!

My wife is a iPhone fan, I have to show her this video...when we get power back...(Dam Sandy !!!!)

I'm not a android fan but is clear that he's modify to his convention about personalization, you can personalize your android phone as well because before my windows phone I had one and it was looking great! So, we know wp8 is amazing, but please!

true, I have blue tetris blocks on black background arrangement on my SGS3 which take me to apps etc. Looking forward to arranging WP7.8 into tetris blocks as well. For some reason the tetris shapes reduce the complexity (for me anyway).

The stab at iPhone and Android was funny. "a static sea of icons" nothing further from the truth.

Damn Son! Microsoft is so rich it has Bigfoot working for it!


Joe almost got hit in the face by the Nokia hahaha

7:40 LOL im still pissing myself over that hehehe Love it.

7:40!
OH yes! that was just hilarious!!!!
Do you think Apple will be sueing them for the pokes about the sea of icons??

Patience is virtue - someone said!
This simply confirms my long standing admiration for Microsoft and their ability to ride storms, focus on the goal and deploy the product.
Sure this has been a long time coming and sitting on the sidelines waiting for something great has not been easy while others have been launching/purchasing competitive products.
Now my patience has been thoroughly rewarded!
From the dumbphone days where Ericsson and Nokia ruled (at least here in Scandinavia) to my first Windows Mobile (P3600) finally up to my HTC Radar (WP7.5) I have never seen the need to jump ship.
As for most other people Windows has been an integral part of my professional and personal life. I saw something that just worked right from the first release of Windows 95 and although there have been a number of failures in the versions (did I say Vista) Microsoft has steadfastly pushed forward to a better product.
Office plays an integral part of most businesses and we see the benefits of cloud computing, especially in small businesses.
Windows Phone 7.x gave everyone a preview of the future - sure it could have been much better - but nevertheless it did stir up a fuss.
When Windows Mobile 6.5 finally saw an end I, like many other WM-users, was tempted to try something else. But the alternatives just didn't seem to convince me. Android was too geeky, the iPhone was too expensive (too little for too many bucks) so I hung on to my HD2. Until I got the urge to flash the WP7 Mango ROM from XDA - just for the hell of it. That was last November, so Windows Phone was already coming to the end of its first full year.
The experience was wonderful. It was if all my life came together. All my social life was in one place, my documents likewise. This was what I was looking for! I promptly ordered my Radar and never regretted a moment. I just hoped for a further possibility to get everything together regardless of where I was or which device I was using.
That has finally arrived - and how!
Windows 8 on a full range of devices for your everyday tasks and Windows Phone 8 in your pocket! Everything, everywhere, all at once! And all instantly recognizable regardless of which device you use. Brilliant!
The next weeks and months will definitely be exciting as devices in all shapes, sizes and colours start rolling out. The same with apps, which although not essential to my everyday tasks, are usefull in a few areas.
I congratulate Microsoft for shrugging off all the negative feedback they have got during the past few years and wish them all the best in the time to come.
In the early 1980s Bill Gates changed the world we live in. Now we see history repeating itself.

Nokia Lumia 920 from Rogers Canada review is here: http://forums.wpcentral.com/windows-phone-8-general-discussion/200158.htm

Really great video! Loved it, and Joe is such a great speaker. Love to listen to him. My guess, next CEO ;-).
Windows Central Newsletter
Thank you for signing up to Windows Central. You will receive a verification email shortly.
There was a problem. Please refresh the page and try again.