Everything you need to know from Microsoft's Windows Phone 8 event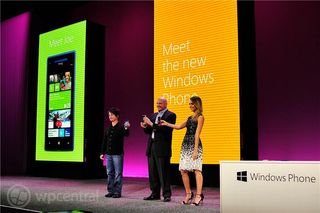 Phew! Today was fairly eventful, was it not? While not an awful lot was announced by Microsoft, we did manage to see Windows Phone 8 be formally launched into the wild with handsets confirmed for carriers in a number of markets. Welcome to our round-up, which will be useful should you had been absent through the presentation.
Microsoft launched Windows Phone 8 today in San Francisco. We saw Joe Belfiore take the stage as usual, with his children along for the ride and to help demonstrate the Kid's Corner. But that's not all, as model / actress Jessica Alba was also present to help present the platform. She's been wielding a red Lumia 920 since the hardworking mother upgraded from Windows Phone 7.x.
We were on the floor at the event and managed to not only live blog the entire presentation, but also bring the latest news to the homepage for pleasure of viewing. Today was a huge deal for us with the launch of the new Windows Phone Central website design, which we feel was the right move to make prior to the Microsoft presentation.
So what was unveiled during the presentation? Without repeating what we've written elsewhere, Microsoft had a number of Windows Phone 8 features on show. These included Kid's Corner, Xbox Music, Rooms, Office, Live Apps and Live Tiles, as well as apps and games that were on their way to the Windows Phone Store. There was a surprising amount of content to sieve through.
Among the apps and games said to be on their way were the following:
Angry Birds Star Wars
Pandora
Temple run
Urbanspoon
JetPack Joyride
The interesting deal (or twist) with Pandora is the service and app for Windows Phone will enable consumers of Microsoft's mobile platform to take advantage of a free one-year subscription or free music with no advertising. Sold.
Steve Ballmer also paid a visit to the stage to really beef up the exitement for the Windows Phones that are on the way. While he was no where near as jumpy as we'd like him to be, Ballmer got the job done and ended with carrier availability and pricing in the US.
If the event wasn't enough to satisfy your Windows Phone desires, then our Windows Phone 8 review might take some of your time to dive into what's on the horizon? If you're into HTC hardware, our Alex Dobie took a look at the HTC 8X and published a number of awesome photos to show off the device aesthetics. Did we mention our Dan Rubino received a AT&T Lumia 920 to review?
But like we said, there's a lot to get through, so be sure to check out our collection of links that you should definitely click through should you happen to have missed any part of our coverage.
Event
Windows Phone 8 SDK to be made available tomorrow at BUILD
Poll: How was Microsoft's Windows Phone 8 event for you?
Apps & Games
Hardware
HTC 8X Windows Phone photo samples
HTC 8X Windows Phone hands-on gallery
Windows Phone 8
Introducing the Windows Phone 8 Wallet
Miscellaneous
Unfortunately our website was encountering some issues where some readers were unable to publish comments on articles. We're pleased to announce that this bug has been fixed and should you be in the position where you were unable to participate in the conversation, we strongly urge you to return through our coverage and voice your opinions, and post any bugs you find in the designated forum thread.
Until next time, folks ... tomorrow, if we're accurate - it's time for BUILD 2012 and the Windows Phone 8 SDK.
Windows Central Newsletter
Get the best of Windows Central in in your inbox, every day!
Rich Edmonds was formerly a Senior Editor of PC hardware at Windows Central, covering everything related to PC components and NAS. He's been involved in technology for more than a decade and knows a thing or two about the magic inside a PC chassis. You can follow him on Twitter at @RichEdmonds.
Nokia Lumia 920 in any color since its the most wicked phone on the market - wp8 completely rocks the Nokia.
BTW, loving your oh so modern central look :)

So much cool info brought out today. I'm reading up on everything lol!

jetpack joyride is awesome!! got it on surface as a free Xbox Windows game

Joe was great today :-)
Looking forward to get the 920 in my hand :-)

So so so so so so so hyped for the lumia 920!! :D I want it soooooooo so bad :D

Wp7 See ya wouldn't wanna be ya

TOO MUCH INFORMATION not to have a release date and pricing. Come on ATT, give us something.

at&t said it was launching the 14th of November @ $149 for the Lumia and $99 for the HTC 8X (not sure about the 8X launch date). Ah! Can't forget about the Lumia 820, it will be priced @ $49. although, I know a few at&t-core employees and I heard through the grape vine that the Nokia Lumia 920 is suppose to be priced very competitively, as in $99 competitive and not $149. If the news is true then hot diggity damn, Lumia will rule all.

If that is the case then the 8x would be priced higher?

AT&T didn't confirm anything. Also it would be more like the 11th or 18th as they release on Sundays. You're confusing AT&T with TMobile and the 820.

Explains why Jessica Alba had the Red Lumia 920

Her lipstick should have matched her phone

7.8 for current users is now an afterthought

No major announcements although some flesh of some of the older ones. I am happy with the Datasense especially when it makes its way to the UK, Kids corner and the Live tiles. I am sure we have lots of other nice stuff to play with.

I am not fussed about 7.8 tbh.

I am ready for the SDK keynote and roundup, I want to know the hardcore info about the OS #WPnerd

Everything discussed at the event was exciting! I'm really looking forward to getting a WP8 phone, whichever one it ends up being - still thinking about which one (though it'll definitely be Nokia).

Can someone do a indepth review of the new keyboard - the smart word recognition.
Also, please, please - IS THERE ANY SUPPORT FOR DVORAK keyboard? Badly need this.

Were those apps and games coming for Windows Phone or just Windows Phone 8?

Temple Run will be WP8 only as the Unity Engine it runs on depends native code

I'm liking all of the news today and liking your new site design too.

Honestly, they've done a great job with WP8, but if they are to succeed they need Instagram to go along with Pandora. Those are the last two you need to say hey teenagers and college kids, we're just as cool as the other platforms and we have shiny colors! In fact, they need Instagram a lot more than they need Pandora because they have XBOX Music. Yes you might hate crappy filters but the rest of the world loves crappy filters and there won't be a windows phone if the other 99% don't start caring about windows phone. Long live the crappy filter social network!

Co-Sign!!! That the one app I want Instagram

How come Words with Friends has a a T Mobile logo on it? Is that some kind of carrier exclusive? Hope not

Come on. Throw us a bone. But we'll gladly trade Words with Friends for a 910!

Any word on landscape vs. portrait mode? Also, heard something about a notification light on the htc

Overall I am pretty happy with Microsofts event today, but one thing I was hoping for was an instagram announcement. Some people may not care about it but I know people who will not get a Windows Phone if it does not have Instagram. SB: I have an iPhone for work and Windows Phone for personal and I just wanna you my iPhone for work

Instagram has been purchased by facebook and Microsoft does have a minor investment in facebook so I think we should have something soon. Keeping my fingers cross because all major/popular apps need to be on this platform.

Instagram has more people than twitter. What kid on Instagram is going to choose a windows phone without it. I love wp8, but some pieces are the difference between a chance at success and no chance in hell of succeeding

Any chance WP8 finally adds gapless audio playback?

I'm awaiting windows phone 7.8 patiently and will welcome windows phone 8 when I get money for an upgrade.

WTH happen the whole day I couldn't comments

Instagram is slowly dying

I was upset as I was trying to post the mobile link for the live event but I couldn't post. Now I can... I'm sorry for those of you who missed the event because I couldn't give you the link.

Jessica Alba uses Instagram. Wasn't there a rumor that Instagram is on the way to Windows Phone?

The event was really over hyped .. No new ground breaking features announced. Where is the need of dual core processors for all the features??. These can be implemented even on the existing windows phone devices.

OCTOBER 30, 2012 7:24 A.M. caleb23 wrote: Morningstar today about Nokia:
Share price assumption at this moment: 2.40 euro (Nokia share is in Helsinki right now 2.06 euro, in New York 2.56 dollar)
Best scenario (if WP8 phones go well): the stock price will go to about 7.70 euro per share)
Worst scenario: no bankruptcy, because Nokia would be sold in parts before that.
Estimated price for this: intellectual properties over 1 euro per share;
other business parts (smartphones, featurephones, NSN) at least over 1.50 euro per share.
And NAVTEQ´s price not included (Nokia bought NAVTEQ with about 7 billion euro). All in all even in this case, Nokia share price would be at least over 2.5 euro. Pretty much like my thoughts and analysis.

A bit dissapointed that they advertised the Pandora so much, and you can only use it inside the US. Glad I have Nokia Music though :)

I want a windows 8 Phone to go with my Xbox, PC, and Surface tablet. I love Windows 8 especially the Metro interface and my Surface tablet. But I am very frustrated not being able to pre-order and/or buy one at launch date and still no dates given by AT&T for availability. This is not the way to treat consumers nor a good launch IMO. Unfortuately due to Windows 8/Metro/Surface/XBox I will probably bit my lip and still buy one. But you bet if the phone was my first entry to the MS eco-system/platform I would bail and continue with Apple or better yet switch to Google Android. One frustrated consumer.

For people o missed the event the webcast is avaiable to watch here: http://www.microsoft.com/en-us/news/presskits/windowsphone/liveevent.aspx

My heart started beating faster when they announced that 46 of the top 50 apps would be on wp8.. The anticlimax when Instagram wasn't announced was just .... just.... oh I can't even find the words to describe the sadness!
now... do the new "supported countries" get supported immediately? Or do I have to wait for 7.8?


No a single word about w7.8. Jessica Alba got the new 920 for free but we wont. And i can't spend so much money to a phone to be a beta tester again. So my next choice will be iphone 4s or Nexus 4. I really wanted this to work.


I like and I'll follow the wpcenter pages and Nokia 920 (black one to me please).
Windows Central Newsletter
Thank you for signing up to Windows Central. You will receive a verification email shortly.
There was a problem. Please refresh the page and try again.