Welcome to the newly updated Windows Phone Central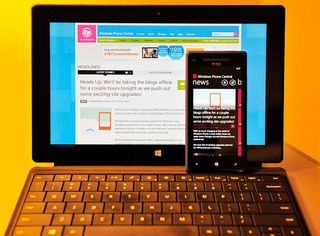 As Microsoft gets set to officially launch Windows Phone 8, we're happy to unveil some site updates of our own on Windows Phone Central.
More updates are coming soon to our forums, store and already-awesome app, but if you're reading this on the full desktop site you're now witnessing the new look and feel of WPCentral.com. We've upgraded to the latest version of VISOR, our Mobile Nations content management system, and we've given the site a fresh look. We've even mixed in a little inspiration from the Metro UI.
As you click around and use the site you'll notice a multitude of changes, both functional and visual. Some of the bigger changes to make note of are as follows:
Bigger, Cleaner, Faster - We've widened out the site and narrowed down the side bar, giving more room for article content. We've minimized the number of image files requested on page load, helping to keep load times fast.
Homepage Headlines View - Regular readers of the site now have more control over how they view content. By default stories are presented in the traditional blog format with a photo and teaser, but tapping the headline icon now allows you to see a long list of article headlines. When you see a headline that catches your attention, you can easily expand it with a click. If you haven't been to the site for a few days, this is the fastest way to catch up on what you may have missed.
Latest Forum Community Discussions - Tapping the Latest Discussions button on the homepage (to the right of Latest Stories) will pull in the most recent posts made in the forums. This is a great feature you'll want to put to use!
Comments / User Pages - When viewing comments to articles, we're now pulling in member avatars. You can also click on a member's name to pull up a profile page that lists their most recent article comments and forum posts. We have a lot more functionality on the roadmap for comments (rate comments up and down, subscribe to comments, etc.), so stay tuned for that.
We'll be making tweaks and fixing bugs as the dust from the upgrade settles. If you come across anything out of whack, please report it on our WPCentral Site Upgrade forum thread.
** App Users Take Note: If you're using the WPCentral app and encounter any errors, be sure to logout and log back in to ensure proper functionality. After launch we had to make some tweaks to get comments working via the app again, but that process has been completed successfully. **
As for what's next, the answer is LOTS.
On the visual side of things, we have a new logo in the works for the site. We kept the site logo mainly unchanged for this update to ensure some continuity. Our next app update will feature a new site logo that we're liking the look of. So expect to see some changes there. We're also working on the ability for users to customize their own theme for the site. So if you're not in love with the color scheme we have going on now, don't panic, we're working towards giving you the ability to change it.
While we've temporarily updated the look of the forums to match the new look of the site, we also have a major forums update coming soon. If you visit the forums on our sister Mobile Nations sites (Android Central, CrackBerry, iMore), you'll get a sense of what's in store here. It's a vastly improved forum experience.
And with WPCentral now on the latest version of VISOR, you'll see more features come to the site more quickly. Next up we'll be rolling out Mobile Nations Passport, which will allow for single account management throughout all Mobile Nations sites (login with Microsoft, Facebook, Twitter and Google Accounts supported too). We won't give away all the secrets right here, but let's just say the best Windows Phone site out there is going to continue to get better and better.
Enjoy the new site!
Windows Central Newsletter
Get the best of Windows Central in in your inbox, every day!
Daniel Rubino is the Editor-in-chief of Windows Central, head reviewer, podcast co-host, and analyst. He has been covering Microsoft since 2007 when this site was called WMExperts (and later Windows Phone Central). His interests include Windows, laptops, next-gen computing, and for some reason, watches. Before all this tech stuff, he worked on a Ph.D. in linguistics, watched people sleep (for medical purposes!), and ran the projectors at movie theaters because it was fun.
is that an HTC 8X??? How...

I would also like to know...

Don't u also notice on the 8X, is a new version of the wpcentral app? :-)

Looks really good, Daniel. Good to see a refresh.

@kidjenius - the unveiling of WP8 is tomorrow. These guys have probably had review units for at least the last few days under NDA.

good point. I should have thought of that earlier. silly me

Can't wait for all the updates. This is looking really good.

Nice... except... your logo still reflects the old Windows wave logo, but it's not a big deal.
Other than that, site's looking pretty sweet.

No "except", we address that in this post.

Sorry. My bad... not sure how I missed that. I just traveled across country and my eyes are tired. I stopped at the "** App Users Take Note" section. I must've been focused on all the bold goodies.

Looks awesome! Waiting for the new App...

With editing comments and forums? Hopefully?

Looks a bit like Engadget..

Oh this looks really fresh. I like it, though I tend to spend more time on WPC at home it's the app i'm excited about because on the road it's my connection for a good read.

On my HD7 browser. Typed in m.wpcentral.com and I'm looking at the desktop site.

We'll be updating the mobile site template tomororw. In the meantime it is the full desktop site you're seeing while mobile. Good news is... Windows Phone browser is good, and there's always the app! But mobile template will be getting an overhaul soon. We just had to let our dev team go bed for a few hours :)

I love the new look. so fresh and so clean.


Yes, so fresh and so clean... clean. ;). Sorry, couldn't resist.

This is good. Gives it a tablet friendly look. Very clean. Congratulations!

I like the new site. The colors and layout are on point. Well done.

Looks really awesome. Congratulations on a job well done.

If you're having problems with the app's comments guys just go into the app settings screen, find the button labelled "Delete WPCentral account" and tap it. Then restart the app to clear any cached settings and then try to comment again. You'll be asked for credentials and should be able to sign in :)

I can't have the update of the app on my Windows Phone... I still have in the Windows Phone Store the v2.3.0.0 which is my version... What should I do??

yeah the new site is awesome, Plus I'm loving my Surface, just a few more days and I can have my lumia 920. Then Mission Complete.

You mean "bank account empty" :P

Awesome!!! ...yeah I had to sign out, sign in, and restart restart the app to post comments again

It looks really nice .. hands of applause to the WPC team.

Site looks great! Sorry if this is a repeat but couldn't comment on the actual website from my PC.

Good work! the site looks great. Will there be a Windows 8 metro app?

Its time for a fresh reboot of our beloved Windows Phones, and its going to be fun to follow the journey with you guys at WPCentral. Thank you for your dedication to Windows Phone and hard work, you make my everyday life more exiting

Very nice! Time for a mobile update?

How about a Windows 8 app?

To those using the app: Do you guys have the WP8-tile-like-logo like on the htc in this picture? I still have the old one.

Dan is teasing you with version 3 of the app. It's not released yet, but will be soon...

I guess that logo will follow the theme color.

Anyway, nice idea with the tiles.

Shhhhhh, don't reveal what's coming next to the world :-P

Love the site changes so far. Had to logout out of app and log back in to post comments.

You guys never cease to amaze me. Great job! One question, is there a Windows 8 app coming anytime soon?

Wow people really want the Windows 8 app huh? I've been focused on v3 of our Windows Phone app but will shift to working on Windows 8 next after all this demand!

Nooooo! Phone app, first!!

Uhm... site's so bright. Is there away to change the Cyan color? Like a user preference? Because wow... So blinding.


Yeah, that was my first impression too. I guess we just will have get used to it. :)

"So if you're not in love with the color scheme we have going on now, don't panic, we're working towards giving you the ability to change it" Reading is fun!

Well, reading is fun but how does a future / soon-to-be-released color scheme change the impressions I have now?

Awesome refresh. Wait, what does "refresh" mean anyway. It was "fresh" then we "freshed" it again? Hmmm. lol. Anyway, I'll refer to it as a "respring". Good job on the respring Daniel. It looks great and when I get my Surface, I expect it will look amazing. BTW, where is the WPCentral Windows 8 app for Windows 8? Is that here and I missed it?

BTW, its looks "touch" frendly.

Looks awesome. I'd actually just clean installed W8Pro on my laptop and checked the site.. I thought whoa W8 must 'metrofy' all web content.... Cool.. Then realised it was just a site update ;) loving it and the new site guys. Bravo all round.

Looking good guys! Excited to see the WP8 launch on the new site and upcoming product reviews. Keep up the great work! Btw, I can't post from my surface through IE. App or desktop.

Looks nice and clean but for my taste, it's almost too bright now, it hurts my old eyes after a few minutes. Somehow, the headlines are not standing out as nicely as before even though they seem to be bigger now. Well,
Just give me a couple of days to get used to it and I'll stop complaining. :)

I just noticed: the comments don't seem to pull in my avatar?

Looks great but commenting is still broken on IE10

Nice new logo. It's visible from the image showing the updated WP Central app. :D

WOOW i love the New design of your site!
No change to to the other stuff, you still have the best site there is :)
Thanks for everything!

Mobile site got killed in the process completely, or is it comming?

Very excited about nokia lumia 820 W8 and of course will benefits from the new site.

I can't post my issue in the thread, because that's my issue. I can be logged in and see the blog, but as soon as I move over to the forum I am no longer logged in, and clicking the login button at the top just refreshes the page I am currently on, it does not bring me to a login page. Using Chrome Version 22.0.1229.94 m.

I'm using feed reader and the articles no longer have the "read after the break" link anymore... was wondering if that was still in the works or was it dropped?

AMAZING + GREAT + WOW (MORE) = LUMIA 920 !!
- - THE WONDERFULL DESIGN FOR EVER this LUMIA 920 FEVER
This site is AMAZING and SMARTIDEA for the smart phone developers !! Good going Keep it UP
(I sent one bug issue also, please repair it soon. I dont want to mention it here :))
rkvino@yahoo.co.in

I'm in! Bring on the Lumia 920
Windows Central Newsletter
Thank you for signing up to Windows Central. You will receive a verification email shortly.
There was a problem. Please refresh the page and try again.