Xbox Music on Windows Phone 8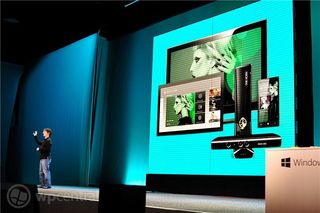 Microsoft has recently given its music services a much needed overhaul and the new service is called Xbox Music. It's already available on the new Xbox dashboard update as well as on Windows 8.
Windows 8 has built in Xbox Music too and comes with some excellent local as well as cloud based features.
Xbox Music has been designed to work across multiple devices and allow for a more seamless music playing experience. You'll be able to buy music from the phone using the store and later either stream or download that purchase to another device like your Surface tablet or Windows 8 laptop.
Windows Phone 8 will allow you to see download or stream previous purchase from your 'cloud collection'
Playlists created on any Xbox Music devices are now synced, meaning you can create rich playlists on your laptop or Xbox and have that show up on your Windows Phone 8 device.
The new Buzz Panel will show you a selection of information from Twitter feeds, images and the news when you're browsing an artist in the Xbox Music Store.
Windows Phone 8 also has Xbox Music pass, allowing you to stream or download as much music you like to your phone. Taking full advantage of the cloud, you'll be able to send music you started playing on your Windows Phone to your Xbox 360. The Xbox Music pass combined with the Xbox, Windows Phone 8 and your Windows 8 machines will provide a compelling way to enjoy your music.
Podcasts are also still supported on Windows Phone 8 but unfortunately this feature is still for the US only. We have written in length on this with regards to Windows Phone 7 and were hoping this would change with their latest version. Podcasts can only be downloaded while connected to Wi-Fi to ensure your data plan isn't used too much.
Windows Phone 8 now has SD Storage where you'll be able to store your own content and from the phone you can move content from the device to the card.
What do you think of the new Xbox Music features of Windows Phone 8? Let us know in the comments below...
Windows Central Newsletter
Get the best of Windows Central in in your inbox, every day!
So the way it looks is that outside of the US there will be no way at all of using podcasts, because the new Windows Phone windows 8 utility doesn't appear to support podcasts either.
Someone please tell me I'm wrong.

Meh, the only thing added for pass holders is cloud syncing of playlists. Yay, I guess. Too bad the PC client is ugly and has been gutted of functionality compared to Zune.

Why is podcast support US only? There must be a reason!

Only talk about WP 8, but what happend whit all have 7 WP?????? IT'S NO FAIR!!!!!

The writing in the wall for WP7 has been there since at least June. You may get your 7.8 if the OEMS feel for you. After that you're on your own.

Don't listen to him, he is a troll. Look at his history. He has written same post at least 5 times in different places.

Why am I paying for Zune Pass? It looks like everything I'm paying for is free now. Is that true? I know I need to keep it on WP7, but it sounds like I should drop it for WP8. Am I missing something?

Make no mistake about, we will be paying for these features. I see nothing they will be giving away for free here.

Can you create a playlist on your phone now? You couldn do that till 7.5!

Does one still have to use a desktop client to sync music and stuff? Like with the Zune Desktop Client...
I mean XBOX Music looks nice, but then again, it is like with iPod and iTunes, a forced marriage, so to speak.

I don't really care about the cloud stuff (as I suppose it won't work outside the US anyway). The most important thing for me would be an improved fast forwarding. It's quite ridiculous the way it works now, especially in longer podcasts.

Why isn't my whole library in the cloud. I can see some content, but not all. And I've made playlists in my phone and I can't see them on my windows 8 PC. What gives?

So, if I understand this right: The content you want to play offline from xbox music can be stored on an SD-card ? So therefore the internal memory of your phone is of less importance when you want to use it as a music player too? This is a functionality i am missing with Spotify, maybe ill switch to xbox music then....
Windows Central Newsletter
Thank you for signing up to Windows Central. You will receive a verification email shortly.
There was a problem. Please refresh the page and try again.