Windows Phone 8 OneNote Mobile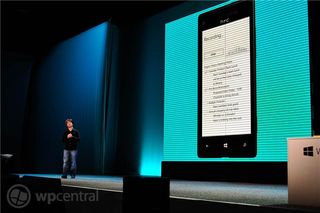 Windows Phone 8 OneNote has now been released from the Office hub and is now its own app. With that comes some neat advantages such a quicker, more direct access to your notebooks, bypassing the need to go into Office first to find your notes.
OneNote for Windows Phone 8 is now uses a live tile to show you which note was updated last, at a glance information to help you get things done quicker.
This note taking app on steroids has been a firm favourite for many on Windows and Windows Phone 7. OneNote uses SkyDrive to store your central notebook, from there you simply connect to it either through Office Web apps, OneNote for Windows or of course OneNote for Windows 8. Take a note on one device, it syncs to the cloud storage and is then propagated to your other clients. It's one of the best cloud enabled applications out there. They even have versions for Android and iOS devices if you're that way inclined.
The latest version of the app has a few other standout features that are sure to go down well.
Send Photos to OneNote from the camera. You can now take a photo with your smartphones camera and select share and then send it directly to the OneNote.
Next up is a really cool new feature, you can now dictate a note and have it automatically transcribed into OneNote. Using voice to text technology you can save yourself some typing and let Windows Phone 8 do the work for you. Using this function is similar to how speech to text works in Windows Phone 7, hold down the start button to enable speech and say "Note" and commence dictating your notes. The feature will even work while the screen is locked if you wish it to, saving you having to unlock the phone.
Searching for one of your notes is improved in Windows Phone 8 also, allowing you to search for text within your notes. And now it simply shows you the notes in the order they were created which should take the pain out of finding what you need.
The new Rooms feature also uses OneNote so that all members of the group have synchronised notes.
Windows Central Newsletter
Get the best of Windows Central in in your inbox, every day!
Any word on whether handwriting will show up? One of the best things about OneNote is the ability to draw on the notes. Sadly all the handwritten stuff shows up blank on wp7. Hopefully they fixed this for wp8.

S. Balmer's WP8 demo at //BUILD/ today showed hadwritting made on PC, displayed on the phone (or was it on a tablet?... I have to review it).

I hope so too, I really miss my scribbles.

Only talk about WP 8, but what happend whit all have 7 WP?????? IT'S NO FAIR!!!!!

It's life and I'm in the same boat with you. But I really love my Titan so I'm cool with waiting.

Don't listen to him, he is a troll. Look at his history. He has written same post at least 5 times in different places.

Yes, OneNote for WP8 DISPLAYS handwritten notes.

Anybody hear anything about password protected sections on WP8? Can OneNote on WP8 open password protected sections?
Please, please, anyone with real info on this, do reply. This one aspect alone is keeping me from committing to getting a WP8 phone.


No, sadly not - password protected sections is not visable on WP8 app

How to upload windows 8.1
Windows Central Newsletter
Thank you for signing up to Windows Central. You will receive a verification email shortly.
There was a problem. Please refresh the page and try again.