HTC 8X Windows Phone hardware preliminary review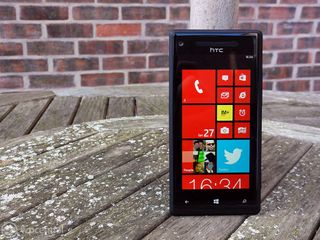 Microsoft's partnership with HTC stretches way back to the Windows Mobile days. Back then, the Taiwanese manufacturer shipped a variety of chunky WinMo handsets topped with its Sense user interface. Since the Windows Phone 7 launch, Microsoft's mobile OS has presented a unified UI across all handsets, and so HTC has instead sought to differentiate its Windows offerings through build quality and hardware features.
Last year's Radar and Titan were sturdy, aluminum-clad beasts that echoed the design language of the company's early 2011 phones. But this year HTC's scored an enviable position as the manufacturer of two signature devices for Windows Phone 8. And as such, this calls for some fresh new designs, starting with the high-end offering, the "Windows Phone 8X by HTC."
Far from being a recycled Android model, HTC says every aspect of the 8X's design is based around the look and feel of Windows Phone 8. And at a glance the differences are clear to see -- the 8X is quite unlike any other HTC creation.
WPCentral editor-in-chief Daniel Rubino has taken a thorough look at Windows Phone 8 itself, as it runs on the 8X, in his extensive OS review. So in this article we're going to focus on the hardware of the 8X -- in this case, the international HSPA+ version.
And as it happens there's a lot to say about that, too.
Some have bemoaned the general trend towards plastic construction in the smartphone world. These days, if you want a metal smartphone that's not an iPhone, your choices are severely limited. Traditionally, metal unibodies have been HTC's bread and butter -- Windows Mobile veterans will remember the HD2, with its aluminium frame, topped with soft-touch plastic. So it's something of a surprise to see HTC ditching the metal entirely in its 8X design.
The 8X is fashioned from a single piece of polycarbonate with a classy matte finish. It's an unusual shape for a phone, with curved, tapered edges giving the illusion of thinness. As it happens, the phone measures 10.2mm at its thickest point -- chunkier than many high-end competitors. But the curved back means you won't notice this at all -- the edges of the phone are incredibly thin, with the chassis becoming slowly thicker towards the middle.
The back is non-removable, meaning you've got to sacrifice removable battery capability and removable storage, but the trade-off is incredibly solid build quality and near-perfect ergonomics. The matte, soft-touch coating won't get gunked up in the same way a glossy back will, and it's grippy enough that it's not likely to slip out of your hand. The rear of the phone is sparsely decorated, with a central 8MP camera and LED flash, HTC and Beats branding, regulatory info and a rear speaker.
This speaker actually comes with a built-in amplifier, the result of which is vastly improved sound quality with plenty of bass -- a far cry from the tinny sound pumped out of most smartphone speakers. HTC's also included its Beats software enhancements, though these are only activated when using headphones.
The front of the 8X packs a 4.3-inch 1280x720 laminated SuperLCD 2 display with a pixel density of 342ppi. For comparison, iPhones 4 through 5 clock in at 326ppi. Numbers aside, the phone's screen is among the best out there, with bright colors, sharp text and excellent daylight visibility. On a text-centric UI like Windows Phone, it's a considerable, noticeable step up from the WVGA panels packed into WP7 devices.
The screen is subtly raised up from the front face of the phone, and the display is laminated means images sometimes seem to be floating on the surface of the screen. We've seen this before on HTC's Android-based One X phones, and the result is top-notch image clarity.
Above the screen, tucked away in the top left corner is the 2MP front-facing camera, which like the rear shooter packs a BSI (backside illuminated) sensor for improved low light performance. Down below are the standard three Windows Phone capacitive keys -- back, start and search. Other buttons include a two-stage camera button and volume rocker on the right edge, and a power button up top. A minor complaint about the power button placement -- on a phone as tall as the 8X, pressing this on your first attempt can be hit and miss. Other manufacturers have moved power keys onto the right edge, where they're easier to hit, and this is something we'd like to see on more phones.
Port-wise, the HTC 8X keeps it simple, with a headphone jack up top, and a microUSB port down below. The microSIM tray is accessible along the right edge, and is unlockable using an bundled unlock tool, or a narrow paperclip.
It's not metal, and it's not built like a tank, like the HTC Titan before it. But in designing the 8X, HTC has embraced an all-in-one, soft touch polycarbonate design, crafting a device that looks simple, clean and beautiful. We'll be interested to see how well that matte exterior holds up to the usual wear and tear associated with regular use, but after a few days of using the 8X as our primary device, it's yet not picked up and knocks or scratches.
On the inside, the Windows Phone 8 flagship rocks a 1.5GHz dual-core Snapdragon S4 CPU, backed up by 1GB of RAM. That's a solid foundation, and one we've seen powering innumerable smartphones over the past year. Qualcomm's S4 chips have a great reputation for delivering stellar battery life and impressive performance, and that's exactly what we've seen on the 8X. And that extra RAM should help the 8X handle more memory-intensive apps such as games.
The 8X includes a 1800mAh battery, which is about average for phones of this size. With moderate usage, we were finishing each day with plenty of juice to spare. Even with heavy use we managed to eek out over 10 hours on a single charge. That's with over two hours of music playback, downloading and browsing over HSPA+ and taking 50 or so 8MP photos using the rear camera -- oh, and a restart in the middle to install a software update. That's nothing to be sniffed at.
And an interesting point on the internal construction of the 8X -- HTC's rearranged the innards of the phone compared to earlier designs, placing the PCB (circuit board) behind the battery and screen, as opposed to sandwiched between the two. This, the company says, allows it to pack larger batteries into a smaller space.
Connectivity-wise, the Windows Phone 8X we reviewed was the international HSPA+ version, which supports download speeds up to 42Mbps and upload up to 5Mbps. Many high-end phones like the Samsung Galaxy S3 still top out at 21Mbps, so it's nice to see HTC offering faster dual-cell HSPA speeds on its leading Windows Phone. In the U.S., the 8X will arrive with 4G LTE support, but we'll have to wait until we get those devices in our hands before we see what impact 4G data will have on the 8X's battery life.
By any standard, HTC's Windows Phone 8X is a stunning piece of technology. There's no shortage of plastic smartphones out there, but this is plastic done right. HTC's combined leading smartphone internals with a minimalist design and triple-A build quality, and it should come as no surprise that the result is a worthy signature handset for Windows Phone 8.
But hardware's only one side of the story. Check out Daniel Rubino's definitive Windows Phone 8 OS review for the lowdown on the software.
Further reading
HTC 8X camera impressions
HTC 8X hands-on gallery
Nice looking hardware. I see James Richardson and Chris Parsons on those live tiles!

Technically 4G LTE shouldn't affect the battery life on the S4 processor... at least that's what Qualcomm claims.

I might get one in black too.

HTC continued where the One X left off with their horrible build quality disguised as good build quality ways. Go watch the Engadget and the verge Video reviews to see what I mean.
In the Engadget review they mentioned that one corner of the LCD was popping out more than the other 3 corners, which was a problem in the One X. At least they fixed the 8x so the Camera back cover is not seperate and has no chance of popping out.
In the Verge video review they mentioned how horribly flush the buttons are, how poorly placed they are, and how the USB port has poor finish. Again, just like the HTC One X.
And people wonder why HTC is losing profits each year. It is simple, they suck and never learn.

Did the verge also mention how they hate all things Microsoft. If you want some objective MS advice the Verge is not the place to seek direction

Not just the verge. Engadget, phone arena, and techradar all say it sucks too.

well I would like to say tomatoes suck.

Thank you for your comments tomatoes. You are 100% correct as are all of the industry folks giving this phone a bad review. The 8X is not flagship stuff and is not a step better than the One. At least HTC is trying and staying committed to the Windows Phone program. Hopefully they can get it together for CES next Spring. After all, if they don't, the Surface Phone may simply end up eating their lunch.

How do you feel about how tall it is? It looks weird to me, but it might be my only choice. I wish the top bezel wasn't so tall. It looks beautiful otherwise.

Hmm, Alex Dobie reviewing a WP handset, what's next, Daniel Rubino reviewing the Nexus 4?

This is looking like a great device, I am much less dissapointed about the lack of a 9xx on Verizon. Now HTC just has to get some app support and we'll have a real fight on our hands between HTC and Nokia.
So excited to pick one of these up!

Techradar says the battery life on HSPA + sucks too, so just imagine it on LTE.

Lovin the look of the 8X.

As always Alex , Great "Preliminary" review

Am little confused by the statement"HTC's rearranged the innards of the phone compared to earlier designs, placing the PCB (circuit board) behind the battery and screen"
So what is the order in which they are placed? I guess, tear-down will reveal the reality.

From front to back:
Screen - Battery - PCB

I notice that this device is showing what we call military time..

I'm getting/winning this phone.

No gyro? Neither of HTC offerings has that :/

The 16gb of storage was a deal breaker for me. I need more, and that's why I'm getting the 920. I have to have more than 16gigs. I have the titan 2 now, and I'm limited when it comes to space. I just need more.

Alex, can you confirm if the 8x message light flashes for both calls and texts? Also, if it does, is it connected for missed Skype calls/messages?
Windows Central Newsletter
Get the best of Windows Central in in your inbox, every day!
Thank you for signing up to Windows Central. You will receive a verification email shortly.
There was a problem. Please refresh the page and try again.