Hey, kids! Jump with Peppa Pig on Windows 8 and Windows Phone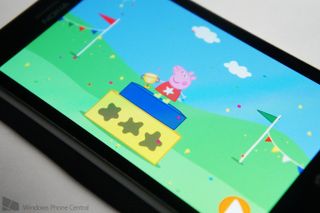 Peppa Pig has arrived on both Windows 8 and Windows Phone. Not familiar with the name? Peppa Pig is a large pre-school property, and is particularly popular here in the UK. Originating from an animated TV series, Peppa Pig has grown into a massive IP. The show revolves around Peppa, an anthropomorphic female pig, her family and friends. You can now take Peppa with you when out and about.
So, what's Peppa Pig Puddle Jump all about? It's a children's game (if you haven't guessed already), which takes the player into the world of muddy puddle jumping. Daddy Pig is currently the reigning record muddy puddle jumping champion, but Peppa and George are looking to lift the trophy themselves. This is where you come in.
Taking control of Daddy Pig, Peppa or George, you'll be able to compete against family and friends in a single touch, multi-levelled, jumping game. The aim of the game is to get as muddy as possible (it's not a Doodle Jump remake). Since this is a game aimed at children, expect basic controls and incredible light-hearted gameplay. You need to make the biggest, muddiest splash possible.
Much like Angry Birds, you'll be able to progress through available levels and earn up to three splats (think stars) for each one completed. Starting at the beginning of the level, you're tasked with jumping into multiple puddles, avoiding bushes and generally making a mess. If you despise jumping in puddles when outside, but wish to enjoy some action, this is the perfect game for you.
You can download Peppa Pig from the Windows 8 (opens in new tab) and Windows Phone Stores for £1.39 and £1.49 respectively (region restricted - 64MB, only 1GB RAM hardware supported, lower memory devices will be supported in a coming update). Just remember kids (and adults - yes, I'm looking at you), wear boots when outside and jumping in puddles!
Rich Edmonds is Senior Editor of PC hardware at Windows Central, covering everything related to PC components and NAS. He's been involved in technology for more than a decade and knows a thing or two about the magic inside a PC chassis. You can follow him over on Twitter at @RichEdmonds.
This is perfect for my little cousin who loves cell phones!

Oh god. I can never get my phone back off my 3 year old niece... This is going to make that situation 300% worse.

My daughter loves peppa pig. We want to got to Peppa pig land (not sure of the exact name) when we go to UK. Too bad its not available in the states.

Says it not available for my device.

"R

egion restricted - 64MB, only 1GB RAM hardware supported, lower memory devices will be supported in a coming update."

My 2 year old daughter loves Peppa Pig :D

wonder why it's region restricted... that's too bad - my boys like these characters as well

Daughter loves Peppa Pig, but not interested in this game. It's repetitive and dull. £1.50 isn't a lot in the scheme of things, but it was for this.

Now I want to see a SpongeBob SquarePants game that would be AWESOME!

My kids love this, not available in Norway:(

Arg can't download to 920 its always something. Region locked to UK then?

Really pleased to see this. My iPad has more peppa games for my 2 year old than anything else. Its one of the things I would actually say makes an iPad better than win 8 at the moment.

My daughter likes Peppa Pig and it cannot play it on, not available globally for download. Wjat could be reason for that?

Just change your reign to UK, I'm in California and do it for apps like this all the time...

I did this to get the game in the US, but still cannot pay for it........it won't recognize my zip code for the billing address.

It is not an issue switch region, the problem is paying, my paying method do not apply in UK

I'm guessing because Nickelodeon owns US rights

<George crying>
Awww can't get it in the US. My daughter loves Peppa Pig. Really wanted to get this for her. Boooo region locking.
</George crying>

Bring to US, my kid loves Peppa!

Hope the region issue gets updated soon.My daughter loves peppa pig.
Windows Central Newsletter
Thank you for signing up to Windows Central. You will receive a verification email shortly.
There was a problem. Please refresh the page and try again.