Kabam pledges to bring The Hobbit: Kingdoms of Middle-earth and other casual titles to Microsoft platforms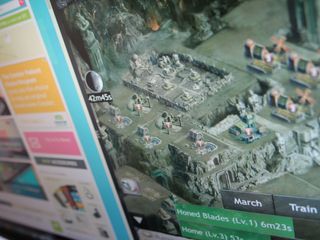 One of the biggest names in free-to-play mobile games, Kabam, has announced a new agreement with Microsoft that will bring many of its titles to the growing body of Windows Phone games and Windows 8 games. One of their most popular casual games is The Hobbit: Kingdoms of Middle-earth. In addition any future games from Kabam will be launched for Windows platforms around the same time as their iOS and Android counterparts.
Kabam will be offering titles such as Fast & Furious 6: The Game, Dragons of Atlantis: Heirs of the Dragon and The Hobbit: Kingdoms of Middle-earth to Microsoft's mobile platforms over the course of the next year, but specific release time frames were not revealed. Financial terms of the partnership between the two companies were also not disclosed. Kabam was one of the many mobile game publishers mentioned in a recent editorial on WPCentral that had not been supportive of Windows Phone in the past. This change of heart could be the first of many such announcements to come.
In a statement, Kabam Senior Vice President of Business Development Mike DeLaet noted the rise of Windows Phone as one of the reasons why the company is making a bigger push to offer games on Microsoft's platforms. He stated:
Steven Guggenheimer, Microsoft's corporate vice president and chief evangelist, is also quoted as saying:
Are you excited that Kabam's popular games will finally be coming en masse to Windows Phone and Windows 8 tablets?
Source: Kabam
Windows ecosystem is faar behind! Don't tell me! Show me! -_-

Nice! Gaining steam friends!

Isn't it gaining ground or losing steam?

Building up steam, technically, using the locomotive as an analogy.

Here's hoping for some Xbox support on both platforms.

Seriously, if Microsoft signed a deal with them to bring games to WP8 and Windows 8 and those games are not Xbox-enabled then I quit.

Good MS. Keep it up and keep bringing in new devs.
Please make Xbox integration a HUGE part of WPhone. Pay if you have to!

Still wondering what happened to the massive Amiga emulation exclusive deal MS signed last year. As far as I understood it was supposed to be active as of last December (announcement was in August). I've asked around but nobody seems to want to say anything about it. I just want something my iPhone and Android friends don't...

Android has Amiga emulator

Yeah app gap is decreasing

Very slowly, and not when it comes to quality.

Actually there is hope with quality as well as we are seeing a lot of apps that were released and ditched long ago being revamped and updated. Lets hope it continues.

I want some Xbox support! I will still play them without as well.

When when when?! Let's get it going!

First of all welcome John C.!! Second, glad to see MSFT working a lot with new partners!

Looking foward to see dragon of atlantis

It's great that developers and games are making their way to Windows devices. I just can't stand waiting a year, or more, for certain games to make it to the Windows [Phone] Store.

Not to be negative (but its hard not to lately with a lot of the foot dragging Microsoft is doing), but this says it all. "Hey guys! We might be getting a little know game!" The only time you should be hearing about news like a game coming is if it is a hugely popular game. But these poor guys at WPCentral would be writing one article every six days if that was the case. Between Microsoft releasing stuff for Android and iOS before Windows, the crap they have been doing with Xbox Music and Video, and now always waiting for a three year old iOS and Android app it becomes very hard to swallow.

They made a deal to release a WP Version around the same time as the iOS Version of FUTURE games. Getting the old ones is a BONUS.

Thanks for read the article.

Awesome! I hope more and more developers are gonna follow in their footsteps.

Nice. I was interested in soms of their titles.

If Microsoft has to loosen up the purse strings to get game developers on the bandwagon, then so be it.

any word on xbox live achievments?
Windows Central Newsletter
Get the best of Windows Central in in your inbox, every day!
Thank you for signing up to Windows Central. You will receive a verification email shortly.
There was a problem. Please refresh the page and try again.