Keeping your Windows Phone 8 wallpaper fresh with lockscreen apps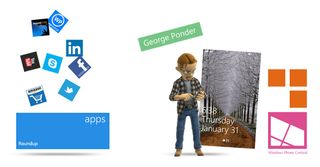 One of the neat features on Windows Phone 8 is the flexibility with lockscreens. We've seen several apps take advantage of adding widgets to the lockscreen and rotate the wallpaper images.
This week's roundup focuses in on a selection of Windows Phone 8 apps that helps keep your lockscreen wallpaper fresh. All are either free or have a trial version to let you try things out first. The selection continues to grow and if we've missed your favorite lockscreen app, feel free to chime in below in the comments.
Photostream (free): Photostream is a Windows Phone 8 app that taps into Flickr, 500px and your local albums, Skydrive albums to cycle your lockscreen wallpapers.
Flickr images can be sourced by your favorite group, a keyword search, a specific user or Flickr's interesting photos section. 500px offers similar sources with 500px's popular photos, editor's picks, upcoming photos, fresh today, fresh yesterday and fresh this week sources.
Lockscreen wallpapers cycles can be set to change as quick as every thirty minutes to once a week. If you like a particular wallpaper you can lock it in place as well as save it to your Pictures Hub for future use.
Photostream has a healthy selection of images to keep your wallpapers fresh. Photostream is a free app that you can find here (opens in new tab) in the Windows Phone Store.
Lockstream (trial/$.99): If you are more inclined to use your own images for lockscreen wallpapers, Lockstream will let you set up streams from not only your Pictures Hub but also your Skydrive albums.
You can mix and match photos from either source within the same stream and set the days of the week these images should rotate.
Lockstream also has the capability of rotating the images on a Start Screen Live Tile and add a customized daily quote to the wallpaper. It's a nicely laid out app to let you focus on cycling through your own images as lockscreen wallpapers.
There is a free trial version available for Lockstream to let you try it before buying. The full version of Lockstream is currently running $.99 and you can find Lockstream here in (opens in new tab) the Windows Phone Store.
Lock Themes (trial/$.99): For those who prefer set themes as their lockscreen wallpapers, you have Lock Themes for your Windows Phone 8 device.
With Lock Themes you choose from a vast selection of themed images that cycle throughout the day as your wallpapers. Themes such as daily horoscopes, astronomy, video games, holidays, and sports teams.
Lock Themes is a good choice if you want a little variety in your wallpapers but don't won't to worry with building collections or finding image sources.
There is a free trial version that is limited on the theme selection with the full version of Lock Themes running $.99. You can find Lock Themes here at the (opens in new tab) Windows Phone Store.
My 500px (trial/$.99): My 500px is very similar to PhotoStream in that it taps into the photo website 500px for lockscreen wallpapers that can be rotated throughout the day. It doesn't offer Flickr or Skydrive support but 500px alone offers a ton of fantastic photos.
Automatic wallpaper rotation with My 500px can cycle every hour, two hours, four, six, twelve or twenty four hours. Image sources from 500px can be chosen by feature, category or rating.
Along with the lockscreen applications, My 500px will also let you log into your 500px account, save images to your Windows Phone and create a My Cycle Tile that creates a Start Screen Live Tile that rotates up to nine images.
If you're a 500px fan My 500px is a must have app for your Windows Phone. There is a free trial available with the full version of My 500px currently running $.99. You can find My 500px here at the (opens in new tab) Windows Phone Store.
Locksider+ ($1.49): Locksider + not only supplies you with a wide range of lockscreen wallpapers but it'll also add the current weather information to your lockscreen.
The app has six categories of images that includes Today's Favorites, Cool pics, Geeky, Abstract, Nature and Mellow. Categories contain a mix of photographs and art work and if one category doesn't turn your tractor, you can remove it as a wallpaper source. Images are rotated every hour, every four hours, twice a day or once a day.
One nice touch with Locksider+ is that you can also add your current weather information to the lockscreen. When selected (from the app's settings) the current temperature and conditions will be displayed on your lockscreen and updated as your wallpaper is updated.
Locksider+ is a nice choice if you want to add the weather into your lockscreen mix. The only real downside to Locksider+ is that there isn't a trial version. Locksider+ is currently running $1.49 and you can find it here (opens in new tab) in the Windows Phone Store. Like the pics, don't care for the weather and want to save a little? Locksider is also available here (opens in new tab) for $.99 but lacks the weather information.
We've tried all five of these lockscreen apps and find them to be worthy candidates for those looking to keep their lockscreen wallpaper fresh on their Windows Phone 8 device. There's really not a bad one in the bunch.
Lockscreen apps are amongst the fastest growing category of apps becoming available at the Windows Phone Store. We've only scratched the surface and if your favorite wasn't included, feel free to speak up in the comments below.
Windows Central Newsletter
Get the best of Windows Central in in your inbox, every day!
George is the Reviews Editor at Windows Central, concentrating on Windows 10 PC and Mobile apps. He's been a supporter of the platform since the days of Windows CE and uses his current Windows 10 Mobile phone daily to keep up with life and enjoy a game during down time.
I like the built in Bing but it doesn't update daily. More like 2-3 days

mine updates for now everyday in wp7.8

if you have internet connection all the time then update is daily.

I do and still do not have daily updates.

I'm currently using NASA Image of the Day, and I think it's free. Some of the images are a bit mundane, and the rotation is a bit random, but overall a nice app.

Hey! I developed that app. Thanks for the plug! Look for an update with some pretty cool features soon. You can find the current app here: http://www.windowsphone.com/s?appid=1cf033bb-a477-4d1d-8bd4-4ed7ff453bf9

I have a feeling that today is the day that the Lumia 620 review is coming :>

Whatever happened to the ESPN live wallpaper

i am trying photostream as i have thousands of images in flickr. i was using tvshow which displays show images for programs playing today.

I also use Astronomy Lock Screen, another free app that has a bunch of cool outer space pics.

ZOMG.
How could you not have papershuffle? Best 99c I ever spent.

LOCKSCREEN SLIDESHOW lets you choose your own pics cropped from your own albums..and its free..BEST free lockscreen app ;)


Paper Shuffle is downright fantastic! Can't believe they left that app out!

So far, for choosing photos of my own choice, Paper Shuffle is really good :)

Good write up. I honestly think the Facebook lockscreen integration is great. I use the split screen style, which looks nice. I also set up a folder on Facebook called "lockscreen" and use it for the pictures.

been using amc Theaters with latest movie pictures, and AccuWeather with live screen showing live weather conditions.

Nice collection.. I tried LockSider first and I'm currently using Hello Friends. This is also worth being part of this list.

Bing is wonderful on 7.8!!!

One of the best rated apps is FFFound and after trying quite a few of the lockstream apps, this one's my favorite

I'm in love with Bing and Locksider. Will use locksider+ if/when it allows me to update the wallpaper and weather at mutually exclusive frequencies.

Good review. I've been using photostream to source Tumblr images from my skydrive and flickr. It would be nice if a skydrive lockscreen app could be native. Photostream has a 100 image limit which seems arbitrary. Here's to a more robust lockscreen app.

I picked up locksider+ while it was temp free, and it is pretty great, maybe a bit heavy on computer-generated imagery, but I'm sure those can be filtered out. The only downside is that the weather only updates when the image does, so if you set it to update the image once per day, then you're stuck with old weather info all day, too.

Lock Buster of course! It creates nice mosaic of the pics you already have. It cycles every thirty minutes or more, and you can choose different layouts. They have a similar app also with your contacts pics.

Paper shuffle works fine, I'd recommend it! Easily set how often updates switch. Set up folders of photos, easily changed.

Baconit! It can cycle through images from any subreddit. I have /r/earthporn and /r/winterporn cycling on my lock screen :)

Best one? Baconit with Earthporn, changing every 5 hours. Even if you don't likeReddit, it's good enough for that alone.

I'd love to know if there's an app like this for Windows 8u (PC) and if there's one that will do multi-monitor wallpapers in a computer desktop on Windows 8!?

I know I'm 'special' and its not a complaint, just thinking out loud, but all I want is a lockscreen app that will:
1. rotate pics from my skydrive folder
2. be able to specify which skydrive folder/subfolder
3. NOT to add every single pic in the rotation to the phone itself

Before everyone screems "THis app does that!"... no, all the apps I tried:
Lockscreen, for example, has the weirdest system. Either you can go into your skydrive subfolders and pick each photo to add to rotation manually (a chore if you're like me and have a ton of wallpapers) OR the other option is to be able to 'select all' from the Skydrive pictures folder, but not sub-folders. Which means when you 'selelct all', you literally are selecting every picture under the 'Pictures from Skydrive' folder. I haven't found any other apps that pull from Skydrive either.
And as for point #3... maybe because of the way permissions work, it couldn't happen... but if I wanted all my wallpapers on my phone, then I'd save them on my phone and not Skydrive. What would be the point of storing them in Skydrive AND having them on your phone? I want an app where I can make a subfolder in Skydrive, point the app to that folder and say 'Use these pics' and it will DL a new pic to use as the lockscreen while overwriting the previous lockscreen pic.
But again, that's just me. MOst of these apps are very nice, but they are just not for me. Its easier for me to just go to my pictures hub and choose a new wallpaper everyday.

Check out WPCentral's review of NASA Image of the Day for your lockscreen: http://www.wpcentral.com/take-your-windows-phone-8-lockscreens-orbit-nasa-image-day

I use a lot of them, particularly LockBuster and Facebook. I have used Hello Friends, CNN, Bing, HTC, Locksider+, Photostream, and Astronomy Image of the Day. Of all of these, I like LockBuster the best, especially when you create a collage of all the das Image photos! If only das Image had lockscreen support though...

My Lock Screen also a solid app. Simple, no log ins required.

This is probably wishful thin,ing but I'm looking for an app that will allow me to have a note-like a shopping list or whatever as my lockscreen. hat way I could just look at it without going into one note. Are there any out there?
Windows Central Newsletter
Thank you for signing up to Windows Central. You will receive a verification email shortly.
There was a problem. Please refresh the page and try again.