Draw, type or voice record notes with Kicknotes for Windows Phone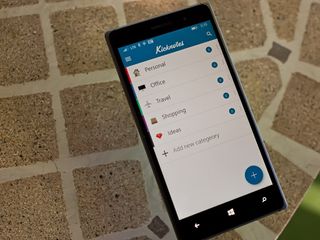 There are plenty of note-taking apps in the Windows Phone Store and Kicknotes hopes to catch your eye with its variety of ways to create and save notes. Kicknotes has support for typing, drawing and using a voice recorder to create your notes.
In using Kicknotes over the past few days, it comes across as an attractive option for those looking for an easy to use means of creating notes while on the go. Kicknotes is a free app available from the Windows Phone Store.
Kicknotes' primary screen will list any categories of notes you have created along with a few pre-set categories. Categories can be edited or deleted by tapping on the three-dot menu that is on the category title bar. A large + button sits at the bottom of Kicknotes' main page that will pull-up your note creation options.
There is also a hamburger menu button in the upper left corner that will pull up options to:
View the app's About Page
View any reminders for notes
Passcode lock for the app
A link to Briefcase, a Windows Phone file manager app from the developer
Backup and Restore options
While Kicknotes does have support to backup and restore your notes, it is a local backup. You tap the backup option to create the backup file and then choose where you want it stored on your Windows Phone. You can save it to your microSD card or a folder on your phone (e.g. documents, downloads, pictures, etc.). It would be nice to see an option to send this file to OneDrive to have it accessible from additional or new devices.
Creating notes is simple. You can jump into a category or tap the "+" button off the main screen of Kicknotes. Notes created outside a named category will be tossed into the "uncategorized" category. There are six types of notes, which include:
Credit Card/Bank Account information: Here you can create a note detailing bank account or credit card information that includes the card/account numbers, expiration dates, CVV numbers and PIN numbers.
Hand Drawn Note: If you need to sketch out a drawing or if it's easier to doodle your notes, this option is for you. You do have a color palette to give your notes a splash of color and you can toggle between pen tip and eraser as needed.
Voice Recording: This option is great for the times you cannot stop and type or draw out your notes.
Website Accounts: This note-taking option allows you to document website usernames and passwords. It also has a password generator for those times you need a little help creating a password that contains letters, numbers and symbols.
Checklist: This note-taking option is great for creating shopping lists or any other To-do style list.
Free-form note: A more traditional note taking option where you can type out your notes or use a voice to text converter.
Each note style has the option of creating a title and will be date/time stamped. There will also be a small collection of options lining the bottom of each creation screen. For example, you will find a share option at the bottom of Checklist and Free-form notes to email notes. Many of the notes will have buttons to pin the note to your Windows Phone Start Screen or an alarm button where you set a reminder for the note.
Just a quick note on the voice to text converter is that it worked out really well. It was able to filter out my Southern Accent and converted my audible notes to text with a nice level of accuracy. Your results may vary, but I applied a heavy Foghorn Leghorn styled accent and Kicknotes didn't skip a beat in converting the spoken word to text.
Notes are automatically saved when you exit out of the creation screens. You can search for notes by keyword from Kicknotes' primary screen and tapping on the three-dot menu from the notes' title bar offer you the option to pin the note or delete it. Should you need to edit things, just open the note.
Overall Impressions
For the most part, I found Keynotes to be an excellent option for note taking. It has plenty of options on how you create your notes and I like the templates to document bank account/password information. The app can be passcode protected to keep things secure from prying eyes.
I wouldn't mind seeing the voice to text option become easier to access. As is, you open the free form note option the keyboard is automatically displayed. You will need to tap the Windows Phone back button to reveal the menu bar. I think it would be better to have the menu bar displayed on this note taking style, letting the user decide if they want to use the keyboard or voice commands. This isn't a deal breaker but might add to the ease of use.
I can see Kicknotes being an appealing option for those in search of a simple note taking Windows Phone app. Kicknotes is a free app and if you give Kicknotes a try, let us know what you think of things in the comments below.
Download Kicknotes from the Windows Phone Store
Get the Windows Central Newsletter
All the latest news, reviews, and guides for Windows and Xbox diehards.
George is the Reviews Editor at Windows Central, concentrating on Windows 10 PC and Mobile apps. He's been a supporter of the platform since the days of Windows CE and uses his current Windows 10 Mobile phone daily to keep up with life and enjoy a game during down time.
Why do Windows phone developers "only" create note taking apps?

At least they are doing apps.. Just wait a little more soon will be have a lot of new apps... Microsoft only need good marketing

Yeah... but Microsoft have a note taking app in the system... Creating new ones is bullshit

LOL, who says? Just because something is made doesn't mean it shouldn't be improved. OneNote is good, but I like that this app has separations for different kinds of notes. I'll be trying this out for sure.

Does OneNote work offline? Does Microsoft work on bringing it on par with Android and iOS versions?

Better if I could synch it with my other Windows devices.

Yep, no Universal app is a no go these days where we need to get our data everywhere on every device.

No, Microsoft allows developers to use up to 100 KB to syncronize their data on devices. You've read well, 100 KB. If you want more you should pay for Azure (or some non-Microsoft service). So every app that doesn't charge at least 1$ a year subscription (or more if it is heavy on data) and offers data sync is likely to disappear at some point, as developer will have hard time to cover the costs.

This app seems like Android app .. That "+" icon button , Search screen , menu style

It is nice and rich in features but has some issues. The tile is non-transparent. Some menu icons show Apple computers. As far as I can remember there is no dark theme. There's an overall Android feeling. There were other issues as well, but I've forgotten and broken Store didn't let me leave a detailed review.

Its because this looks like a straight android port. Probably is.

It doesn't seems open in w10m

Glad to see developers jumping on board. Soon, its going to be a deluge.

Lets hope so and hopefully we get more good game apps.

Did you notice that its interface is similar to current Android style apps. I think it is possible ported from Android using project Astoria
If it is then its a good move

This is nice app. I like the floating menus or floaties. It just needs to be universal. Thanks dev.

This app feels like it was compiled for windows through project astorio or whatever it is called

It would be nice if OneNote has speech to text built in.

Needs lock screen image, just like Top Task List. Till then, I'll use Top Task List.

Guys if you want to see more apps of your liking you can start developing apps. Learn to develop apps then publish it, promote it, keep it updated, get it localized for each country, make sure there are no crashes, and etc... Oh yeah and have a life... Microsoft and developers are constantly working together to make things better for everyone. Become a developer and you can see it all differently. You might learn something and like it.

Judging by apps alone people on Android and iOS have a life full of endless possibilities. People on Windows Phone have expectations and hopes. On the other hand, we can maybe just forget about smartphones with limited apps and... have a life. :-)

Look like ported Android app!! Watch out the share button, scribble button ...

Call me when it gets Cortana integration.

Thanks for your wonderful feedback guys. :)