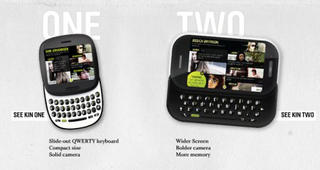 We've heard rumors that the new Microsoft Windows Phone, the KIN, would be available for pre-order on May 6, 2010 and in stores on May 13, 2010 through Verizon Wireless. Microsoft has now confirmed these dates and released pricing information on the two KINs.
The KIN One (bottom sliding keyboard) will be available for $49.99 after a $100 mail-in rebate and contractual discounts. The KIN Two (side sliding keyboard) will be available for $99.99 after the $100 mail-in rebate and contractual discounts.
The pricing is a little bit of a surprise in that the Touch Pro 2 from Verizon is running $79.99 (with discounts/rebates). Granted the KIN is focused for a slightly younger audience, one would think the pricing would be more competitive. You can find the full press release from Microsoft here (opens in new tab).
Windows Central Newsletter
Get the best of Windows Central in your inbox, every day!
George is the Reviews Editor at Windows Central, concentrating on Windows 10 PC and Mobile apps. He's been a supporter of the platform since the days of Windows CE and uses his current Windows 10 Mobile phone daily to keep up with life and enjoy a game during down time.
I have less of an issue with the device pricing...after all the Kin Two has a 8MP camera built-in. But I really think they should have made Zune Pass standard.

I agree. If they would've bundled the Zune Pass as a part of the $30/mo for data that would've given them at least a fighting chance. MS could've eaten some of the costs in the name of marketshare and given the money to VZW as an offset and incentive for offering up the data at a reduced rate. As it is now though requiring full data plans (regardless of the devices themselves) all but kills these things. It's a shame as I thought this really could've hit a niche.

the purchase price is a bit on the high side for now. We can expect it will drop after 3 months. the real surprize is needing to pay for a full price smartphone data plan, for a semi-smartphone device. If the endgadget review is accurate this device has FAIL written all over it, and make me worry about the quality of Winpho7. looking at the glass half-full, lack of end user testing and abundant interface issues in the Kin phone can serve as a serious WAKE-UP!!! call to the Winpho7 team. Mr. Balmer - time to knock some heads together.

The WM 6.x team has had a wake-up call lasting years, and still we havent seen any changes that would make WM more competitive, what will make this any more of a wake-up call for the WP7 team?

I find no fault with 6.5.3 builds. All the fingerfriendlyness you could ask for, with none of the fugly, limited, screen-wasting of WP7. What made them not "competitive" is people wanted phones they didn't have to think to use (ala iPhone) and people lacked the training to use the devices. Training you say? Yeah, just basically showing someone WHAT they can do. I know a CFO that traded in his Treo for an iPhone, and when I asked him why, he said it was so he could have a web browser and RDP access. I pulled out mine, and showed him that the device could indeed do that (I also had a Treo) and he ended up taking the iPhone back. Why? Because he had no idea that could be done on WinMo.

There are a number of items still missing from 6.5.3, tabbed browsing, silverlight and flash compatibility, multiple exchange accounts, decent media player, IMAP IDLE support - these are things still lacking in WM that make them uncompetitive for me and unattractive to a lot of users. And there is no reason why they couldnt have updated the interface even more to provide a more intuitive experience without taking away the advanced functionality. I agree the average consumer wanted a more iphone-like interface but MS has a lot of room for improvements they could do beyond 6.5.3. And where is it, apart from cooked roms there is only the HD Mini that runs 6.5.3 that is available, what about updates for the millions of WM phones available now? Just another example of how uncompetitive MS is.

I don't think Kin has much to do with Windows Phone 7 at all.

I had high hopes for these phones. They have gotten skewered on BGR, PhoneScoop, and Engadget. The data pricing is a huge disappointment as, apparently, is the UI and hardware. Hopefully MS will not mess up Phone 7 in the same way as they seemed to have failed here.

The only reason they got "skewered" on those sites is because they are not the audience for these phones. Those are more enthusiast, cutting-edge, tech lover's sites. These are decent phones for the tween and under crowd.

While certainly one of the reasons, it's unlikely to be the only reason. Intomobile's first take is a bit more positive.

Does this have games and full HTML web browser?

The prices they have offer are affordable. I hope quality issues wont generate. I am pretty excited about all of its products.

That's right but I m not much impressed with the features of this phone.The reviews also not much good.I hope they will do better improvements with Windows Phone 7.