Jump into a fast paced Tron styled arcade game with Laser Dodger for Windows 8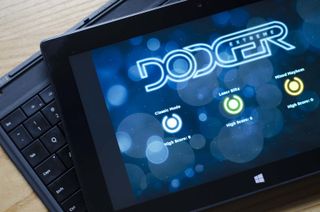 Sometimes, the most addicting apps are the simplest.
Today's review of Laser Dodger in the Windows Store, truly adopts that motto and runs with it. This arcade style game comes in at a super small 5.8MB when downloaded and is completely free for all to play. There is no reason that you should not at least give it a go and dodge some face-melting lasers.
There are three game modes within Laser Dodger including Classic Mode, Laser Blitz, and Mixed Mayhem. Each mode provides a different challenge for both mouse and touch screen casual gamers. We found it easier and more precise to play with a mouse, but it is quite obvious that the game was developed primarily for touch (maybe just mouse bias from an ex-PC gamer).
The Classic Mode allows you to take control of an avatar that closely resembles something from the world of Tron. As laser beams of various colors begin to swarm around your position, you must move your avatar to dodge them. Game play begins simple with only one beam, but the number of beams begin to increase as you continue on, not to mention the speed.
The Laser Blitz mode is very reticent of a 1980's arcade game. Instead of dodging lasers shot from walls, you must maneuver your avatar to avoid shots from enemy avatars, and consume their enemy disks. Essentially, this mode can be broken down into the notion of not getting shot. As you "consume" enemy avatars, or "enemy disks" as the game likes to call them, you continue to level up under increasingly difficult situations.
Lastly, the Mixed Mayhem model is a combination of both the Classic Mode and the Laser Blitz Mode. Your job is to dodge the continuously increasing number of lasers, while also battling against the enemy avatars. If you are looking for an extremely fast passed mode, this one is for you.
The graphics, designed by Stonegate Games, are said to be "inspired by the great esthetic of Tron and Geometry Wars", which is without a doubt noticeable. The moment we opened the game for the first time, we felt immersed in a Tron style environment. In fact, even the game's logo seems to be an exact copy of the font from the Tron series.
One thing that does strike us as a bit odd is that there is no soundtrack or any sound effects within the game itself. Because of this, we recommend heading to Xbox Music and checking out the official Tron soundtrack by Daft Punk; its electronic beats pair with the game perfectly.
The game is currently free from the Windows Store and is available on both Windows 8 and Windows RT platforms. A notice in the game's description says that "Laser Dodger will only be marked as free for the first week, so get it now while it's available!", but as long as this game has been out a dime has not been charged. It is possible that after posting this review the developer will end the deal – so go get it now by clicking here (opens in new tab).
Have you played Laser Dodger before - what is your high score?
Windows Central Newsletter
Get the best of Windows Central in your inbox, every day!
This looks fun, but I'm sad it's only on PC
First comment award

PC and all windows 8 and RT tablets

....why is this not a universal app? Everything released in the store should be now. No excuse not to??

Development is not that easy. I think you misunderstand the term, which maybe we'll explain at some point.

Exactly. As they showed in Build 2014, you can make the apps universal while having all the code in the same project/file, but you still have to write the code for it regardless. Just because you wrote the code for one device doesn't mean it will show up on all of them.

Oh. Thanks for the replies. Not being a developer I try my best to keep up...i thought it was said it was just one line of code?

Nope. It's true that now some of the code is shared, like the UI code. But there is still separate code, between Win8, WP8 and Xbox even though ALL the code can now be a in one project/file. It's ok if you don't get that right away though. I get it because I'm aiming to be a developer myself, and I simply watched that part of Build.

Really dont understand why you feel the need to be a dick in almost all your replies. We get it, you're a windows phone expert. But we don't all do this for a living. I enjoy your reviews and articles time to time, but I dont think the non stop smart ass remarks are necessary.

I don't see ANYONE being a smart arse. Perhaps you're just a bit sensitive when people try to explain things simply.

Referring to mr. Rubino, not you

While I agree that that can happen, in this case his reply was fine I think.

I dont see this on my win8.1 store :( i get the link to the browser and it takes me to the store site, which redirects to the store home page :( and searching on store results nothing..

Change your Region to US. I did the same.

I did that and I still can't see the app.

I did that in "PC Settings | Time and Language | Regions and Language" and it worked. No need to reboot. Search for the app in the store after changing the setting. You can revert to your original region after installing it.

Thanks dude, you're a lifesaver! :)

It's addicting me right now with its addictiveness!

Hello all, creator of the app here. First, let me say how totally stoked I am after seeing this review. This is awesome. Second, please feel free to send me any feedback. This account or email would work, but the most helpful is rating and reviewing on the Windows Store. The newest release even has a direct link from the Game Over screen. We are planning an update with expanded game modes and other work - there are some natural inclusions like music and sound that we know we need to do. Finally, we ARE working on bringing this to WP.

Can't seem to see the game in the UK store at all :(


The app should now be listed in the Store for the UK. Give MS a little bit of time for it to propogate through their servers, I've noticed a lag between when the dev portal tells me the game is available and when it actually shows up.

Do I have to beg to get this game in the UK? Why the delay? ...and no I shouldn't have to change the region.