Latest Flipkart update for Windows Phone introduces image search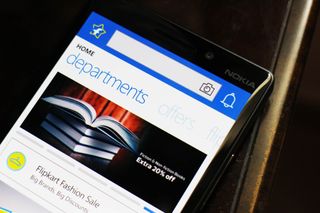 Flipkart's Windows Phone app picked up an update today that allows you to search for products using image search. Updating to version 2.4.0.0 introduces a camera icon in the search bar, clicking on which will allow you take photos of products you're interseted in buying. You can then refine the categories to better tailor the search results. For instance, if you're looking for trainers, you can select shoes from the category list, and the app will show a list of shoes that match the image taken.
From the results, it looks like the feature works off of the colors in the image. Taking an image of the Nike Air Max 2015 (Volt/Jade) (opens in new tab) returned shoes that contained similar hues. Similarly, searching using the Nike Free Run as a reference resulted in listings of black-colored shoes. If you're looking to create an ensemble, you can take an image of your shoes and select different categories (such as t-shirts) to get a list of tees that match the color scheme of the shoes:
The feature works for products listed in the fashion segment (as they're tagged according to color). The results are not brand-centric as of now, but the idea behind image search is to browse products that look similar to the photo in question.
Here's the breakdown of what else is new in version 2.4.0.0:
Image Search - Now find fashion products using just a photo!
Like a lifestyle product on Flipkart? - You can now find similar looking product with just a single tap.
Invite your friends and earn exciting rewards.
Bug fixes and improvements
The image search feature comes in handy if you're looking to dial down on a certain color combination for your outfit. Head to the link below to download the update, and let us know how you're liking the feature in the comments.
Download Flipkart for Windows Phone
Thanks Rahul and Abhishek!
Windows Central Newsletter
Get the best of Windows Central in in your inbox, every day!
Harish Jonnalagadda is a Senior Editor overseeing Asia for Android Central, Windows Central's sister site. When not reviewing phones, he's testing PC hardware, including video cards, motherboards, gaming accessories, and keyboards.
That was fast. I just updated it

When are they gonna introduce compare products feature? It's been on android for ages.

Why are you asking me? I don't work at flipkart.

Lol.. great question friend..

I am not asking you man, just replying under you so that if flipkart development team is reading this they'd have visibility of my comment at top. So chill, it's not directed at you.

Use the feedback in flipkart and tell them your gripe.

Been telling them for ages, nada...

Use code d48auu during sign up to get ₹50 in ur flipkart A/C instantly.....

Whoa this app is so cool Posted via the Windows Central App for BlackBerry

Isn't it cooler on android?

When it was started flipkart was just a small website selling only books online hence the name 'flip'kart Posted via the Windows Central App for Android

It's not flipboard buddy , it's Imdian E-Commerce website

No flipping apps flip on WP?

They support Windows Phone......:)

Every Indian Developer supports WP :)

Nopes still axis & hdfc banks's payment app (ping,) & no development from Airtel side that includes my Airtel & Airtel money app.

But many developers supports wp... Coz there is really a decent market share in city regions... I'm in Chennai and I see people with wp... I could say there is around 15-20% market here... No proof... But I'm seeing people...

It is so nice to see that Flipkart are supporting WP. This is a nice feature.

Cool! My one stop shopping destination for all my online purchases.

One of the flipkart devs here!

If you are a flipkart dev, when is the product compare feature gonna come to windows phone. It's already available for android.

Are you saying you're one or are you saying one of them is present in this comment section?

I was involved in the development :)

Hey, thanks so much for all your effort! We appreciate it :)

Ofcourse that they'll support all platforms,now that their website is closed for all phones.

Buddy that line is not funny anymore, its stale and rotten. Also not making sense here.

Dang. I was gonna say, "Seems faster, when in India." But apparently it's stale and rotten.

d48auu, use this code & get ₹50 in ur flipkart A/C....
Windows Central Newsletter
Thank you for signing up to Windows Central. You will receive a verification email shortly.
There was a problem. Please refresh the page and try again.