Launcher 10 brings a dash of Windows Phone to Android
If you just can't let go of Windows Phone, Launcher 10 for Android might be a good option.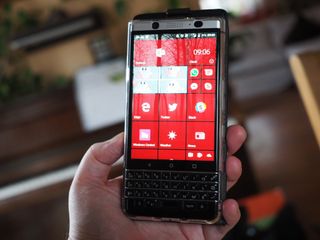 Yes, we know, Windows Phone is dead.
The dream of a Windows-powered smartphone is effectively over, leaving many of us to make the difficult decision to jump to either iOS or Android. I'm of the opinion that Android is by far the better option in this case, owing to the customizability of the OS for things like replacing the default smart assistant with Cortana, the default browser with Edge, and so on. But if you yearn for a more "Windows 10-like" experience, there are options out there.
You can customize Android with home launchers, allowing you to tailor the functionality of the home screen to your desire. Some of them add special features and other improvements over Android's default home screen, bringing customizable app drawers, widgets, and other functionality. Redmond produces a very robust launcher, dubbed the Microsoft Launcher. However, I'm not a fan. It's just not as sexy as Windows 10 Mobile was. It's all business and no style, which is fine if that's what you're looking for, but I simply wanted something more.
Say hello to Launcher 10 (opens in new tab), one of the Android home screen options I've been using regularly. It's the closest thing you can get to a real Windows Phone experience on Android today.
See at Google Play (opens in new tab)
Features with feeling
Launcher 10 brings the Windows 10 Mobile home screen experience to Android as faithfully as possible given the restrictions imposed by the OS. Of course, you're not going to get rich picture Live tiles for the vast majority of apps, but Launcher 10's developers cleverly emulated the feel of Windows 10 Mobile where possible.
You can pin apps as tiles on Launcher 10, and with a modest in-app purchase, you can unlock the ability to display notification text and counts directly on the tiles, which very closely mimics the functionality found in many Windows 10 Mobile apps, such as Twitter and Outlook.
Additionally, some of the system apps, like Photos and Contacts, come with custom tile experiences that pull information from those apps to create a more Windows-like experience. The Photos tile, for example, will cycle through recent images, and the Contacts tile shows off that familiar scrolling display picture collage.
As for customization, the home screen works exactly as you'd expect coming in from Windows Phone.You can long press to change the position and size of a tile or unpin it completely. Swipe right to access the app list, and then long press to pin apps to the home screen. You can even drag tiles on top of each other to create folders, just like on Windows 10 Mobile and Windows 10 PCs.
Customization and notifications
Just like Windows Phone, Launcher 10 brings many of the tile customization features you might remember, with a few extras.
You can customize the number of tile-columns available far beyond what was available on Windows 10 Mobile, although depending on your screen resolution, you might want to stick with the default three columns, or Windows 10 Mobile's "more tiles" four columns.
You have the option of displaying notification content as Live tiles, which is useful for certain apps. If you dive into Android's settings, you can block Launcher 10 from handling notifications for specific apps, too, giving you a degree of control over which apps show text and which don't.
Launcher 10 also comes with tiles for a pinned system Calendar, showing events. Sadly, my BlackBerry KEYone seems to have replaced the default Calendar app on Android, preventing me from testing this feature. However, the Contacts tile and Gallery Live tiles work well, showing off your contacts and recent images with rich animations that closely resemble Windows 10 Mobile.
There are a few additional aspects of customization that weren't available on Windows 10 Mobile, such as altering the padding space between tiles, the size of text labels, adding additional start screens, and altering which apps use your accent color or simply use a color based on the app's branding.
Downsides
While Launcher 10 has great tile functionality, gorgeous and fluid animations, and some great features, it's sorely lacking in customizability in other areas. For example, there is no option to change the way the Gallery tile handles pictures, as seen on Windows 10 Mobile.
It also seems odd that the app doesn't have the option of using third-party calendars for tiles either, considering it could just be set up to poll the app for information using Android's permissions system.
It would be nice if the app had the option to customize tiles more directly, too, or perhaps provide a framework for developers to bring Live tile functionality directly to the launcher, although that probably wouldn't be practical.
In closing
You're never going to get a full Windows 10 Mobile Live tile experience on Android, due to the OS limitations, but Launcher 10 is a damn fine attempt to recreate that magic Windows Phone fans yearn for.
Launcher 10 is frequently updated. It offers a free trial, and a couple of cheap in-app purchases for Live tile functionality and the ability to remove ads are in the settings menu. It's a polished product that works well even on more modest Android devices, and although it has clear limitations that might frustrate Windows Phone veterans, it's as close as we can get on Google's platform.
What launchers do you use on Android? Let us know in the comments.
See at Google Play (opens in new tab)
Windows Central Newsletter
Get the best of Windows Central in your inbox, every day!
Jez Corden a Managing Editor at Windows Central, focusing primarily on all things Xbox and gaming. Jez is known for breaking exclusive news and analysis as relates to the Microsoft ecosystem while being powered by caffeine. Follow on Twitter @JezCorden and listen to his Xbox Two podcast, all about, you guessed it, Xbox!
I use this on my work phone. Not bad. The calendar thing is sad though.

I've been using this since I had to switch to Android 4 months ago. Other people say SquareHome is better but I think this is launcher10 will be the closest to W10M we'll ever get.

I tried both but stuck with SquareHome instead. Combine that with the huge "Whicons" flat icon pack and my start screen looks enough like WP to keep my happy. I dunno, looking at static icons and ugly widgets that follow NO standard design language looks so ancient and archaic Feels like I'm using a Palm from the 90's. Tiles are definitely the way to go.

I actually prefer Squarhome as well. It has the live tile look but with a little more customizability. I actually paired it with "Daily Wallpapers from Bing" to make the trasition a little more bearable.

I'm using Square Home 2 Launcher on my S8 does the trick for me.

SquareHome2 by a mile. If the developer of Launcher 10 stopped counting his money for a minute and listened to requests to allow the changing of icon packs then maybe things would be a bit different

Tried Squarehome2 and Launcher 10.... Launcher 10 gives more of a WIndows 10 Mobile feel than Squarehome did... Just hat to pay $8.50 to get live tiles...

Downloading now. I finally switched to Android a few weeks ago (last time I used Android was before I bought my Lumia 920). After all this time, the customisation of Android is still so haphazard, everything seems to do things of its own accord, there is still no way to theme widgets at a global level, so you have bits of UI in different styles. The amount of customisation is great, but the problem is there is little to no standard. Live Tiles allowed for a functional and good looking start screen to be built and tweaked quickly, without needing to install loads of icon packs, themes & widgets. If the Launcher 10 team keeps up development, I will be more than happy to pay for the app.

Microsoft should have offered this along with Microsoft Launcher since they're so hell bent on getting people away from winmo. While this won't work for me personally, I could see it being the thing that allows a few more people to make the jump.

Exactly ... The MS Launcher has some interessting ideas, but, like all Android-Style launchers are just wasting space on the main screen by just showing some icons. It's like the Win95 desktop. With live tiles you look at one screen and see what's going on. News, the latest email, Chat, upconing appointments ... And that without looking crowded and you can decide how much information you get. Squarehome and Launcher 10 give this a good try, but are limited by the apps not built for displaying "non-notification-worthy"-Information on the Home screen.

You're making the assumption that Microsoft cares about our transition.

Is there a way to set this as the preferred UI? Because I would love android with windows phone UI

Yes, you go into your setttings and set it as the default launcher

My phone automatically asked me which one to use once I installed another launcher.

Wow, this is pretty cool. I've been in Android a while now so I'm used to the look Kandasamy it gets the job done. But Windows Phone nailed the live tiles concept and it was much more fun to unlock my phone and stare at my home screen.

Be aware the Tile UI is not the same as Live Tiles. On W10, the Tile UI has Live tiles capabilities, which is the ability for the Tile to show current information from a particular app. The app itself has to be coded to be able to display information, what kind of information and how often it refreshes. The article mentions Launcher 10 can show text, but I don't know how good that is. Live Tile is not an android feature, so developers can't create apps with Live Tile functionality. The extend to which Launcher 10 tries to emulate this functionality is still unkown to me, but it is definitely not the way you may think. It can never be W10 live tile. It needs OS and individual app support. There is nothing Launcher 10 can do about.

It does have live tiles. Though you may have to pay a dollar or something

It displays notifications that the app has sent out, on the Tile. So if i have a facebook notification for example, the tile will display that notification, if as is often the case I have several FB notifications then it will scroll through them on the Tile. You can turn this functionality on or off by app. But it is a paid etc for Luancher 10, but only a small amount and imo worth it.

Live Tiles works for me with Launcher 10. You have to pay to unlock it.. Once that has been done, when you get notifications, they begin to populate. However, if you clear your notification center, the live tiles wont show any content until a new notification comes. While it's not the best, it's a real good implementation considering this is for Android and sold me on it. The money spent to unlock it definitely worth it.

Looks great. Is it responsive or laggy?

Depends on the phone. On an old Galaxy Ace 3 it was more laggy than the default one. on a Huawei P9 Lite or Galaxy A5 it was just fine

Depends on what device your using.

For the most part, it is responsive. My Note 8 runs it smoothly and sometimes it can get a little wonky. My Galaxy S4 which I use for a test phone can run it but performance is definitely degraded, however that is expected.

I was curious about this launcher, thanks for sharing your experience. Using a launcher depends on what phone I'm using. I don't feel the need to use one on my phone if the default meets my needs (weather, time, simplistic).

I use Arrow (MS Launcher) and cannot believe how good it is, especially compared to how lousy the interface on W10M was.

Yes well this launcher is aimed at those who enjoyed the W10m experience. Glad MS came up with something for people who didn't though.

I am using the Microsoft launcher now and like it fine, but still prefer WM10 overall

It is indeed excellent although less fluid. My only gripe is that it's only available in English. Having a French device with an English launcher is simply annoying.

I don't know why MS couldn't just do one to keep us in the fold until the next big thing comes out. ie Surface

The should've made thier launcher with two options. One with the nasty Android looks, and one with the beautiful WP looks.

You would have thought that they would have done something like that but then again, this is Microsoft we are talking about. I frequently use my phone at Best Buy when helping a customer and more than half of them look at my phone and say something like, "wow, that phone is cool, what is it?" I sadly tell them it's a Note 8 with a launcher made to replicate my Windows phone I had prior. I like Microsoft Launcher but definitely agree, they should have had both options with first launch asking you which experience you want. Maybe they should snag the dev.

I used Launcher 10 when I first switched to ease the transition. I've since gone back to the stock launcher on my device so I can get used to the new platform.

Try SquareHome2, I find it even better than Launcher 10. You have to pay for full functionality (same with launcher 10) but it is more customizable..

I will, thanks for the recommend

Can you pin contacts to the Start screen on either launcher? We can do that on the Microsoft Launcher.

Yes, I could do that in Square Home, not sure about Launcher 10, going to try it out. I liked SquareHome.

You can on Launcher 10, It's under widgets.

Thanks. I'll give a try on both Launchers.

I guess hoping for live tiles with news, weather, calendar updates is too much to ask for...

The paid version does. However, once you clear your notifications, any tile that had content will clear, too.

They need to have favorite photos shown and more "live tiles" before I go through the work of replacing the Microsoft Launcher with it. Right now the Next lock screen works good (except slow to read finger print some times and now WP/W10M glance screen). The Next lock screen with Bing daily picture works great with the look of the Micrsoft Launcher. So, they should come up with a lock screen to go with the Launcher 10.

agreed, especially on the photos thing

Has anyone found a weather app that would have a "live tile" working in this launcher. would be great to see more live tiles working for various apps like MSN News, Facebook, feedly etc.

I just downloaded weather underground, which has customizable widgets. Closest thing to live tiles. Works pretty well for me.

Some apps especially weather ones, offer widgets, which Launcher 10 turns into a tile, so effectively yes you can. Most 'live tiles; are pulling their info from notifications, so even if you don't use widget as a tile, if there is a weather alert and you have that turned on in the weather app, then that would show as a notification. But for actual graphical info on a tile, use a weather apps widget.

Took you guys long enough to make an article about this. I've been using it since I left W10M almost a year ago for the Google Pixel. It's nigh flawless. The calendar thing is sort of an issue, but the way I get over that is by sharing my outlook calendar with my google account, and it pulls my events into that app. Works fine after that. Excellent app, and the developer has even said he wants to add support for icon packs. So if he does that, it will become even more similar to WP aesthetically. I love the app. Totally worth the $ to upgrade to live tiles.

should've sent me a tip about it sooner then ;)

I've been preaching about this in the forums but people are rigid and stubborn. My s8 for the past half a year looks and acts better than Windows Mobile 10

We go full circle back to Nokia Android phone with WP skin?

Its dead...take a deep breath...let it go..

what is it about winpho multitasking? why can't android be like that where it holds instances of the app rather than just one

I use Launcher 10 on my S8+, having tried various others including Squarehome (another popular one). For me Launcher 10 basically means I near as damn it have a Windows Phone but one that actually has the apps too. It's not perfect, how can it be BUT it's the closest to the real deal I've found and it works, works incredibly well, is fast, fluid, none of the lag or stutters i used to get on my Lumia 1020. This launcher combined with MIcrosoft apps like Cortana, Edge, Outlook etc etc means i often forget its a droid.

I really miss all of my Windows Mobile/Phone phones, but they're in the past now. I don't see much point in emulating a dead operating system. It's akin to running a hamstrung version of Windows 3.1 on your PC because you just can't let it go. I'm sticking with Microsoft and using their Microsoft Launcher. I've had it since the summer and so far I'm more than happy with it.

The only reason I went with Windows phone in the first place is because I liked the zune interface. Now I have what I like, on something that works.

I knew about Launcher 10 like over a year ago and you are now just posting an article on it? Finally! It's a great launcher, but does need some improvement.

I have been using the Microsoft Launcher since I made the switch last month. I have no experience with any other launcher, as this is my first Android phone. I have all the Microsoft services set up. I liked the Live Tiles, but I am happy with the Microsoft Launcher at this point. I will keep an eye on the Launcher 10 and maybe try it out at some point. It is really about the apps anyway, right?

Looks nice, once my X3 dies I'll give this a try.

I have several unopened boxes of Window Phones and plan to go down to the last second and as long as TM has a SIM . . . I will continue to use WPs. There is generally a viable app (or web) for my needs. Or, I will develop my own (as I have).

Tell me this Ronald. I still have a Windows phone and love it. I have Godaddy domain accounts that have stopped working. Any fix for that? Used to constantly say, "account needs attention." Just stopped working last week completely and have tried many configurations. Godaddy says no more support for pop accounts, but have another non-microsoft pop account that works on the phone.. Any work arounds? Thanks,

It gonna be easy to search apps on alphabetical that you can press that alphabetical.

Not bad. Still an android phone...

"Replacing the default assistant with Cortana"*
*Only for US, the rest of us are screwed, and that's among the main points why I wouldn't do it.

Lol I discovered this launcher about 7 or 8 months ago when I switched to android after the death of my Icon. It's pretty similar to how my. Phone. Used to work and I've been watching it develop through out the time I've had it. My favorite feature is being able to set a photo as a wallpaper for the tiles. I enjoy launcher 10 a lot and think that for the most part the live tiles work well.

I prefer Launcher 8 myself.

I spent last weekend dabbling with both Launcher 10 and SquareHome 2 on my S8 (both run great on the phone, which is great to see, since I'm seeing lag all over the place, even with Nova) and if there was a way I could meld the two together, that would be close to the perfect WP replacement launcher on Android. I do have a wishlist of sorts for future Launcher 10 features:
*I wish the Clock tile would show the next alarm like SH2 does.
*Moving the tiles around can be buggy. Sometimes you can't move tiles to empty slots, and it's ridiculously difficult to delete folders. Sometimes an empty folder stays on the homescreen and the only way to delete it is to re-populate it and then try and delete it again. SH2 has more tile view features than Launcher 10 (and you can force tiles to look a certain way, which is great), but I couldn't get the mail tile to update no matter what I tried, and I like the look of L10 better. I'd also like to see an option to remove the All Apps button in favor of a left swipe like on Launcher 10. SH2 has a really cool feature where you can set what app launches when you click on a Tile. I had the Calendar tile reading my gmail calendar, but on launch it opens ACalendar+ because its widget isn't very WP-like. As a few mentioned, the live tiles update based on incoming notifications, so if the app doesn't do those well, or has a sub-par widget feature (as most apps do, I've found), your experience isn't going to be that great, however, there are a few apps that have both great notifications and widgets, and those tend to perform well on the launcher, like Weather Underground. Make it a transparent widget and it's just like something you'd see on WP. From a pricing perspective, SH2 is only a few dollars, where Launcher 10 is $7 to unlock the Live Tiles feature *and* an extra $2 to remove ads. It would have been nice if the $7 price included ad removal (to be fair, it might, but I haven't bought it yet, but it's unclear in the menu if that's the case). I have yet to buy either because I'm taking advantage of the free 15 day review window, plus I'm not sure how often either are updated. The last update for SH2 was in November of last year, where Launcher 10 was updated a few days ago. Based on that fact alone, I'd probably give Launcher 10 my money.

I have the Samsung Galaxy Note 8 with this launcher. I also replaced Bixby and the Bixby button for Cortana and use Edge. It's almost like having a Windows phone except the deep integration of everything isn't there. Lots of bandaids to make this work but its a decent tradeoff when you look at your options. One thing I dislike about this launcher, and I'm being picky, is the Xbox icon for the Live Tile. I want the Xbox logo, not the one that's on it now.

I'm casting my vote for SquareHome 2. I tried Launcher 10 and it is very good. But SquareHome gave me a degree of control that I was needing. Between that interface and the app selection, I'm not missing Windows 10 Mobile until I dig into the settings and menus and then I cry.

I got over tiles long time ago when I switched to Android. Tiles are so ugly to me now.

I feel the same way about icons. 😀. At least with Android you can break things up with widgets.

Been using it since I moved to android. Love it! The best!

I use SquareHome 2 and really like it, so no reason to switch. Nice to have options, though.

Ive been using Launcher 10 for about 6 months and have been more than happy with it! Definitelyy keeps the look and feel of the W10M home screen. I also tried Square Home and a couple other ones but found this one to be the truest to the experience ive always had on Windows

Been using it since reading this article and it's fantastic! Makes me miss Windows Mobile.

Interesting, looks like the devs finally tweaked the applist to reflect wm10. Tried launcher10 a few years back and it looked nothing like that. Will check it out an a family member's android phone.

I was a huge Windows Phone fan...but, screwed by Microsoft. So I gave this a shot... The feel is just like WIndows Phone 10... It flows and makes my Note 8 feel like a Windows Phone device. The calandar thing is OK but, not great, The ONLY downfall is the cost. So it starts at $1.49 to remove the ads but, if you want the live Tiles, it's $6.99... So It's almost $8.50 for the app. So, riddle me this. How is this "so called" live tiles ? IS there a better one that has live tiles ? Is there special apps that will act like true live tiles (show new mail on a tile, same with texts, etc) ANd Jez Corden unblock @TheCoolDave on Twitter, you were being a J e r k that day and so was I, willing to let things go...

I tried really hard to use an Android like my beloved Windows phones. Fact of the matter, is that I didn't appreciate Android until I fully embraced it. 2.5 years in and I'm using Android as intended, with a few Microsoft apps in regular use, one drive and outlook.

SquareHome 2 Launcher may be even better!

Hello I use windows 10 launcher and der are many whas you can it make as windows 10 I have downloaded one calender ant if you make the titel a bit bigger than you have your live calender. I am a fan from windows phone to
And this launcher comst the clossist to windows phone.