The lead designer of Microsoft's Surface tablets gets the spotlight in new Microsoft video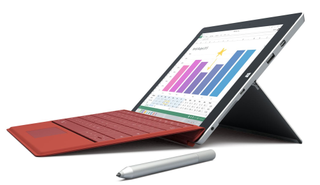 On the eve of the Surface 3 launch in the US, Microsoft has posted a new video that puts the spotlight on Ralf Groene. As the Creative Director for Microsoft's Surface team, Groene is the main designer behind the company's tablets.
Groene speaks in general terms about how Microsoft tries to find the right balance between the technical and aesthetic sides of making its Surface tablets. Groene says the team is a diverse mix of traditional industrial designers along with people with fashion backgrounds, 3D modelers and more. He also talks about the early days of the team, when someone created a model of the Surface with a built-in kickstand. That model was apparently put by the wayside for a couple of days as the team worked on other concepts. It was only later that a member of the team thought that incorporating the kickstand was a good enough idea to take further.
The video also offers glimpses of the Surface design team's workshop, where new models and concepts are developed and later made.
Pre-orders for the WiFI-only 10.6-inch Surface 3 models are now being shipped to customers. The tablet will go on sale Tuesday, May 5 in Microsoft Store retail outlets and other locations for the starting price of $499. Versions of the tablet with built-in LTE support will go on sale later this summer.
Source: Surface (YouTube)
Windows Central Newsletter
Get the best of Windows Central in in your inbox, every day!
They should've called it Surface 4, right?

No, this is a smaller cheaper Surface Pro 3. Hence just ditching the Pro in the naming.

I see what you did there lol

Naw it was it 8.1 which was 9 then 10...come on keep up.

This is not an upgrade from the surface pro 2 (or pro 3) This is an upgrade from surface 2 which was an RT tablet. So they've got the pro line and the not so pro line.

Well the pricing on the i7 pro 3 is insane. I simply refuse to pay it. So Igot myself a lenovo yoga pro 2 i7 8gb ram 256ssd much cheaper. Bigger screen, higher res, better kit ..

I think that is the point. Microsoft does not want to dominate the space. They want OEM to fit into the ecosystem.

Cherrytrail is thenext step after the Tegra Chip. When Intel releases Boxtron (next year), then you will have Surface 4. When Intel releases skylake, then you will have Surface Pro 4. The question is what happens with Broadwell? Core M? Currently Surface Pro 3 is 4th gen iCore. Intel is selling 5th Gen iCore and is releasing 6th Gen iCore in 6 months or so. Seems Microsfot and Intel are out of step on integrating the best processor into Surface. I thought 4th gen iCore nad 5th gen iCore use the same socket. So there should not be any issue of dropping in a 5th gen processor into Surface Pro 3.

At least he doesn't look like everything is just 'stanky' like Jon Ive...

He's a knight I hate knights

Haha, I was just thinking, "I hope this is not some kind of Jony Ive parody..."

Typo S3 is 10.8. Nice video though.

FYI: He is from Germany :)

I knew that the second he pronounced the first word.. ;-D Good to have some german engineering inside Surface!

That Surface Lab is just a dream place to be...state of the art machinery...sophisticated 3D printers...Fabrication equipment...vacumm rooms...ahhh just an awesome place..

oh man, i would LOVE to work in there. it would be a dream come true for me. its AWESOME and amazing. The things you can create there, is limitless. Just WOW. Only a person with technical abilities and gift, can appreciate a place like this or even notice it. To many, its just a room with bunch of stuff.

Microsoft research lab is a happening place

The Surface lineup is the best tablet quality in the market, period. I have yet to find anyone that disagrees with that.

The only thing holding that product is windows 8 and is marketplace. Posted via the Windows Central App for Android

U should know that this Surface run full Windows.

You mean Windows 10. 8 is the thing enabling it. 10 will kill it.

I hope the next Surface will comes in black version too..

Yes please bring back the black

Talking about designers - the team behind the windows 10 iconography could have done a better job. Especially, on the desktop.

I think it would still get some polish before RTM

Well the person who thought about gluing the kickstand on, should be getting the credit imo :).

Ok Ralf, good job. No get me a Surface phone! ASAP :)

A phone with the iconic surface beveled edge would not be comfortable to hold.

My first 'touch' phone Nokia 5230 had a beveled edge too. Wasn't a problem.

I was already a big fan of the first two generations and the idea behind them but they had some issues. The Surface Pro 3 is probably the most beautiful portable device I have ever seen, held, felt and used. I fell in love with it the first moment I saw it and now that I've been actually using it for over a week and half I love it even more. :) Keep the excellent work coming, I'm sure the Surface Pro 4 is going to be even more fantastic!

Dreamt about owning a Surface Pro 3 after having my Surdace RT since the begining, all i can say is that it was worth the dreams.

they have created a beautiful peace of art i would love to see them making surface phone with same materials and design

Yay Microsoft and that guy too.

What I'd like to see a "lead designer" explain is why: 1) They couldn't fit in the fully adjustable kick stand from the Pro 3, even though the Surface 3 is only 0.1mm thinner 2) They couldn't put in a Core M processor: Lenovo managed it with their new Helix. 3) Why they think MicroUSB Type B is a good charging option for a mid-2015 release product: It charges at 5% per hour while in use! Should have had Type C I love my Surface Pro 3 i7, but the Surface 3 looks like a device that should have been released in mid-2014, not mid-2015.

What were you expecting for a $499 device? Also, Type C is still fresh and doesn't have near the peripheral support and Core M would have brought the price up. This is a Surface geared towards the masses and college students, not the new (laughable) MacBook.

I keep hearing the apologies that "Type C is new and nothing supports it yet". This is a flawed argument for two reasons: 1) Folks generally buy laptops (yes, the Surface 3 is marketed as a laptop replacement) on 2 to 3 year cycles. During 2 to 3 years, expect Type C to explode with the introduction of numerous phones and tablets using it, and also peripherals. Putting Type C in now as one of the ports, means buyers will not be forced to buy hybrid or converter cables when they purchase new peripherals 2) The Surface 3 has a regular Type A port. There's your compatibility with existing peripherals. I'm not arguing to ditch the Type A port, like Apple did. I'm arguing to complement it with a modern Type C port for a device that most people will be using into mid-2017 Now, back to the key point. While the MicroUSB Type B port does provide compatibility with existing chargers today, it is hopelessly too slow to charge this device. Type C offers 20x the power for charging. When the battery is flat on the Surface 3, and you want to use it while charging, it will take most of the day to fully charge. Not very portable then, is it?

In my particular situation (I run my own business), I put the following pieces together. Office 365, quickbooks, a 4th gen Dell laptop, a soon to be arriving Surface 3, and a nokia 928. With these pieces, I can place my accounting file in the cloud, share it across my surface and laptop and tether my phone to surface if i travel overseas. Thus my accounting is always accurate and reconciled, everyday no matter where I am in the world. Will I replace my laptop? No reason at this time and it is a Summer 2013 purchase. But it is a pain to carry around, especially when traveling. Not so bad going form home to office. So I now own two computing devices. The laptop will provide the bulk of the productivity (the full keyboard with a number pad). The Surface will provide the mobility. The Phone will provide the connectivity. Plus I still have the desktop at home, which I only use to read the news. However, my wife uses the desktop far more in her work day.

@CanisMinor I'm sorry, you are mistaken in believing that I am apologizing for anything. I am stating the current facts as they stand. Rarely do businesses, whose sole occupation is to make money, embrace new technology as wholeheartedly as you are expecting. The fact is that USB type-A is the established standard and while some companies will use type-C, the belief in a unanimous shift at this stage is unrealistic. I've seen superior port technologies (for their time) that were never embraced. FireWire is a prime example and just as you are suggesting, people had dual setups with that and USB and it never took off. No one is arguing that type-C is superior in functionally and would be awesome to have but it's best to dial back your expectations and come back to Earth on this.

Core M is $200 plus chip. Not sure on the charging time. I have read that the included charging provides more amps, which is what dictates charging time. Granted many of your typical microUSB chargers will take longer to charge.

What I would like is an inexpensive 8 inch tablet with wireless charging and wifi connection. I have a 7" HP tablet I bought for $79. Works ok, but I can never remeber to plug it in and thus I never can integrate it into my day to day routine. Really only good for reading.
Windows Central Newsletter
Thank you for signing up to Windows Central. You will receive a verification email shortly.
There was a problem. Please refresh the page and try again.