Hello 6E! Leading Indian airline, Indigo lands on Windows Phone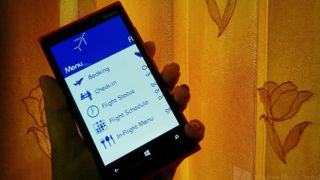 The Windows Phone ecosystem in India is flying high – literally and figuratively. After Jet Airways and SpiceJet, another Indian airline has launched their Windows Phone app.
The popular low-cost carrier, IndiGo, is India's largest airline in terms of market share, and one of the fastest growing low-cost carriers in the world. The airline operates to about 35 destinations in India and abroad with over 400 daily flights.
The IndiGo app for Windows Phone 8 devices has a great design reflecting the airline's livery. The user experience is intuitive and seamless. Apart from the ability to search and book flights, the app allows you to check the latest flight schedule or real-time flight status.
Interestingly, the app allows you to book flights with a 'Pay Now' or 'Pay Later' option. When you opt for the latter, your PNR is created and the booking is on hold for the next 2 hours. You can make payment for the same online or at the airline's call center during this period, else the booking will expire.
One of the missing features that is coming soon, as the app informs, is the ability to check-in, select your seat, or access all your itinerary details.
A handy addition is the in-flight menu. While you can't book a meal from the app, it's useful when you need to order something to eat while on board, without looking for their in-flight magazine for the menu.
Download the app for free from the Windows Phone Store. It's still in the works, but looks good and works pretty well. Give it a go, and let us know how you like it.
Even with all our support we will have to wait 3-4 years for Cortana. Sigh.

Why 3-4 years?? At that age technology will be more advanced
than the cortana

Just check 4 th para. It says will spread to English speaking countries in 2015-16. So IF it comes to us it will be only after that.
http://www.wpcentral.com/windows-phone-and-coming-of-cortana-voice

Yup, as Microsoft continues with its US centric approach.

Ecosystem flying high. Can't say about market share though.

Well, market share is growing albeit at a slow rate. It is at 5% market share in Q3/13 and may be grown to 6% in Q4. Only way to increase the market share is if more OEMs (Micromax, Xolo etc..) release WP devices. Indian OEMs have more than 50% smartphone market. They are not releasing WP devices because of the license fees which is a major cost for these OEMs who generally sell high speceed devices at much smaller prices than companies like Samsung, HTC, Nokia or LG. Hopefully the rumors are true about Microsoft removing the license fees.

Why should they push windows phone ? They see no real advantage to sell it, it would end up adding to costs and compromising their competing products. In reality its Microsoft's problem, they need to make this OS something more rather than just playing catch up. They need a better product than more OEM's

There was news about micromax releasing WP's. Hope that gets refreshed soon. Absolute game changer that will be! More people getting familiar with WP:)

What's up with this font though? Poor choice. Edit: Installed the app to check. It's not as bad as I thought, the screenshot made it look more aliasing.

It's the IndiGo font. They use it everywhere lol

Where can I select my seats...hmmm

There's an update for app folder

MS should treat india as their first priority when it comes to WP not US..

Right, because Indian companies don't treat India as their first priority. /s
Companies release to their home countries first for a number of reasons, a few examples is customs laws and localization.

Damn! Man you are a genius!! You are comparing a voice technology with products! "Custom laws" seriously! I didn't knew Apple Paid Indian Custom taxes to bring siri here!? The truth is, Microsoft must give attention to other markers, which is giving a better results in terms of sales!

There are actually several taxes and duties levied for software by all countries. Some give exemptions for software exclusively sold digitally (no physical products such as CDs) but make up for that loss in other service taxes. So yes, governments will do whatever they can to tax foreign companies for products. And in terms of Cortana, which will be powered by Bing, while it is a free consumer service there are advertising profits that will need to be assessed for tax. , But regardless, I said that is just one example. I'm just trying to point out that thinking a company will sell to a foreign country first is a pipe dream. But I do agree that whatever can be done to close release gaps should be done.

Nah man that's not my point! If it was a product i would have understood that! I wanted a surface, I'm getting one from US, because i understand that it is not going to be launched soon in India, and im ok with that, but Cortana, it's a service, a part of a system update that is supposed to make my experience better and then you are telling me to wait another year or two, i mean seriously, if Apple can do it why can't Microsoft, there are no excuses when it comes to services! Although i would like to see Microsoft to launch their surface products here! People who have seen it online love it, my friends all of them wanna try it, but it's not launched, and they are not a Microsoft freak like me to import a tablet from US because there will be no support for them if they have any problems or they receive a faulty unit! Microsoft is loosing it's ground in India, in tablet marker, they need surface here if they don't wanna loose to Apple with the table war, back again to cortana, it should be launched simultaneous all around the globe! It's a software update and i don't see no reason that Microsoft can't do it!

even with all our support we have to wait for cortana darling
Windows Central Newsletter
Get the best of Windows Central in in your inbox, every day!
Thank you for signing up to Windows Central. You will receive a verification email shortly.
There was a problem. Please refresh the page and try again.