Need to fix your Nokia? Leaked service manual for Lumia 920 now online.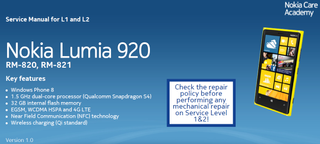 Last month we showed you a video to aid in taking apart the Nokia Lumia 920. The video was well done and a great tool for anyone wanting to get inside their device. Now we've got the official Service Manual from Nokia to help you in playing doctor with your 920.
Unlike the video, inside the service manual you'll find schematics, part numbers, and detailed instructions for getting to the core of any Lumia 920. The service manual also recommends which parts aren't worth keeping and should be tossed/replaced when doing repairs on the 920. For example, the earpiece gasket should be replaced and not reused after removal. Inside you'll also find the list of tools recommended to go your Victor Frankenstein fantasies while bringing your phone back to life.
Service Manuals like this are a handy way to do repairs yourself when the device is outside the warranty window or if you're overseas and imported to begin with. Combine this with the video and you're set to keep your Lumia 920 kicking for a long, long time.
Better bookmark this page or download the PDF with 81 pages of DIY goodness.
Thanks for the tip Jeroen!
I've had the manual for about a month now.. Lol.

Must be why he didn't thank you for the tip..

It's true we rely on you folks for a lot of info. But if you don't tip us, we can't share it with the community To borrow a popular (and unrelated) phrase from here in NY: If you see something, say something ;)

Had this for months Daniel. Pretty sure I got it from following a link from the referenced video. I think I just let too many things go over my head that isn't well known...

I never tipped..
I was just saying. I was quite surprised to see this article, since I assumed everyone was aware of the existence of this manual.

I got it back on 11/12/12 :)
There was a link on the WP forums

Now I can remove the dust accumulating in the front camera.

so annoying... that dust has been an eye sore.

Glad I'm not alone on this sore problem.

Just buy some canned air. I only have to do it about every six weeks or so.

Unfortunately, the manual doesn't describe how to open the display assembly. You can not access front camera, unless you open the display module.

Got it. I just went through the manual twice and thought "hmmm... not seeing an easy way to clean the front-facing camera". I was hoping somehow that you'd be able to just pop the front glass off and give it a wipe down. Guess I'll reconsider the canned air solution.

Can't open document. What do I do?

Same problem file won't open

here ya go :)
http://forum.xda-developers.com/attachment.php?attachmentid=1468565&d=13...

See page 23 in the manual.

Smart ass.. LOL!!!!!!!!!!!!!

Nice! Is there one out there for the 900? When I replaced my screen, I think I mess up the piece of rubber at the ear, and now it vibrates when listening to someone else while talking on the phone. I use my 920 most of the time, but would like to fix the unlocked 900 for travel.

The thing I want is how to get into the diagnostic mode/app on the phone. Haven't seen anyone post that info.

Thanks for the tip, this is great to have especially with the video too. Procedure on pg 80 was interesting, didn't know that one. Does anyone have the manual for the Nokia Care suite diag section?

What's funny is bullet 3 on that page; "Do not advertise this feature to consumers".

What is the feature? I'm on my phone and can't download the PDF at work

Reading through the manual, it seems like half the parts are disposable. Discard this, discard that. LOL.

Has anybody seen an original display glass for sale online?

plenty :) depends on your country though

I have seen disassmbly manuals of other nokia phones but this is RIDICULOUS!
Did anybody see how much effort it went to assemble the thing?
Its well built and meticuolous care has been taken but to repair or even assemble this thing i think noki's gonna look at some high labour costs(Even when doing work in chinese)!
This almost explains the delay for producing the phone (I am thinking Nokia never ment to mass market this thing and internally treats it as a market appitiser) :-)

manual are you in French?

Speaking of repairs... I'm new to the WP and Nokia world: can I go into a Windows Store (there is one near me) and get warranty repairs for my 920 (broken flash)?

Not sure if a Microsoft store will do it, but you can try. Usually you have to go to where you bought the device to get the warranty. You can also try your carrier or Nokia directly. I will say that I do like that iDevices have only two options, Apple store or carrier. And the Apple store is a much more convienant option, as they will replace the device on site if they can't fix it. But I love my Lumia 920 and can't wait for what is next with Nokia.

I still don't see how this sends a good message that users may have to fix their device.

Rara85 - are you trolling?
This isn't an official release, it's a leaked document, every company in the world has manuals for service technicians to repair the products. I'm a certified Apple Macintosh technician and there's documentation for repair of every product Apple releases, that's how it works.
Windows Central Newsletter
Thank you for signing up to Windows Central. You will receive a verification email shortly.
There was a problem. Please refresh the page and try again.