Learn Chinese easily with the HANYU.CO for Windows Phone and Windows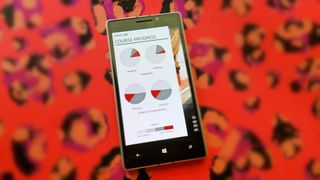 Few days ago I wrote about Duolingo, a fun app to learn new languages. The popular app features many languages, but incidentally Chinese is missing. If you'd want to learn Mandarin Chinese, fret not. Available for both Windows Phone and Windows 8 devices, HANYU.CO(hanyu.co) is a great app dedicated to the Chinese language.
Brought to you by Spiffy Ventures, the company that developed Effectual, HANYU.CO is a complete Mandarin Chinese language learning service with hundreds of useful lessons, guided learning, progress reporting, and useful tools like a dictionary and HSK vocabulary lists.
Featuring an intuitive and seamless experience, HANYU.CO offers several courses with hundreds of lessons with vocabulary and grammar notes, and new lessons added nearly every day. The app also features flashcard exercises personalized based on the user's progress.
The app also allows you to configure your Lock Screen and the app's Live Tile to show you a 'Photo of the Day' that highlights China's scenery, history, and culture. The app works well offline and syncs your progress with website.
While the app is free, there's a subscription plan that adds extra features. Still, the introductory lessons and nifty tools offer plenty of value for free users. HANYU.CO is a fine app to learn Mandarin Chinese on your own for students, tourists, and business folks with partners in China. Give it a whirl, and let us know your comments.
Get the Windows Central Newsletter
All the latest news, reviews, and guides for Windows and Xbox diehards.