Learn Chinese easily with the HANYU.CO for Windows Phone and Windows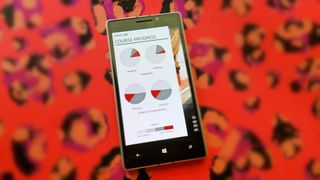 Few days ago I wrote about Duolingo, a fun app to learn new languages. The popular app features many languages, but incidentally Chinese is missing. If you'd want to learn Mandarin Chinese, fret not. Available for both Windows Phone and Windows 8 devices, HANYU.CO(hanyu.co) is a great app dedicated to the Chinese language.
Brought to you by Spiffy Ventures, the company that developed Effectual, HANYU.CO is a complete Mandarin Chinese language learning service with hundreds of useful lessons, guided learning, progress reporting, and useful tools like a dictionary and HSK vocabulary lists.
Featuring an intuitive and seamless experience, HANYU.CO offers several courses with hundreds of lessons with vocabulary and grammar notes, and new lessons added nearly every day. The app also features flashcard exercises personalized based on the user's progress.
The app also allows you to configure your Lock Screen and the app's Live Tile to show you a 'Photo of the Day' that highlights China's scenery, history, and culture. The app works well offline and syncs your progress with website.
While the app is free, there's a subscription plan that adds extra features. Still, the introductory lessons and nifty tools offer plenty of value for free users. HANYU.CO is a fine app to learn Mandarin Chinese on your own for students, tourists, and business folks with partners in China. Give it a whirl, and let us know your comments.
Mmm ok...but it is not a free app like duolingo...once you install it you have to pay for the lessons...and it's not at all cheap. I will wait for duolingo to add Chinese.

seems good. lets get Asian :D

Yeah, downloading. Thanks!

Thank god. Always wanted to learn this language but also hoping to learn Tagalog too (dream of marrying a Filipino woman) ;-) but love the Asian language and the writing is so beautiful.

Όντως έχει πολύ ωραίους χαρακτήρες αυτή η γλώσσα :)

Are you american and hot? I have a cousin looking for a hot american man to marry her for green card. I always enjoy seeing interracial couples because they make beautiful babies. But yea, I'm asking a legit question if u are serious about looking for a pretty FIlipino woman. She's 20.

Thank you! Hope there is another app to learn specific dialect of Chinese.

This is useless to me, I can teach you guys Traditional Chinese and Cantonese in person. :-)

What a relief! I live in New Zealand, can you be here tomorrow?

You sir......made my day... Cant stop laughing

lol very straight forward

I quite like Pimsleur Cantonese / Pimsleur Mandarin. My Canto is better than my Mandarin.... but I find Canto far less useful outside Hong Kong.

When I tried Pimsleur, I kept feeling like it was taking teaching me how to pick up ladies. I have used a variety of books, tutors, podcasts, tv shows, and speaking almost every day to learn Mandarin. Chinesepod and iManadrin are some great resources. I am curious how in depth this app will go, though. Variety always helps when learning a language.

ChinesePod is AWESOME for Mandarin!!! No such luck with Cantonese - far more resources for Mandarin...... which is appropriate and proportionate I guess. I still remember word for word the ChinesePod beginner lesson titled "What's that smell?" lol!!!

Pretty sure Pimsleur has, audio course.

They do but only level 1.

What is it good for??? Absolutely nothing.. Hu... Yaa... Lol... :P

Hahaha love it *plausing like mad* made me crack up

Or you can download the windows translation app and call it a day. I've used it twice, once to help some Chinese in a restaurant order food and once to translate what someone was saying I knew wasn't nice - I was right!

Dualingo is awesome...I am absolutely hooked to spanish language now...Never thought the app would be this better...

Thank you Abhishek! We are constantly working on updates to our Windows and Windows Phone apps as well as new content. We're really looking forward to hearing from Windows Central readers about how we can make our service better!

I want to learn Japanese to watch animes.No app for such.

I believe "Human Japanese " to be a great app. Haven't gone far in it but it seems amazing.

Have you tried Tango Master? It's been with us since the Windows Phone 7 days but it's quite nice. Also, for audio programs, try finding a set of mp3s for Pimsleur Japanese (or pretty much any other language). Pimsleur will get your pronunciation on point. Ganbatte!

I speak 2 languages and read 3, mandarin is my next and possibly most complicated, you guys just made it a little easier.

Chinese can suck my dick!

Yes they can, but probably not for free.

"Learn easily" and "Chinese" - lol. But it's great to have another quality app for wp. I was getting tired of reading about games, games and games.

Good looking app. Looking forward to improving my Mandarin with this.

Yeah, that's cool :D this devise we always choose to use to learning by skype for free with my chinese friends in Preply http://preply.com/en/chinese-by-skype
Windows Central Newsletter
Get the best of Windows Central in in your inbox, every day!
Thank you for signing up to Windows Central. You will receive a verification email shortly.
There was a problem. Please refresh the page and try again.