LG Optimus 7 (E-900) Update Error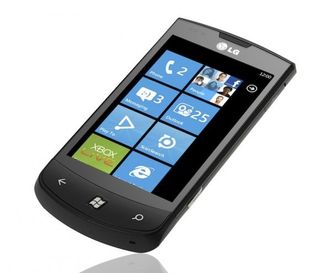 For the most part, the Mango Update event for the day has gone smooth. While some have had to force the update out of hiding, the only major issue we've seen reported involves the LG Optimus 7 or E-900. It seems the Windows Phone is generating a 8018001e Error code during the update process.
There is a lengthy discussion going on over at Microsoft Answers but no real solution has been identified. It appears that during the jump from 7403 to 7720 the update fails and the error code is generated. There are a few who have made it to the 7720 update but failure occurs when the LG Update is applied.
Unfortunately, Microsoft hasn't identified a solution as of yet. For the LG E-900 users in the crowd, keep an eye on Microsoft's Troubleshooting Page for Windows Phones. If a solution is found for the 8018001e Error, it's sure to be posted there. We'll keep a watch on this one and if a solution is found, we'll pass it on.
Source: Microsoft Answers (opens in new tab) thanks goes out to everyone who tipped us on this!
George is the Reviews Editor at Windows Central, concentrating on Windows 10 PC and Mobile apps. He's been a supporter of the platform since the days of Windows CE and uses his current Windows 10 Mobile phone daily to keep up with life and enjoy a game during down time.
I upgraded my LG E-900 today with no problems.MANGO IS AWESOME!!!

False alarm. Reset of Modem fixed it.Mango is AWESOME all round! :)

So apparently RTM means "lets sit on our asses and tell everybody we tested the upgrade." =P

I've updated my E900 to 7720.68 without any issue.The update to 7403 was quite slow due to the backup, but from the 7403 to the 7720 was fast and smooth.LG E900 with Open-French ROM here.

I have a optimus 7 and i got that error. When u upgrade to 7403 theres a phone reset, so pin number is needed, DONT ENTER IT. if u do, u get the error when instaling mango, so u just need to reset the phone and do it again, and stay in the pin code "page"..Also if u get stock in phone is resetting reset it urself and everything is gonna be fine..

You mean reset/go back to 7392? So then we have to redo the 7403 update over?

LG Optimus 7, UK, VodaFone - Upgraded to Mango fine(Although I had to "force it" to come out of hiding)

I've got an Optimus 7 with Telus in Canada, used the "forced" method to update and haven't had any issues. Loving Mango!!

All went smoothly with my unlocked LG Optimus 7. All I did that deviates from the standard update process was forcing it doing the trick mentioned before. I'm in Portugal, on Vodafone and my settings were all US (locale, language, Live ID etc), for that matter.

LG Optimus 7 with Telus in Canada here. Used the "forced" update method and have had no issues.

On looking at the Microsoft Answers thread, what's happening is clear:Users who didn't install the LG Firmware Update which was released months ago are experiencing issues.I imagine the LG Update ran fine on NoDo phones, as it was intended, but now that Mango is available, Mango gets installed first and THEN the LG update, which clearly must not be a supported update path for this particular phone.I would imagine all the people saying "Hey, mine worked fine" here are "power users" that would have installed the LG Firmware Update long before Mango was released.

Am I the only one who always forgets that LG even makes a Windows Phone? Every time I see it I think "Oh hey, a new Windows Phone... Oh wait, that's the LG that's been around since the beginning *sad-face*"

I also have this phone, forced the update, and have come through with no issues. It's a Vodafone Spain sim, although the phone has been carrier unlocked.

I've noticed everybody reporting problems on the MS Answers page were with the Bootloader 1.5.0.0.My E900's bootloader was on 1.5.1.0 already prior to the update and maybe that's why I didn't have any problem.

I'm another happy e900 user who forced mango and have no problems or slow down issues.

I updated my LG Quantum on at&t and the first time I tried it I got an error message around step 6 or 7 and it said my phone was missing a driver necessary for the update. I click ok then I clicked the update button again and it worked and I am now running mango on my phone. I'm not sure why I got the error but I'm glad I was able to update.

From Mexico, forced update on my e900 and no problems, everything is running perfectly :D :D :D

I got Mango on my optimus :D

LG-E900h here, "forced" the Mango update and it all went great. No problems at all

Just for you guys to know, only those with firmware version 1.0.1.12 and 1.1.2.10 are affected by this issue.Newer firmwares are NOT affected.

I've got 1.0.7.10 will that work?

Hi Everybody how has updated the Optimus to Mango. Can you tell me if your phone is branded or unbranded?if unbranded, did you ever had a LG firmware update?

I have an unbranded LG Optimus 7 and the terror 8018001E occurs when updating to Mango. Never had any notification on new LG firmware update.

I have a Optimus 7, first time I tried to update, i have received this error.Restored to previous state, and tried again... Works like a charm!Mango is GREAT!Greets from Serbia!

i live in mexico and i upgrade my LG optimus without problem, but i forced my upgrade :P

Mine was on the right bootloader to begin with so no problems here.I had already gone back to NoDo a few weeks back though when I heard there were pre-mango firmware updates being pushed, and it's at that point that I got the firmware upgrade.

Hi all,we are trying to find a solution at http://answers.microsoft.com/en-us/winphone/forum/wp7-sync/lg-e900-updat...and I have a hunch that the phones that were successful with the update ALL had bootloader version 1.5.1.0 - while the failing phones had 1.5.0.0Can all of you please check and confirm this for us?This is very important, it may also be a great help for MS to identify the problem!Thank you!

Hi, Did a forced update last night with no problems. Versions went from:os version 7.0.7392.0firmware revision 1.0.3.10hardware revision 1.0.0.0radio software version 1.0.3.10radio hardware version 0.3.5.0boot version 1.5.0.0chip SOC version 0.30.2.0 to os version 7.10.7720.68firmware revision 1.0.4.10hardware revision 1.0.0.0radio software version 1.0.4.10radio hardware version 0.3.5.0boot version 1.5.1.0chip SOC version 0.30.2.0I have an open device so did not have the earlier LG firmware update.HTH

Heee, how did you get firmware revision 1.0.3.10 ??

No idea, device was a cheap one from Expansys sourced from Portugal I believe ( based on the original ROM in MFG - LG-E900AT-00-V10c-268 **** OCT-07-2010 ).MFG now reports ROM as LG-E900AT-00-V10d-268 **** AUG-15-2011.

I think that ROM suggests its a branded carrier phone. Did you get an update before Mango ?

I think it started out life as an Optimus Portugal branded phone then was unlocked before I bought it.In June, I applied 2 updates up to 7392 and last night applied an intermediate update (7403?) and then 7720 which it called LG update.

Can every updated Unbranded LG Optimus 7 place the bootloader version number.... lets check if thats the problem

I have an LG E900, which I got from the local Microsoft HQ in my country, and it had the developer version of Mango. I updated it last night, and the update was in 2 parts. Both were successful and the phone is running smoothly.Bootloader version: 1.5.0.0

And your firmware version ??

Force update worked fine here, it seemed to hang at one point but restarting the phone and update worked.Firmware: 1.0.4.10Bootloader: 1.5.1.0

Tried update an hour ago. Needed to unhide the update in Zune and it worked flawlessly. took about an hour. Mine should be an unbranded version.Here's my version info:Before Update:Carrier: OPNOS: 7.0.7392.0Firmware: 1.0.1.12Hardware: 1.0.0.0Radio Soft: 1.0.1.12Radio Hard: 0.3.5.0Bootloader: 1.5.0.0After Update:Carrier: OPNOS: 7.10.7720.68Firmware: 1.1.2.10Hardware: 1.0.0.0Radio Soft: 1.1.2.10Radio Hard: 0.3.5.0Bootloader: 1.5.1.0The update process included a firmware update also. So, I'm going to play a bit with it.

Has been working flawlessly for me. Had to use the trick just once, immediately updated to 7720 after 7403.Vodafone DE branded LG E900 with SystemProvider registry setting cleared.Carrier: Vodafone DEFirmware: 1.0.7.10Bootloader: 1.5.0.0Finally Mangofied! Yeah!

We have confirmed to be a firmware issue.firmware versions 1.0.1.10 and 1.0.1.12 do not update. The rest will update.You could flash your firmware to a newer version and so update your phone (we have proof it works).Look at http://forum.xda-developers.com/showthread.php?t=935578 if you want to.But flashing your firmware is on your own risk.Good Luck :D

I dont want to flash, its risky. I want MS or LG to help me. I called them (Poland) - MS says its not their problem. LG - we havent heard so far about it, but we can take ur phone to our servicecenter and repair it... Jesus, why LG? Couldnt it be Samsung or HTC? Said :(

Updated my unbranded LG E900 without any trouble. Mango is awesome!

LG NL webcare said that the reason for this error is that they didn't push the update for the unbranded version yet.

Force updated my E900 without a flaw.Original Phone Carrier: Starhub, Singapore (unlocked version)Current Phone Carrier: Digi, MalaysiaFirmware ver: 1.0.1.10Bootloader ver: 1.5.0.0Updated my Zune software to version 4.8.2345.0 earlier prior to Mango rollout.

Hello I hawe aproblem whit my LG E900 eror codecode error c101002e Please help tnh:)
Windows Central Newsletter
Get the best of Windows Central in in your inbox, every day!
Thank you for signing up to Windows Central. You will receive a verification email shortly.
There was a problem. Please refresh the page and try again.