Here's a look at the LG Smart InstaView refrigerator with Windows 10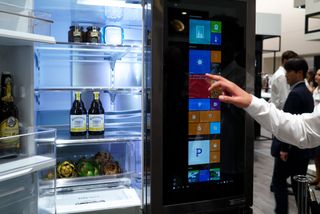 Here at IFA 2016, LG is showing their Signature Smart InstaView fridge running Windows 10. It's still a prototype and LG currently does not have any launch plans yet, but it's definitely interesting. Watch our video to see it in action.
What makes it exciting is that it features a 29-inch mirrored glass panel with Windows 10. That means you can browse the web, watch Netflix, create lists on OneNote, or run any other app. Cortana works, but there was no microphone in the prototype we were shown, limiting users to type on the screen instead.
The fridge has other cool features too, like knocking on the display makes it transparent so you can see what's inside without opening the door and losing cold air. There's also a Smart sensor at the bottom of the refrigerator that opens the door automatically when you step into the light projection. You can also apply different temperatures at various sections of the fridge.
LG could not comment on pricing or availability, but they have models with similar features but without a Windows 10 operating system for 6,000 to 7,000 Euros.
What are your thoughts on the LG Signature Smart Instaview fridge? Let us know in the comments!
Windows Central Newsletter
Get the best of Windows Central in your inbox, every day!
BECAUSE WE CAN AND NO ONE CAN STOP US

Because innovation is bad? Sure it's more to go wrong, but if it's done right why wouldn't you do this? Sure, the price is a bit steep, but the features are nice if you're willing to spend the money.

Plus, to be serious for a moment there are lots of uses: call someone on Skype if they're at the store; Bring up Yummly or recipes while in the kitchen; stream TV/movies/netflix if cooking; listen to the radio (I'm assuming it has a speaker, maybe not), add things to OneNote, etc.

Don't forget about Minecraft: Refrigerator Edition. In-game hunger will never be a problem again.

I hope it has a hamburger menu.

I rather have cheeseburger.

Running benchmarks may be a fun thing to do, at least there won't be a thermal throttling.

I'm just glad the screen is on the outside, my first reaction was "why the hell would they put a screen inside the door!" Gave me a double take lol

I can see One Note being especially useful for those folks that like to leave notes on the fridge. Besides, as long as it has Bluetooth capability, I wouldn't be too upset about not having a built in speaker. A built in mic is a must, though. For all the things you mentioned, it would be nice to activate those features in the kitchen, where hands-free is expected most.

You can check into Facebook while stuffing your face with ice cream :D /s

All recipes app right on your fridge, one note for leaving notes for the family, a powerful OS to control everything else they talked about.

Lol. I love it. I want one

Terrific. We have a society where people are getting fatter by the day, and now people can sit on their butts and watch Netflix DIRECTLY IN FRONT OF THE FRIDGE! On the other hand, Schroedinger could have gotten some use out of that fridge...

That's funny because the Samsung smart fridge looks like it has Windows tiles. Just android ripping off another UI.

I saw an advert for that and though the exact same thing.

if not mistaken Samsung newer smart fridge use Tizen.

Only windows 10 operating system or any functionality with this refrigerator of LG in built as computerized?

The PC is chilled air cooled. :D

Even less funny than your last attempt.

Was this a joke? Come on, pal. You can do better than this ;)

7k Euros??? Regular fridge + Surface + 3M double sided tape + extension cord = good enough for me :-)
I do like the whole grocery shopping list and recipe reading feature, but would still want a portable device to place anywhere I wanted.
My fridge is behind me when cooking, so watching movies or reading recipes would mean a constant head turning (for me).
I find that being a major UX design shortcoming. Still, hat down to LG for thinking ahead.


Regular fridge + Surface + 3M double sided tape + extension cord = good enough for me :-)

Ah, but with this setup you cannot see what's inside the fridge without opening the door! That's worth $74K isn't it?

That tap to see what's inside feature tho. Brilliant.

6000-7000 euros without win 10. I'd rather buy a normal fridge and take my laptop into the kitchen.

This is the wet dream of any fatso: a PC on the fridge. They literally don't have to stand up ever again ahahahah

Umm they do. For taking the food outside. :p

You underestimate the levels of laziness of those people lol

I'm guessing you don't cook much.

But what does it do...really

I actually saw a prototype similar to this in-use at the Microsoft campus in Redmond. Seeing it in person is really quite cool that no video or pix can do justice. Would seriously consider $3k-$4k on clearance/open box :)

Ok, I see that it's a fridge, but does it also do toast? I'm really looking for more of a toaster + fridge combo.

So unnecessary... but so cool. I need one in my life.

Hey, is your refrigerator running?

I love it....With Cortana on my Fridge Door.... OH MY GOSH

I want one. No, I need one!!!

May be because the power of universal platform.

At least the screen is big enough to see what you are looking at. Love that you could see inside without opening the door. Really cool way to follow a recipe. I'm sure I'd find ways to use it. Once there is a microphone, well wow. Given a choice (and affordability) I'd get one in a split second.

What woud be really cool is if it had a Kinect Camera to move between apps and scroll the screeen without touching it with your dirty hands from cooking. :)

Missed an Hello camera with ass recognition. Most of time when I'm in kitchen my refrigerator is on my back

Brings a whole new meaning to Netflix and chill.....

Damn, it cost more that my first two cars combined. Wish I knew someone rich enough to afford this.

Alright, refrigerator's door is the only thing in a kitchen that we can put a big screen on with appropriate height. That's why refrigerator...

Waitaminute, so this monstrosity supports LG Knock codes? Did anyone else get mental images of somebody locking themselves out of their refridgerator? At least processor cooling won't be an issue, right? XD

I imagine installing Visual Studio or MATLAB there XD

Or imagine swiping from the top to the bottom of the screen to close apps XD

Programming on your fridge is as absurd as gaming on it. I love the idea :D

You can view whole code files without scrolling

And write apps for your fridge, on your fridge :D Fridgeseption xD

Portrait aspect just seems wrong. While liked Daniel's coo entry, landscape would be better

Waiting for Final Fantasy Fridge. Its a rpg full of hope and heart about the quest for finding the right food for your fridge. (can't believe they really made a FF game for Apple Watch). Just kidding but this is totally cool! Id certainly play with my fridge more haha.

Interesting how there weren't any observations about a smart connected home before mine. With hand-off features, this would like make continuing any task around the home quite nice. I don't understand though, how someone's kitchen counter not facing the fridge is a design flaw in the fridge? It's like saying I can't drive, its a design flaw of the car. As an architect and interior designer, I'm excited to see more connected/smart home/automation features!

Sam went for the beer and now is stuck watching p**n right in front of the refrigrator. Cool one LG though :)

I'd rather a 23" gaming laptop with attached fridge, erm beer cooler.

Honestly, the tiles are ugly because they don't make use of the free space. What the heck are those windows programmer thinking?

Slightly agree. I think it needs an interface more windows 10 mobile, than desktop

Samsung Model: RF22K9581SG, Family Hub refrigerator. has galaxy note on it. http://www.bestbuy.com/site/samsung-family-hub-22-08-cu-ft-counter-depth... But this LG smart is much better.

Dumb. Posted via the Windows Central App for Android

"Hey Cortana, are we out of milk?", I don't need a missus

Cortana could order your food...

Automatically, if you set it up so. That would be useful as hell :D

Great idea, especially with the kitchen being as much the center of activity as anyplace in the home. However, the price is a show stopper.

Absolutely pointless and unnecessary. I want one.

I love it!!! Posted via
Trump 2016

Is this Win10 IoT? Because it would mean, that Microsoft is finally getting an idea, what the future of Windows as a "tinkerer OS toolkit" is.

I would buy one if it had USB ports...

Imagine if they made this fridge with a lock, a really good lock. You could make a game that would unlock the fridge, only when you get to a certain level. It would suck but you would loose weight. Great way to satisfy those fat gamers...

A Great & Smart Refrigerator to use. Large Screen & Display.