Line gets updated, adds sending multiple images and more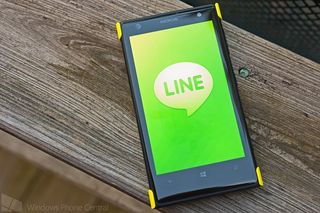 The popular messaging app Line is the recipient of a new update this week, adding in quite a few new features and improvements for the app that has a huge user base in Japan:
The app, which now has a version number of 3.6.0.425, has added in a way to send multiple images and preview images at once, along with a way to forward and even delete messages for the first time.
In addition, there's now partial support for receipt of messages from official accounts, along with some Improvements to the navigation interface on Line's main page. Finally, the change notes indicate there are a number of unnamed bug fixes and performance improvements.
Line keeps updating the Windows Phone app on a fairly regular basis, and it's great to see that kind of activity when so many major apps sometimes take months to release new versions. You can download the Line app right now in the Windows Phone Store.
Thanks to Gunjan for the tip!
Windows Central Newsletter
Get the best of Windows Central in your inbox, every day!
Idiot cannot make it faster.

I like the way the transparent tile get green after receive a message! Beautiful!

Seems shittier in front of WhatsApp

Anyone getting the update?
I think it's unpublished now due to some security bug.

You gotta love Line, fairly constant updates- new stuffs too. Yes Skype, I'm looking at you!

Hardly used line... Cant go back after using Hike... Its totally awesome... Hike is a hybrid of bbm and What's app... With crazy indian themed stickers... Love it

Skype desperately needs to be updated. It is way better on Android and IOS. Shame on you Microsoft!

is there any TIME LINE in recent update?

I see what you did there.

No it's exclusive for IOS and Android only.

Unable to download with US region, really?

In Germany not possible as well

No just wait for a while man!

I would not call it "a regular period" -_- but they've updated after a lot of complains so I'm happy

Now it says not available on my device and don't let me update. But I've been using it on my lumia 1020 for ages and even today. Singapore.

Not more available for my device =/ lumia 1520 with wp 8.1

Which region is this app available to download?!

Says it's not available for my US phone? I'd like to use it to communicate with a friend in Japan.

Don't talk to Line anymore. It's Google and Apple slave.

"I am slave for you..." inspired by Britney

its pulled out of the store. :/

Its been slow app since forever..
But I do like it

Unpublished from Store. Don't know the reason

Line not available on my Lumia 1320 india wtf !!!

I can't update in my Lumia 520, it says is not available in my phone, I think it's because the region, which region should I use?

It's not available in any region

Well,I see a lot of people have this problem, lets just wait then.

Video calls please. Wechat supports. Why can't line?

I can't even find it using search in the store. Must be unpublished or so.

It wouldn't be a surprise if they make something like Xbox Video Chat to replace Skype. Skype seems to be abandoned..

Me, most of my contacts use LINE to communicate with me.

update in hour ago and it bring me back to 3.3 then the application pulled from store

Not available to my device? Hmmm

Unfortunately I deleted the app and now I am unable to find it in the store. M using L 1520 . Did anyone face similar problem??? Changing region did not help.

Line pull it from the store

Why the fuck did they pull it from the store??? The change log is very interesting

It seems to be a technical glitch. I was able to update the application but still multiple image option was not working. So I though of reinstalling it but now messed up. Its not there anymore.

I hope it will be available soon!

Not available for my device, supposedly.. I have the last version on my phone but anytime I click anything it says my US At&t Lumia 920 is not a supported device...

Shows The application is no longer published

Just wait a little, it Will be back.

Give it a transparent tile

File attachment please? :D

it's back! and they added transparent tile!!! my start screen is finally perfect. i'm happy

and the tile changes from transparent to opaque when you have a notification. makes it stand out more! i really like this idea! i hope all developers make their tile opaque when you have notification so scrolling through and finding tile with notifications is easier because of the greater contrast.

I've always liked line, but can't seem to get people to cross over

Does anyone else experience a slight delay for the messages to show up when opening up a new message from random people in your chat list?

Almost everytime for me Lumia 920. Have not updated though.

the download link is working now. everyone, push that update button...

Still half-baked and it can't keep up with the iOS and Android versions.
We can't blame them since Windows Phone is "dead" in Japan.

Finally! Ability of sending multiple images... My mom couldn't stop wondering why his son kept sending her one photo per message while she could easily send my tons in a simple step with Android...

You can now buy stickers from the store using your phone :-)

It's only web link to store.line.me.

Yes but before that as a UK user I could only buy stickers via an android device as the web store was region locked.

Finally! Transparent and live tile!

it really seems faster but what's up with transparent live tile....i like the green...there should be an option to choose

great update! buying stickers from the store is really a redirect to a website to buy line stickers (at least in the u.s.), but im loving the transparent live tile, wide tile support, and ability to read messages/time/date on the live tile itself. it also seems like the bug i was getting with the same message showing up in action center twice is also gone, which is a relief. im happy with this.

You missed : Transparent Live tile, more information detail on live tile, and purchase sticker directly from sticker shop

It's now transparent noooooooooooooo

Hey guys download this app. It's free but you can donate this app with buy download http://www.windowsphone.com/s?appid=df18a63e-a30b-4165-96a4-e06face88450

You still use that old splash screen for Line?

This is a much better IM than Whatsapp. Too bad it is not as popular outside Japan and Taiwan.

YES FINALLY TRANSPARENT TILE!!! I LIKE ...THANSKS LINE !

Official accounts… Last Monday, Japanese illustrators I'm following in Twitter has been talking about recent account takeover by malicious users. From the stories and screenshots, seems more like phishing rather than hacking. I wonder if there's any relationship, I didn't look for further story about it.

Why line doesnt use photoselector from wp? I'm tired to scrolling scrolling my screenshots to send.

Yeah! It's very slow to finding pictures.

And no timeline too. But its good start.

And apparently it keeps crashing whenever i try to select stickers and emojis..anybody got the Same problem?

For me it crashes if I want to add pictures. But it crashes only if I choose folders with a lot of pictures (over 100). And I can't set any user ID. It says all time that this ID exists already. Anyone the same problem?
Lumia 720 Wp 8

Works much better than Skype, which I still cannot believe, being on WP8.1.

Thanks for the update.
It appears GREEN highlight on the live tile when new messages have not read, that's thoughtful.
Keep improve please.

Cannot compete with WhatsApp, but pls improve and add the video call, speed up the pages loading speed. There are still many little handling issue.

Pls improve LINE with faster features opening, stuff loading, more efficient pages loading and support video call. That's what users need in WP. Thanks.

Pls add video call, thanks

Screw "Line." I downloaded it on a new system, It will not accept log in information. I sent requests for solutions and re-did everything several times, its a worthless piece of **** that does not work. At least with Skype you download, set up log in and you can use the damn thing.