Living with the biggest Windows Phone, the Nokia Lumia 1520
A follow up on the Lumia 1520 review and using it as my daily driver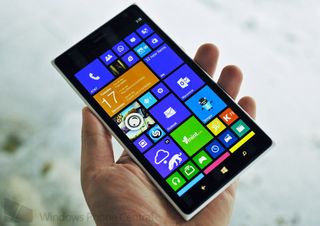 It has been a few weeks since the colossal Lumia 1520 from Nokia was released here in the U.S. on AT&T. Since then, I have repeatedly been asked one question from people on Twitter and elsewhere: "Do you use it as your daily driver?" (inevitably followed by "Should I get one?").
I previously reviewed the device after spending a few days with it, giving it high marks for its display and camera. But now it's a few weeks on and some of you are wondering if I still use it. After all, I do have access to every Windows Phone 8 device out there, so why not opt for the Lumia 1020 or the Lumia 925 or even the elegant looking ATIV S Neo instead?
That's where this article comes into play as I'll try to answer some questions about the king of all Lumias.
Do I still use the Lumia 1520 as my regular phone of choice?
I have a few lines of service so that I can switch between (and compare) phones. The Lumia 1520 is (and has been) on my main line since I reviewed it. So to answer the first question, yes, I use this phone as my daily driver.
In a pinch, I can opt for my Lumia 1020, which has another SIM in it or my iPhone 5s/Lumia 925 T-Mobile devices or even a Verizon Lumia 928. But the majority of the time, I grab the Lumia 1520.
Is the Lumia 1520 too big?
Perhaps. It's clearly not for everyone. I do think the Lumia Icon (aka Lumia 929) for Verizon will be a more popular choice because it's essentially the same size as the Lumia 928, but packs way more in terms of features, including a 1/2 inch larger display at 1080P.
The Lumia 1520 is massive, make no mistake. I tend to wear cargo pants and it goes very well in the side pocket. But if I had to carry it in my front jeans…yeah, that would be rough.
Is the display that amazing?
I'd say yes. I'll give you a fair warning: once you commit to and use a 6 inch 1080P display, it's real hard to go back to anything less. Real hard. Even my Lumia 1020 seems tiny now and inadequate for editing those fantastic photos taken with it. A Lumia 925 feels like a toy to me after using the Lumia 1520 for a few weeks.
The point is, size is all relative. Once you start using a 6 inch phone, after a while it stops feeling too big and everything else feels just too small.
Between the size of the display and the 1080P with the extra column of Tiles, the Lumia 1520 is just more fun to use. I haven't had any problems with the Start screen being cluttered and gaming is just top notch.
Is the 20 MP PureView camera really that good?
Yes, it is. Sure, it's not as powerful as the Lumia 1020, but that should be obvious. But for casual users, it's more than enough and even for photography fans, it delivers some really nice captures. In fact, it's one reason I keep using the device over the Lumia 925 (probably my favorite phone of the year).
Sample photo from the Lumia 1520
I can't say I use the RAW format all that often, but it's nice to have it there. Although the Lumia 1020 is a better for photography, I can't say I see a night and day difference between the two devices. In fact, I hope Nokia puts this 20 MP camera into their 9xx follow up next year.
I also really like the flash, despite it not being a xenon type.
2.2 GHz of Snapdragon 800 power—do I notice it?
Yup. Once again, it's not a dramatic difference but between gaming and simple, everyday tasks I'll gladly take a Quad Core 2.2 GHz processor over a dual-core 1.5 GHz. Everything in the OS just feels snappier and it's fun to use.
Battery life on the Lumia 1520 is also good though not ground breaking.
Do I use a case?
I do. I use the overpriced Incipio Feather case that I reviewed earlier. I like having a shell on the back because it makes holding the Lumia 1520 easier—it's almost too slippery without it. I also like the cyan color contrast with the matte white. Plus, it barely adds and weight or size.
Is there enough internal memory?
Always a tough call, but if AT&T threw in an extra 16 GB of internal storage, I sure wouldn't complain. I currently have too many GPS navigation apps loaded, taking up an extra 3 GB of space, but I otherwise hover around 2-3 GB of free storage.
I do have a 64 GB micro SD card on board for music, photos and videos, which does help a lot. But for a flagship phone, the Lumia 1520 deserves better. Still, I think your average user should be okay.
Do I have any complaints?
The screen sensitivity, when set to 'high' (allowing you to wear gloves and operate the display) is too sensitive, resulting in a 'tap' when you meant to 'scroll'. This results in you opening too many emails or links on accident. It's a little annoying but should be an easy fix for Nokia.
I complained about the buttons being too flush in the review and while I stand by that, I have adapted.
I really do miss Qi wireless charging, though with my replacement shell on the way, I hope to get it back soon.
There's a screen brightness bug, causing the display to be too bright or too low when turned on. Toggling the display off and then on again usually resolves it, but there's clearly a metering issue.
Nano SIM is annoying because I tend to switch devices often. If you trim the nano SIM down and use an adapter, you can get around this, but it's a minor inconvenience.
What do I like most about the Lumia 1520?
I'll just list them:
Display (obvious)
The 20 MP camera
Speaker
Weight (it's lighter than you would expect)
Performance
Great GPS navigator for the car
Also, because the Lumia 1520 has cutting edge hardware, I really like getting goodies like Nokia's Motion Monitor (beta) app and Lumia Black features early.
Do I feel weird using the Lumia 1520 in public?
Not really. But on more than one occasion, usually at a restaurant, the waiter or waitress will comment on the size. Most of it has been positive with lots of "ooohs" and "ahhhs" and a few jokes here and there about its sheer magnitude.
You also have to worry a bit about privacy because when you read that new email, basically everyone around you can read that email too. So if you're awaiting test results from the doctor or like getting naughty pics on Snapchat (via 6snap), you may want to heed caution when at a movie theater and someone is sitting behind you.
Wrapping it up
So here I am, weeks after the Lumia 1520 launched here in the US and I'm still using it. The Lumia 1520 is not a device for everyone and I'm not here to convince you otherwise. It requires a commitment, a borderline lifestyle change and yes, it's almost ridiculous. But between taking photos, browsing the web, playing video games or even using it as a phone, I'm sticking with the Lumia 1520 for the near future.
To sum up: when using the Lumia 1520, you're thrilled to have it. When not using it, it's cumbersome. And then you turn it on and once again, you're transfixed on that display. Rinse, repeat.
I do think a 5 or 5.5 inch display would be more acceptable for the majority of users out there and that device will come someday. But I also think it's kind of awesome to have a phone now at the extremes.
The Lumia 1520 is fast, the display looks great, it feels great to hold and it's the cutting edge (right now) for Windows Phone.
If you're really on the fence, I urge you to go a store to see one in person. Don't buy it sight unseen. You really can't appreciate its size until you experience a Lumia 1520 in the flesh. Once you commit to it, there's no going back, because everything else is just peanuts.
What has your experience been with the Lumia 1520? Share them with me in comments or head into our Lumia 1520 forums!
Windows Central Newsletter
Get the best of Windows Central in in your inbox, every day!
Daniel Rubino is the Editor-in-chief of Windows Central, head reviewer, podcast co-host, and analyst. He has been covering Microsoft since 2007 when this site was called WMExperts (and later Windows Phone Central). His interests include Windows, laptops, next-gen computing, and for some reason, watches. Before all this tech stuff, he worked on a Ph.D. in linguistics, watched people sleep (for medical purposes!), and ran the projectors at movie theaters because it was fun.
Nothing is too big for my hands ;-D

Yeah, this would be great for my sausage fingers. Waiting on the 32gb version, though.

The fact is - choosing the best standard shouldn't be a Mobile-Phone Service Provider's business. Qi/PMA are nothing but a chip that goes inside the devices/smartphones, so sorting out which is the BEST is a process that is better suited for DEVICE/Smartphone makers than the CEO of AT&T. For better or worse, AT&T has just killed Qi-Wireless standard as we know it, and here is why: AT&T not only is the most dominant GSM Mobile Service Provider in the US, it is the second largest Mobile-Phone service provider in US, just behind Verizon. The pending merger with the Leap/Cricket Wireless, should make AT&T ever closer to becoming the largest Mobile-Phone Provider in US, surpassing 100 Million subscribers. Furthermore, AT&T is almost always the first to launch new Smartphones into the market and some reason that is unknown to me; if a Smartphone is successful with AT&T, it also becomes successful with other carriers. Therefore, NO Smartphone/Device maker can afford not appeasing AT&T's demands. So, it is not a cost effective for Nokia or Samsung to continue making (if they still are?) a same smartphone model with PMA just for AT&T and then one with Qi for T-Mobile; Nokia somewhat tried that with its new Lumia 1520 - and - now, Nokia has changed its mind rather quickly. Nokia's global online is no-longer showing the Wireless Charger capability of its Lumia1520 global-version, to see the original specification with Wireless Charger which Nokia decided to deleted, search "Lumia 1520" on www.archive.org (it might be too late, but try it). However, Phone/device makers always want ways to reduce the final cost of their smartphone/device after the engineering, product testing and later supporting it. Now, the war of standards (Qi vs. PMA), for the Smartphone/Device makers it is no longer about choosing the superior standard, it is just about the bottom-line $$$/FINAL COST, ---and between the Qi and PMA, it is about; if you KNOW someone in the higher-ups, son, you are in!!!..... Due to the AT&T action (AT&T might have already notified their device/smartphone makers about the PMA only policy), we should see more PMA products in the CES 2014 Las Vegas, NV JANUARY 7-10. - I will be there... In the meantime if you don't like what AT&T has done (Qi vs. PMA) sign the following petition or create a new one from the scratch - You will have my support :-) Remember, Your God-Given Freedom of Speech- make it to use -- After all, this U.S.A - GB!!! http://www.change.org/petitions/please-tell-at-t-to-stop-its-monopolistic-and-abusive-actions via change.org !!!!!!

Yikes. Well, first of all, flagged for overuse of bold. Second, I think it's important to point out that from what I have heard, PMA is actually technically superior... greater charging distance and ability to charge multiple devices on the same charge mat, if I am remembering correctly. I haven't studied the issue too much. But we should note that AT&T is pushing a technically superior standard, so it's not like there is no reason for what they are doing (please correct me if I am wrong here). Third, even though it may be true that PMA is technically superior, I'm still not happy about this. They started by pushing Qi, I fell in love with it and have it all over the house, and now they want to ONLY support PMA. In addition, they actually removed the built in charging on the 1520, which just stinks. I'm not sure which way this will go, but I will say that I am now confused as to what to do next. I have no interest in the 1520 (too big for my tastes), but I suspect I will face the issue when the next reasonably sized flagship comes out... do I switch standards? Will whatever the standard is be built in? If the industry will truly be going PMA anyway due to better features, I may as well switch now. But it will cost a fair amount of extra money to replace the chargers, and I am really invested in the wireless charging being built in... just a better way to go.

I refuse to read your comment because of the tons of bold in it. Terrible ... TERRIBLE use of formatting.

And just like I said way back about a WP device with a 1080p display, and a quad core processor.... I want one❕
But, the haters argued that WP didn't need it, and that the benefit wasn't justified because of the negatives.. My argument was that this is Nokia, and MS.. While Android might have certain features that aren't executed well, and don't translate to as much benefit, I'm sure our WP devices will use this technology to its fullest, so yes we do need to have some devices with the latest technology available... I think some WP fans are just sore losers, and just because WP doesn't have something they are quick to say that WP doesn't need it.. That's so petty, and immature. How many of those same people are rejecting the idea of a QC1080p WP device now❔.. How many of them do you here say that WP doesn't need it now that it is available❔That argument is pretty much done... These same people said the same thing about DC processors when they weren't yet available on a WP device. I don't see them boycotting them now,, as a matter of fact they most likely wouldn't use anything else...
Like I said, the QC1080p argument is squashed for now, but the for now part is what's annoying about it.. Listen people.. Don't say that WP doesn't need this or that because WP should have as many options, choices, and features that are possibly available, and is not always,, I say not always, important what the others have, but we as WP users want to have some fun to, and Microkia's job is to be competitive... Just as I said before in a previous argument defending that QC1080p would be good to have,,, A lot of WP fans need to break out of that old fashioned WP7 minimalistic frame of thought....
Nevertheless, this is still just my opinion, and if you're someone who still preaches that WP doesn't need this, or that, then feel free to "try again"

Wtf... WP doesn't need it❗❗
You hear me❓❓❔
WP don't need that ridiculous fast processors and screens, it's making me really mad that they are putting this shit inside a beautiful Lumia... REALLY MAD ❕❕

Yeah, my whole post was just a joke.. WP really doesn't need any of this.. As a matter of fact they should remove the browser, all that unnecessary Bing crap, the start screen, and the power button.. Who needs it❔.. All this stuff does is just get in the way of the ultra clean metro experience, and hinder battery life,, especially that pesky power button.. People powering there devices on is the main thing that suck battery power down the drain... Whatever happened to those very first WP ads❔.. Those were perfect❗... :-)

Absolutely, don't want those ridiculously large batteries either.
Give me 500mah, that's more than adequate.
Just give me a sticker with Metro look on my screen, then it can be on 24/7 without using juice.
Or smoke signals, that's what we used in the old days. What's wrong with smoke signals, what's the world turned into.
Or maybe I'll just stick with my 1020 for now... :P

As someone who uses his phone a lot for browsing the web and looking at excel spreasheets for work on the go, WP needs it. I find much use out of this large screen. I find it far more effective at looking at work related sites in IE and viewing excel spreadsheets. More content on the screen at once is a godsend. If you can't find a use of the large screen ... get something different. Nobody is forcing you to get a 1520. But, there are lots of us that find the large screen very ... very useful.

I have a 1520, son.. Lol❕ Best device ever made period❕.. The web browsing experience is something that I never expected to be so amazing by having this larger screen..
It's called sarcasm.. Really❔

All it needs is: 1. A Wacom Digitizer and stylus 2. Handwriting Recognition 3. A version of Opera Mini for Windows Phone 8 Then it will be perfect.

No, it will be perfect-er... It's perfect❕.....
Well, wireless charging would be nice, and they should have a 64gb option..
Look.. I'm tired of people always having to make rules about what a smartphone has to do, or be.. Just because it has a larger screen doesn't mean that it has to be centered on productivity.. Not everyone wants these larger screened devices so that they can take their work with them, everywhere they go.. I got my 1520 for entertainment.. Now, I'm not saying that the things you mentioned aren't wanted, needed, or just plain cool, because they are.. But, it's wrong that silly Android fans will say that the 1520 isn't a true phablet because it doesn't have a pen built in.. Nevertheless, I hope that MS does add more productivity features in WP8.1 for the sake of WP.. At that point the thing that will separate WP from Android phablets is that these features will be available on all WP. Devices, not just phablets.. Will they please let me run things at MS for just one year❔

TLDR to both of these long novels. :-)

Lol❕ Your welcome, my friend.

I'll have to agree with you here, we WP fans really need to stop hating on those that do want a better spec sheet for WP. It's fine to defend WP against those trolls that say WPs hardware is outdated, but it is wrong to say you don't want up-to-date hardware. Anyone would enjoy great hardware unless you're a hippe or terribly old-fashioned. This is where the difference between need and want are most obvious.

Steph, I second everything you just said. I liked how we were doing fine on outdated hardware, but the technological hunger inside of me longed for serious horsepower. Lo and behold, herald the impending horsepower of the Snapdragon 800. I still use my L920, but I LOVE the L1520. I still feel a 6" screen is overkill, but it HAS gotten the attention of many iPhone and Android users and they liked how big the screen was for my games. An Android fan, who does respect WP BTW, did admit he wish he had a 6" Galaxy in it. He showed me his Galaxy S4. We talked back and forth, but he admitted he didn't know what the SoC brand was. I told him it was either Samsung's Exyenos octo-core (I screwed that one) or the Qualcomm Snapsragon S4. I know the 4S has either SoC, but how do I tell which SoC is in another person's Galaxy 4S?

Depends on which country you're in. If its USA, its Snapdragon 600, not S4. If it's outside of USA, its the Octa Core. Unless its the S4 Advanced, then it'll be the Snapdragon 800.

Actually, I was very surprised about how unimposing the size of the 1520 really is❕.. A store employee let me slip his 1520 in my pocket, and it's no big deal at all. Really❕... I wear size 34waistx32 length pants, so it not like I'm a huge guy at all.. Seriously, if you have the 1520 for like 3 days it starts looking smaller, and smaller. You almost instantly get used to it.. You should seriously try it out.. The only thing different about my 1520 compared to my 920, as far as portability, is well,, nothing❕.. Why not enjoy the larger screen❔
The. Only downside to the larger screen at 1080p is that after only 3 days my 920 looks tiny at "only" 4.5", and the 768 resolution looks horrible now.. So, basically there's no turning back.. This all just proves the fact that we can definitely tell the difference in pixel density well over 300ppi.. Having my 1520 next to my 920 is like having my 920 next to my Focus... I'm looking at my 920 and saying "I can't believe I ever wasted my time staring at tiny low resolution screen"... Lol❕... Funny how the human mind works..

Indeed, Rodney! Even my L920 is now puny. Sometimes, I still use it it, but I'm not returning back to it.

This is stealing every thought and word from me in whole...... My wife now posseses my 920 and no kidding, it feels like a hummingbird in my hand vs the 1520. And that screen............... there's no going back. I wouldn't rule out a 5.5" device though should one come out this year. I can hijack my wifes upgrade being she thinks the 920 is too big but isn't phone happy like me and would be happy using it for the next couple years.

Amen sir. I tried using my son's 920. It looked tiny. As tiny as the iPhone looked when I stared using my 920. I don't think there is going back.

No going back.. In fact, I hope the next large Lumia Phablet has an even larger screen.. But, honestly a 6.3" Lumia could only stand to be larger by only a few more mm taller. I don't see how I could possibly handle a phone wider than the 1520.. Anyways, I'm looking forward to a even larger screened "1530" with a QHD display, a octacore processor mainly for its graphical benefit, and maybe a 41mp camera this time... What I'm really hoping to see Nokia innovate on in 2014 is photovoltaic screens that are able to charge the battery in all types of lighting.. That would be the biggest advancement in mobile in years❕.. I want Microkia to be first at this..

I'd love this phone in 32GB for At&T (would be even happier with 64). I am dying for a larger Nokia device like this to replace my 920.

I really, really want a 64gb phone with a SD slot.. I want it all❕... It always seems like the perfect device always sacrifices something... Well, my 920 felt almost complete, but they left out the card slot.. I'll keep dreaming.

Do apps adjust to the larger screen. Say room for larger notes in OneNote/Evernote/Word

There have been very few apps where I've noticed them not scale. In those cases, there's a black bar at the top or bottom, but everything else looks just fine. There have only been maybe two or three apps like that..mostly old indies.

Facebook scales horribly. I think the text should be smaller and there should be more screen options. But Facebook promises that it's coming. Other than that, I dig all of the apps I've found in my 72 hours of testing. :-)

That's a yes. I don't have one. I have an 822 on Vzw. But I've played with it enough. Windows phone is great in that respect. It knows the screen size difference and adjust instead of just stretching.

Yes, you get THREE MORE LINES of text in the Settings app! Amazing, isn't it?

I agree size is relative. I'm glad to know this phone just gets better or feels better the longer you use it.

Just told the fam once you go Lumia 1520 you can't go back to anything less screen wise. I thought it was too big but I've adjusted and can never go back to a smaller screen now.

Your comment has helped me make my decision.

I went to play with it at the ATT store. Also wanted to check out the 925. Once I started with the 1520 I had no interest in the 925..

But... But... Isn't there a 4" that is the perfect size no matter what??
(until they make it 5") ;) :P

I don't think that's true. Just how you adjusted to the big screen you can similarly adjust to a smaller screen if you wanted to. I have a 1020 now and when I go back to my Quantum on occasion at first, yes, it seems SO SMALL. But after a short while it is no problem. I'm not suggesting you SHOULD go back, just that it is possible and not hard to do.

Once you go lumia Black... O.o

I had the same experience when I went from iPhone 4S to Galaxy Note. And again with the Lumia 1520. It's sort of like when you get a new big screen TV in your living room. When you get it, you're like holy *%(# that thing is enormous. But after a few weeks, it's normal sized, and everything smaller is just too small. :-)

Jumping from l900
The 1520 is THE ROCK OF WWE...
I have waited for this phone to come out..
Its beautiful,screen,speed,black update by Nokia,and its for sure will get the next update.. The camera WOW!! YOU CANT GO WRONG ITS BEAUTIFUL....

Btw the story teller beta is not working!;

Story teller seems hit or miss no matter what!

Pick me!! * hand waiving in air*

When using the stop music apps my volume stays at whatever it was last used at. I have to basically reboot the phone to reset the volume. Uninstalling the stop music apps fixes the issue as well. This was not a problem on my L920. Other than that issue, I love the phone and am getting a 64gb SD card for Christmas. I have a 16gb Sd card in it now. I am using the Amzer black case over my RED 1520. I Take it out of the case to show the color off sometimes.

I'm still stuck on my 1020 camera.....give me a 5.2" display or so with 41mp and I'm there!! I did my research on the 1520 and I love it! But the camera is a let down and I think a 5.5" screen would have been good enough! But still great looking phone!!!

Agreed, that extre .5 inches makes a difference :(

Yes, real difference!! Love Nokia

I feel the same way. Once I adapted I can't go back to 4" screens. It's much lighter than my 920 and I don't wear skinny jeans so no pocket issues for me.

It's actually about 10% heavier than the 920. But yea, I'll bet it's hard to go back to a small screen!

Haha, it seems many people get confused about that. Might be because of the better weight distribution in the phone that makes it feel lighter.

Awesome to hear! Can't wait for the Icon to drop, because I'd love a little boost from my 928.

Didn't Nokia say that the 32GB variant for AT&T would come soon?

Great article. Found the same issues and likes with my 1520. Rocking the Nokia CP-623 cover, to protect that beautiful screen.

Yeah, that cover has grown on me and I use it on occasion. Glad you liked the article!

Wonderful review. Daniel. You are using the white coloured matte phone. Even then its slippery or is it due to size? Coz i am planning to upgrade from a 920 to the glossy red 1520. Although of course i will be taking the cover.

Yeah the issues are kinda annoying but the 1520 is awesome. My 1520 looks even bigger with the leather Belkin case but the 3 way positioning got me lazy.

Having had this phone for about three weeks I can agree with a lot of what you stated here. I find myself going back and forth between this 1520 and my iPhone 5. I really only use the iPhone when I exercise or go for a night out on the town, otherwise its the 1520. I also get the comments and some ribbing from my friends, but really enjoy using this phone. The screen is just amazing. While the 1520 is an extremely functional device, it's not for everyone. Appreciate the article Dan. Well said.

Thanks, and agree. I find myself grabbing my 1020 for the gym instead. But the more I adjust to the 1520, the more irresistible it is.

Daniel you made a point saying that you thought the device was a tad slippery and thus your need for a shell. I find that when I have the shell off of my L925 to me it's like holding ice very slippery.

What about one handed usage like texting/typing a short email?

There are some accessories now from Belkin, that strap on to your hand, to extend it and your fingers, for that very purpose...

I will be waiting for a 32Gb/64Gb version. Cyan anyone? :D

Unless T-Mobile offers the Lumia 1525, I wouldn't hold your breath :p

And knowing t-mobile if they get they'll get 16 GB only

But at least you get a MicroSD!

that is not much use on windows phone for now

Not technically true, mine is holding all my XBox Music, my own Video collection. Unfortunately it doesn't hold XBox Videos which are stored on phone memory. I hope they fix this soon.

Having just got my 1520 a few days ago, I agree with everything in the review. I did get Amzer case on eBay, and waiting for a pouch w/ belt clip. Even with cargo pants I hate putting my phones in my pocket's.

Great follow up article, Daniel! Thanks for writing this. One thing I can't seem to find any info on is that I've noticed in a lot of promo shots (even on the international Nokia packaging for the 1520) some new icons next to the battery indicator. Are these present on the 1520 with Lumia Black or is this something still coming to WP in another update?

Thanks. I think you may be referring to Update 3, where some icons were moved around for Drive Mode.

The new bell and vibrate icon as seen here: http://www.nokia.com/au-en/phones/phone/lumia1520/ I'm gonna head down to my nearest Harvey Norman store here in Sydney this weekend to check one out and see how this beast shapes up.

Hm, not sure what that is. Could be an alarm (I never use it) or just a flub.

Well said Daniel. I picked up my 920 the other day, after using the 1520 for a few weeks. I couldn't believe how ridiculously small the 920 felt. You definitely adapt.

Yup, it's a weird experience how your brain changes! I do miss the 920 sometimes though...been playing around with it again here and there. Landmark phone.

After being a happy owner of both the titan and the titan 2, I have had every flagship Nokia after the titan 2, and though I've been happy with my devices I missed the large screen of the titans. When the 1520 was announced I thought that it was too big, bit I'd give it a try. Today, after having the device since launch day, I can say for sure I love this device and will be my main device till its upgrade whenever that may be. I love the screen, I love the camera "though I don't know why Nokia haven't fixed the yellowish night pictures with flash problem yet". It was present in my 1020 and its still here in the 1520. Its probably the loudest speaker phone I've ever used. The speaker is amazingly loud and with little to no distortion. Its obviously faster than any other wp8 device out there and as I am a big guy, the size seems to be perfect. The only bad thing so far is the internal 16gb storage, but that should get fixed with WP 8.1 hopefully. Messing around with my wife's 920 it feels soo small now. Lol. This by far is my fav WP yet!!!!

The Titan I was the best WP 7.5 phone ever! Sometimes I look at eBay just wishing I could buy it...then I remember that it's OS is dying... :(

Titan 2 FTW, that curved chin was really unique and it had a 16 MP camera! Crazy stuff.

But the aperture on the Titan I was (I think) 2.2...whereas the Titan II was 2.6. I'd prefer the low light capabilities over the higher MP, not that there was a huge difference either way :)

I think that's the case, I forgot, though the BSI sensor was pretty good in the Titan 2. Fun phone. Good times.

Oh true! I forgot about the BSI changes on the Titan II. Never owned that phone :/

I love to get this beauty, but Tmobile doesn't update their windows often as ATT.


I keep waiting to hear about the next tmobile windows phone :'(

That makes two of us buddy...

As much a I like 925 and would like to go back to t-mo, that was the reason I stayed with att for one more round and got 1020.

I have an account with ATT but I just don't want to deal with them even though I like NL1520. I will just wait until the new MS/Lumia phone with 8.1 comes out this way I'll have better hardware and specs. For now rocking my beautiful NL925.

I still think the best ever screen size/chassis size phone is the aging Optimus G Pro on AT&T. The bezel is super slim, the screen is a 5.5 inch 1080p display. I think the Lumia 1520 is just a tad too big for most people's liking. However, I think Windows Phone 8.1 is going to push the 1520 over the top and make it the best phone on the market, assuming you can handle the 6 inch size.
I personally use the Lumia 1020 (for the camera and 32gb of storage) and the Note II. Love both phones tremendously, but can't wait to see what Nokia has in store for the future!

Yup, don't disagree there. I think Nokia went out to the extreme end and now will work their way back to 4.5 inches by offering some in-betweeners.

What do you think the next big Nokia innovation will be? I think that everyone has exhausted making screen sizes bigger, and Nokia has trumped all cell phone cameras with the 1020. I'm not sure what the next frontier is, other than maybe flexible screens. I'm guessing Nokia is going to try to figure out how to a) get the bigger camera hump of the 1020 into a more pleasing package or b) marry a 50+mp camera to some cutting edge technology (Lumia 1620?). Only time will tell :)

Yeah, no idea. I know accessories and wearables are a big focus for them.

Only if they could fit a 5" screen in 1020's body for the next round. And I don't mind that camera bump - charging cover does a great job of masking it. And talk about accessories reuse, including Camera Grip.

I personally rock the wireless cover on the 1020 as well. I'm not bothered by it, but a number of people have commented how chunky it is. I also had the 920, and didn't mind that, but they are both heavy phones, meaning some people probably wouldn't like it... I have the camera grip, but it's left me wanting a little. It is a great design, but the extra battery life does't help THAT much when taking pictures. Do I use it and am I glad to have it? Yes. Do I wish it was a 2000 mAh battery instead of a 1000mAh for the $75 you pay? Absolutely yes.

the new phablet will be the next innovation from Nokia with a camera array from pelican imaging that were the refocus app came from it will be 5 to 6 inches and will be aluminum and perhaps will go to tmobile to replace and or be a big bro to the 925, yes it will have storage slot to. to be clear it will have refocus feature like the refocus app but with out taking a bunch of picture it will do it natively as it has 16 camera, it will have depth info etc, and do 3d imaging, and will be a pureview Nokia as well

http://www.pelicanimaging.com/

Here are a few ideas: An interchangeable lens mount. An even faster lens: F1.2 Already mentioned in another response in this thread: Digitizer, stylus and handwriting recognition: Samsung have shown there is demand for such a device. Allowing indie onscreen keyboards -------- Handwritten on a Lenovo X-Series ThinkPad Tablet

They can keep improving the zoom. I'm stoked to have the 1020 as opposed to not having it, but I sure would like to get up even closer at sporting events.

I was hesitant about recommending it to friends and family until I saw it at the Microsoft store; now I can't stop talking about it. The 1520 is a beautiful and impressive device. I would definitely recommend it over the 1520 which I have now.

Oops I have the 1020.. See what I mean? Lol

So you don't feel like sacrificing the 1020's camera is that big of a deal? I really like the 1520 but that camera on the 1020 is just amazing. I think it might have ruined any other phone for me. Wish I could use a 1520 for a few days and see what I think after hands on use.

It is a tradeoff, and I think the screen, look, feel, battery are worth the tradeoff of the better camera.

Wish it had a variant on Tmobile

Does subway surfers take long to load on the 1520. The loading screen takes a while on the 920.

Relatively, yes. It takes about 17 seconds to load but I bet it's faster than the 920 ;)

17 seconds is pretty slow! My 1020 does it in 25 seconds, so definitely an improvement. but the snapdragon 800 is definitely more than 2x an improvement over the S4, so it should be faster. I'm hoping for more snapdragon 800 optimizations in 8.1. or the 805 :D

I just got mine from gameloft yesterday, it will be my weekend phone until i can get a suitable case for mild construction environment. Until then I'll keep using my 1020 with the otterbox.
The 1520 really is an amazing device, from the display to speed to the battery life. Just amazing.

Amazing phone, you get used to the size very quickly but people still make jokes where ever you go :)

I've gotten "Is that a PHONE?!" on numerous occasions. Pretty funny.

You guys should see me with my Lumia 1520 in my chef coat it looks like my wife's wallet.

But you have a great phone and they have.....their crappy jokes

Love mine. Won't be giving it up anytime soon.

This phone isn't a phablet. Its a phabulet. People are shocked by its size as am I. I can't go back now, though. 920 is to my 1520 as the iPhone was to my 920. You learn to appreciate the real estate. I actually use the 1520 for casual surfing more than my SurfaceRT v1.0 as a result. As for storage, I have the 64gb SD but don't use it much. They need to make Xbox Music app as functional as former Zune before I use this device for media again. For now, its back to iPod and USB for my car/portable music needs.

What I find really dumb and annoying is that on Xbox music you can have thousands of songs in the cloud but in WP you can't listen to them.

Really? I have HTC 8s with SD card, all Xbox music can be stored on the card (and the card can be used on other devices). I have the Lumia 920 and all Xbox music stored on board. No internet access needed to play.

Yeah on the card not on the cloud go to desktop open Xbox music and sync all songs to the cloud and you can see all your songs that are in the cloud on your WP device but can't listen to them error message pops up.

I'm not a tech person, but just checking you have downloaded from cloud to phone? Otherwise, put your phone and error code in message and maybe someone more knowledgeable can help....

When you enter Xbox music you select an album and gives you options and 1 of them is transfer to cloud once in the cloud you can listen to your music from any windows device with internet access ( surface, desktop, Zune, Lumia 2520) without having to transfer all your songs to device, all windows devices does not include Windows Phone.

Also always make sure to remove devices if you no longer use them, you need to Manage your devices at XBox Live. It sucks you can only have 4 devices access to your Music sub, although the new app does seem to ignore it as I put it on my wife's 1020 (which was the 5th device).

I only worry about 1 handed operation. I am often walking to my car with my 920 with something in my other hand and I can still text with one hand. I assume this is lost with the 1520...

It is admittedly more challenging to type one-handed on the 1520. It's not a terrible loss in trade for the big, beautiful screen, IMO.

Love my 1520. Adapting is the key word here...everything else seems small now. But the 1520 shouldn't be any bigger for practical purposes. The Icon will be a hit for alot of people. I'm stoked on the sheer size and beauty of this screen though.
One handed operation is ok with large hands.

I have one and you get use to the size real fast. I have my old 920 and I can't go back to it. The 1520 is amazing and the battery is a key feature.

Absolutely love my 1520. Daniel hit the nail on the head... I switch phones often and find that going to something smaller is challenging now that I'm used to the big guy. Everything looks better on this beautiful display!!! I love the extra real-estate when it comes to texting in both landscape/portrait as the keys are that much bigger. I use the heck outta my devices and I can easily go the entire day w/o any battery concerns.

Absolutely agree! I have had the 1520 for two weeks, have left my 1020 laying around convinced i'll be getting back to it once I'd hit the inconvinience of a larger than "practical" phone, and/or the incompetent performace of a 20m px camera. Hadn't hit either one yet!
size is definately relative and practicality proves the phone adequate for everyday use.

"925 feels like a toy" that's classic. I'm still laughing.

I gotta say, I read the first couple sentences of a "review" of the 1520 when it first came out and immediately stopped, and commented when the "writer" mentioned the size and the looks he gets from it, blah, blah, etc. etc. Then I went to the MS store, and saw it in person. Yeah, I owe that dude an apology cuz this mofo is HUGE! Not in an overbearing way, but I really did not expect it. :-o
I messed with it a little and could easily see why it'd be nice to have. PS
What app is that on your phone with the dog under the cloud, and (31) tile count?

That'd be Weather Hound. Nice weather app, I use it as my main one lately: http://www.wpcentral.com/tag/weather-hound

Cool, thanks for the info.

would like to know if u are satisfied with lumia 1020 storage space.am looking to buy either 1020 or 1520.is snapdragon 800 neccessary or are u satisfied with 1020 proccessor.please do reply

No comments on the pathetic large screen app optimization? IE and Word on that thing make me want to cry.

I rarely use Word on mobile and IE is just fine, so no...no complaints.

Isn't it still limited to 6 tabs, has no back button, and the address bar makes no use of the large screen at all?

6 tabs isn't a screen-size limitation - that's in the browser. You're correct about there not being a proper "back" button. The address bar fills the screen proportionally, IMO.

The more I think about it, I'd probably be willing to give up my 1020 for the 1520. I'll wait a couple months until the ebay/craigslist prices go down and try to get one off contact.

Spot on review. Love my 1520. I switch between my iPhone 5 & Galaxy Note 2 and the 1520 seems to get more run right now.

....and i can only imagine the amount of women lined up to send you naughty pics on Snapchat young Rubino

Hah, truth is I don't touch that app ;)

Not yet available in my country

Replaced my Cyan Lumia 900 with the Yellow 1520 and it is simply extraordinary. I have used a horizontal belt case since the miniscule Nokia 6230 and purchased one from the same manufacturer as the one I have for my 900. Works great, doesn't interfere with my routines; driving, computer, etc. So I really don't have a lifestyle change (I use a Jawbone Era, too). I won't subject you to the multitude of superlatives I could add, just I am completely won over with the 1520. BTW, I also took advantage of the great deal on the 2520 & am (not so patiently) awaiting delivery of the Nokia keyboard/battery.

This would look so stupid in my skinny jeans front pocket and that's the show stopper for me :(

Man, I sure hope you're a chick for your sake.

I agree with everything here. I have small hands but I love this phone. I think it is the perfect size and weight. People ask me isn't that way too big? I just hand it to them and say try it. Everytime: once they have it in their hands, they do not want to let it go.

Excellent article and I agree with all your observations. All my other Lumias and BB Z30 seem small now.
Question, though: do you get multiple copies of your pictures on your 1520 like I do? Never had this problem with my other Lumias.

If you're talking about in the folder when you are hooked up to the PC, one is the high res pic and the other is the 5mb for sharing and posting. The 1520 and 1020 both save two images.

Thanks but I meant on the phone. I see two or usually three copies of the same image. I thought it might be the SD card but it doesn't happen with my L620.

That's not normal. Had you try taking a picture without the SD Card in?
Maybe the card is corrupted or creating an issue with the phone?? Otherwise, you may need to reset the phone... Not a great thing, I've seen similar behavior once before on my 1020 and a reset did the trick. Of course, the 1020 doesnt have a Micro SD cards still I had similar behavior with duplicates.

A gaming paradise Totally agreed to "The point is, size is all relative. Once you start using a 6 inch phone, after a while it stops feeling too big and everything else feels just too small." 32GB wud have been awesome... I am left with 1.2GB... and all my maps are stored to MicroSD (Lumia storage check beta... lets u do that) Asphalt 8, Halo, Modern Cambat 4, Six guns, Mass infiltrator, etc etc.... 10GB apps!

Still waiting for the red edition for the uk

Got mine last Friday, International version(im from Chile so i had to import it), simply awesome Phone, many screen, very Windows Phone, much tiles, many camera, so 32 gb version, wow

iPhone 5s? Burn the heretic!

Enjoy using my 1520. Three flaws though. My number one gripe, screen sensitivity. Two, inconvenient when using one handed. Have to stretch my thumb all the way to the left for txting and all the way up closing apps in multitasking. Three, don't call a phone a phablet if it DOES NOT have tablet qualities. Call it gargone (gargantuan+phone) or something. On the positive side, fast and smooth as usual. Great volume, extra third row tile, beautiful screen, good camera though video needs tweaking. Weight is excellent. I do get laughs from coworkers and surprises from friends. Not a problem. My case of choice, the Amzer. Great protection besides the screen. Would have loved a built in kickstand or a premium case that has one.

Three, don't call a phone a phablet if it DOES NOT have tablet qualities. Call it gargone (gargantuan+phone) or something.
they are called phablet because of size, they fall somewhere between a phone and a tablet in size, example if a 3.6 inch phone had tablet like feature would it be called a phablet answer no ,because its to small; if a tablet had phone feature would it be called a phablet answer, no its to big

I actually was just looking through my old iPhone 5 (to disconnect my Blizzard Authenticator, which I forgot to do), and I was like, "what is this, a phone for ants?" I really can't imagine how I used it. And I used it so much to browse websites and watch things on Netflix, etc. My additions to the review: While the phone is wonderful, I do not like how the icons, menus, and various apps are sometimes not optimized for the 6 inch screen. Sometimes it feels like the font is blown up to vision-impared sizes. I'm sure this will get better with various updates, but I find Office nearly unusable in a lot of cases. I have no idea why it won't allow me to zoom out further like I would a PDF. Sometimes it just feels like I'm doing the equivalent of using a 27 inch PC screen with the font blown up to 300%. It's only with a few things, but it does bother me. Also, and this is not a fault with the phone, but it really annoys me that Youtube can't display at 1080p on mobile devices. What is that nonsense? Beyond this, it's probably the best device I've ever owned. (Although I am partial to my little Asus t100.) I'm still one of the people with unlimited data on AT&T, so I basically use the thing as my everything/everywhere/forallpurposes device. I browse the internet with ease, I watch movies and tv shows on it constantly. Size is, as you noted, relative. It doesn't even feel like a big phone anymore. It just feels normal. I can't see myself ever going back to anything smaller.

I have a 925 on tmobile... wish tmobile offered this 1520, heck i'd even take the 1020 on tmobile.... First world pains :-)

I have the joy of having this phone. Its a monster of a phone, but it doesn't take much to tame it. This phone is fantastic. My only gripe is that I wish my hands were bigger even though I can use it with one hand.

Ugh, I'll have to get one now.

Daniel: Something important that might be worth calling out: the 16GB "limitation" has a short lifespan if the 8.1 update brings with it the ability to install apps to the SD card. That will change the game dramatically, IMO. Then, only the relative loss of Qi charging still remains. I am hopeful that someone figures out a workaround. The RM-937 shell may be a dead-end per the WPC forum posts. Time will tell!

I saw this phone in person finally and I wanted it instantly. What a beast.

I have a theory on the buttons that are relatively hard to depress. I believe this is because when juggling the phone in one had trying to position it higher or lower, if the buttons were too easy to press, we would often be inadvertently pressing the buttons. The buttons are designed as a happy medium between one-handed use and convenience. I've been using the 1520 since day one (along with the day one edition of Xbox) and got used to it almost immediately. My Surface 2 dropped and broke a week ago so I've been exclusively using the 1520 at home and work while I try to find another Surface 2 - I have to say that the 6" display as good a substitute for the Surface 2 as I could ask for.

I'm coming from a Nexus 4. Prior to that, I had the Galaxy Nexus and before that even I had the Samsung Focus. While I miss the Nexus experience, I love my 1520. My camera experience is a mixed bag and I have messing with the settings, especially for low light conditions. Otherwise, theres a few apps that aren't available but I can live with it. Btw, what mount is that in the photo above?

Great review Daniel. Thanks.

I've been using 1520 for about one and a half week now as an upgrade over my 920. I do agree that once you go big, it's kinda hard to go back to small. When I tried to use my 920 it feels like a toy, really. Iphone 5s feels almost too small to use. In terms of pockatability, I don't usually pocket it now because of its size. Well I could still fit it in my jeans fron pocket when walking but when seated it is a no-no. Since it will be held in hand most of the time, I think investing in a sotf case should a good idea as it sort of protects the phone if it slips of your hand. Comparing to 929, I do agree that it will be more tempting but as I am not staying in the US, I won't be able to get it so 1520 seems to be the right choice for those planning to upgrade their older 9xx Lumias outside the US. I am also facing the screen sensitivity issues which I hope Nokia is working on a fix. One thing that bugs me is the amount of noise in low light photos and videos. Compared to my old 920, 1520 does capture more details in low light photos but there is also more noticeable noise. Low light videos on 1520 is bad compared to 920 as there is a lot more noise. I am not sure if it is due to Nokia's new camera algorithim in allowing RAW that is not perfectly tweaked yet. I have contacted Nokia Care about it and there seems to be no official statement about the issue yet? Anybody facing noise issue here?

I have been using the 1520 for a few days now and its awesome, it fits in my pockets easier than i thought, and the battery life is killer, full day heavy use on a single charge, i have the 32gb version

Great review! Now I want this!

I sure hope they release an international version of the Verizon 929. The 1520 is too big for me. I wear jeans often, and I'm slim, so it won't be pretty a pretty picture if I get it. Currently, I'm on a Lumia 900 (until I get a replacement display for my early adopted Lumia 920). By the time I upgrade, 8.1 should be out, so I'm hoping for that international 929 :)

Love my 1520. Best WP phone hands down and don't see myself going with a smaller screen after this.

I have a Yellow 1520 and its amazing how my perception of other phone sizes has changed. It makes my LG OG feel small, an iPhone 5s feel like an HTC Aria and an HTC Aria feel like a pager!

Which app are you using to show the storage consumed by each app?

Go to the settings, storage check then details

Very well expressed review of a great phone.

Regarding Qi wireless charging, only the US version is missing the Qi wireless charging, all other versions (international) has it built it. A case of your US carriers being stupid again and disrupting the consumers choice.

I am in agreement with you 100%. Literally everything u said. As a former 1020 owner that phone feels like a toy to me now too. Sure I can't zoom in as much but otherwise pics are damn near identical

I've got a 1520 as a trial from Nokia and I'm really going to struggle letting go of it and going back to just my 1020, yes it need two hands and yes it does draw comments when out and about, but if you have any interest in photo editing, and office then this phone is excellent, it makes editing spreadsheets much easier than any other handset I've used, and web browsing is quality. Plus my kids love the screen size for gaming. It really is a quality device

Awesome and unbiased review.

I believe the 32 GB is to be released sometime in Q1 if 14. I'm waiting for that

Hey Daniel. Does it fit in the CR-200 car holder ok? I have one for my 920 and am worried that the 1520 wont fit in it.

It fits when CR-200 is wide open and charging also works if you have a version of a phone which has a Qi. I still have to change the place of the holder as it is attached to windshield and while 920 fits there well this taller phone hits the glass in portrait mode. About the review I have to say it very well matches my own experiences. 920 feels so small now and I have no use for a tablet anymore as this is great for web browsing and gaming and so on. Batterylife is at least double compared to one year old 920. Surface is slowly getting grippier or I'm getting more confident of holding it and that is making also one hand use to feel better. I'm carrying this in my jeans pocket and 920 is in another side and still it is possible to sit, walk and so on. Anyone remember last year when people said 920 doesn't fit in the pocket? :)

Best device ever. I got a PDAir case made to fit the Galaxy Mega 6.3. I also got the Incipio Wireless charging back/case. The phone with the back on it perfectly inside of the PDAir case. That case hooked on my pocket makes the L1520 easy to carry and it looks professional enough for work. There is just no way I could ever go back to my L925. The screen on the L1520 has ruined my eyes for all other devices.

Thanks for the review. I am using 1520 as a daily driver too, come with wireless charging as it is an international version.
The screen touching sensitivity is a problem I also have, even it is set to normal, hope Nokia can fix it soon.
I rely a lot on here drive and place the phone horizontally in car dock. Wish we can have home screen and more apps support horizontal display.

After getting the 1520 for my wife, I have to admit I'm jealous of the screen. After 15 minutes of setting it up, going back to my 1020 felt like I was using a dwarf. I've rearranged my tiles more in the past two days then I have in the past two years it seems like. There's just no comparison for that extra column.

The extra column would be so useful to me.. I use office a lot, especially word. When I'm not around my Asus VivoTab, this device would be of great use to me..

I really like the fact that my Nokia Lumia 920 has wireless charging. Ive been spoiled by It. It really bothers me that At&t removed It from the 1520..

Thanks for the follow up Daniel. I'm on T-Mobile but might have to walk into an at&t store just to check it out. Also, kudos to everyone in the comments. Civilized and good conversation!

This is EXACTLY how I feel about the device myself. I was hesitant on getting one, but after I had the opportunity to purchase my brothers from him, I haven't regretted it. One of my main issues with it from the get-go was lack of QI and being forced in to a new wireless standard. However, I have gone an entire day with pretty heavy use without needing to worry about having to charge it at all with time to spare. That doesn't mean I wouldn't purchase a QI case for it if it EVER became available, but it's not something I'm too torn up about now. Great article!

AT&T has completely removed Qi-Wireless standard/technology (www.wirelesspowerconsortium.com from the Lumia 1520 and replaced with another standard "PMA" Power Matter Alliance www.powermatters.org. AT&T will only sell devices or Smartphone that only compatible with PMA standard. So if you decide to purchase a charging case/shell for your Lumia 1520 it better be PMA standard compatible! This is great article to read about the AT&T's "PMA" only policy. http://pocketnow.com/2013/10/25/lumia-1520-wireless-charging-disaster

I have had the 1520 for a few weeks now and love it and agree with this article. And you do get used to the size fairly quickly. I was hesitant at first to get this phone because I thought it was too large. Now I wonder what I waited for and I would never go back to the smaller phones. The size isn't really an issue for me as I carry it in my purse. I can't tell you how many people have asked about my phone. At least one a day.

Mostly I use my phone for browsing and photo. I know I will luv this. But will wait for a 5". Just because people call me sometimes. 1020 is fine for know.

@Daniel, I have been a "silent" fan of this site for almost a year now and I read almost every article you guys put up and I enjoy the honest articles/reviews. This article of yours made me want to actually comment because I feel the exact way over the 1520 as you do and I am impressed with this device. About a year or so ago I started to be interested in NOK as a company to actually start with my first investment and because of this I also wanted to own a Nokia phone. I started with the lumia 810, this phone impressed me so much compared to the blackberry's and Iphone I used for work before. I have been looking to upgrade ever since. When the 925 came to Tmobile on June 17th I had to have it so I bought it without contract (my employer pays the phone bill so I figured I can invest in the phone I want). The 925 is AWESOME, I agree with you on that a 100%. I love this phone and I have been recommending it to everybody I know (some actually bought one). I have been "eying" the 1020 from the moment it was brought to our attention but since it was only on AT&T I could resist the purchase and what actually helped was the fact that the 1520 was also brought to our attention with an awesome 20mp camera. I was hoping it would come to Tmobile but it was pretty obvious early on that AT&T would be the first one to carry it. The 1520 really tickled my wallet when I was released so again I could not resist. I purchased it from the Microsoft store for $549.00 with a store gift card of $50.00 so I actually only paid $499 for this beast and use it with a prepaid card from att until unlock codes will be available. My addiction for Lumia phones is clear by now I think ;-)…….. To go back to your article: The size of the 1520, it took me actually a week or so to get used to it and you are right my 925 (that I love (d) so much) actually looks like a toy now, it's weird to have them next to each other ( I still carry it with me all day because it is my work phone) but it is a toy indeed and there is NO way back as you rightfully mentioned and indeed is much more fun to use. The camera, I was real happy with the quality of the pic's and movies my 925 produced, even the kids around me liked them compared with their iPhones, some even had to admit (how hard it was for them) that mine where better. Like I said I was "eyeing" the 1020 but I am more than satisfied with the quality of what the 1520 provides. I actually am really impressed. We had a Christmas party at work last Friday and a lot of people were taking pictures and mine came out better than most (some pics had problems but that is my short coming, I am not the best photographer... Snapdragon, I agree, it's not groundbreaking but we all knew that the WP8 OS did not need fast processor power and this only proves it. It does feel snappier ("snap"dragon) and I have the feeling that's why the screen is way more sensitive and as you say Nokia will figure this out in the future I assume. The case, I use it to. I use the Nokia case with the overlapping cover and I actually like it. It protects the screen and I can stand up my phone while watching video's ( it is a little awkward but it works when you position it in the right way) Internal memory, AT&T are idiots for taking away that extra 16GB and I still do not understand why they did that, I only can imagine that they did not want this device to be even more competitive than their other best sellers… It's plain idiotic impov. But like you said, with 32 or a 64B sd card every user will be fine (don't forget SkyDrive btw) Complaints, Qi wireless charging.. A valid point, another idiotic move from AT&T (we can't blame the NOK or MS for this) What do I like from the 1520? All of the above (same like yours) I think you forget one point though and that's an important one. The size!!! it sticks out from all other phones and this makes people turn their heads wherever you show this device. I have so much fun when I step into an elevator, subway or bus and I pull out this eye catcher. I can see people looking at it and you just feel they want to hold it but they correct there selves because they can't admit the envy they feel.... It might feel big (and it is) but that's it's power. I live and work in the center of NYC and I am sure all the people see me "flashing" my phone can never say anymore they never saw a Nokia windows 8 phone because it is burned into/onto their retina (pun intended). Do I feel weird using it in public? As you can see I love to use it in public. I love to promote my Nokia 1520 and I am VERY proud of it Wrapping my long comment up. Thank you for sharing all you guys at wpcentral share and my compliments for the great job you guys are doing. I can see from a year ago until now that you guys are getting way more to work with so I hope you can give the same amount of commitment and quality going forward. I think this will be hard because WP8 is gaining a lot of traction as you can see from all new apps coming into the market and the huge amount of members wpcentral accumilated over the past years. Best regards toraji -ps 1 suggestion for the 1520, protect your screen it is more vunarable the previous versions with gorilla amarold. My first day I had a scratch witjout even noticing i did something wrong to the screen i hope i did not bore somebody with this long comment

Thanks for commenting this helped me out a lot

I made the jump from an iPhone 4s and I think the size is ideal for me. I can read news and books easily and perhaps because I am 6ft tall it doesn't feel too large at all. I carry it in the front pocket of Levis 511 commuters (skinny jeans) without issue, though with thicker denim without flex it may be uncomfortable. Also I have the international version so no storage issues and the benefit of wireless charging and living in Asia massive phones and tablets used as phones is pretty standard so you don't get weird looks. But when people see the live tiles they ask about windows phone or the Nokia camera. I do miss having centralized notifications and I'm still waiting on Path and Flipboard (and Readmill please!!!) but I have no regrets and wouldn't change it for any other phone.

Nice review man! Awesome phone! Kickass!

I'm with you. It has it's inconveniences, but it's the one you take with you in the end.

I wish I could afford this phone. Stuck on contract with my 920.

I'm with you Dan in loving this phone. I really do miss the wireless charging. It seems so trivial, but after using it I dont want to be without it. I also ordered an international back cover and hope we can make the wireless charging work.

Real amazing thing is I still can be able to text and type and hold the phone with one hand.

Great review by MKBHD about the Lumia 1520 as well. Finally some good press from an Android lover:-) http://www.youtube.com/watch?v=lVPAfntOfmc

The 1520 is my main phone and I would not want to go back to a smaller screen anymore. It mostly is stored away in my suit jacket, but every time I use it people seem amazed. All I need now is a smart watch to complement this beast and the world for me is perfect :) I put the Belkin cover on. Gives it a nice professional look and great protection.

How is the big display with third party apps that don't necessarily use the extra resolution?

This is the Best phone I've ever had. Size quickly became absolete.The Screen, Speed ,Camera , Call Quality.superb. I get a feeling that I am using something more than just a phone. Phablet is a good name and description.16 GB is enough and I have a 32 GM Grade 10 Sd Card for storage.I found a beautifull case on ebay that is also a holster and it adds to the top notch experience.Batteery life is amazing

Idk why Daniel but I giggled a bit at the thought of any Samsung fun being thought of as elegant lol. But to each their own ha

This is probably my favorite Windows Phone to date. The camera has grown on me slightly though I do miss my 1020 and 41 megapixel quality camera. The screen is phenomenal and the size is amazing and Daniel is right. When I use a phone that is less than my 1520 screen size it feels so awkward to me and I've barely had this phone a month lol.

I must say that Dan has summed up his experience very nicely and my experience with the phone has been quite the same, although, in my case, the phone has tapped when I meant to scroll many a times even in the normal mode. That's been slightly annoying given how accurate my Lumia 920 was.

I have a 920, 1020 and 1520 and this review is spot on. At first the phone seems gloriously oversized, then you quickly become adjusted and going back to the smaller phones is hard, mostly because of the extra real estate for tiles on the 1520. The camera in the 1520 is practically as good as the 1020. In most cases you work with the 5 MP versions of the photos on both phones anyway. The performance difference is very tangible, and the battery life is much better than the other Lumias... MUCH better, which means I don't miss the Qi as much as I thought I would since I never have to charge the phone before bedtime... and I use l my phone a lot for streaming video and music. I leave all the typical battery drain offenders enabled (Bluetooth, NFC, etc) because I use them. The 920 and 1020 never quite make it all the way without a quick charge at some point during the day. The bottom line: it's not too big to use as a daily phone physically, as long as you're not hung up on the idea that the phone is somehow embarrassing to use because other people might think it's too big. Those people can have their tiny iPhones. I'll take the 1520.

I too agree that a 5 to 5.5 inch display with neccaserilly the same hardware as lumia 1520 or better would be a more practicle thing to do but then again i won't mind buying a lumia 1520 for my b'day plus that full hd display(1080p) is really something to brag about especailly to those rocking an S4 ,Note 3 and whatnot

Daniel, How do you find that place on the new Accord for mounting the car holder? Does it obstruct your view of the i-MID? Have you tried other places?

No issues or complaints, doesn't really block anything. I keep it where it is, haven't moved it. If Proclip ever comes with a holder, I may use that.

Well Daniel I am a Android power user but windows does interest me but I could never get myself to really use it. Maybe u could change my ways and could sent me a great windows device that would change my mind. Something like a 1520 would might just do it
Help me convert. Thanks.

I was also an Android power user back before WP7, switched to HD7 right away. Never looked back. You go ahead and switch, no regrets ;)

Yeah if @wpcentral will give me a good windows phone 8 to help me convert I will do it. So

I really want this phone. When I got my L920 I thought it was big, now w/ about 9 months usage I feel the screen is too small for the amount of content I would want visible. The 1520 will be a purchase, most likely an import since the of contract price here would land about $1000 USD :O Damn huge price! Any great tip on where I could find the global version at a more reasonable price?

I picked up mine yesterday. Its taking a little getting used to. I usually put my phone in the back pocket of my jeans. The 1520 still fits. I just can't sit down. So it ends up sitting on the table in front of me. Not sure if ill get a case. Love the feel of the thinness. Also fortunately in Australia we got the wireless charging and 32gb storage. It just fits in the car charger, whew...

The question i have: will it charge on the DT900 DT901?

Hope this or something like this comes to T-Mobile! Would love to upgrade from my 925 to this. :-)

I compared my HTC One max display to the display of the Lumia 1520. The viewing angles on my max are better. Fact is if you hold a 1520 in front of you in landscape, then just tilt it a bit left or right, the colors luminosity shifts too much for my liking. Not good to play games or watch video.

Wouldn't want to go back to anything else. Already sold my L920 and its just looked to tiny packing it up.

Is that mustard on your waffles?

WOW..i've seen most reviews of this Lumia but this one right here made me decide to GO FOR IT..i still need to see it with my own eyes but 90% i'll buy it..when i'll go to my office i'll put it in the backpocket of my suit..when i wear jeans i'll put it in a belt pocket..there is a solution for everything

Thank God 1520 isn't as big as Sony Xperia Z Ultra! I have been to some Nokia outlets to feel the 1520 on my own hand. It does feel quite oversize in the beginning but then, i just love it. As wide as the Notes but taller in height. I will get used to it if i have one, just like before when i used a blackberry before i switched to 920... Would really love to have 1520 of my own! P/s: can't help myself but to love the 3-column live tiles!

What a beautiful device, although it's too big for my liking. I prefer a much smaller device since I rarely do anything that justifies such a large display. But I'm sure the 1520 is magnificent for word processing in Office. Nevertheless, it's really a sweet phone and it's nice to see WP now has a competitor for the Galaxy Note phones, even if it may be a little lacking compared to the Note.

We have the following phones: my Red L1520, my old L920, my wife's L920, and my son's L520. Lets just say that once I got the 6 inches in my hand, I can't even go back. My wife seems fine with the 4.5. Wish I'd known that, I would have went with the L1020 for the camera... LoL ... j/k I love the L1520 for other reasons other than its size. That's what She said...

Can someone please tell me what app is on the screen, which looks like a dog searching with a cloud on top of it?

It was posted way up in the comments, Daniel said it was Weather Hound.

Great review and I agree pretty much every point. I adjusted to the size of this phone very quickly. This is the first phone that I use like other people use their phones. I read articles, books and watch videos on the 1520 because the screen is large and clear enough that I don't feel like I am compromising. I too have the white model with the Incipio cyan feather case, which I really like. I got the Incipio PMMA case, used it for a week and it was just too heavy and bulky for my taste. As far as getting attention with the 1520, I overheard one of my coworkers asking another why I was holding a tablet to my ear and he said "it's a phone" to which she replied "THAT's a phone?!" He said "Yes, Ford always has the best tech."

Wow....great review....it was a personal review rather the just tech stuff.... Good choice to review this device that way....because people are on the edge.....

I am extremely interested in this phone and due to todays pricing I want it now. Problem is that my 920, seems like the perfect windows phone... I don't want to do the two phone thing again, but was willing to... The storage and the wireless changing has me for a loop! Two things have given me options... First, 8.1 allowing app installs and the new shell to allow wireless charging... This would make this phone really attractive for the future... But how close is the new dare I say surface phone??? Should I just wait? Att really killed the chance for people to my this phone without hesitation...

Guess im late to the party but ... I can confirm all of your gripes as I experience the exact same ones .. 1) The screen sensitivity is wacked when on High. 2) Qi Wireless charging being missing is lame .. (sure I can get a shell/case but I never use them on any of my phones) 3) The screen brightness bug I have had since day 1 with it also does not always happen but sometimes it pops its head up. I Get heckled by all of my iPhone buddy's due to its size which is usually fun .. I just retort with .. hold let me get my laptop out (referring to the 1520) when needing it for something haha

With a 1080p display, I can imagine why you'd have a difficult time putting it down. Text and images must look great.

Loved the write up. Got one of these for my wife and I really like the phone. I am somewhat jealous of my wife now. If I am at home, I am grabing her phone to use for internet browsing, or weather checks, or just to admire it. I can completely understand what Daniel means regarding other phones feeling too small after using the 1520. Unfortunately, there is no way I could carry this around as I am usually wearing dress pants or jeans. My 920 can cause discomfort when sitting so I can only imagine the problems the 1520 would create. My wife loves the phone and given that she is rarely without her purse (if at all), portability of the device isn't a issue for her. Maybe I should be like George Costanza and get a "man purse"?

I have the international version yellow and I'm loving it so far. Getting used to the windows phone environment as I came from Android. The display is just BEAUTIFUL. Anyways, what is a good car mount for the phone? Would love one to use with the Here navigation.

With one exception I agree 100%...my Red 1520 (added a 64GB SDXC) is the fastest, biggest and longest lasting phone I have owned. The camera at 20 MPx is just fine - perhpas even more than adequate since since I have the least artistic eye of any smartphone owner you'll ever meet. Because I added the SDXC I have enough space for daily and occasional intensive use. Additionally since I am no intensive pix gamer (my Surface Pro 2 desktop is reserved for such a task) there is little call for more than puzzle and wordgame pastimes. My disagreement is that I do, however politically incorrect this may be, routinely carry my 1520 in my jeans or suit pants pocket. Even in the car (BT connect to Chevy's phone and TXT reader system) it stays in my pocket comfortably unless I want to charge the phone or use Nokia's Here Drive. So far the only jeans pocket downside to my 1520 is that the slick Red version must develop a pretty fair static charge because it is a first class lint magnet. (Though in the interests of full disclosure, I have learned to reduce that propensity by not washing and drying my jeans with paper napkins still inside. Sigh)

Looks wicked, but I'm more looking forward to the Lumia 1320. Its unlocked price of $350 is really appealing to me, and I want kind of a big phone to serve as a phone and tablet for me, since my HTC 8X kind of struggles with tasks that could use a larger screen, like reading comics. The 1520 is pretty wicked, though. No doubt it'll really change the Windows Phone landscape going forward.

Got my first look at a 1520 in person today. Talk about a beautiful device! Nice big screen, about the same weight as my 920, and it is crazy fast. And while 6" is pretty big, it is not comically large like I was afraid it would be. It is still small enough where I could use it one handed if I had to, though typically I think I would use two hands. And it is no more award to hold up to the face than a standard telephone as it is the same height (just a bit wider).
Thought I was going to wait for a smaller 5-5.5" device, but after seeing and holding it I think I am going to start saving my pennies now. If they happen to make a slightly smaller device by the time I save up then I may go for it instead, but if not then I would no longer hold any reservations about getting this phone. Only trick is that I would be getting the full version rather than the ATT version. The lack of wireless and 1/2 the onboard storage that I currently have is a deal breaker. Besides, it is only about a $100 difference. That is a small price to pay to get the phone that it was meant to be.

It truly is an amazing phone, i've wanted a Windows Phablet ever since the Galaxy Notes were introduced. This truly is the best i've had and look forward to all the integration Microsoft is looking to make with the laptop/desktops, tablets, xbox and phones.

The screen is stupid big, but also excellent. The camera is phenomenal. I wish it had 32GB of RAM, it really should have shipped with it, although I hear a 32GB version is coming next quarter. I will temporarily solve that problem by adding a 64GB microSD card of my own once I get around to dropping by Fry's. I already have one on my 2520. It's big. Almost too big. Arguably too big. It's a bit cumbersome to talk on the phone without headphones or BlueTooth. I have a flip cover that I'm not sure I really care for, but it was cheap on eBay. Not many accessories yet for the 1520/2520. I look forward to getting a nice gel case. The speaker is great, and loud. DLNA with suitable apps works reasonably well. WP8 is still a little new to me as I upgraded from a Focus S after waiting in futility for a decent Sammy. We need more apps... I love whipping this thing out and saying 'Stand Back, I'm not sure how big this thing is gonna get...'

Hi Daniel - How is the camera 'speed' on the 1520? No question taking still pictures would look awesome on this and the 1020, but the criticism before with the 1020 was the 'lag' between shots. Does this let you take shots quickly right after another? When I compared the Samsung GS3 and the L920, you could do taptaptaptap on the GS3 to take a lot of shots in quick succession, the L920 was more tap wait tap wait tap. Sure the still pictures for the 920 were great, but sometimes you just want to take a lot of quick pictures (preschoolers). Thanks!


I saw this thing beauty at the local phone shop..... they had it side by side with a 520... my first thought was "gawd, its on steroids!!" Yes it is large, but it feels comfortable in my hands. The screen is just wicked... The screen of my trusty 920 has developed brown patches, hope I can get it fix.. if not, I'll have to start saving for the 1520....

Can't wait to slide all 6" of that into my pants. :)


Excellent 1520 follow-up article. I love the 1520 so much I'm constantly tempted to make it my DD. It has a great camera and a beautiful screen with great build quality. Despite the temptation though it isn't my DD. Yet. Would love a 5" version of this on AT&T.

Got my 1520 about 2 weeks ago , have come over from android . This phone is awesome. Being as i am in the uk mine is 32gb and has wireless charging built in, so cant understand why att would change this?.

hey... how is the battery life on this one?? i am thinking of switch from 5s to this one,,

Hello. Do you still have the 1520? Wich smartphone did you have before? Since you bought did you had any issues?

After having read a few reviews and seen one in the flesh at the local MS store, I pulled the trigger and bought it today. I've had the L920 since day one (which still rules IMHO) and been completely happy overall. Onward and upwards!

Can't edit my comment for some reason, so apologies in advance for another post here. What is the tile of the dog with a thought cloud above his head? At least I think it's a thought cloud but I could be wrong there. :)

Weather Hound from memory, another weather app.

Make it 4.5 inches with the same specs and I would carry it for the forseable future. Its size make it laughable as a phone.

Such a beauty! Seriously thinking about switching from android. Can anybody tell me whether the spotify app works the same as in android or its still in beta - it'd be my one and only deal breaker?

Saw one last night at the Microsoft store and the screen was very good looking. The size, however, would be too big for me as a everyday phone. The 1020 looked perfect

I have an HTC 8X and I thought this was pretty sweet but this phone looks and I bet, FEELS amazing.

"The point is, size is all relative. Once you start using a 6 inch phone, after a while it stops feeling too big and everything else feels just too small." Why do I feel dirty after reading this? :)

I want this phone yesterday. Too bad it is only on ATT, as ATT coverage is crap where I live and travel. I have been on Sprint since 1999 and my HTC 8XT works well, just want the big screen! Plus ATT and Verizon are lot more $ than what I pay on Sprint.

The only time I've noticed the phone size feeling too big is on a windy day. It's so light and big that it feels like the wind can rip it from my hands.

You hit the nail on the head. After almost a month of using the Lumia 1520 other phones feel too small. This phone keeps me from reaching for my tablet most of the time.

Does anyone know how I can turn off the vibration when I hit the back button on the 1520? It is annoying and stress the vibration hardware inside.

I am from India, and like typical Indians, I am too much concerend about the price of a smartphone. This one is slightly costlier than the Note-3 and significantly costlier than Sony Experia-Z. I wsh it was slightly cheaper than the Note-3. I am a Lumia user and chose 820 over 920 12 months back, becuase I felt 920 is not worth spending extra 10 thousand bucks. Now, I want to switch to 1520. It ticks all the boxes for me except the price. I have seen it physically in stores and though I can not use it snglehanded, but that is not a factor. I mostly use both my hands for my 820 as well, which in turn looks 'tiny' now even though I have not used a bigger device regularly. I have read a lot of articles all over the net but this one, and most comments that I have read, seems more relaistic and impartial. I am sure that WP as an OS will give tough competition to Android in years to come and will beat iOS hands down. However till such time, I think microsoft should try to price their phones more aggressively to capture market share. It may reduce their margins in the short term but will ensure long terms gains. A number of android users around me have now moved to WP, but none of them is complaining even a little bit. So the time to right for MS to go all out with price and capture the market share at a fast pace. With this kind of pricing we will continue to see more than a third of their sales coming from 5xx series and very little from such deserving phones like the 1520.

the problem is not to live with lumia 1520 the problem is to live widhout the money you have to pay to buy the smartphone!

I just got my 1520 yesterday and at first I was a little embarassed because of the the size. It felt like I was holding a tablet to my ears but I don't really care because it is like a mini tablet. I haven't been able to put it down since I got it. I use it for everything. I love this phone.

I just bought my 1520 2 days ago. I had been using iPhones since the first one. I wanted to try out the windows phone OS. So I bought a Lumia 520 prepaid first. I really liked the OS! So I upgraded from the iPhone 5s to the Lumia 1520! This phone is awesome!! I am so glad I made the jump to windows phone!!Everything about this phone is awesome!!

I've had one since it was released in the UK. We don't have the storage limitation you folks in the USA have, we get the full Monty 32GB and built in wireless charging. I work in an IT company and my colleagues tend to have Android or iPhones and do rib me about the sheer physical size to which I casually hand them a magnifying glass and tell them to look at their screens. There is only one way and one word to sum up this awesome phone especially now it has Windows Phone 8.1 on it and that is "BOSS!" Nuff said :-)

Such a cool phone and this reminds me the list of nokia phones which are realy amazing and i think this smart phone should be included on the top of that list: http://www.cbronline.com/news/nokias-greatest-ever-devices-4256559

Waiting on my red 1520 being delivered. Its replacing a 1020.

What's the name of this calendar and weather app, and how to find this ultra thin back case yellow with we see at everyone post?

More software in the future much higher technology by Microsoft.

The glass is not durable and it breaks after a year. The replacement of LED/glass is going to cost me 199+ taxes. This is very sad news!
Windows Central Newsletter
Thank you for signing up to Windows Central. You will receive a verification email shortly.
There was a problem. Please refresh the page and try again.