Windows Phone Camera Face-off: AT&T Nokia Lumia 1520 vs. Lumia 1020
Windows Phone Central Camera Showdown: AT&T Nokia Lumia 1520 vs. Lumia 1020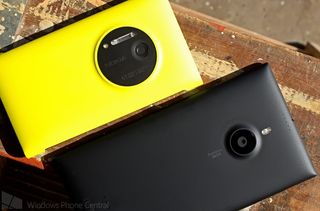 Nokia has released two eye-catching Lumia Windows Phones this year. The Nokia Lumia 1020 turns heads with its 41 MP PureView camera and the Nokia Lumia 1520 turns heads with its massive six-inch screen. The Lumia 1520 also sports a respectable 20 MP PureView camera.
While the six-inch screen of the Lumia 1520 dwarfs the Lumia 1020's 4.5" screen, but how does the Lumia 1520's 20 MP camera stack up? The Lumia 1020 is easily one of (if not the) best smartphone cameras on the market. If camera performance is key, are you sacrificing too much with the Lumia 1520 for the sake of a larger screen?
We took the two Lumia Windows Phones out this past weekend to see how well they compared.
General Comparison
In using both the Lumia 1520 and Lumia 1020 side by side, you can make a strong argument for either Windows Phone being the better of the two. The Lumia 1020 is a little easier to handle one-handed but the 6" screen of the Lumia 1520 can be seductive. Here are a few of our general observations in using both these outstanding Windows Phones.
The Nokia Lumia 1020 has 3 2GB of internal storage compared to the Lumia 1520's 16 GB. However, the Lumia 1520 has the ability to save new photos to a microSD card (up to 64 GB). I think the microSD card expansion will prove beneficial when shooting the larger DNG/RAW file formats.
The Lumia 1020 has the camera grip accessory that not only gives the Lumia 1020 better feel as a camera but also extends the battery life of the Lumia 1020. If you are looking for your Windows Phone to replace a stand-alone, point-n-shoot camera this grip will come in handy.
The Lumia 1520 wins easily for screen size, which makes for a fantastic viewfinder. The screen opens up a lot of detail in your photos and is like shooting a medium format camera. The only downside (and I use the term loosely) to the large screen is that I found myself accidentally brushing a finger against the screen causing it to zoom or shift the focus point.
I have never been a big fan of smartphone flashes but the Lumia 1020's Xenon flash is one of the stronger performers. The Lumia 1520 relies on dual LED lights as a flash. They work but not as effectively as the Xenon of the Lumia 1020.
Both Lumia Windows Phones enjoy optical stabilization and PureView technology. The Lumia 1520 has a slightly smaller sensor and uses a 26mm f2.4 lens. The Lumia 1020 has the larger sensor and sports a 26mm lens. However, it is a slightly faster (lets in more light) f2.2 lens. As far as the camera design is concerned, we will call it a draw with both cameras performing admirably with their respective hardware.
Image Quality
Photos were taken hand held (hence the slight differences in framing), using Nokia Camera and the resolution set to the 4:3 image ratio, giving the Lumia 1520 a 19 MP resolution and the Lumia 1020 a 38 MP resolution. The only the only editing being resizing the high-resolution image files for publication purposes. Images from the Lumia 1520, straight from the camera measured 4992 x 3744 and images from the Lumia 1020 measured 7136 x 5360 pixels. Due to the size difference, image pairs are from the same Windows Phone. To view the full image, just click on the photo set.
While both Lumia cameras are respectable on paper, the proof is in the pudding. And the pudding is just fine from either of these Windows Phone cameras.
Indoor Photo Samples - Nokia Lumia 1020
Indoor Photo Samples - Nokia Lumia 1520
The 41MP image of the Lumia 1020 gives you a little more wiggle room when using the zoom later feature of Nokia Camera and may help with printable images. The 20MP camera of the Lumia 1520 produces quality images in its own right and it isn't fair to say the smaller resolution is restricted. You can zoom into images nicely with the Lumia 1520, just not as much as you can with the Lumia 1020.
Zoom Later Test Images - Lumia 1020 and Lumia 1520
Both of the inserts in the images above are zoomed to the maximum on both the Lumia 1020 and Lumia 1520. While both cameras perform respectfully with regards to the "zoom later" feature, you can make out more detail of the chicken wire that lines the inside of the attic vents with the Lumia 1020.
Outdoor Photo Samples - Nokia Lumia 1020
Outdoor Photo Samples - Nokia Lumia 1520
I did notice a slightly warmer tone with the Lumia 1020 images at times. It wasn't a consistent issue and there were times that the Lumia 1520 had the warmer tones. Sharpness, color saturation and contrast were very close with both Lumia cameras and equally respectable between the two Windows Phone cameras.
Nokia Lumia 1020 Photo Samples
Nokia Lumia 1520 Photo Samples
Night photos were a smidgen better with the Lumia 1020 due to the slightly faster lens and image tones were more natural. The color tone in the Lumia 1020 park bench image is in line with the tones present while the Lumia 1520 cooled the tone down significantly.
Night Photo Samples - Nokia Lumia 1020
Night Photo Samples - Nokia Lumia 1520
We also took video footage from both Lumia Windows Phones. While the video quality was good from both the Lumia 1020 and 1520, the optical stabilization seemed to be a touch better with the Lumia 1520 and the color tones slightly better with the Lumia 1020. Another difference was with the audio quality. The Lumia 1520 with its four, noise-cancelling microphones (High Amplitude Audio Capture or HAAC) gives your audio a deeper sound with more bass than what you find with the Lumia 1020.
While there were slight performance variations between the two Lumia Windows Phone cameras, nothing was critical or to the degree that a little post-processing would not right things.
Overall Impressions
The Lumia 1520 is a fun Windows Phone to use as a camera. The larger screen makes for a great viewfinder. Viewing images and videos from the big screen is a treat as well. However, no matter how intoxicating the six-inch screen is the sheer size of the Lumia 1520 may not be practical for everyone. You also have issues with the lack of built-in Qi wireless charging, smaller internal storage and the nano-SIM card that may make the Lumia 1520 less appealing (I really wish the 1520 used a micro-SIM card).
Indoor Photo Samples - Nokia Lumia 1020
Indoor Photo Samples - Nokia Lumia 1520
Nonetheless, judging the Lumia 1520 on the camera alone, Nokia hit the nail on the head once again by producing a stellar Windows Phone camera. Choosing which Windows Phone has the better camera is a tough call with both phones capable of capturing quality images.
I really enjoyed the 6-inch viewfinder on the Lumia 1520 and image quality on the 1520 is right up there amongst the best. I also liked shooting with the DNG/RAW format but that ability will land on the Nokia Lumia 1020 eventually.
However, if I had to lean one way or the other, it would be towards the Lumia 1020. The Lumia 1020 has a larger sensor, faster lens and higher megapixel count. It is also more pocketable and easier to use one-handed. As far as the megapixel count is concerned, it isn't a case of more megapixels automatically being better but with the Lumia 1020, you do have greater editing latitude with the larger images. You also have the advantage of the camera grip accessory which extends the camera time with the grip's internal battery.
Having said that, based on the camera alone, you really cannot go wrong with either of these Lumia Windows Phones. The hard part is deciding which Lumia, overall, fits your needs and tastes the best.
Nokia Lumia 1020 Photo Samples
Nokia Lumia 1520 Photo Samples
Windows Central Newsletter
Get the best of Windows Central in in your inbox, every day!
George is the Reviews Editor at Windows Central, concentrating on Windows 10 PC and Mobile apps. He's been a supporter of the platform since the days of Windows CE and uses his current Windows 10 Mobile phone daily to keep up with life and enjoy a game during down time.
Did you happen to get a work around for that slightly yellowish tint when using the flash sometimes. Is that what you meant by warmer?

Warmer as in a brownish tone. Cooler as in a blue tone. The differences were slight but may not be noticeable to everyone. You can pick up on it in the Auburn Gnome photo. The 1020's image gives the wood a little deeper, browner color. The 1520 tones the browns are not as brown. The odd thing is that the differences in color tone (or temperature) were not consistent Did not notice any yellowish tint when using the flash.

I see redder faces and yellow shades with flash indoors. Thankfully, no-flash pictures are awesome on 1020.

One thing I've heard with both is that they are slower than the 920 in taking a picture (focus, lock, shoot). I would think the 1520 would be a speedier shooter due to a faster chip inside, but can you guys elaborate on that? Having 6 and 2-year old boys, this is a HUGE factor in choosing a device. It's kept me away from the 1020.

Both are slower to process the images simply because they are much larger image files. The 1520 was slightly faster than the 1020 but I wouldn't say speedier.

i have the 1520, and compared to my previous phone samsung note 3, and i have a three year old who never stays put in one place. trust me 1520's camersa is quick, very quick, this phone is a beast of a phone.

its not the speed that it captures the image, its how long it takes to fire another shot, as far as shutter speeds they are both better than most.

Put the 1020 on 5MP only settings and it is much faster. You pay for the 36/38 MP picture with speed compromise.

I don't agree that the 5MP only option is faster. There is no difference. It still takes the same time to save that 5MP Pic. In some ways the 920 is still the best. Great pics and awesome speed and the 920 still takes better night shots and for audio playback the speakers are better then the 1020. I think the 925 might be the best shooter with that sixth lenses I've just never used a 925.

Okay I take it back. It like 2 seconds faster with the 5MP only option.

lumia 1020 has a mechanical shutter thats why it takes longer time

all the lenses carl zeiss used by nokia have 5-6 lenses inside because those lenses are a carl zeiss Tessar, the speed and photo quality is only due aperture of lens versus post processing, the nokia 1520 looks like is having chromatic aberration and is not an post processing problem. i have an nokia lumia 820 and the camera and image quality is great in fact i used just my phone as main camera in my vacations and were just incredible the photo quality, so i do not think post processing be the responsible of the color temperature in the 1520

Still 41 MP is better then 20 Mp except the thing is there's no expandable memory on 1020...

next year hopefully lumia 1020 successor will be out with that option, 5 inch screen, quad core and other nice goodies, but i feel you ,but it's marketing, if the 1020 came out with micro sd, the 1520 wouldn't have much sales despite its big screen

That is the only major issue Im having with the 1020 over the 1520.

BIG sensor vs BIG display. Hahahahahahaha

If you are not a photography enthusiast.

I disagree. While the camera on the 1020 is superior the 1520's display size is also not to everyones liking, the 1020 display is an average sized phone which will appeal to the masses rather than a niche user base of people who use 6inch devices. So even if it has a lower resolution it still appeals to the masses and wins on its superior camera.

Pinkish hue on 1520 pics??

I think with both phones you get that on occasion. As a whole, I've found the 1520's white balance to be great.

I think the black update is going to bring better alghorithms to the 1020, so the 1020 would improve on white balance among other imaging improvement. Would be nice to have this comparision with the 1020 on the Black firmware.

Mr. Rubino, have you noticed on the 1520 that if you try to scroll, one touch on any app opens that app. Its suppose to be double tap to open but the 1520 is so sensitive. I turned off the high sensitivity setting but that doesn't help either. What's your take?

Are you sure? the white balance seems messed up in the night shots for the 1520

Here it is! For me the 1520 pics look pink! The difference is very clear for me....

agreed. much more pink hue than the 1020

1520 will be the winner, upgrading from lumia 900 it won't be hard for me to tell the differences,either phone is NICE, but the 6 inch.. Oh brother thats what i have been waiting for

Upgrading from the 900, too, but I'm waiting for a 1020 successor - preferably with little to no camera hump, in red, but definitely with the tungsten flash.

I'm totally spoiled by the 1020's lanyard strap and camera grip accessory. Going to be real hard to move to a different phone that doesn't have those.. so I'm really hoping the 1020 will have a true successor. I don't care for the 6 inch size anyway... 4.5 is nice.

Totally worth it. I did the same. Upgraded from 900 to 1520. Its a whole new experience. Camera is just awesome! I was lucky enough to get the phone for $99 bucks even when my contract had 6 more months.

I saw the black 1520 for $539 on Cyber Monday & was so tempted to whip out that debit card but it was the AT&T version.
I'm trying to remain calm, hoping T-Mobile gets a variant soon.

Mine is coming today.. YELLOW, the 1520 is future proof im 100% positive it will get 8.1 I don't know bout the others thats the reason I skipped them all.. 1520 all the way...

All WP8 well end up with 8.1 Microsoft extended the support to 36months

Well - WP7 still has support as well.. bascially this means nothing at all :P

Nokia should now start with gaming mobiles. After so many camera phones were launched. Nokia should start gaming mobiles I mean like when Nokia launched Ngage mobiles which meant for gaming purposes. This will attract many users especially who are die hard gamers. Am i right ?

Ngage series failed miserably. Unless they force all developers to create separate games for a separate phone, it won't happen.

Or may be a portable XBOX similar to the PSP, DS, Shield!

Except Microsoft allowed Xbox games on Windows Phone to fail miserably.

I'd have to agree and disagree with you here. Xbox gaming on Wp haven't done that great yet but with the don of hardware like the 1520 and the complete acquisition of Nokia by Microsoft we are going to see a Massive shift in gaming on Windows phones as Microsoft can now have fine tuned hardware for high end Xbox gaming experiences.

I'd have to agree and disagree with you here. Xbox gaming on Wp haven't done that great yet but with the don of hardware like the 1520 and the complete acquisition of Nokia by Microsoft we are going to see a Massive shift in gaming on Windows phones as Microsoft can now have fine tuned hardware for high end Xbox gaming experiences

The 1520 seriously needs a software update, for both the camera video and screen sensitivity. I have the phone. I know.

Completely agree with you on the sensitivity!

Upsetting part I can't send a Nokia feedback. Gives me error message.

is someone having problems with LTE on 1520.

Not sure the direction of your question.

It say's LTE with all bars and I can't stream movies or apps just say's that it appears that I don't have internet connection

Try turn on/off. No problems with LTE on mine except the SCREEN SENSITIVITY! So utterly annoying!

The two things that bother me the most about the 1520 are the screen sensitivity issue and the screen brightness in a dark room. It is too dim on automatic in the dark, okay in the day.

I wonder if this screen issue is across the board? Seems no one has addressed this. And i thought i was the only. I tried sending feedback to Nokia and I don't even know if they even read those or how long it take to read. Maybe I should tweet.

I started to notice it on my L925. It was always fine, but I think after one of updates it's too dark on auto.

YEs, There is a problem with screen sensitivity. It's very annoying

I think the biggest irritation that I've found with the 1020 is that I find myself in a lot of situations where the auto white balance leaves a lot to be desired. Looking at the sample pictures, I tend to like the colors in the 1520 photos better, but the 1020 has better detail. Can't wait for dng support to make all of this a moot point.

Unfortunately the lighting inside of my apartment makes the white balance completely off. It is yellow to the point of the camera being unsuable indoors at home. As stunning as the camera is outside and in other settings I somehow have the perfect storm for everything inside to look like it was taken through a mustard yellow filter. I need the black update badly.

With the flash off, I can't get a great picture. It comes out grainy instead. I really need it to function with flash and without being yellow. For now, I need to use a real camera inside my house, or, god forbid, my iphone. Black can not come quick enough.

Both take good photos; the Lumia's shots were more natural, while there seemed to be some sharpening via software on the 1520, looked at a tad bit 'much'. The downside of the 1520 is the physical aspect-----you have to be cool with toting around a big-ass phone. It's like holding up a Nexus 7 next to your ear to make a call.

Is the time between shots/start-up time better on the 1520? That seemed to be one of the complaints about the 1020 since its release.

Ya seems quicker due to the lower mp I think.

If that is a must feature for you, default the inbuilt app to open with the hardware key and put the Nokia Camera tile on your main screen. This way, for emergency fast launches, use the hardware key, while for others use the app tile.

I have to say the 1520 is not a very nice "phone" (for making/taking calls/texting in portrait) even with big hands like mine.. BUT it is excellent for tablet activitys (aka games, web, movies) but seriously texting on it and holding it to your head for phone calls is not something you want to do almost a must to use blu-tooth imo. I love that its thin and very light and no camera hump like my 1020 has but after a few days of using this 1520 im on the fence of going back to the 1020 :( sucks it also uses nano-sim cant just swap it out have to go to at&t to roll back. By all means tho I am not bashing the device its really solid just really reallly big haha.

Big/Better HD screen, MicroSD card and microsim Card, Better Processor vs Better Camera, pocketable size and no-microSD card. Tough Call! Either you want A CameraPhone or Phablet

It is a tough call. I want both. Combine both devices into a 41mp 6" beast Nokia. I'd get it in a heartbeat.

I watched tons of unboxing and tons of reviews of these two devices and again the comparison of the two. But goddammit, I am still torn between the two can't still decide which one is better. I don't mind the price points, but I want the best camera and the best screen, the best display, with Qi wireless charging capability, I want the fastest chip too! Which one??????

you said i don't mind the price points. so go and get both

Wait for the Lumia 929 then.

Get 1520. It has latest hardware which will make future upgrades easier. 1020 has petty processor for image processing. I looked at it in stores and it takes forever to save the pictures. 1520 also takes more time than iphone 5s does but its barely noticeable. IMO, having h/w which is upgradable for future s/w upgrades is more important. I know this as I had Lumia 900 before this :(

I go with 1520 because you can have a micro sd card. Hopefully for Windows phone 8.1 they add the ability to install apps/games inside micro sd card:)

1520 is the future wait for a few updates and you'll see.

Waiting is what I have been doing.. I am looking for 8.1 with aforementioned ability and file system (so i can share files / folders over WiFi from PC to Windows Phone) on a 5'' (max) device with expandable storage. Not to mention the notifications center and separate volume control.

Daniel, excuse my ignorance but could you explain the difference between micro-sim and nano-sim. I have never owned a phone with nano-SIM so I have no clue about its advantages/disadvantages. Aside from that, great write up. I've been to a Microsoft store and held a 1520, absolutely fell in love with the screen and size: stunning!!! But being a T-Mobile costumer I am more than happy with my 925, perhaps one day the 1520 (with Qi and 32gb) will come to T-Mobile someday =)

Nano-SIM is just smaller that Micro-SIM so you can't just easily swap SIMs between other phones. I believe the only other devices on the market that use Nano-SIMs are the iPhone 5s and the iPad AIR/Mini.

I was just playing with these two phones, along with my L920 at an AT&T store yesterday. My observations were pretty much the same, but I was consistently struck by something not mentioned in the review but plainly evident in the photos - the L1020 does a vastly better job rendering the clouds in the sky.
The larger phone lacks sharpness and dynamic range in the whites and greys of the clouds as compared to the L1020. Its quite off-putting when you look at them side by side. That was enough to tip the scale for me.

Interesting observation. Looking back, the 1020 does a consistently better job not only with the clouds but the depth of the blue color.

I agree. And the result us that instead of just laying there wasting space and robbing the pictures of depth and vibrancy the skies with the L1020 are alive and have depth that enhances the main subject.
I don't think its the pixel count, it looks like a software thing to me. Somewhere along the line, the 1020 is benefitting from more dynamic range or more aggressive tone mapping algorithms.

What in the world is up w/ that god-awful pink/purple hue on the 1520's images? That would be a complete and utter failure to a real photographer!

I find the video from the 1020 to be very poor in low light conditions. Way worse than my 920. Does anyone else have this issue? Can someone offer some tips if changing any settings. In my home when it is night and I have a few lamps on, I can comfortably see and read in a room. But when I take a video of a pet doing something, it comes out so dark. I even find my 920 much better at low light shots. Maybe my 1020 is defective?

I have always felt the 1020 performs better than my 920 in low light recording.

I'm really surprised that the 1520 is so evenly matched with the 1020 while the 1020 has 2X the MP. I'm kinda disappointed that something with a much lower MP count is this close to it. Don't get me wrong I love that its Nokia but I feel like the S5 could match it now. I wanted it to be better with all those MP's

You can REALLY tell the difference once you see them on your computer screen. Not sp much on a phone screen.

I am with you on that I'd go with the 1520 because it does look sharper! And I'm even viewing this on my Windows 8 laptop lol. Incredible how a camera with a weaker megapixel count can look equally as detailed as its brother.

I'm currently having a 1020 issue where there's a noticeable red-tinted circle in the middle of my images. I can really see it when trying to capture something that's completely white. Do other 1020 owners experience this? Same on the 1520?

The yellow tint of the photos with flash on my 1020 usually causes me to retake the photo with manual white balance. Thankfully, I hardly ever use the flash in low light settings.
Also, War Eagle! That's twice in the past month or so I have seen my school's logo here.

Conclusion: I need a better monitor! lol

I owned both and while I love the 1520, I miss my 1020. The pictures in most cases above look better and more preferable than the 1520

The 1520 looks pretty good. Too bad AT&T helped me decide I'd never get one with that halfass 16GB version. I love WP, but sadly with having to suffer AT&T's butchering of the products - which I can only assume will continue from here on out - and with no choice to switch away, I'm probably going back to an iPhone when I'm able. It's sad that the reasoning behind turning the 1520 into useless junk is just so it wouldn't stomp on the overpriced Samsung trash that AT&T loves to hawk. Meh.

Totally worth it. I did the same. Upgraded from 900 to 1520. Its a whole new experience. Camera is just awesome! I was lucky enough to get the phone for $99 bucks even when my contract had 6 more months.

Returned my 1520 missed my wireless charging and storage on my 920. Was a great device though and since I got the 2520 the aww of big screen went away. Working nights and having 2 Qi chargers 1 at work and 1 at home I just didn't like fumbling around with it.

Looks good, the whole yellow thing when i was taking pictures inside using the front facing camera it made my face proper yellow :/

I'll stick with my Lumia 920 thank you. The photos from this phone are perfect for me! However if I had to choose between the 1020 and 1520? I'd pick the 1520.. the photos look a little sharper.

Sorry but the comparison is weak without more 100% crops.

Look at the skies, looks better in lumia 1020.

Dear WPCentral, Is the video recording of the 1520 really as bad as reviewd here in this comparison. Compared to the 1020, the video and sound quality is just plainly awful and last century! Are you sure this is an accurate representation of a piece of 1520 videotaking?

I agree the 1520 video looked and sounded horrible. WTF was that.

Those images are scaled down so much that I can't judge the quality at all. Also in almost all samples 1520 had warmer colour temperature (red tint).

Lumia 1520 HAS wireless charging, just not the stripped down version AT&T has.

Nice idea but simply worthless without original files. This mini thumbnails dont tell anything about camera quality. Please please provide the original files!

DEAR AUTHOR: How on earth are we supposed to tell shit with this post? The images are not full-resolution, and whilst copying the image address and going there gives me full res, I cannot see the other one to compare. Your image viewer is crap puke horse shit. You can fix by doing full zoom crops, but you didn not. You're a fucking idiot. Sincerely, EVERYONE who REALLY wants to compare cameas.

LOL, this is his own review not yours or for anyone reading this. We're just reading his observations. If you want to make your own comparison, get your hands in those two devices and make your own comparison. You maky have different observation than his, you IDIOT!

Imo, i prefer the 1520, can not wait to get it xD

This is a dumb argue you guys are starting for no reason. First of all - I don't think nokia 1520 is ment to be a camera phone in the first place. Why do you think Nokia only gave it 20mp istead of 41? If they would have want another camera phone be sure there would have not been any problem to give the 1520 41mp also. Second of all - I think 1520 is rather made as a response to other phones having wider screens with full hd 1080p ressolution. They mounted a decend camera and there you go Third of all - Don't you guys think you might actually be figthing like dumb kids making unrealistic comparations? What's the ideea with which phone is beter? 1020 is a camera phone 1520 is a powerfull full hd phone made around apps and games. Forth of all - Don't you think you should break up arguments and join forces to make a beter phone? Are these arguings realy necesary? They are both high end tech mobile phones optimised for diferent purposes. Give 1020 credits for being the best camera phone out there (if you know how to use it instead of constantly complaining about white balance or other useless things you can't handle properly), also please give credits to 1520 as being a full hd powerfull phone, able to compete other companies. No reason to fight about stupid comparations between two phones which are ment for completly diferent purposes... Realy! Any other discussion is pure fantasy or frustration of one or another. Learn to use your phone and get the benefit of which one suits you beter. Should you want a camera phone get 1020, should you want an hd powerfull phone get the 1520. End of curses (pointing at the discution upper with the two guys cursing on eachother)

Thanks for this comparison ..... :)

thanks to the sensor size the 1020 does have the better bokeh. I think that's important. It gives the photos some character that can be found in the better cameras.

I am looking to replace my N8 with the Lumia 930 when it becomes available in the market. Will I be satisfied with its 20MP camera?

Looking forward to picking up my new 1520. Yes, I'm going for the larger screen format and hoping it doesn't over-power my hands. As a hopeless, life-long techie and as a custom woodworker, I will most definitely be creating a personalized perfect pen and stylus. See some of my pens and woodwork here http://goo.gl/xwhd46
Windows Central Newsletter
Thank you for signing up to Windows Central. You will receive a verification email shortly.
There was a problem. Please refresh the page and try again.