Verizon Lumia 929 to ditch number designation, to be called 'Lumia Icon' instead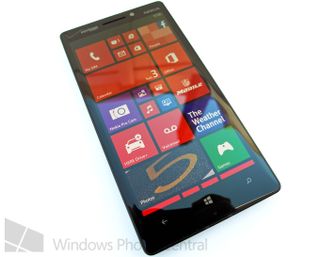 The Nokia Lumia '929', destined for Verizon has been missing from the news lately. That's about to change though as we have some new information regarding that 5-inch device with a 1080P display.
First up is the release date, which we're hearing is now slated for Thursday, January 16th (subject to change), with Microsoft Stores taking stock earlier. That falls right after CES in Las Vegas, making it a decent venue for Verizon to announce their new flagship Windows Phone, though we do not yet know if they will seize that opportunity.
The second bit of news is we are hearing that the Lumia 929 will be the first Lumia to ditch the number designation. Instead of being the Verizon Nokia Lumia 929 it will be known as the Lumia Icon. The information was corroborated by Twitter site @evleaks who mused the name change last night.
It is not known if this losing of the number designation is a new general marketing policy for Nokia or specific to Verizon, though we are trying learn more.
The Lumia Icon is a follow up to the Lumia 928 and features a dazzling 5-inch 1080P AMOLED display. Other confirmed specifications include:
Lumia Icon aka Lumia '929'
Qualcomm Quad-core Snapdragon 800 at 2.2 GHz
2 GB of RAM; 32 GB of internal storage (no micro SD)
2510 mAh battery
20 MP PureView rear camera with oversampling (16 MP + 5 MP photos); Front facing camera
Dual LED flash
NFC, Wi-Fi, Bluetooth 4.0 LE
Qi wireless charging
FM Radio
At least three HAAC microphones
Data Sense, NFL Mobile, Verizon Tones, VZ Navigator, My Verizon Mobile, Nokia StoryTeller, Nokia Screen Beamer
Available colors: matte white or matte black
The device should prove to be very successful due to it's similar size as the Lumia 928, which has proven to be more ideal than the massive Lumia 1520. No word on pricing just yet, but more information may be coming this Thursday.
Windows Central Newsletter
Get the best of Windows Central in in your inbox, every day!
Daniel Rubino is the Editor-in-chief of Windows Central, head reviewer, podcast co-host, and analyst. He has been covering Microsoft since 2007 when this site was called WMExperts (and later Windows Phone Central). His interests include Windows, laptops, next-gen computing, and for some reason, watches. Before all this tech stuff, he worked on a Ph.D. in linguistics, watched people sleep (for medical purposes!), and ran the projectors at movie theaters because it was fun.
Please make a global version!!

They are already making one.

Either that or if the Verizon version has AT&T and T-Mobile LTE bands, I am buying it at full retail price the first week that it comes out!

Wait..., Does this mean no GDR3 until January?

Lumia 525 was just launched in Singapore and Vietnam with Update3/Black preinstalled. And the 1520 which is already available in several markets worldwide also have Update3/Black preinstalled, doesn't it?!

Finally! I'm digging the potential name change. NL929 was all sorts of confusing. Hey Daniel, i'm hearing it's matte white, not glossy.

Correct, updated. Thanks.

Woah, is it going to really be matte white? That is the best news ever. I loved my white 928 until one morning in the cold that slippery bastard flew out of my hands and shattered. Lucky for me I had a black one as a spare. It isn't as slippery.

I've heard that the glossy sticks to your fingers better than the matte finish.

It's true. I have matte 1020 and the only thing keeping it from slipping from my hand is the camera hump. For other surfaces though, matte is less slippery than glossy.

Please MS: dont ditch de numbers!!!! How the people will know wich one is the low end or wich one is the sucessor of the other or even wich one is better than the other??? Please, dont do that.

Honestly, I actually like the ditching of the numbers. I miss model names. Numbers can complicate a model. My mom can't even handle numbers. She calls my Lumia 1520 the Lumia Goliath, and even I think that's a fitting name than Lumia 1520. Just my POV.

I would buy a Lumia Goliath on VZW...

so what can you tell me of the name galaxy ace, galaxy ace plus or galaxy s advance. are they old? new? good? middle class? anyhing? check this ridiculous list of samsung out: http://en.wikipedia.org/wiki/List_of_Android_devices#Smartphones no please dont ditch numbers for versioning

I like the number system, perhaps they can say thet Lumia Goliath is infact model 1520. keeping numbers and the name. Name for normal folks and numbers for fanboys :p I know it sounds crazy but thanks to Samsung, I have found some use of the numbers as they are easy to remember.

Names and numbers, like most things, can be a double edged sword mate. No two ways, it's a matter of perspective.

How does your 1520 fit into your pocket❔Is it comfortable❔.. And I know this is a weird question, but what size length/waist jeans do you wear❔

LMAO! Okay Rodney, I'm a 40X30 jeans size. Very comfortable, I almost feel like I'm carrying a second wallet. I keep my phone in my right-side front jeans pocket BTW. And to be frank, the jeans size question isn't weird at all, but lends possible credence to me being able to put my phone in my pocket. Also, I'm okay without the Qi charging everyone. I prefer to plug my phone in while I'm playing The Sims Freeplay and Mass Effect: Infiltrator. Those are THE two graphics intensive games (if anyone knows more, let me know as I want to stress test the Adreno GPU); yes, my phone gets pretty warm in the case. I'm using the HHI protective body case. Got it off Amazon. Still fits in my pocket perfectly.

Ok, that's good to know.. I was just wondering because I noticed that the 1520 has much less bending, and torsional, rigidity than my 920.. I not only want to make sure it fits in my pocket, but can take the stresses than my fat ass is going to put on it.. BTW, I'm a 34x32.. I guess I'll go to the store and see if they'll let me put one in my pocket. Thanks❕❕❕

What about Six Guns or Asphalt 8? Also Dungeon Hunter 4, which is almost 2GB (!) alone.

I'll look at Six Guns and Asphalt 8. I have Dungeon Hunter 4, but it doesn't run as hot on the Snapdragon 800, but it's still pretty warm. What phone are you using to figure out the games? What Snapdragon SoC? I first used the Nokia Lumia 920. The Sims Freeplay made my L920 very warm, but Mass Effect: Infiltrator made the Snapdragon S4 get very hot!

Most phones that are listed with names like this still carry device model numbers. I suppose its up to Nokia if they want to continue the same numbering scheme though. I wouldn't be surprised if this still had 929 in the about menu and maybe still even on the sales papers, somewhere.

I agree. The numbers are useful to some extent, so you know a 920 is better than a 720. But 920/925/928 is a bit daft since they are variants, not improvements. 929 made no sense and should have been the 938 to reflect that it's a big hardware bump. Using just names is bad, like all those 2011 Androids with uninformative marketing adjectives for names.

Yes❕ It most definitely should've been the 938... We should be in the 30 series right now.

GSM version with T-Mobile bands pleeease?

Yes, + the 1520 & 1320 for T-Mobile.

Yes a version that could run on all significant T-Mobile (US) bands WOULD BE SO NICE!!!!!!

They need to call it the Lumia iPhone. Sales would rise 1000%.

And in today news, Apple sues Nokia for copyright infringement, more on that later at 9, 8 central. Stay tuned!

*Cracks up in hysterical laughter*

That showed that Nokia WP had Apple iPhone worry. And btw any idea when the 929 heading to Australia?

yeah I want this size phone as my next one in Australia as well. Though we now have to wait to hear what the codname 'Goldfinger' will bring as the WP8.1 Flagship device :)

They should call it the wPhone. It would sell like crazy on the West Coast.

I'd rather call it wLumia

WTF-Lumia, FTW edition:-P

They could split the difference: the Lumia iCon Hmmmm....nevermind.

I want a larger size screen on ATT! like this and 1080p

what, 1520 isn't big enough?

No, he wants a Dell Venue Pro that makes calls

An 8 inch phone shall henceforth be called a "Thablet." All those with lisps shall rejoice.

Agreed, when people ask me about my"phablet" (1520)... I always correct them and say it is a 6" phone... I despise the term phablet...

I call mine the TeleTabbies!

52" plasma screened Lumia

Keep it on the ground. Lie on it. Talk. *Facetime* more like *bodytime* :D

We shall call it the TelePhone!

You win the internetz today.

Somewhere in this hilarious joke i can sense an idea that might be worth money

Damn Verizon. I liked the name L929. Just my 2¢

You know when you go into just about any gas station, grocery store, or kiosk, and you see accessories but only available for the iPhone, and Galaxy devices❔ Don't you hate that❔... Well, Microkia does to.. That's why when you finally make a device that is to be just as popular as the iDroid devices, and stand next to them on the accessories rack, you drop the numerical designation, and you call it a LUMIA ICON.. It's a line of Lumia products, like the Icon watch.. Personally Lumia should take the place of Nokia, and Icon should be the brand name...
Apple iPhone 6-6s-7-7s
Samsung Galaxy S5-S6-S7
Lumia Icon 929-930-935
Or, how about the Microsoft Lumia 929❔❔..Eeewwwwwwwwwww❕
How about the "Lumia Icon Sport"
"Lumia Icon Jam" "Lumia Icon mini" "Lumia Icon XL"... These all sound great..

Actually, if you want to see lots of accessories then you need Nokia/MS to make this a world phone compatible with all major carriers. If they dribble out three slightly remixed variants over 6-9 months none of them will get the critical mass needed to become a breakthrough hit.

Yes, we need another 920 but without the AT&T exclusivity (or in this case Verizon).

Yep. Agree. Majorly agree❕❕

It's probably just Verizon that'll call it Icon. Nokia has used the numbering system for decades, they're not stopping now, at the end. That said, I want an international version of the 929 (which is likely to be Goldfinger). And since it's Nokias last flagship phone, it should be called the Nokia Lumia 3310.

I think Goldfinger will be the Lumia 930... And I still waiting for the 820 and 720 refreshes...

They will probably be closer to the 8.1 update. I bet Nokia's putting some features into it that they want to make phones with. ;)

I was hoping that Nokia would release the Lumia 825 and the Lumia 725, but with WP8.1 I think is better just release the Lumia 830 and Lumia 730.

As far as I know neither 820 nor 720 sell particularly well. Their stronger phones are still the 520, 620 and 920. Which is why they got alternative versions for an even wider audience. I just think Nokia Lumia 3310 for the last flagship would be nice and symbolic. It brings the saudade (sorry English people, you don't have a translation for this word) and the nostalgia of the most iconic Nokia ever to the device that is Nokias last one (not to mention is very good for marketing).

Actually, the 720 sells really well in India. It is the highest selling Lumia after the 520. It is followed by the 620 & 920. 820 & 925 should have the lesser uptake. 1020, 1520 have people passing wind on them because of their prices.

If they are going to be WP8.1, then they will be LUMIAS X30 phones. I'm almost sure about that!

It reminds me my first cellphone ever...monochrome Nokia 3310

That's the idea ;) The 3310 is the most iconinc Nokia ever. It has reached the pages of history and it will stay there. Which is also why it would be a smart marketing move for Nokia's last flagship (whose profits should still be handed to Nokia).

Wow❕ You really are a true Nokia fan.. You know what they say.. "You got to stand for something, or you'll fall for nothing""...
I hope the new Lumia devices under MS are pleasing to you, and the WP OS keeps evolving in a way so that it is comfortable for you to use..

Looks like the name change is because of the pressure from Microsoft. Nokia never changed their devices' names for carriers, looks like a Microsoft move. I'm not liking it, I was always fond of numbers. Specific names will just cause a confusion.

If it was Microsoft it would be same for the 1520. This is Verizon as they have to change everything. The 928 is the same as the 920 but Verizon requesting the changes.

You don't want a "Nokia Lumia Windows Phone Icon with Windows Phone 8 by Microsoft"? The name rolls out the tongue!

Anything without a microSD capability is just a waste of money

Food and clothes are a waste of money? For the metter, MicroSD cards are a waste of money, since you can't put a MicroSD in them?

All generalizations are false.

And all people that things say aren't

oftentimes it is true that all generalizations are false, but some factors can be reasonably said to be critical and a MicroSD slot can reasonably argued to be a critical feature...

I'm a fan of microSD slots, but at 32GB, this phone is adequate. It was the stupid downsizing of the 925 to 16GB and then not including a microSD slot which was dumb. That said, I'm not a huge fan of the name change: Nokia Lumia Icon. It's too many 'names'. The numbers complemented the Lumia name and also made it easy to know where a phone fit in the family. Finally, why the hell is it taking so long for this phone to come out? Should've launched today.

Thank you coip for that analysis of the problem with the 925, I concur entirely.....

YES!! Finally. And I agree ditching the numbering scheme. It may make sense to the WP followers on this site, but to the average consumer the numbering scheme is confusing.

The number shenanigans are pretty aweful. I love those code names :) (Moneypenny, Goldfinger, etc)

Hopefully this is the new standard for all Lumia 9XX+ series they need better camera's, better intnernals and 32gb minimum. Not everyone wants a 1020 or 1520 people want a mid sized phone but they want to be top of the line as well. I have the L928 and love it. would definitly get this if my 928 wasnt just a few months old.

There is no such thing as a midsize phone with flagship internals. Same reason why you can't get a Mercedes C class with a V12 engine from the factory.

There are actually quite a bit mid size phones with top of the line hardware, actually...quite a few.

Except you can get a C class with the same (but detuned) 6.2L V8 that is in their flagship SLS model, so not quite accurate.

About time we got some new info on this phone. Tempted to buy this off contract when it's release just because I can't wait the ~2 years to upgrade again.

I agree that it gets confusing for potential customers. Having a nickname for it makes things easier to remember.

That works if you don't have a million names like the HTC Interchangeable, Samsung Pretense, etc. that don't tell you anything. That's why Android manufacturers stopped doing it. There are so many Lumia models that it could get bad if they just use names.

I'm confused, are the 928 and 929 the same? Basically I'm in the UK and want a new Lumia with 1520 specs but smaller screen

Nope, 929 has 1080p and a 20MP camera. Also, 928 and (supposedly) 929 are Verizon US carrier exclusives

The 928 has a 4.5" screen. The 929 has a 5" screen.

So the UK is stuck with 1520 as the only real up to date and 1080 Lumia, damn

There's still the rumoured 5.2" phone coming out of Nokia, and that'll probably be an international phone too. So rejoice!

If WP 8.1 had been available to ship with it, it probably would have been called the 938. It's a generation beyond the 928 or any other reasonably-sized phone.

Anyone know if Verizon ever enabled band 4 LTE for the 928? I thought I saw that story on WPC some time ago but never a follow-up.

We have not received the update yet.

I'm guessing it will come with the Black update

Wish this was coming to att

I know, right? The dearth of Windows Phones at AT&T has been really tough. Just playing: I agree wtih you. I hate this carrier exclusivity crap. All of the Lumias should've been on all of the carriers: 920, 925, 928, 929, 1020, 1520, etc. If they had all launched on all carriers, Windows Phone market share would be better, no doubt. So dumb.

Carriers rule in the US, timed exclusive aside if a phone is not on a network its more than likely the carrier doesn't want it. Your suggestion would never work with these egotistical carriers wanting a "special" variant for themselves.

Given that's the case then I would suggest that it would be good for MicroNokia to pick particular phones to become worldwide standards and release universal versions after the period of exclusivity has ended. I expect the 920 is an example, and the 925 has been positioned to do that, but I believe that its' 16gb limit makes it unworthy of being such a universal phone.

Glad to finally have some news about this. Any word on the 64GB version or is that just smoke?

iCon? Apple will sue, claiming to own the naming scheme of any device starting with the letter " i "

I can't wait to get a Lumia 93X with Windows Phone 8.1. I am sure it will be a 5 inch screen with 1080p, and if it gets a 20mp camera so much the better. Windows Phone has finally pulled even the specs game(and really windows phone was always snappier to me on low end stuff than Android's flagships are) and now the OS is going to have everything else I wanted!

The end result difference between these 20MP devices and the 41MP isn't that much. The 1520 takes some amazing pictures. (1020 owner) Companies just don't makes phones that have the best of every area. The 1020, 1520 and 929 are perfect examples. Even on the iPhone's, they are darn good at most things, but lead the way in only a few areas. Technology moves too fast and phone development takes too long for phones to lead the way in all areas. Plus, I'd have to imagine we'd be talking $1k for phones, if they truly did. Kinda crazy...

I'm not talking about developing new technology. I'd be happy with the six month old tech that ATT robbed the rest of the nation of. I'm not saying the 1520 isn't good (or available to those of us who need Verizon's network due to location). I'm saying that I want the 1020 on Verizon.

+1029? +Iconic? Want the 1020 running on the new hardware like this one for Verizon. I want to "ZOOM! ENHANCE!"

About dang time. Go Verizon!

Wish this was coming to ATT

Sounds good, cannot wait to get our hands on a review unit. Hopefully we'll still have it for the February Windows Phone Meetup here in St. Louis.

Live in Edwardsville,il. What is Windows Phone Meetup?

Mary Beth, I just sent you a PM with more information.

Why no xenon flash? That is my only complaint. I am spoiled with my Lumia 928.

Yeah, bummed out about that. Don't use it often, but works better than any LED flash when I do use it.

They're probably going to naming the phones rather than numerical designation to differentiate old Nokia with new, MS owned Nokia. Icon will be the first phone of the new year and will begin the reign of MS phones.
(cue maniacal bwaahaha laughter in background)

Oh no, AMOLED, i hate it. Don't make it global, or make it global with IPS LCD

I prefer my battery sipping AMOLED.

I think PenTile is less terrible at 1080p.

A new flagship released after the holiday season and within 6 months of the next big iteration of Windows Phone? I guess, but it seems like a bad play.

You expect Verizon to have 8.1 Lumia at launch lol.. We must wait 6 months for ATT excusivity

It makes sense as Lumia is gonna be the name instead of Nokia Lumia and Microsoft Lumia Icon actually sounds pretty darn cool

Blast! I've been hanging onto this cracked screened 8X for three weeks now, waiting for the 929, and all these rumored release dates are just KILLING me.

I never could get the hang of Thursdays.

Now "likes" in these comments will sound stupid.
+Ion? That's more Google's style, not Microsoft's.

Finally they are ditching the annoying numbers!

Good,the numbering is becoming confusing to the avg Joe that doesn't keep up with Tec.

This is my dream phone! Please make it available in Europe!

Just need to ditch that nasty Verizon logo now too.

I think this is a bad decision. I actually like Nokia's numbering system because it is immediately recognizable as to what "class" a device belongs too in their line, particularly given the variations across carriers. Going to "names" will just muddy the waters. I wonder if this is Verizon's doing. It wouldn't surprise if it was...they're idiots.

I hope T-Mobile gets something new! Excited to be able to use Jump!

Finally, their biggest mistake was giving a number to their new tablet. Simple, catchy NAMES sell devices, not numbers.

Yeah, like a BMW 1, 2, 3, 4, 5, 6 or 7 Series. No one buys those.

Your argument is a fallacy. People buy BMW because of the NAME. Just like they buy the iPhone 5. It's the newest iPhone. They buy the Galaxy S4. Tell me what should I buy, the 920, 925, 928 or the 929? Which one's GSM? Which one's 5"+?

No the argument is not a fallacy. We are not talking about brand names we are talking about model numbers vs. model names. Their example is that of model numbers that implicitly sell well and you've changed the argument to that about brand names. Furthermore your argument references the iPhone which has a very clear numerical naming system that indicates the generation of the phone, that is a potential contradiction to your argument. Finally that the numerical naming system across multiple carriers does not explicity lay out various features is really quite irrelevant and could be just as much of a problem if the models were named rather than numbered.

Yeah but it's easy to tell that 7 is better than 2. What's a better phone, the 928, 925, 920, or 1320?

Prettiest = 925. Best = 928. Newest = 1320. Oldest = 920 :)

Yeah, like LUMIA. A lot of people ask me about the Lumia mobiles, but don't know the model. Just like people would ask about BMW but not know the model/series it is

Hmm I wonder if Verizon doesn't like the numbers or if Nokia just wants to try something new.

I'm disappointed that they're pushing back the device launch to January. That really sucks. Also, I like the numbers. What's so confusing? The higher the number, the better the phone. Does anyone know if this is going to use a micro-sim like the 928 or a nano-sim like the 1520?

I only accept the name change if we can get more colors instead of just boring black and white.

I ditched Sprint for 920. Ditch AT&T for the Lumia Icon? Hmmmmm. If AT&T gets this they will cripple it with either storage, qi wireless or both.

If his had an SD it would be my next phone. Curious as to what Samsung has up thier sleeve. I love my ATIV S.

Really hoping for an ATIV S2 at CES.

I'm watching for a new Lumia but would prefer a Sammy

ack! I can't stand Samsung. I'd much rather have a Nokia. My second favorite would have been a WP Motorola device, but unfortunately we know that's never going to happen...

This is the first Windows phone that I would want over my Lumia 925. The 1020 has an epic camera, but that is more of a perk to me than the primary function of my phone. I take a lot of pictures, but I also have a dedicated Canon for this, so I don't necessarily need to lug the extra thickness around. The 5" screen seems ideal to me, and the 20MP cam is plenty. I also like the 32GB storage upgrade, though adding a microSD slot would be so helpful, it's a shame there isn't one. I agree with others that the xenon flash would have been better, as I'm not very impressed with the dual LEDs on my 925. My only real concern is the thickness of the Icon/929 as it is a bit bulkier than the slim 925--though that does come with the awesome Qi charging built in, something I'm not willing to slap a chunky cover on anything in order to enable.

YUP! My intuition is telling me that the 929 would be an excellent device that would make a good universal phone. I'd love to see a version on T-Mobile. I do agree that it would be nice to have a microSD slot, but the fact that it is a 32gb phone means that's not as critical for me.

I just wish they made it look more like a 1520. I've never been a fan of nokia's Verizon phones. Hopefully when I upgrade next November they will have a better looking device

Can we on t-mobile get a high end windows phone. Enough with this low end crap!!

I'd love to see a version of the 929 on T-Mobile. I really don't think the 925 is low end, but I strongly believe that 16gb phones are midrange phones. I characterize the phones thusly: 8gb is low end 16gb is midrange 32gb and above is highend (with the possible inclusion of 16gb with microSD slot). This will change if 8.1 includes the possibility of installing apps to the SD card.

Except low and mid get microSD while high-end is starved for storage. Because after all, you paid the most to want for nothing... And lesser models have better storage capabilities. Sigh

At least Verizon didn't neuter their version. 32GB and wireless charging why didn't att leave the 1520 alone

Unless you're Apple, Samsung, or HTC, in which case the carriers will beg you to sell your phone.

Hopefully Verizon will advertise this phone as the big deal that it is and not just sell it under the table like the rest of the lumias theyve sold

About time someone stepped up to Nokia and stopped using their ridiculous numbering system. It's awful.

Looks really nice! Just wish M$ would add VPN support sooner. It's becoming quite imperative for me to have it for work reasons. I might have to hold off on getting it due to VPN. I'll know more after the 1st. I REALLY don't want to go back to an Android phone :/

The name convention makes no sense in my opinion. VZ928

Why do we keep accepting flagship phones with no microSD storage? I want 64+GB on a micro in my phone damnit!

I'd settle for 32 + SD, but it's seriously driving me crazy that all the crappier models have microSD and the flagships don't.

Good thinking for Verizon and Nokia to release this phone right after the Holidays. They should have released the 2520 after Christmas too.

I have been wondering when Nokia is going to launch the next generation for Nokia Lumia 920 (namely, Lumia x3x)? So many phones they launched have all been the x2x or xx2x generations.

Great move so they can name its successors as icon 1 and icon 2 etc...

Give me red, cyan or yellow....anything but black and white....

I definitely prefer this name as the numbers are getting really crazy and hard to remember. They can use these new line of products to distinguish what's lower and higher-end and use smaller numbers to show increments. e.g. Lumia Icon, Lumia Icon 2, Lumia Icon 3
Lumia ___ for lower end line
Lumia Tab (or more unique name) for the tablet line
etc. Much better than Lumia 1520, 2890, etc. they're hard to remember and keep track of... this is why ppl remember competitors names easier.

If I happened to "lose" my 928 in about 6 months or so, do you think the insurance would replace it with an Icon? I love my 928, but I suspect I'd love that bigger screen and better camera even more... :)

Another one without microSD?!?!

Yes, my 1520 is too big sometimes.

Verizon is one of the tackiest carriers out there. Everything from their commercials to their device names is embarassingly lame. Their logo sucks too.

That is not an icon. Might as well call it Lumia Droid. I will soon be switching to AT&T. Better looking devices. I want yellow!

No SD storage? This doesn't make sense to me and it will keep me from getting it!
Windows Central Newsletter
Thank you for signing up to Windows Central. You will receive a verification email shortly.
There was a problem. Please refresh the page and try again.