LockMix, a wealth of options for your Windows Phone 8 lockscreen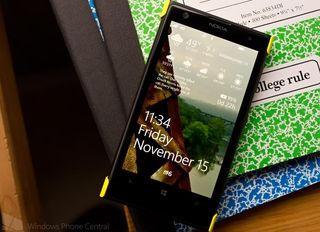 LockMix is a feature rich Windows Phone 8 app that allows you to customize your Windows Phone lockscreen to display everything from the weather to stock information to Chuck Norris quotes.
On top of delivering the information to your lockscreen, LockMix also gives you the ability to customize the layout. You can have widgets of all sizes scattered about your lockscreen providing you with as much or as little information at a glance.
LockMix is an impressive lockscreen app for Windows Phone 8 in a growing faction of the Windows Phone Store.
When you first launch LockMix, the app will walk you through a series of tutorial screens illustrating how to place, size and re-position the various widgets available. You will then be given the option to set LockMix as your lockscreen application. If you choose not to set it as your lockscreen app you can proceed with customizing your lockscreen and then visit your Windows Phone settings later and make the change.
LockMix's Tutorial
The interface is rather simple in that you presented with a mock lockscreen with three button controls scattered across the bottom of the screen; one to add a widget, one to refresh the screen and one to revisit the tutorial.
The widget list includes four background choices (Bing Image, Local Picture, Picture Rotation from your Pictures Hub and a Solid Color) along with widgets that include:
Appointments
Battery Meter
Calendar, Chuck Norris Facts
Countdown Timer
Daily Quotes
Exchange Rates
Maps
News
Phone Owner Information
Business Card QR Tag
RSS Feeds
Weather Information
LockMix also contains Czech and Slovak specific widgets. Just tap on the widget you would like to add to your lockscreen and it will be added to the mock layout. From there you can resize the widget and position it to your liking. If there are settings associated with the widget a gear button will be displayed in the corner of the widget tile. Once everything is in place all that is left is exiting the app and your LockMix lockscreen is ready.
LockMix Widget List, In-App Purchases, Widget Placement
If you run out of space on your lockscreen, widgets can also be pinned to your Windows Phone Start Screen. Just tap and hold on the widget and the option to pin the widget will pop-up.
LockMix is a feature rich lockscreen app that does give you a lot of options. However, while many of the widgets are free some of the key widgets will require an in-app purchase to unlock. Appointments, Exchange Rates, Map, News, Business Card QR, and RSS Feeds will cost you $.99 each to unlock. This may not appeal to everyone. However, on the plus side the paid widgets do have a trial version to help you decide if it's something you just can't live without.
LockMix is a free app but with the volume of in-app purchases it might have been better for the developer to have offered the full app as a paid app. Still, LockMix has appeal and if you're looking for a way to customize the stew out of your lockscreen it's worth a try.
LockMix is a free app for Windows Phone 8 but does include several in-app purchase options. You can find LockMix here in the (opens in new tab) Windows Phone Store.
Thanks, everyone, for the tips!
George is the Reviews Editor at Windows Central, concentrating on Windows 10 PC and Mobile apps. He's been a supporter of the platform since the days of Windows CE and uses his current Windows 10 Mobile phone daily to keep up with life and enjoy a game during down time.
Rip off, awesome lockscreen much better. Having to buy features separately at 99c each time? Piss off

Aside from yes you have to buy those extra lock screen components and that indeed does suck.... I find this app to be quite a bit nicer than Awesome Lock. What I would like to see is either Bing Weather, Weather Channel, or Accuweather... between those three, none of them give you the option to put a quick status icon on the screen to show temperature. So having either of these lock screen apps with the current weather is what I find handy.


have you tried weatherflow?

Errmmm.... I knew somebody might not understand what I meant. On your WP, If you go to Settings==>> Lock Screen.. then where it says "Choose apps to show quick status" (your phone, texts, and e-mails are there by default, if I am not mistaken)... I want to be able to put a weather app THERE. Thus, it would show the every-so-often-updated temperature at the bottom of your lock screen. I just d/l'ed and tried Weather Flow. It does not do this. I want a, "you turn on your phone, and BOOM! Your temperature is right there."-kinda thing. Sure you can set the whole lock screen as a weather apps lock screen ..... but that's not what I desire.

There's an app specifically for this already. You select it as one of your lock screen icons and it will show just the current temperature. I'll have to track down the name. I want to say Lockscreen Temp...

Yes, there is app(s) for that.

I prefer this app over Awesome Lock app, Awesome Lock was very laggy on my Lumia 1020, offers less features, and not free. I wasted my money buying Awesome Lock. LockMix is by far the best Lockscreen app I've come across.

I uninstalled after seeing you have to pay for features.

Such BS to have to pay for an App, its not like Devs have familys or kids to feed... What Jerks!

LOL, agreed Jack (and love the sarcasm). This app works great and i would have gladly paid .99 or 1.99 for the basic functionality since i don't need any of the paid features. Great job dev! Looking forward to what else you have planned! Techiedude

Half of the 'widgets' are paid, and cost 1€ each, which makes the app easily cost 5€ for something that other apps offer for 1-2€. I know coding is a pain in the back process, but you have to be realistic with the pricing. Also since an 'appointment' module costs the same as a whole another lockscreen app, I'd expect it to have at least some functionality like choosing which calendars to show, but it doesn't even offer that.


THANK YOU... Somebody finally said it... what is with all these people that want everything for free... Me thinks they don't work for free... Argh ... drive me nuts everytime I someone says "its bad because it should be free"

Best lock screen app and is free

Wow, amazing find! Been using lockie for the past week, excited to switch to this. Sure it looks familiar, but damn its free

Exactly the same been also using lockie but compared to that it is nothing

Watch out for Lockie. New update coming in a few days :)

Oo! Maybe I'll change it back again! Please keep up the great support (if you're the dev?)

Oh no haha, I just emailed them the other day and they told me that ;)

Gorgeous, Czech data in weather forecast, sweet! Love the UI!

Currently trying this app and liking it, so far.

I like it. Mostly. Great features can't wait for more, I also don't mind the pay for things you want model. Only issue I have is the alignment of the small tiles when you use the countdown widget.

Finally a lock screen app that puts both weather AND battery info on the wallpaper thus freeing up the 5 apps on the bottom row

the most awesome lockscreen app.

Liking this. Been using amazing weather hd forever to set my lockscreen. Can achieve the same thing with some extra customizing. In particular the calendar month view. I doubt anyone will need more than one or two of the purchasable widgets. So not looking as the inapp pricing as a downside.

anyone know where the weather data is coming from and whether the battery widget drains your battery?

Hmm, wish it had a stock ticker too. Maybe in an update?

Will there be Swedish and more languages supported?

Now bought all feat. Add RSS and more languages and I'm all good. I can translate if that's needed.
This app is fantastic! Nice with options.

Meh like a lot of these apps it degrades the image quality of the pretty Bing images

Just tested... agree with post. It's ok, but the pricing is weird.
Might be better than alternatives depending on what you need, but for now I'm keeping Awesome Lock.
But since we're talking about this - is there any way to make the Time/date font smaller on the lock screen?
I mean, it's plenty nice that it's big enough for easy reading, but it gets cropped probably because of language here.
More space for widgets would be nice too... date and time occupies like more than a third of the space.

Yes, check each widget configuration. In popUp menu is Advanced Configuration. Here you can change Font settings, color settings and backgroud color opacity. Also for all widgets in global app settings you can change all this things too.

Thanks!
But that's not exactly what I was looking for... it's the clock and date settings native to the phone, not the lockscreen app itself. Tried switching phone's font size to no avail... for some reason, configuring the native lockscreen to none (instead of default calendar) does nothing too.

+1020 Agreed XSS, I'd like to be able to change the font size of the default time/date/calendar info. Hopefully we can get this option in an update... Techiedude

Gives inaccurate GPS location for weather.

Agree about GPS location. Gives a location that is some 15 miles north of my location. Other apps (Here Maps, for example) pinpoint my location to the exact address. Even Accu-Weather and Weather Channel apps are more accurate than this app. Am on a Trial basis - will need this to work better for me to upgrade to the paid version.

I have exchanged emails with the developer regarding the GPS problem. They suggested changed the weather service in the advanced configuration to the World Weather Online service. I did this and the location was much more accurate. They also said that they are working on adding additional weather services to the app, so we shall see.

Neil, thnx for the heads-up. I noticed that too even when i put in a zip code. Would like to see Weather Channel possibly added as well. Techiedude

Really like this app. I have been using it for a month or so. Like the full week weather and I can have have my next 4 apptments just below the weather. I like that you can change the opacity of the widgets to make them more readable. What is with all the people that don't want to pay for things they like and use.. is daddy paying your rent? and I bet you don't tip your waiter either... cheapskates... (so frustrating) These guys do good work.. pay them for that work
Windows Central Newsletter
Get the best of Windows Central in in your inbox, every day!
Thank you for signing up to Windows Central. You will receive a verification email shortly.
There was a problem. Please refresh the page and try again.