LockWidgets 8 rolls on the Windows Phone Store, keeps us informed with a glance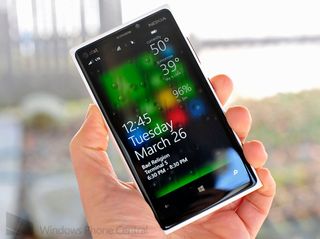 Jaxbot over at Windows Phone Hacker as released a new app onto the Windows Phone 8 Store and it's worth the $0.99 for it. The app is called LockWidgets 8 and allows users to add up to three information areas to their lockscreens, including current temperature, tomorrow's temp and battery life. Some detailed information is also included like estimated time left on the charge and if it is clear or rainy out.
Users can select the background image from Bing, NASA or their own images and include "weather effects", which can add rain droplets and presumably other graphical changes to the background image.
The app does have a free trial (and it will stamp "Trial version" on the lockscreen, overlapping with your calendar information) but users are free to use it for as long as they want.[Edit: Watermark for app trial has been removed]. Otherwise, if they enjoy the app they can unlock the full version for $0.99.
We've been playing with it for the last 20 minutes and so far are impressed (we also combined it with the "blur your lockscreen" effect, seen above). The information is supposed to be updated "periodically" though there currently is no way to specify that frequency. Still, we were more than happy to plunk over a buck for the app as it's nicely laid out and seems to work well.
You can pick up LockWidget 8 here in the Windows Phone Store (Windows Phone 8 only).
Source: Windows Phone Hacker; Thanks, papakudioflu, for the heads up
Daniel Rubino is the Editor-in-chief of Windows Central, head reviewer, podcast co-host, and analyst. He has been here covering Microsoft since 2007 when this site was called WMExperts (and later Windows Phone Central). His interests include Windows, Microsoft Surface, laptops, next-gen computing, and for some reason, watches. Before all this tech stuff, he worked on a Ph.D. in linguistics and ran the projectors at movie theaters, which has done absolutely nothing for his career.
Hmm, tempting. The fact he used the word Widget in the title angers me.

:) http://www.youtube.com/watch?v=lttnovFgYkY

Awesome. The 920 actually makes cell phone concert footage watchable.

I have bought this, didn't bother with trial, wish I did. I have selected lock screen from Bing as I love the changing wallpapers however all three of information sections down the side are blurred (the area around not the physical text)...not too bad but noticeable. It feels as if the Bing wallpaper has been compressed down as the clarity of the imagine seems...pixelated

I have switched back to Bing wallpapers and also Weather Flow and there is a HUGE difference in wallpaper clarity

What device/resolution?
The images are compressed from the backend to save you data, but if the problem is not a quality degradation, but resolution, I *may* be able to mitigate that.

Im using an HTC 8x and I agree. Great idea but the bing picture definitely does not look as clear.


Alright, well the image is grabbed from the server at 480x800, which is much too low for 720p devices. I'll try to find the new portal location and get it updated server-side, thanks for the remarks!

Update: I did some work on the backend, now 720p HD images are being acquired for Bing and are live in the app. Enjoy, hit me up on twitter (@Jaxbot) if you have any other requests.

First of all, thanks for being so quick to respond to user concerns and issues! Second - awesome app! Just what I wanted on my lock screen.

WHAT. THE. ACTUAL...WOW. You fixed it just like that, the Bing picture is SPOT ON quality no fuzzy lines around the weather and batter FANTASTIC.

So if I where to have weather info on my main screen, would that drain my battery?

Just purchased. I love how I don't have to get rid of my Calendar detailed info since I use my calendar as reminders regularly.

Awesome customer support. Was on the fence but this pushed me to make a purchase.

Ugh. I wanted to go to that Bad Religion show tonight but didn't have the money to afford. Love Terminal 5 though. I'm sure it'll be a great show

Make sure you select "Update" from the options list before backing out of the app.

Bought without even reading what this does, to support jaxbot. He's pretty awesome.

I dont see the Trial Version watermark in the trail version

I also don't see trial anywhere on lock screen? Nice apo though.

The trial version watermark was something I left on the server by accident, it's been removed as of about 10 minutes ago. Hopefully they'll update the article. my bad!

Can't get nothing to work on the try version. Am I alone on this

Make sure you select "Update" from the options list before backing out of the app.

Too bad not available for indonesia windows store :((
This region thingy really piss me off

We can't make a purchase when using different region.
Developers, please make or update your applications to support more regions, notably Indonesia. I will purchase this app when it becomes available in my region.

What'd be super awesome is for this tool to be able to define where your other apps display information. There are so many different weather ones and calendar ones... it'd be nice to be able to pick which weather app, which calendar app to show information. Like I'm using appointile for my calendar...
pretty hard to manage and know the sizes each app takes on the screen though...

Just out of curiosity, what did you not like about it?

No Celcius option for weather. Would be nice to have for us Metric-loving folk.

It's based on your device region. en-US is Fahrenheit, everything else is Celsius

Ah, I totally forgot that I changed my region. In that case, thanks for the great app.

Welcome! Celsius override is coming in the next version

Why do i have -273 in curent condition and 7 for tomorow. I live in France and outside it's 17 Celsius.

Same here in Poland: -273 and 6 for tomorrow. Right now is 0 deg.

I have the same data, and I'm in Barcelona.

-273 deg C is 0 Kelvin so maybe the app got conversions mixed up.

Same here, bought the app. Showing -273... I mean its cold here in Germany but not that cold. FX function also not working for me. Any ideas?

Fixed! The problem had to do with the device giving comma limited decimals to the server, which hadn't occurred in testing. It's fixed on the server now, so no need to update the app. Thanks for the info!

Thanks for the quick fix! it's working fine now :)

This is a weird question I know, but what server do you use? AWS? Your own? Just a curious app developer-to-be asking :)

I think I will buy it when it gets updated next. Needs a bit more work, and I will gladly contribute my dollar. Heck I'd pay a whole 5 bucks if we finally get a nice lock screen app that's done well. Bing image is nice but shows no info, astronomy lock screen is good but the images are low quality and show no info... This has the potential to do it all. Also, on my trial, it shows rain when I enable the weather FX, but there is no rain in sight. Is it literally just a bunch of droplets no matter what, or is it supposed to change? Suppose I shall find out!

Nice app! Will buy the full version shortly...looks like 5 stars so far; Thanks jaxbot! ;-)

Jaxbot has just fixed this issue.

THe background is way off in quality and the letters just too blurry.

Will buy only to support Jaxbot. There are to few settings currently to be used outside of U.S, like C vs F, language support etc. But its a nice start. I wonder if the app recognizes snow? The weather part.

Bought it. How do you get the "blur lock screen" effect?

http://www.wpcentral.com/forums-cool-lock-screen-effect-microsoft-and-tablets

Not having any issues. I love it! And I did pay for it instead of the trial.

Hey, jaxbot, if you see this, could you please add an option to show the temperature in celcius too?
I cant make much sense out of this farenheit values :>
Keep up the good work buddy :)

Hi. Jaxbot has explained that en-US is farenheit but everything else is Celsius. You need to change your region

I'm having a problem with NASA pic of the day in this app. The image is squashed into the top two thirds of the screen. Every other source works perfectly. Anyone else got this? As soon as it's fixed I'll buy. Also, how does the app deal with when APOD is a video? Edit: I should add that in the preview the APOD isn't in the wrong place. Also, the APOD isn't centralised so it might often miss the subject of the image. Apart from that, this app is awesome, might higher resolution than Astronomy Lock Screen.

I also get the 2/3 screen issue on the Nasa pics. Also, when are they supposed to change? Mine is still the same pic as yesterday.

Looks nice, but I wait until you can specify update frequency. And I wish that there will be a choice to update only when connected to wifi or manually.

Love the app! Bought it and definitely consider it worth the price. For your next version update, I suggest you allow the user the ability to zoom in or change the frame of a picture... I tend to use my own pics that are not always set at my phone's dimensions e.g., PC desktop wallpapers with a landscape orientation.

Daniel, I'm making my own website of smartphone news for my country (Argentina) so that people can get to know which smatphones are coming to Argentina. The problem is that I don't know which pictures I can use. For example, I made a post about when the Lumia 620 ad 920 are supossed to arrive in my country, but when I wanted to post a picture for them, I didn't know what to do.

I like it but possibly being able to change the font colors as some lockscreens maybe white and makes it hard to see.

This is a really sweet lockscreen app. Consider it bought.

Tried the trail. I was not a fan really. I would totally be on board if there was more options of what you can actually put in those spots. The current temp is cool, tomorrows temp didnt make any sense for my location. I was thinking maybe the tomorrow temp was the low temperature from the night that is upcoming? Batle level is cool, I just dont really want that (there is a battery icon you know lol).
Cool idea though. Come up with a bunch more ideas for the widgets and I am on board.

Neat app. However, I like my lock screen to rotate through photos from my phone. Add that functionality and this becomes my lockscreen of choice.

Its a good app but the pictures look a bit washed out on the lock screen...

My battery is at 100%. I did the update. Restarted the phone. Did the update again through the app. On lock screen I see 100% charge but it says. 2 hours 48 mins. Any suggestions?? Nokia Lumia 920 on at&t in the US. My religion choice shouldn't have an impact on this. Update... It just changed to over 15 hours..

someone tell me where to find that wallpaper it seems to be transparent or it's just a shadow of start menu?

Its not transparent. Its a screenshot of home screen then given a blurred effect and applied as lock screen image.

thanks buddy. i thought it was possible because actually you can do it on wp7.5 mango devices

Seems to be working okay for me, I'll give it a few days to see if it throws up screwy data.
One suggestion, I don't care about daily wallpaper updates so I just use some pictures I have saved on my phone. They are all larger than the phone screen size so I use the little crop tool in the pictures hub when you choose a photo to use as a lock screen so I get the part of the picture I want in frame. With your app though it doesn't do this, in fact I think it's just choosing a spot randomly in the middle of the picture? Any chance you can add the crop feature, or simply overlay the the data on top of an already selected picture? Thanks.

The bing wallpaper was fixed, but now it is back to blurry discolored picture

I like it, but the weather effects aren't in HD and looks crappy in a Lumia 920.

Great app but I feel Microsoft really should have pushed the premise of this app as a core feature of the lock screen. Having to just choose one widget is really disappointing. While this app solves many problems, I just wish it was possible to choose my used/important apps. And arrange them however I want on my lockscreen

Nice app didn't bother with the trial. Look forward to sum nice updates.

jaxbot great app - one thing - i like to have my WP in high contrast, with this on, nothing appears... can this be remedied?

I'm having a black screen when I choose either screensaver. Also after I press update. Region : Europe

With either lockscreen I meant: Bing, NASA and pictures. With all three options I het a black or blurry screen. Also when I choose the app at my HTC lock screen settings

Battery level / percentage doesn't update or not often enough. After a boring morning and a lot of gaming my batt is about 30% but lock screen says 75%

Is the trial fully functional then? So buying is like a donation?

I checked it out and I gotta buy it. The description doesn't give it justice.. This app is from the awesome neighborhood.

Bought the app the other day and it was working awesome for me but today my weather for today and tomorrow says -459, not sure what's happening

Just ran across this article and downloaded the trial. I set it to use the Bing images and I just get a black screen with the text options I selected. Do I have to wait for it to initially update the Bing image?
Is there a way to select FB feed pics? Thanks!