Logitech MX Vertical mouse review: Better than all the rest
The Logitech MX Vertical is an incredible vertical mouse that tops all the competition.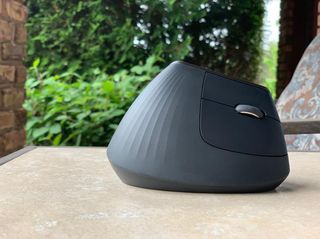 (Image credit: Windows Central)
While vertical mice have become an increasingly popular computer accessory over the last few years as a result of conditions like carpal tunnel, very few of them have achieved an elite level of balance between comfort, style, and features. Thanks to Logitech, however, that has changed with one of their newest mice: the Logitech MX Vertical. Offering incredible comfort and support, excellent performance, and a sleek look, this vertical mouse will blow your mind — but it doesn't come cheap.
(opens in new tab)
$88
(opens in new tab)
Bottom line:
The Logitech MX Vertical is an incredible vertical mouse that perfectly balances comfort, performance, and design into one superb package.
For
Fantastic comfort and support.
Amazing performance capabilities.
Buttons can be remapped with software.
Sleek, stylish appearance.
Against
Pricey.
Attracts dust like no tomorrow.
What you'll love about the Logitech MX Vertical
Like all vertical mice, the Logitech MX Vertical was designed with the goal of making it strain-free to hold with your hand in order to reduce the symptoms of — or help eliminate — conditions such as carpal tunnel. What's incredible about the Logitech MX Vertical, though, is that it feels inaccurate to say that your hand is holding the mouse. Rather, the mouse is holding your hand instead. The large thumb rest on the left side of the device is large enough to rest your thumb on completely, and you don't even need to use your muscles to grip the mouse unless you want to pick it up. In addition, nearly the entire mouse is designed with a soft, felt-like material with a contoured texture that fits the human hand perfectly. Also, despite not being notably lighter then many other mice on the market, the Logitech MX Vertical feels light as a feather, which must mean that Logitech used some secret design tricks. As I don't have hand pain, I couldn't determine how this mouse alleviates those issues. However, my mother does, and after I let her use it for two days she said that it helped a lot and that she loved it (It's no longer in my possession).
Category
Spec
Dimensions
3.09" x 3.11" x 4.72"
Wireless
USB receiver, Bluetooth
Range
10m
DPI Min-Max
400 to 4000
Customizable Buttons
4 (Back/Forward, M3, DPI switch)
Battery
Rechargeable Li-Po battery (240mAh)
Price
$88

(opens in new tab)
In terms of hardware, the Logitech MX Vertical is awesome as well. The optical sensor is accurate and responsive, and it has a DPI range of 400 to 4000, which is the highest DPI maximum I've ever seen a vertical mouse achieve. A higher DPI is important for people who struggle to move their mouse a lot, so this is fantastic to see. The mouse buttons are clicky and responsive, and the forward/back buttons are great for quickly moving back and forth between web pages. There's also a DPI switch button that can be used to change pointer speed on the fly. If you opt to download Logitech's free Options software you can even remap the functions of the mouse wheel button, forward/back buttons, and the DPI switch button to whatever you want. Lastly, the battery life of the Logitech MX Vertical is excellent. After a little over a week of testing for this review, the mouse is down to about half battery, which means that you should be able to get anywhere between two-and-a-half and three full weeks out of a full charge.
Finally, the mouse simply looks awesome. The soft materials of this mouse are just as stylish-looking as they are comfortable to touch, and the metallic trims of the top of the mouse and the mouse wheel add a nice silver accent to the overall appearance. The contoured textures on the side of the mouse also look super sleek when viewed at an angle. Many vertical mice look goofy, but this one looks incredibly elegant.
What you'll love less about the Logitech MX Vertical
Honestly, it's hard to find something about this mouse that I don't absolutely love. The only real complaint I have is that the material used on the mouse seems to attract dust and fingerprints like a magnet, which means that if you're a neatness-oriented person that hates when things look even a little bit dirty, you're not going to enjoy how often you have to wipe down the device. The price is pretty hefty, too, although I certainly don't think the mouse is overpriced at all. At the end of the day, this is the closest a vertical mouse has ever come to perfection.
Should you buy the Logitech MX Vertical?
Ultimately, the Logitech MX Vertical is an absolutely superb vertical mouse with incredible comfort, amazing performance, and a stylish appearance that users will love.
The frequency of dust and fingerprint build up is a bit of a pain, and the price is fairly high. However, you get what you pay for one-hundred percent, and the pros far, far outweigh the cons. I can't recommend this mouse enough.
Elite in every way
(opens in new tab)
Near perfection

The Logitech MX Vertical is an incredible vertical mouse that perfectly balances comfort, performance, and design into one superb package.
Brendan Lowry is a Windows Central writer and Oakland University graduate with a burning passion for video games, of which he's been an avid fan since childhood. You'll find him doing reviews, editorials, and general coverage on everything Xbox and PC. Follow him on Twitter.
I've been a vertical mouse user for years. I have used many different models from Evoluent, and while they work great, they aren't the most attractive mice. Also the software is outdated. I just purchased one of these Logitech MX Vertical mice for my father, and have tried it out a little bit. It is fantastic, and my next mouse will absolutely be this one.

I like Logitech mice, I have an old G502 connected to this machine, which I use for the odd game, but i would not pay that price for a mouse, no, no.,no. I have a Anker vertical mouse, that cost me £15 and while I doubt it built as well as the Logitech vertical mouse and yes I have to put batteries in, which is not always a bad thing, rechargable is fine, but if they die and you have to wait for them to recharge it is a bit of a pain and it don't come with posh software, in fact it don't come with any software what so ever, my anker mouse is certainly a lot cheaper and to be honest is flipping good.
If this lasts for 12 months, it will take me around 5 years before I get up to the cost of the Logitech and to be honest I have never had a Logitech mouse last for more than a couple of years under constant use.

The price is definitely a deal-breaker for some here. I haven't used many Logitech mice over the years myself (I prefer CORSAIR) so I can't speak to the longevity of their products in my experience unfortunately.

I just ordered this yesterday. It was not much more then a standard logitech mx master mouse. These have been the highest quality mice I have used, the battery has been great.

I've had the MX vertical for about 6-8 months now. I bought it because I was having some carpal tunnel issues and I also switch between two laptops that are on separate networks for work. With the software included you're supposed to be able to use Bluetooth to switch between computers just by dragging your mouse to that screen. I have yet to get this feature to work but I've worked on my muscle memory and have gotten used to using the button on the bottom to switch between channels. Sounds hokey but I like it better than switching back and forth between mice.
From my experience the battery lasts a long time. I got my 2nd low battery warning yesterday, so I've only had to charge it twice in the past 6-8 months. I saw someone else's comment about being concerned about having to wait for a charge. I have a USB charger with 8 ports, i just plugged my mouse into that and kept working. The only downtime I had was plugging the cable in.
Despite having trouble getting the Flow (dual computer use) feature to work properly I'm easily able to use the mouse for two machines with an ergonomic mouse. This is my favorite mouse I've used so far.

It looks like it is designed for right-handers. Do they offer a version for southpaws?

Unfortunately not! I hope they make one in the future.
Windows Central Newsletter
Get the best of Windows Central in in your inbox, every day!
Thank you for signing up to Windows Central. You will receive a verification email shortly.
There was a problem. Please refresh the page and try again.