Look for the T-Mobile Shadow II on Jan. 28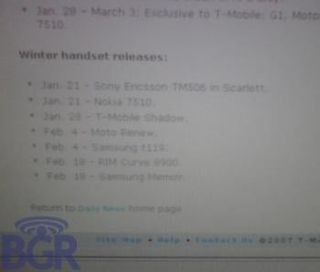 We've been expecting the (delayed) T-Mobile Shadow II to make its appearance late next month, and now there's a Jan. 28 date tacked on to that, courtesy of a release schedule leaked to the Boy Genius Report. We're also still expecting Windows Mobile 6.1 and access to T-Mobile @ Home. 3G support out of the box is still doubtful.
That's about it on the Windows Mobile front, unless there's something to the Motorola Renew, which is slated for a Feb. 4 release. Otherwise, there's the photo-centric Samsung Memoir, a BlackBerry Curve, and offerings from Sony Ericsson, Samsung and Nokia.
Windows Central Newsletter
Get the best of Windows Central in your inbox, every day!
Mid-200mhz, no 3G, no GPS -- an antiquated device at launch. Not worth the paragraph you've given it here :(