Look who's talking, Microsoft closes Skype deal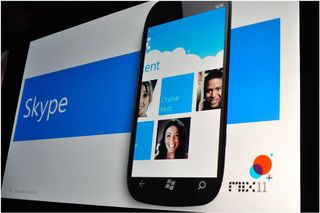 (Image credit: Windows Central)
Microsoft has closed the deal on its acquisition of Skype, which saw the software giant forking out $8.5 billion (opens in new tab). What's interesting to see from this deal is what will be brought to Windows 8 and Windows Phone. We're aware of Skype support coming (opens in new tab) to the platform but it will be exciting to see how both Skype and Microsoft go about implementation.
Skype CEO, Tony Bates, is set to remain at the top within the division at Microsoft and will report directly to Steve Ballmer. Microsoft has a neat and tidy portfolio of services with Skype, Live, Office, Windows and the Xbox to name but a few. 2012 is going to be one hell of a year.
Check out the full press release after the break.
REDMOND, Wash., and LUXEMBOURG — Oct. 13, 2011 — Microsoft Corp. (Nasdaq "MSFT") has closed its acquisition of Skype Global S.à r.l. Negotiations of the definitive agreement under which Microsoft would acquire Skype, an Internet communications company, for $8.5 billion were led by investor group Silver Lake and the transaction was originally announced on May 10, 2011. Boards of directors of both Microsoft and Skype previously approved the acquisition.
The Internet has changed video calling for millions of people. Explore some of the numbers and stats showing the scope and impact of how Skype is helping people stay connected.
Microsoft and Skype will remain focused on their shared goal of connecting all people across all devices and accelerating both companies' efforts to transform real-time communications for consumers and enterprise customers. The completion of the acquisition also marks the official introduction of Skype as a new business division within Microsoft.
"Skype is a phenomenal product and brand that is loved by hundreds of millions of people around the world,"said Microsoft CEO Steve Ballmer. "We look forward to working with the Skype team to create new ways for people to stay connected to family, friends, clients and colleagues — anytime, anywhere."
Skype CEO Tony Bates will assume the title of president of the Skype Division of Microsoft immediately, reporting directly to Ballmer. The Skype division will continue to offer its current products to millions of users globally. Longer term, Skype will also be integrated across an array of Microsoft products to broaden Skype's reach and accelerate its growth as a fundamental way people communicate online. Skype employees will continue to be located around the world in offices including Estonia, the Czech Republic, Russia, Sweden, the United Kingdom, Luxembourg, Japan, Singapore, Hong Kong, and the United States.
"By bringing together the best of Microsoft and the best of Skype, we are committed to empowering consumers and businesses around the globe to connect in new ways," Bates said. "Together, we will be able to accelerate Skype's goal to reach 1 billion users daily," Bates said.
Founded in 2003, Skype was acquired by eBay in September 2005, and then acquired by an investment group led by Silver Lake in November 2009. Skype has made impressive progress, developing new products and revenue streams, strategic acquisitions, acquiring the intellectual property powering its peer-to-peer network, and recruiting an outstanding senior management team.
Other members of the selling investor group led by Silver Lake include eBay International AG, CPP Investment Board, Joltid Ltd. in partnership with Europlay Capital Advisors; and Andreessen Horowitz.
Tony Bates, president of the Skype Division of Microsoft.
The acquisition remains under review in a few countries, and will be completed in those countries when such reviews are closed.
Founded in 1975, Microsoft (Nasdaq "MSFT") is the worldwide leader in software, services and solutions that help people and businesses realize their full potential.
For further information regarding risks and uncertainties associated with Microsoft's business, please refer to the "Management's Discussion and Analysis of Financial Condition and Results of Operations" and "Risk Factors" sections of Microsoft's SEC filings, including, but not limited to, its annual report on Form 10-K and quarterly reports on Form 10-Q, copies of which may be obtained by contacting Microsoft's Investor Relations department at (800) 285-7772 or at Microsoft's Investor Relations website.
All information in this release is as of Oct. 14, 2011. The company undertakes no duty to update any forward-looking statement to conform the statement to actual results or changes in the company's expectations.
Source: Microsoft (opens in new tab)
Rich Edmonds is Senior Editor of PC hardware at Windows Central, covering everything related to PC components and NAS. He's been involved in technology for more than a decade and knows a thing or two about the magic inside a PC chassis. You can follow him over on Twitter at @RichEdmonds.
free IM, voice & video calling on our windows phone devices? :)@roideniro

And off to a great start taking out the rubbish (trash to my US buddies)! http://blogs.skype.com/garage/2011/10/skype_56_updated_for_windows_relea...

LOL, fast reaction from Skype.Off with their heads!

That's funny right there, I don't care who you are.

free IM, voice & video calling on our windows phone devices? :)@roideniro

I wouldn't call Live "tidy." It's a jumbled mess right now. If they clean it up, though, it could be awesome.
Windows Central Newsletter
Thank you for signing up to Windows Central. You will receive a verification email shortly.
There was a problem. Please refresh the page and try again.