Lots of Lenovo laptops have USB-C issues, but there's a fix
If your Lenovo laptop has some USB-C issues, don't fret.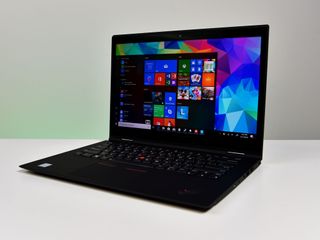 (Image credit: Windows Central)
What you need to know
An issue with the USB-C ports on several Lenovo laptops can render them useless.
Lenovo has a fix available for affected laptops.
You can grab driver and firmware updates to correct any problems from Lenovoe

(opens in new tab)

.
If you've run into issues with the USB-C port on your Lenovo laptop, you're not alone. In a support document (opens in new tab) (via Tom's Guide), Lenovo has confirmed several issues that may affect the USB-C ports on dozens of laptops. However, there's a fix, and it's as simple as applying a driver update.
Lenovo says that you may experience issues after six to 12 months of "typical usage."Here's the list of symptoms that Lenovo says impacted laptops may exhibit:
USB-C port not working
Intel Thunderbolt controller not visible in the OS/Device Manager
USB-C or Thunderbolt docking stations not visible or having connectivity problems
HDMI output not available
System battery not charging with a USB-C power adapter connected to the USB-C port
Intel Thunderbolt pop-up error message
Intel Thunderbolt safe mode error message
BIOS Thunderbolt communication error or hang during POST
Here's the list of affected laptops, all of which fall under the ThinkPad brand:
P43s (Type 20RH, 20RJ)
P52 (Type 20M9, 20MA)
P52s (Type 20LB, 20LC)
P53s (Type 20N6, 20N7)
P71 (type 20HK, 20HL)
T470 (Type 20HD, 20HE)
T470 (Type 20JM, 20JN)
T470s (type 20HF, 20HG)
T470s (type 20JS, 20JT)
T480 (Type 20L5, 20L6)
T480s (type 20L7, 20L8)
T490 (Type 20N2, 20N3)
T490 (Type 20RY, 20RX)
T490 (Type 20Q9, 20QH)
T490s (Type 20NX, 20NY)
T570 (Type 20H9,20HA)
T570 (Type 20JW, 20JX)
T580 (Type 20L9, 20LA)
T590 (Type 20N4, 20N5)
X1 Carbon 5th Gen - (Type 20HR, 20HQ)
X1 Carbon 6th Gen - (Type 20KH, 20KG)
X1 Carbon 7th Gen - (Type 20QD, 20QE)
X1 Carbon 7th Gen - (Type 20R1, 20R2)
X1 Yoga 2nd Gen (Type 20JD, 20JE, 20JF, 20JG)
X1 Yoga 3rd Gen (Type 20LD, 20LE, 20LF, 20LG)
X1 Yoga 4th Gen (Type 20QF, 20QG)
X1 Yoga 4th Gen (Type 20SA, 20SB)
X1 Tablet 3rd Gen (Type 20KJ, 20KK)
X280 (Type 20KF, 20KE)
Yoga 370 (Type 20JJ, 20JH)
X380 Yoga (Type 20NN, 20QN)
X390 (Type 20Q0, 20Q1)
X390 Yoga (Type 20LH, 20LJ)
P51 (Type 20MM, 20MN)
P51 (Type 20HH, 20HJ)
P51s (Type 20HB, 20HC)
P51s (Type 20JY, 20K0)
P72 (Type 20MB, 20MC)
If you have one of the above ThinkPad laptops and are experiencing issues with your USB-C ports, then you can install driver and firmware updates that should correct the problems. Head to Lenovo's support page (opens in new tab), on which you'll find downloads for the firmware and driver updates at the bottom. If you still experience problems, Lenovo recommends you contact technical support for additional assistance.
Dan Thorp-Lancaster is the former Editor-in-Chief of Windows Central. He began working with Windows Central, Android Central, and iMore as a news writer in 2014 and is obsessed with tech of all sorts. You can follow Dan on Twitter @DthorpL and Instagram @heyitsdtl.
Windows Central Newsletter
Thank you for signing up to Windows Central. You will receive a verification email shortly.
There was a problem. Please refresh the page and try again.