Update: Luma Arcade, creators of "The Harvest", restructuring, still alive and well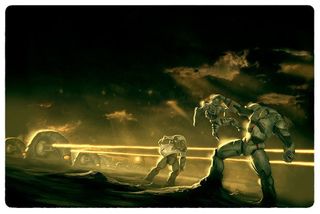 Update:
Sam Williams, GM or Luma Arcade, has posted the following comment clarifying the situation:
Long time followers of Windows Phone will no doubt be familiar with The Harvest. It was one of the first XBOX Live games for WP7 and is rather stunning. The company behind it is Luma Arcade (opens in new tab), who are the largest (opens in new tab) game design studio in South Africa. They are based in Johannesburg, South Africa, and are a part of Luma Studios (opens in new tab).
Unfortunately we have received a tip that recently Luma Arcade has made the decision to close up shop close the South African office. The decision was a financial one, and it looks like it came down to them not being able to make enough money to continue operations. This is only Luma Arcade South Africa though (and possibly just the dev team), not Luma Studios or Luma Arcade USA which are both alive and kicking.
Before anyone gets the wrong idea here, their situation is not caused by WP7. They have only developed one game for the platform, and that game was sold to Microsoft. The majority of their work is on other platforms such web, iPhone (opens in new tab) and Android (opens in new tab) gaming development. Details are still sketchy, and until we hear official word, there is not much more to go on.
The Harvest was a great game, and it's a pity that they did not get a chance to develop more for Windows Phone. We contacted Andre Odendaal, who is a part of Luma Arcade, but he could provide no comment regarding this. We've reached out to Lumia Studios but haven't heard back from them. If we hear anything, we'll pass it on but for now, we'll keep this filed under rumors.
Windows Central Newsletter
Get the best of Windows Central in your inbox, every day!
That's sad, if it's true that is.

It's a pity, the Harvest is really a great game. So, let's add it to our loooong list of WP7 app/games that went unsupported :/

The Harvest was the best Xbox Live for WP title at the time of its release (IMHO) & definitely would still holds its own with some of the best WP games today.

Spell check lumia arcade lol

I hope this is just a rumor. The Harvest is a great game.

Yea I was hoping for a sequel but I guess not lol.

This game would have been even better if they made it co-op multiplayer or even say head 2 head u vs a friends mech. /sad

Hi Matt, I'm General Manager and co-owner of Luma Arcade. We have indeed begun the process of winding down operations for our current office in Johannesburg. However, our team and production capacity are alive and well. Closing our Johannesburg office is not a decision taken lightly of course, but as more and more of our best production capacity has come from our team in the US and outside South Africa, we've restructured to accommodate working with South African staff directly from our US parent company (which is not a part of Luma Studios) rather than through our South African subsidiary (which also, was not a part of Luma Studios). We're hopeful that this restructuring will provide a healthier, more productive working relationship for the talented team that remains based in Johannesburg, and put us the best position possible to grow our fantastic talent pool further and keep making great games like The Harvest, and our forthcoming iOS / Android title, Bladeslinger. Stay tuned, Luma's not going anywhere. If you have any follow up questions, feel free to email me directly (sam.williams AT lumaarcade.com). And in the future, we have a general email for inquiries about the company (info AT lumaarcade.com). Should be helpful for looking into rumors before posting a story in the future. Thanks, Sam Williams
GM, Luma Arcade P.S. We're glad to hear you're a fan of The Harvest! It's one of our favorite IPs as well and is, in fact, owned by Luma Arcade, not by Microsoft. Microsoft Game Studios was the publisher of the game on Windows Phone 7, and we are currently evaluating coming back to the IP for an introduction to gamers on new platforms.

@goldenpipes - We agree! Stay tuned for details, but if we come back to The Harvest soon, we're thinking the same things :)

Thanks for clearing the misleading headline up, Sam :)

So glad to hear that Luma is alive and kicking! Actually, given all the buzz I've heard about Bladeslinger, I wouldn't be surprised if the company is growing rather than shrinking.