Lumia 520 goes to Canada, samples the maple things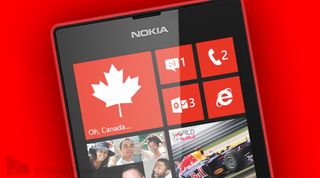 Oh, Canada! If you've been looking for a way to hop onto the Windows Phone bandwagon for cheap, then look no further than your local Rogers, Koodo, or Telus store. Nokia has announced that these three Canadian carriers have just picked up the Nokia Lumia 520.
The ever-affordable Lumia 520 is available starting today on Rogers for free with a three year contract or $199.99 outright. If Koodo is more your flavor, the 520 official launches there on May 9th for $150 without a contract or free on contract (though in reality you can already order one). And if your carrier of choice is Telus, you'll be able to pick up the 520 for $149 with a pre-paid plan.
As a refresher, the Lumia 520 comes with a 5 megapixel camera, a dual-core 1 GHz Snapdragon S4 processor, 512 MB of RAM, and 8GB of internal storage (augmentable with a microSD card). This is all topped with a 4-inch 480x800 IPS LCD display (with handy Super Sensitive Touch for gloved smartphone use in the Great White North), though all three carriers will only be carrying the Lumia 520 in black. If black isn't your color, the 520's back is removable and can be swapped out for a different one - white, red, and yellow will be available in stores (though it seems the blue we've seen won't be). And, of course, all of the Nokia custom software is on board, including Cinemagraph and the Nokia HERE collection of apps.
So what do you think, Canada, is an inexpensive Nokia Lumia 520 on Rogers, Telus, or Koodo just the Windows Phone you've been looking for?
Source: Digital Journal
Get the Windows Central Newsletter
All the latest news, reviews, and guides for Windows and Xbox diehards.
Derek Kessler is Special Projects Manager for Mobile Nations. He's been writing about tech since 2009, has far more phones than is considered humane, still carries a torch for Palm, and got a Tesla because it was the biggest gadget he could find. You can follow him on Twitter at @derekakessler.
It's not the phone I'm looking for (have L920) but it's always good news to see more Windows Phone models available from more carriers. Now, if only the L920 was available from more than just Rogers...

It's so frustrating that the 920 is the only exclusive flagship in Canada. Any other OS flagship can be found on Bell, Rogers, or Telus. On that note, Bell better start offering Nokia Lumia phones and future flagships.

+1
One of the most frustrating things on Canada has always been exclusivity offered to one of the big providers. I understand the truckloads of money involved here but Nokia needs penetration into markets... Get the most options for phones you can into the most carriers offerings. Right now I can get L920 from Rogers or the L620 and L520 from Telus.... That's pathetic. I should be able to get every L520/620/720/820/920 from EVERY carrier. Nokia, make it so!!!

Love how they are moving to so many markets so fast. Good news!

Those are some weird carrier names.

what is weird about them?

Verizon, T-Mobile, etc. aren't weird for you? These are carrier names, not person/human names.

He's missing hearing the rest correct me if I'm wrong. There are... wind, moblicity, vergin, fido, sasktell, bell, .... There's one more I think it eludes me this second..

PC Mobile (through Bell network)

What is their inventory status? They sold out on HSN and Walmart.com here in US in a short time, still not in stock. If you want to sell in huge numbers, better have it in stock. Not sure how difficult it is to plan stock for a potential huge demand? Nokia has failed on this front every now and then, which is sad to see.

They don't want to have units resting in shelves like what happened with the L900... I prefer this strategy (in a way) where there is a lot of demand and they keep running out.. Its safer for a company in the financial situation of Nokia

Its risky pushing lots of customised 521 units in USA market where demand has been low for Nokia and WP But they can push as many standard 520 units as they want all over the world specially in unlocked markets.

$49 more on Rogers takes this out of the super cheap range. Rogers should move it to their budget carrier Fido and match Koodo (Telus) for price.

true...but if needed just buy from Koodo and unlock for $20...still gonna be cheaper than Rogers:) But they should do the same as what Telus did with the 620. free on a 2 year contract.

Rogers will match the price of any competitor. Their recent ads are all about this...not sure why they didn't just put it at that price to begin with...

Is this LTE? I think I would prefer to grab one of these for my wife and I take back her Samsung Ativ for the days I want to switch it up a bit.

Nope. HSPA+. A really great phone though. But...for $100.00 more, you can get a L620 on Telus, which while only being a 3.8" screen, is a better phone with more features. But really...it is GREAT to see this quality low cost Nokia handset come to the major carriers here. Exposes our platform to a lot more potential customers. Go Nokia! ☺

Do any of them have AWS Frequency

If i buy outright from kudoo will it work on rogers network??? save 50$

Or just get Rogers to match their price, as they advertise.

They did the pre order here in Indonesia. And it's sold out in 3 days. With 5 days of pre order remained. They sell it for $200 but in pre-order we got $50 discount. I ordered 1 at the 2nd day, and it only black one remained.

why 199 on rogers..ugh I really wanted to pick one up.

I just got my 521 from Walmart for $129 to replace my HTC Radar. I was using the Radar as 4g hotspot on my 920 and I was getting 6mb/s at home and 8mb/s in my office but the 521 gets 9mb/s and 14mb/s respectively on the T-Mobile network. Apart from the camera, wireless charging, Nfc and Dolby surround, the phone performance is very close to the 920 and I'm very happy with it. I recommended it to six of my friends who need phones for their wives and children but only 2 of them could get it, apparently they were sold out in all the WalMart stores near us in Columbus.

The customers better buy it outright, because you really gotta be fool to take this phone on contract for the next three years lol

I wish Wind or Moblicity would pick up the 521

in india..(new delhi) i bought my 920 from a nokia shop on 17jan ..the day it came out in india ....anyways i went their again yesturday and they said since then they have sold about 20..920s.. 50 820s..no 720 ..50 620s...and they sold 300 520s ....this is 1 shop i am taking about ..1 shop

Wanted to see the 720 coming to Rogers not the 520 myself.

Does price matching with Koodoo which is selling for 150 there apply? here Would Rogers recent price matching announcement work on outright phone purchases?

just grab it from Telus or Koodoo and unlock it would be my suggestion:) or phone up Rogers and say you're gonna go to another company because of the price and see what they can do for you:)

Possibly buy it or the 620 on pre pay for my gf.

Definitely getting this for my wife

They need go make more phones AWS band IV compatible to sell on Wind and Mobilicity. These are the carriers that are capturing a lot of the first time smartphone market. They would have better luck with the first time buyer than convincing someone to switch.