The Lumia 535 dominates Windows Phone usage and Windows 10 Mobile grabs more new users in May
The May numbers from AdDuplex are coming out this morning and with a few notable trends and observations with the Windows Phone community.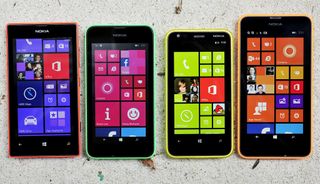 As always, the AdDuplex numbers are collected from 5,339 Windows Phone apps running on thousands of phones and reveal statistics within Windows Phone market share.
The most significant remarks about May's numbers center around the continued trajectory of the Lumia 535 and the increased growth of Windows 10 Mobile, as early-adopters try out Microsoft's forthcoming OS.
Global OS and brands
Starting out on the global level and a few notable trends can be observed in Windows Phone users.
75% of Windows Phones are now Windows Phone 8.1 or higher
Windows Phone 7.x and 8.0 usages are dropping (2.3% and 1% respectively)
Windows 10 Mobile increased 1.6 percent from last month, making up a total of 2.3 percent of Windows Phone users today
Out of that data, the decrease in 7.x and 8.0 users is the least interesting. As people give up their old hardware in 2015, it makes sense to see those older systems depreciate. It is doubtful that many users are still upgrading to 8.1 this late in the game, so we are likely just looking at churn rates for hardware.
The increase in number of Windows 10 Mobile users from last month is more fascinating. Considering that the preview OS is still rough in many areas, it is surprising to see over 2 percent of users utilizing it. This number bodes well for the Windows Insider program, which will only grow stronger as Windows 10 Mobile becomes more refined and polished in the coming months.
At Microsoft's current rate, we give the Insider program at least another two builds before Windows 10 Mobile is stable enough for more mass adoption.
Finally, in terms of manufacturers, Nokia/Microsoft are now at a massive 96.75 percent of all Windows Phones, a 0.21 percent increases from last month. The "Other" category is also growing, albeit subtle at just 0.04 percent for a 0.46 percent total (and finally passing Huawei).
HTC is still second with 1.69 percent and Samsung is in third with 0.74 percent of total Windows Phone share.
United States
The U.S. has not seen much in the way of new releases. However, the Lumia 635 continues to be a very popular phone with a 3 percent increase from last month. This surge brings the Lumia 635 to a fairly substantial 30 percent of all Windows Phones in the States , taking share away from the aging Lumia 520 and Lumia 521 (who dropped by 1.4 percent).
Indeed, for May 2015, the Lumia 635 is officially the most popular Windows Phone in the United States by some massive margins.
Will LG's new Verizon Lancet phone make a dent next month? We highly doubt it as neither Verizon, LG nor Microsoft are actively promoting that device.
Finally, AT&T is still the largest US carriers for Windows Phone users with 33.8 percent. However, Cricket is not too far behind with 21.5 percent of the Windows Phone market in the US, beating out T-Mobile and Verizon. This fact reinforces the budget-friendly/pre-paid market that Microsoft has been angling for in the last year.
India and the Lumia 535
This month, the Lumia 535 has finally outpaced the Lumia 520 as the most popular Windows Phone in India. The Lumia 535 gets a lot right in terms of pricing and specification, and it seems to be resonating very well in India's challenging market.
UK dips in Lumia 530 and Lumia 630 users
Although the Lumia 535 is also seeing some growth in the UK, it looks to be coming at the expense of the less impressive Lumia 530 and Lumia 630. Those devices have both seen some minor drops in usage since last month, which bucks the trend of most countries.
The Lumia 635 and Lumia 520 models make up nearly 30 percent of all Windows Phones in the UK with only 5.4 percent usage for the high-end Lumia 930.
Early conclusions
May's numbers for Microsoft's Windows Phone do not reveal any earth-shattering trends. The Lumia 640 and Lumia 640 XL are still rolling out to various countries, including a delayed release in the US. As such, it is much too early to know if those phones will resonate with mass audiences.
On the low, low end, we have the Lumia 435 (now on T-Mobile), but this device also seems like a slow burner for now. LG's Incite on Verizon is seemingly senseless as a re-entry point for the Korean firm, as no one is interested in promoting or even talking about it.
Windows 10 Mobile will not pick up steam until later this summer and especially in the fall when new flagship phones begin to emerge from their development. Until then, focusing on emerging markets, budget phones appears to be the continuing trends for summer 2015.
Check out the AdDuplex blog tomorrow when all their numbers are released publicly.
Windows Central Newsletter
Get the best of Windows Central in in your inbox, every day!
Daniel Rubino is the Editor-in-chief of Windows Central, head reviewer, podcast co-host, and analyst. He has been covering Microsoft since 2007 when this site was called WMExperts (and later Windows Phone Central). His interests include Windows, laptops, next-gen computing, and for some reason, watches. Before all this tech stuff, he worked on a Ph.D. in linguistics, watched people sleep (for medical purposes!), and ran the projectors at movie theaters because it was fun.
Windows os.. The next thing

Daniel is still around?
Not much writing from him recently.

WTF, no 735 showing anywhere? Its one of the bets phones / $ in the Lumia range. Gees consumers are weird :)

May be because 735 have not been released yet in US carriers

It's not consumers my friend , its about Microsoft , its not spreading the 735 well

Windows 10 will be best trending OS, and will be most advanced...

Now, how can that happen with horrible marketing❓

Hahaha XD USA still growing on 635 and that's the very much reason it seems ppl ain't to much familiar with the new launches of 640 and XL about to make there way there .!! I think ppl buy windowsphone there bec. Of low price tag as there was article before on WC regarding that 60dollar phone at Walmart .!! Huge marketing is needed too boast better devices there

lol, ppl there don't buy windows phone bec. of low price ,there are very gud priced android devices also Moto g is only 45$, LG tribute at 40$ and 640 will be launched for 100$ and price will come down to 50$ eventually

I have a dream.......
One day, we all pals get Windows 10 Mobile update via a holly app called "Preview For Developers"

Oh! We share the same dream xD

Waiting for that to happen.

Got Windows 10 TP running on my daily driver, Lumia 635. Not as bad as I thought it would be, everything I need works enough to keep using it.

Battery life is fairly good on my 925. Not perfect, but nothing to sniff at considering the age of the device.

I wish my mms would work and I would use it too. I like the design of it. Dont mind wiating a but for apps to load and stuff. But cant send group messages. I dont know why my friends dont use a messenger more but they sms to each other. =/

If the app is available in your country, get the GroupMe app from Microsoft. That should fix the group messages issue for you.

Wow. Will Windows Phone ever have a flagship device ever dominating the highest usage(or even coming close to it)?

You kinda need a flagship before one can be at the top of the charts.

For me, it was the fact that it didnt exist on my carrier. Its not enough to have a flagship, you need a flagship everyone can purchase.

Ummmmm, it doesn't matter how high end your device is.. If you don't market it correctly nobody will care.... Nobody will know...
.......
And, these guys are right.... Having your device readily available on multiple carriers is part of good marketing...

In five years, never. Only Lumia 800 came tiny bit close.

@salmanahmad
Lumia 930 is the flagship device. By far the best phone.

No, that would be the almighty 1520..

The Lumia 920 was at the top of the heap until the 520 came along. Once the 520 kicked off, the 920 and its variants (925/928) were still #2 for quite a while. If the Lumia Icon had been an AT&T device, it would have seen great penetration in the states. It was a mistake to make it a Verizon exclusive, as there was no upgrade path for Lumia 920 users, myself being one of them.

In the US, they need to learn how to release a phone on all carriers first!

This absolutely has to happen.

No platform has ever had that. The budget will always sell better.

The thing that's most interesting to me is that an increasingly large majority, about 70% give or take, of Lumia users have 512MB devices. No wonder people used to bitch about app/game reviews not mentioning when 512MB is not supported. I hope MS at least increases their low end to 1GB. It's sort of ridiculous at this point.

After my Lumia 830 got bricked by the official app to revert my phone back to WP 8.1 from Windows 10, I don't know, guys with other WP wich phone can be use as a replacement? I was thinking about a 640xl, but I hope I can't be bricked as my 830 was. Any ideas?

Take the phone to Microsoft store. Tell them the phone was updating and it now doesn't work. (don't tell them about WP10). If you bought it from Microsoft, you will get a free replacement. If you bought it elsewhere, you'll get a replacement for $100.

Second hand phone, doesn't have guarantee at all, cost me $200. So it is a total loss, that's why I am looking for a new one, but can't wait for the 940

The recovery tool was updated recently (I believe it was yesterday). It now allows you to revive a phone that was bricked due to the app. Try it out and let us know. I hope you're able to bring your phone back to life.

Here's the source: http://www.neowin.net/news/windows-phone-recovery-tool-receives-several-...

Yeap, was updated last friday, it's version 2.10, it bricked my 830.

Yeah, I know, it's a rare brick, the partitions are damaged due the error this app made so it can't be recovered through comand prompt as other user can, so I am very stuck here, the official tool can't fix it yet and the hard way is not an option right now. :(

Me too. I hope that 740 would have 5" screen and premium mid-range design like 720.

O My God... I had a dream. That I'm using windows 10. :P

Interesting, bb had so much of the general market. Samsung has most of the WP market early on. Phones are a fickle industry. MS is right to just push their services, but I do love me some WM.

Hey, remember when Windows phone would fail in India because people care so much about the Nokia name that they would instantly reject any Microsoft-branded phone? No way it was about the value of the phone... Nope.

Yeah, that seemed to change a lot with the 535.

Who cares about Nokia brand anyway?
For WP it was (and still it is) massive liability.
MS slowly but surely are repairing the damage.

Microsoft got 96% WP market share because of Nokia

If it wasn't for the Nokia brand there wouldn't be a Windows Phone for you to talk about. Posted via the Windows Central App for Android

Funny enough, in the US where Microsoft keeps licking the balls of their users with exclusive deals and services, not a single Microsoft Lumia is found. I'll leave the Indian thing for Indians to answer you. In Europe I don't see any boom of ML's. And even in India, with the plethora of ML devices already out, only the 535 is seeing any growth. Posted via the Windows Central App for Android

It's ok on L1320, so I don't know what your problem is.

Same to my Nokia Lumia 1020...

You all can thank me now.

I will thank you when I am using a 1040!

Still waiting to test out Windows 10 on my HTC 8X.

Purchased like 6 Lumia 535 for friends and just purchased two more,best budget phone period

Touch screen issues?
I've tried few demo units in different stores and ALL have issues.
Is it fixed now? If yes how to check in advance? Any batch, manufacturing dates to look for?

My friend got 640 for him. He's happy

WP in India is making real impact.. I can see a lot of Lumias in trains, bus, college etc
And some used to say MS wont be able to sell Lumias without Nokia branding in India... But they are wrong.. The name 'Lumia' is becoming more familiar as a quality product just the way it was working for Nokia in India

True that... Every now and then I take a peek to see what phone someone is using,I get pleasantly surprised at how many Windows Phones are out there.

Yup..i have seen a lot as well..730s, 720s, 520/525s..some 830s as well

This is data from ad-supported free apps, right? Budget conscious people skip paid-only apps, perhaps? Free apps are more frequently used bt budget-phone owners. When are Lumia 930, 1520, etc, going yo dominate in free app usage if their owners enjoy paying for ad-free apps?

Yep, that's a very good point. Unless AdDuplex track the phone even when their ads are not shown, though I would expect that to depend on the developer's implementation.

You bring up a good point except for this: "Free apps are more frequently used bt budget-phone owners." How can you possibly support this? It may seem like the most obvious conclusion but people put value in different things. Some pay for something cheap but then spend a shit load on accesories and software, because that's something they can use with their next phone. Some spend all their money for something expensive and then have no money left to buy software or accessories so they seek out free ones.

Microsoft at 97% of all Windows phones!! I really think Microsoft should go the Apple way and stop licensing its Windows Mobile platform to other phone/tablet manufacturers and start pushing its own products and make the latest and greatest phones/tablets with massive advertising, because other manufacturers already know people are most likely to buy Lumia anyway so why make Windows phones.

totally agree with you , Microsoft should only make a budget, a mid ranger , and high end , smart phones , it's messy right now with all those 430,435,530,535,540,630,635,640,640 xl,730, ,830,930 Microsoft pls stop laying these many eggs ,and pls plan ur Lumia family right

That would be epic! It'll be my kind of world! I would love to see windows phones as Microsoft's only.

There might be an error with these figures. More often than not since I updated to windows10 mobile, google sees my logins as if they are from an android device. Today, I also noticed that my sign-ins to Gmail were showing as from a Lumia 530 dual sum whereas I use a Lumia 930

These are not from websites, they're from native apps that can see the true device details rather than the fake ones presented to websites.

I'm curious to see the carrier graph. Sprint must have a real low share but they do carry the 635.

I love my 640XL. Best phone I've ever had. I have had iPhones, Samsung S3, Lumia 925, and other flagships. I love my mid budget 640XL.

whoa, am I missing something or yes there is no 930 on the chart??

Please bring Chrome to Windows Phone, its nice too have a variety of web browsers to choice from maybe Firefox as well.

there are many browsers available for WP best among them is SURFY ! Its a multitalanted feature rich browser.. ... UCBROWSER and MAXTHON are another choices !

I'm surprised to see the 535 doing so well. It must not be as bad as all the negative commentary suggests. My phone the 635 is still on top. Not surprising at it's incredible price. Well that will change soon when the 640 gets a wider release.

I've said this before and I'll say it again, "that title pic is cool".

I don't care about it anymore soon moving to android because of the quality of apps, I can't bear the wp torture anymore, I buy Lumia because of Nokia and now Nokia is dead so why should I care when Microsoft is no caring about the basic need of customers
1. No call recorder and it was present in win 7.5 phones
2. Fb and fb messenger worst aap
3. Native music aap
4. No change in user interface.
5. Can't keep the network on wcdma mode manually.
And many other things now I feel nothing will gonna change here

Most Welcome! Please leave. As fast as you can. I hope you dont come back in the future.

Not the most accurate of headlines, eh Daniel? In fact it's downright inaccurate and misleading and something both myself and other readers expect from lesser sites.
This has been picked up already by the likes of Paul Thurrott and will be upheld as poor reporting by WC.
May I suggest amending the headline to something more accurate?

shitty fuck ,I'm addicted to smartphones, I'm selling my Lumia 635 and getting a basic phone, smartphones destroyed my concentration ,

Try alcohol instead, and keep the Lumia.

Have windows mobile 10 on my HTC one m8 and its crappy but still using it regardless. Love the new features and new music app. The last music app sucks

A friend let me check out his Lumia 640 from Cricket today. It's a very nice, well designed phone with a great looking screen. It's going to be a popular device!

Lumia 535! We rule yeh! :)

How about the Screen issue with the 535? Is it fixed yet ? Thanks

ist is fixed since long via software updates !

How does WP7 (2.3%) still have a higher market share than WP8 (1%)? It's time to stop living in the past people. As far as the 635 being the most popular device in the states, I bought four for family members, trying to get them to switch over from competing operating systems ("I'm doing my part.").

okay .. I've only one problem with my Lumia 535...it doesn't have static IP addressing.. will windows 10 upgrade brings the static IP addressing... It's really needed for my @ work ... Thank you..
Windows Central Newsletter
Thank you for signing up to Windows Central. You will receive a verification email shortly.
There was a problem. Please refresh the page and try again.