Verizon's first Windows Phone of 2015 is the LG Lancet, now available for $19.99 on-contract [Update]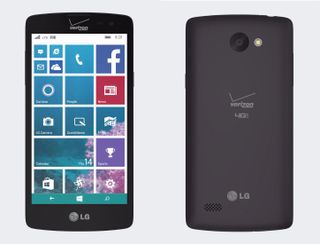 Update Verizon is now showing that the on-contract price for the LG Lancet is just $19.99 as a special sale price, rather than $69.99.
Original story: Yesterday, a rumor suggested that the Verizon-bound LG Lancet would be available starting May 21, but it looks like the carrier decided to pull the trigger on the phone ahead of ahead of schedule. The Lancet is now up for sale from Verizon for $69.99 on a new two-year contract and $120 outright. If you're looking to go with a monthly payment plan, you can grab the handset for $5 a month for 24 months.
Targeted at the entry-level segment, the Lancet includes features normally found in LG's Android-based models, such as KnockOn, through which you can double tap to wake the screen, and Gesture Shot, which allows you to automatically click pictures from the front camera through gestures. Here's a list of the hardware that's on offer with the Lancet:
| Category | Specification |
| --- | --- |
| Operating System | Windows Phone 8.1 |
| CPU | 1.2GHz Qualcomm Snapdragon 410 (MSM8916) |
| Display size | 4.5-inches |
| Display resolution | 854 x 480 |
| Internal storage | 8GB (4GB usable) |
| microSD card slot | Yes (microSDXC compatible) |
| Dimensions | 5.11 in x 2.55 in x 0.42 in |
| Weight | 143g |
| Battery | 2100mAh |
| Rear camera | 8MP (1080p video recording) |
| Front camera | VGA |
| Network | CDMA LTE |
| Wifi | 802.11 b/g/n |
| LG features | Knock On (double tap to wake), QuickMemo, Gesture Shot (front facing camera only), Soft Light for selfies (front facing camera only), Live Shot (LG camera only) |
Verizon is also set to launch the Lumia 735 shortly. Based on the specs and the asking price, what do you guys make of the LG Lancet?
Buy LG Lancet from Verizon (opens in new tab)
Thanks 3earnhardt3!
G4 or G3 would be nice with WP on board

For that to happen, LG needs to see success with the LG Lancet. And I'm pretty sure it will have success once it gets the Windows 10 Mobile upgrade. As you know the new Mobile OS will allow Android or iOS apps to run as they are on Windows (for geeks is just a compiler tool which allows iOS and Android code to convert to WP executable code, this is how Candy crush was brought as an iOS app to WP platform, they didn't had to code it using .NET api's) I'm sure when LG sees that customers are happy using the latest Facebook, Instagram, Snapchat, Pinterest, Reddit, Twitter, and other important apps on Windows, they will launch a flagship with WP on it. This is also going to be positive for carriers like Verizon since they will get exclusive deals to get LG flagships on Verizon with Windows.

Dear Gabriel, to your dissapointment this phone will never sell above 100.000 units and if LG wants to have an excuse to stop making Windows phones again then they will get it.

I don't think they'll sell even half of that. There are lots of low/mid-Lumia phones better than this if some one wants to try WP

But are they on Verizon? That's what everyone is missing. The Lumia 640XL or Blu HD LTE or the Lumia 640 are awesome, BUT YOU CANNOT USE A PHONE ON VERIZON UNLESS OT WAS DESIGNED FOR VERIZON. This phone fills a Verizon niche that has been entirely unfilled up until now: an inexpensive Windows Phone that works on Verizon's network. So whatever you think of the phone, it has a right to exist. This is Verizon's Lumia 520 or 635, and LG has shown that they care at least a little because they've ported some LG android features to it. So good on them!

I was thinking of picking one up to use on ATT because most Verizon phones are unlocked, I agree its nice to have something other than a Lumia, My first WP was a Samsung...

8gb sucks, take a few photos and videos, install a few apps and it's full.

At least it doesn't have snapdragon 200

Better get a Lumia 640 for $129 from Cricket Wireless.

I agree. However that doesn't help Verizon customers wanting a low-cost Windows Phone.

And yeah. Funnily enough you get an HTC One M8 for $100 on contract from Verizon only. This should've been free on contract.

It's $120 off contract. No-one in their right mind should buy this on-contract.

I'll bet you 5 dollars that this phone will be free on-contract within a month. The current contract price is a rip-off.

Yeah after they keep it in the store room and cancel it, the fire sale will begin and they'll drop support

"Icon" definitely understand where you're coming from with that statement! lol

I see what you did there....

Yup, but our Icons are still best WP out there, over 1+ years on market.

Nope disagree, I think that it's the 1520

This guy knows what he's talkin bout

Exactly! like your comment.

Just clicked the link to check out out and it's already on sale for $19.99 for two year contract. And so it begins.

Weird pricing for a cheap phone. Verizon "subsidy" rates usually cover around $360 for the 2 year contract term. So this phone should really be $0 up front cost. Shows how much profit Verizon makes from their subscribers.

the 735 is gonna be the better choice for a budget phone but it will probs cost more

I hope the 735 comes soon as that's what I plan to give my tech.

Snapdragon 410 there.....

Good battery too, 2100mah for 4.5inch screen!

And only 480p! This thing probably gets 2 days of battery life.

look like, it will give Awesome battery backup. Good Spec for 120$

Probably more. My 830 gets 2 days of battery life.

At 4.5 inches this will be a horrible screen to be subjected to on even an occassional basis. They couldn't at least get a 960*540 screen in it? At that size, it desperately needs at least that.

Read the article completely?

Is this guy for real? Lololol seriously LMAO

Now they'll get poor sales for this poor handset and then both LG and Verizon will blame Windows phone. Same old story repeated by every Windows phone OEM.

Exactly! Where is the advertisement for this new phone? It's like Verzion doesn't want to sell Windows Phones at all. They splashed Samsung Galaxy S 6 and Iphone all over their front web page, yet, where is the advertisement for this brand new phone? Reply with a link when you find the advertisement page on Verizon's web site for this BRAND NEW phone!

The S6 and the iPhone 6 are the flagship devices of their respective companies. This is just a budget phone, which is logically never going to get the same amount of promotion. I'm sure the flagship Windows 10 phones will receive much better advertisement, though how much of course remains to be seen.

Even low budget Android devices get front page advertisement on Verizon's website when they were first released. Why not a Windows device?

Because US carriers DO NOT LIKE Windows Phones!!!

Source (not speculation or conspiracy theories)? Then again, given how poor Windows Phone sells, can you blame them? Carriers are businesses. They tend to like things that sell, and dislike things that don't. How much money do you expect them to lose just to make you feel better about your platform choice, when they can make more carrying other devices? I don't think the carriers dislike a platform. They will sell whatever sells and makes them the most money. What they hate is to carry devices that don't move and become dead weight in the storage room. This is why they have gotten to the point where they just discontinue devices that don't sell and keep older models in stock and deeply discount them for those people who may want to try that platform. It sucks for those who want flagship Windows Phones, but going by the numbers there aren't enough of those people to really drive carriers to give the platform the type of exposure that iOS and Android get. Blackberry is in a similar position. I am not sure why the carriers get all the blame nad starring roles in your conspiracy theories, when the blame should be placed solely on Microsoft and Blackberry for being mollasses slow in reacting to market forces, half a decade ago. They made this bed for themselves. Even then, I'm not unsympathetic to your position. It is frustrating. I was planning on getting an Icon but it got discontinued and ended up going wiht the iPhone, and have no plans on considering future Windows Phones becuase this was the last time I was willing to switch ecosystems. I've lost too much money platform hopping already, across literally 4 different platforms on numerous occassions, and I'm tired of buying new phones every 9-12 months as well.

Actually when I went to the Verizon site just now it was the first thing in the top banner

Link? Not seeing it. http://www.verizon.com/ Only 5 items in advertisement banner: 1) 10GBs Data for $80 2) Droid Turbo by Motorola 3) Join Verizon get $100 bill credit 4) Samsung Galaxy S 6 5) Stay connected with iPad mini 3 NOTHING about this phone, not even on the "Latest DEALS" or "Smartphones" listings on this page.

LG sells more Nokia and Microsoft phones together, but the issue is they run Android. But know that Microsoft allows mobile app giant companies to port their Android app to WP without having to hire specialized .NET developers this is going to be huge and all the app ecosystem issues of WP from the past will be gone.

Nice price. I hope that we're gonna see this phone outside US as well.

I think the price is pretty bad actually. $69 on a two year contract is an insulting offer when you can easily get actual flagship phones for that much or less on a contract. Heck, you can get the Lumia Icon for 1 penny off Amazon! I don't think the $120 full price is a good price either considering how cheap we see some Lumias and Blu models. But I guess that might be the best (only??) budget windows phone you can get on Verizon at the moment.

Agree completely, an on-contract price of anything more than free for this level of device is guaranteed not to sell.

You people continue to miss the fact that this is the ONLY BUDGET WINDOWS PHONE THAT WORKS ON VERIZON. The Icon is no longer being sold, the HTC M8 for Windows is a flagship phone at a flagship price. The $120 no contract price is an excellent price for someone who wants a budget Windows Phone on Verizon.

My dads contract is up for renewal and I'm unsure if I should have him get this or wait for the 735, or maybe just go with the older HTC One M8... Hmm, decisions.

Obviously go for the One M8.

How pityfull, saying M8 is the best device fow WP wherear M9 is available on Android...That clearly states how far behind this OS is =(( 2nd class OS

Reviews on the m9 why that great

Yeah, but he needs a Windows Phone, he's not good at learning new OSs, trust me! But the One M8 seems like the next best thing, and is still an overall upgrade from his current HTC 8X.

Have to go with them, M8 is best end device they have currently.

Lumia 930 or just wait for the new Microsoft phones :)

Is it the first or second 64 bit wp?

The Blu/Kazam phone that just launched also has the 410 CPU

I think the OS is still 32bit

That's what the point is when a company says Windows 10 ready.

Doubt it, because ALL WP8 devices are "win10 ready". Probably more about marketing. You know, to let people know that it won't be WP7 situation all over again.

You have to admit...if that happened with the current Gen of phones, it would make for some entertaining posts....

Seems odd that they would release this and the 735 - similarly spec'd devices. Will be anxious to read a review, particularly on camera quality, but would be inclined to wait for the 735 to upgrade my parents from their 822's.

How are they similarly specced?
735 vs Lancet 4.7 inch screen vs 4.5 inch
OLED vs LCD
HD vs 480p screen
6.7 mp rear camera with Zeiss lens vs 8mp
5mp ff camera vs VGA The 735 is clearly a winner. There should be no comparison between the two.

The 735 is clearly a winner. There should be no comparison between the two.

Depends on the price for me. I'm looking to replace my wife's 822 and since I still have her on an unlimited plan, I'm not buying on contract. This is only $120, if the 735 is around the same price, yeah, it's a better phone, but if it gets up to around $200 or more, then no way it's worth it. Plus the LG isn't using a last gen processor.

Similarly spec'd? I feel like the 735 is much better. Better screen, ffc, and most likely rear camera even though it has less mp.

No, not much better. Besides screen, and FFC. The Lancet is better. That Snapadragin 410 has more performance, more optimization and will have a longer shelf life than the Snapdragon 400. You should get better performance on the Lancet because of the lower resolution coupled with the Quadcore 64 bit processor. The Lumia 735 won't much better besides having Nokia on the name.

735 is better by a wide margin. Better display, screen size, sensors!, camera, software (Lumia vs LG). The 64-bit processor makes no difference when running 32-bit software. As for shelf life, they are both relatively cheap phones so in a year or two it won't matter.

Way off base ... SD400 (Cortex A7) SpecInt2000=420, SD410 (Cortex A53) SpecInt2000=600... nearly 50% more power. Also Adreno 306 vs 305, and a better LTE modem. Seriously, Microsoft should be ashamed of themselves for releasing an SD400 device a year and a half after Qualcomm unleashed the SD410.

They both have made different compromises to meet the entry level class, and, yeah, compared to an upper level device like my Icon or the M8, or even the Ativ SE, they are similarly speccd in that those compromises limit their utility in similar ways and they are targeted at the same user group.

Apples to oranges - you are comparing a $280 phone with a $120. As mentioned earlier, the specs are not the same.

Hope LG remains consistent with windows phone.

Not with Verizon every time

480p res? That's a downer.

There are pros with 480P. It will be blazing fast with 410 processor and better battery life.

Outright that is hopefully it unlocked

Remember the Ativ Odyssey? No? Exactly. #NeverSettle indeed.

if you're on a new contract get the icon on amazon for a penny!

Sorry my friend, Verizon stopped selling the Icon, and therefore the only way to get it now is straight -out buying it. Check Amazon. If this was true (as it was at one point) I would agree 10000%

good phone... we need LG G10 with WIndows 10

Lucky Goldstar. ...Nope. Their 1st name is Lucky, that's like buying a used car from honest John's auto.

I second this. When you say lancet to me or anybody around mw for that matter, we think laboratory services company.

VGA front cam? They could have made better.

Hey guys from windows central, I know this is off topic but can you guys create a post in regards to the Netflix app for windows phone, I can't believe after 5 months Netflix hasn't fix the issue to play on my phone. Check the store and look for Netflix app and you guys will see lots users complaining with the playback issue. Something about drivers error. I have Lumia 830 and I paid for Netflix and I can't even use Netflix on my phone. Thank you guys

You'd probably be better off e-mailing them directly...

If you turn on the app, get the error, restart your hone then go straight to Netflix...always worked for me...not pretty, but it worked. I have a 1520, the issue seems to have resolved itself...plus I'm thinking there was an update...

Whoops, something went wrong! That fix does not work. The problem is with phones running faux denim, like the 830. It's been going on for far too long.

My phone isn't running denim and its still giving me errors

This probably won't be upgradeable to Windows 10 due to the low internal storage space... So it is a useless device, not recommended...

Even the 530 is Windows 10 ready and it has got 4Gigs of storage

We​ll at least it got Snapdragon 410, and the rest of the specs are okay for the price. I welcome more brands to Windows Phone. Never wrong with more options. The size are fine to not all people want 5" inch big phones.

Actually not a bad price. This would be a good backup phone.

Actually it's 19.99 on contract, although if you have a 6 GB plan or higher the edge program they take $25 off your bill (even if your on less than 6 GB they still take $15 off) and on the edge program it only cost $5 per month, so you could lower your bill by $20 (or $10)

EDGE is month to month, right? The $15/mo discount is BYOD (or full term) pricing and $5x24=$120 so that seems about right. It would be silly to take a 2-year contract with any phone that has an off-contract price of less than $360.

Does it have 512 MB or 1 GB of RAM? I read the article, but at least at the moment it is not included on the specs here.

No ones going to buy it in USA. May be it could be a good sell in other coutries. Didn't know Verizon operates CDMA technology.

LG should releaae G4 for Windows

How many cores? It only has 8GB storage, why?

Because its a hundred twenty dollar phone.

My 1320 got only 8gb and its enough for me with sd-card...

Snapdragon 410 is quad core. They knew you were going to ask about 8GB storage so they put it there anyways.

Anyone know how much RAM it has? Also, whether it's one or half a gig, that price is pretty much perfect.

Bought one, just to run tp7 kicking it old school

Those specs are enough for a Windows phone. It won't lag. I would prefer a slightly better ffc

More than enough. With 1 GB, 410 and 480p it's gonna be swift

Oh you idiots in the US.. Stop accepting what all those providers do man! Abusing their power and all.. It's seriously sad

People in the US have become so used to buying subsidised phones..

The uninspiring trend of low end hardware continues.

Agreed. We need to see some exciting new high end hardware to liven up the market.. I don't need a cluster f*** of 30$ phones, I want more high end devices.

Glad to see another OEM join the fray. Options are good. May not be everyone's flavor, but it fits someone's bill. :-)

I thought LG wil release a windows flagship

Like to see actual photo of it because this render looks like a basic bitch

Do not get me wrong, but are you sure you are existed by this low end crap?! This is why WP lossing marketshare everyday! The longer it takes MS to release true flagship phone, the harder it will be to catch with other platforms!
Only MS cam do this! Forgeting about WP for about 2 years without flagship!

For some reason that phone looks huge, but it's only 4.5" (screen)

Great grandma phone. Battery will last with that low resolution. Its cheap. Not a looker, so slap a case on it. Wont have lag due to that 410 processor. 4.5 inch screen isnt too big for their hands. Grandmas would love this!

854x480, this means that the on screen buttons are not hide-able (just like on lumia 630)

As of this morning (May 14, 2015), Verizon has the LG Lancet on sale from $69.99 down to $19.99 with 2 year contract. http://www.verizon.com/smartphones/lg-lancet/ Wow! It hasn't even been a week and they are putting the phone on sale already!?

Today is the first day it is available to buy. It is likely just a new device promo price. No, it's not doomsday for WP like you thought.

Not doomsday. Just pointing out the lack of support. Where is the advertising for this phone? Not even on Verizon's front page on the web site. Low budget Android phones get advertisement on front page when released, so where is the advertisement for this BRAND NEW phone?

It should have never had a price. Verizon contract "subsidy" would cover the cost for three of these phones so they are already making too much money if the no-contract purchase price is $120.

Another good thing is: 480p display and 2100 mAh battery with Windows Phone, this phone has a pretty decent battery life. My 520 has the same resolution and a tiny 1430 mAh battery, and it gets me through almost a full day.

Why just grandmas? I use an LG Tribute on Virgin Mobile, which is nearly identical to this Lancet as far as hardware goes, just with Android. It's an exceptional budget phone. I'm 30 and decidedly not a grandma. This phone looks great for those of us who don't care about spending a fortune on the best. A lot of people manage to get by just fine without the nightmares and night sweats of those of you here who obsess over your $500-600 phones that most don't need.

The battery on the LG Tribute is identical, as is much of the Lancet here. I get great battery life on the Tribute. The Lancet also has a better camera.

Hurry and sell some of these before the flagship phones come out

They have plenty of time before that happens.

People who buy this phone will most likely not be able to afford a flagship. That's why they buy these cheap phones in the first place.

Good for Verizon customers in the market for an entry level device.

This phone will rock when it's updated to Windows Phone 10 and you can run popular apps like Snapchat, Instagram, Whatsapp, Facebook, Messenger, Twiiter, Flickr, Pinterest, Reddit, etc with all their updates. As you probably know, Windows 10 will allow Android/iOS developers to use their Android apps inside Windows phone. (The way this works is that native Android code or iOS code gets compiled using new Visual Studio tools and they don't need to make 1 line of .NET code to bring all the security patches and app updates to windows platform). This is going to make LG very happy as they will know see that Windows now has the same functionality than an Android device.

It looks like an ok phone. I've liked every LG phone I've ever had and ive had several. It doesn't seem to mention Gorilla glass. That has become an important factor for me cuz i hate screen protectors.

Goodbye windowsphone, it was a nice 6 years with you,

Nobody will notice you've left.

WP has only been around for 5 years. And you're right, goodbye WP, hello Windows 10 mobile!

Goodbye don't let the door hit you were the good lord split ya

If you have to go low end, the 735 is a better value. But, on the other hand, I hope people buy this phone because this is the first LG Windows Phone in 5 years. We need as many OEMs as possible.

This is cool. Now if Verizon Wireless could get their salespeople to actually "sell" the phone and not trash talk it to their customers, then maybe we can get somewhere.

Why, look, it's the LG Transpyre Android phone! With the flash moved to the left of the lens.

this seems to be a "this is my first smartphone" kind of phone. something to you give to a child as their first phone. if this phone can be unlocked and use any sim card then this could be a traveling phone (international)

There's no mention of this phone being "Global Ready". I'm wondering it if has an unlocked GSM slot as the other LTE phones from Verizon.

What a joke! Who in their right mind would commit to a new 2 year contract for this phone? Dumb misinformed US consumers that's who. And the carriers know this and laugh all the way to the bank. This should've been free on contract and $69.99 off contract. It will probably be that price later this summer/fall when flagships start to show up. At least now Verizon users finally have a low budget WP option. Gotta give em that!

Its 19.99 contract price right now!
https://www.windowscentral.com/e?link=https2F2F...

That's a very good price for a smartphone.. $120?! Maybe I'll pick one of these up for my girlfriend.. I'm surprised Verizon put this out so fast too. I've had the HTC trophy, 822, and a 928.. This would be a nice backup phone!

Hopefully this sells well to increase LG's interest in Windows Phone. A Windows version of the G4 would be awesome.

Sure it will, just like the Chevy Spark is getting GM thousands of Corvette Z06 buyers...