Lumia 640 and 650 get high marks in new smartphone antenna study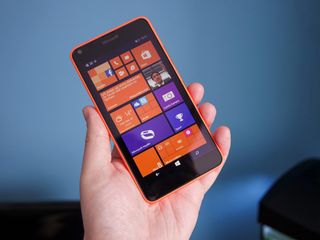 A new study of the cellular antennas inside 26 smartphones shows that the Lumia 640 and Lumia 650 both get high marks in signal strength.
The study was conducted by Aalborg University in Denmark on behalf of the Nordic Council of Ministers. It stated:
The study used the Total Isotropic Sensitivity (TIS) to evaluate each smartphone's receiver performance:
Along with the Lumia 640 and 650, the study evaluated the Lumia 950 from Microsoft. The study also included the iPhone 6, 6s, 6s Plus and SE from Apple, the Samsung Galaxy S7, S7 edge and S6 edge+, the Nexus 6P and 5X from Google, the LG G5 and the HTC 10, among many others.
The study checked out voice signals when a phone is held in either the right or left hand side. In this case, the Lumia 640 was fourth on the right hand side, using the GSM 900 band and came in second on the left hand side, followed by the Lumia 650 in third place.
In terms of data service, the Lumia 640 was on top of all 26 smartphones on the LTE 800MHz band, with the Lumia 650 in fifth place behind the Galaxy 6s edge+, the S7 edge and the S7. The Lumia 950 came in 10th in the study. The Lumia 640 also came in fourth for data in the LTE 1,800MHz band.
Thanks to Claus Jægerlund for the tip!
Earlier it was said that even the L650 has dual antenna. Just like the 950.
I've seen a HUGE improvement in reception using a 650. :D

Very interesting. Love that they tested a great range of phones.

Say what you will about Elop and his phones, they definitely had a lot of bang for your buck.

I did not know that the 650 was a Nokia device... hmmm, interesting...

Yeah, one of the final Nokia phones, and the beginning of the Microsoft era. It's in that split era of phones. The first true Microsoft phone will be the Surface phone.

Yes, it was 100% designed by the ex Nokia team in Finland, which no longer exists.

Nokia. Good that Nutella fired those useless folks.

Nokia knew their phones for sure. I hope the creme of the crop was kept. How many employees remain from the Nokia acquisition?

Perhaps a couple remain. Very few.

The best ones have already gone. Even the head of imaging guy has gone back to Nokia (Juha Alarkhu - the guy who came up with the concept for the 808 camera ... and has been doing algorithm stuff ever since).
The glory days of Lumia's having the best cameras are likely behind us.

You truly are a worthless human being.

And what are your qualifications to regard these people as useless?

Sorry, it was probably sarcastic and I didn't notice at first.

How about the battery life? It lasts how many hours? At the current price I'm thinking to buy one 650 for my mom, but the battery spec's are low and Windows 10 consumes a lot of power...

It lasts a day if you know how to use it. I'm on 25% now after 92% in the morning. Pretty good I'd say.

Just set it up for her in a way that unnecessary apps are disabled in the background and services such as location isn't used where not required. It's there in privacy under settings. Microphone, location, feedback, etc.

I have no problems with battery, I do need to charge every night but that is not a problem for me. Important note I'm a hardcore user, I'm always connected to wifi using Instagram, Facebook , twitter PoGo-UWP, reading news and turn on data very often, I'm guessing your mom is like most moms :D use phone only for the basic things and once in while go to the internet so I do recommend this phone .

Can we assume that the l640xl would be in the same position has the l640 ?

Probably. My 640xl is a beast when it comes to pulling in a signal, my 950 is no slouch either and easily beats all my other phones, even my Q10

Technically no, because size affects antenna placement and the perfect tuning has to be done again. But of course, coming from ex-Nokia people you can expect the best antenna design too.

This is consistent with my experience moving-up from a Lumia 640 to 950. The 950 isn't terrible, but it was a noticeable difference when I was used to seeing full-strength connections almost everywhere in my area with the other. There are a few more options to where I can take a 640.

Amusing to see that "flagship" iPhone 6's were often highlighted in red as the worst in the test group.

I read an article in Daily Mail Online this morning about the study, where iPhones' premium price but poor antenna performance was the headline. There was no mention of Windows phones, even though the 640 took first for one criteria. I'm curious if the difference between 640 and iPhone, first and last, can be seen by signal bars and running diagnostics, or if the difference is miniscule and negligible for real world use.

I've been so happy with my 640. I bought this phone to try out Windows Phone and so far so good. Huge bang for your buck.

Same here. Worth every penny.

Not very happy with the signal strength in my new Lumia 950. But then again it was just as bad in my Lumia 830 the past 6-9 months before I replaced it. I guess AT&T service has gone downhill in my area recently!

Same here. The radio tower closest to me is being updated to 5g. Since ATT started my signal bars have gone from 4 to a floating 3-2.

The 640 has been great in many areas. Signal strength has not been a problem. Just wish I can experience it using W10, TMO still haven't rolled out the update for it plus what's the deal with Alcatel Idol4 W10M via TMO? Okay yes were talking about antenna study here.....

Haha I have unlock 640. Get mad

Now it's time to rank up in all the basics of owning a smartphone. Safety rating, call quality, highest bandwidth and such.

My observastions of best to worst antennae performance of my personnal phones on Tmo where I live: 1- Moto X Pure Edition (best ability to hang on to a good signal of any phone I've ever had). 2- Nokia Lumia 830 3- Nokia Lumia 735 4- (and tied for last) iPhone 6s and Lumia 950 :-/

Yeah, I'd agree, the Lumia 640 worked great for me on T-Mobile, and that was even an ATT unlocked version. Band 12 an everything. It was never high-end, but I bet it was the best phone I'll ever get for $29.99.

Nice job, Lumia 640 and 650!

That moment when you actually get a budget phone and see it top some tests with the well known flagships.. I'm lovin' it!! +640

Yeah! Good for the 650. Have excellent signal strength with my 650 on T-Mobile in my area. Great little phone that simply works.

too bad the L650 does not have the needed antennas for ATT LTE, so disappointed ):
Windows Central Newsletter
Get the best of Windows Central in in your inbox, every day!
Thank you for signing up to Windows Central. You will receive a verification email shortly.
There was a problem. Please refresh the page and try again.