Lumia 730 used in attempt to create 'world's largest selfie' in Bangladesh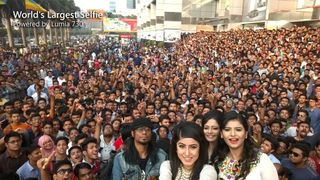 An attempt to break the world's record for the 'largest selfie' picture was held today in Bangladesh, using Microsoft's Lumia 730 with Windows Phone 8.1 and its 5 megapixel wide angle front camera.
The actual picture was posted on the Microsoft Lumia Bangladesh Facebook page, which reports that it used the Lumia 730's front facing camera to take a picture of 1,151 people in an attempt to break the world's record of a selfie with the "most number of people with recognizable faces."
There's no word yet on if the Guinness World Records organization has confirmed that this event did in fact create the world's largest selfie, but it certainly is a fun way to help promote the Lumia 730. Do you think this record was in fact broken today?
Source: Microsoft Lumia Bangladesh (Facebook) Thanks to Zubaer for the tip!
Windows Central Newsletter
Get the best of Windows Central in in your inbox, every day!
Great way to promote the 730/735 and the 535!

Both have the same front camera.

Oh, right, but I don't think most people know that...

Because 535 also have 5mp front face Camera

I somehow feel that Microsoft has quietly removed the 730 from stores, it is not available any where. I got mine the day after it was launched

And another record in genius book :D

I hate selfies, and all it represents.

@AlabamaFanRTR a selfie represents something...what it is?

Just get some one to take your damn picture!

Me too! I'm anti-selfie. I just hate the word 'selfie'. Ew.

agreed. it's just a recent form of narccissm. with this many people in the picture, can we even call it a "selfie?"

Well done, Microsoft. Of course I suppose MS thought this through: at least one appearance on the main news program on the biggest two local tv stations, some articles on leading local tech websites etc.

Now this is smart marketing!

And there was I thinking that a Selfie was a picture taken of oneself, meaning singular. Surely this is a group photo ergo, not a Selfie? Or am I barking up the wrong tree?

Thought EXACTLY THE SAME when I read the headline and before I saw the pic.

Selfie is a photo which is taken by YOU, with YOURSELF in it. It doesn't say anything about the other elements present in the picture.

@Tejas Javery
The thing is though, it's extremely difficult to see who is holding the phone in the published picture, so it becomes impossible to tell who the subject of the Selfie is. Regardless, whoever does end up in the shot they technically aren't a part of the Selfie.

You're right. This was a groupie.

That's the word I was looking for, groupie. Nice user name by the way Arkanoid, one of my favourite games from the 80's.

I would love to have a camera of this caliber in the front of my 1520 :P selfie addict hehe. I love seeing these fun promos for Lumia.

Agree... The flagship phones should have good front cameras, too.

So that Low-mid budget phones have nothing special except the price point.

The special thing about non-flagship phones IS the price. Low/Mid-end buyers do not deserve more/better features than the flagship (since flagship buyers are paying more).

You're getting the hang of it now!

Here is hoping our flagship WP10 device comes early Q1/Q2. Hehe! This 830 really does suffice until then. Its easier to store than my awesome but huge 1520.

What's a "flagship" in Microsoft land right now? Sadly every phone carrying the Lumia name is crippled/compromised in one way or another. 1520 - too big and/or absence of QI wireless charging
1020 - Slow/Sluggish and crippled by insufficient horsepower for the modern OS improvements
930/Icon - No "glance" and no expandable storage
830 - "flagship"? Uh, no, irrespective of how MS wants to market the phone, flagship it most certainly is not. Talk about missing opportunity going into the holiday season. #smh

This! MS is not even getting serious about Windows Phones like Nokia did. Yet they are making lame marketing stunts like this world biggest selfie craps.

I would still call the 830 a flagship, I work in a cell store, I say its comparable to the iPhone 6, Galaxy Alpha, LG G3 as far as all around styling, feeling in hand, responsiveness/speed, camera, features, battery life. It fits the Lumia 800 series well. I always felt the 900 series was a step above iPhone/Galaxy. The front camera on the 830 is honestly better than my 1520 my friends s5 and my friends iPhone 5 and the 10MP shooter is better than all three.

That's the problem IMHO, the vaunted iPhone is the standard against which people judge other phones. You don't raise the bar by building "comparable" devices... you raise the bar by building SUPERIOR devices - and that is what you call a "Flagship". At best the 830 is another "compromise" device that cannot take full advantage of the entire feature set currently roadmapped for Windows Phone nor does it bring to the table the full compliment of technologies that have already been developed by Nokia (41MP and/or 20 MP Purview), 5 MP Front wide angle etc. Nice phone? Yes... Flagship? Not even close.

Yeah me too.... Maybe I should try to change the front facing camera

I thought there is a new term for it! "Groupies" which have more people compared to selfies

Groupie is in the WP word flow, so...

Where im from....it would be
Too many 'Ninjas'
And not enough Os Where they at tho?

Groupie means something else where I'm from

Yeah, perhaps a portmanteau would be better. Groupie plus something else. I like the idea.

You do know that a groupie is someone who travels with a band to have sex with right?...

All these seemingly University students are using Android phones themselves... -_-

Yes, so many Samcrap users. I see Samcrap phones everywhere I go, seriously ._.

At least Samcrap makes true flagships every year and selling like hot cakes. Where is the latest flagship from MS??? Is already coming to end of 2014 and holiday seasons are coming. MS is going to miss the opportunities again. I think you should take a look at hot crappy MS is before down playing Samsung.

How I wish Microsoft starts a campaign to make developers polish their ugly apps!

Nice but Groupie is more fitting!

When I looked at that picture I swear I smelled curry (which I like)...

The odd thing I find in this picture is that all people are brown, but those girls in the front are wearing so much make-up, their faces look white... :/

Didn't know that was happening, passed through right away.

Some Bangladeshis have light skin, I believe.

I am brown, too; but this is ridiculous. Just have a look at the neck of the chubby woman in the front right. South Asians have a strange tendency to make themselves look fair... (And that's why whitening creams/soaps/make-up items sell extremely well there) :/

As the westerns have tendency of tanning themselves.

Well, I'm from Bangladesh and I'm not that much brown. I'm white and at the same time a little brown.

Are you smelly? Banglas here in Malaysia are damn smelly

Now I wish for the Lumia 10310. 5 inch screen, and dual 41 mp cameras

That phone will be thick as hell.

Whoa wait bro? U from the future? From gragantua? Or edmund's planet :D

Woah! 5 inches means you will only fit the cameras, not holding it with your hands. There simply won't be any room for it, LOL :D. I know you're joking but someone should photoshop a Lumia 1020 dual 41 mp model ;). So grotesque and yet awesome ;). Imagine the facial expressions of the HTC One M8 engineering team ... maybe they should take a group selfie with the reaction recorded ;)

Lol, that by sure should create a new category: the MACHOPHONE...XD

10310? That will be in year 2050 judging by how MS is taking things slowly.

Great ​! Good way to promote ! Love the lovely and cheering faces ! Thanks

There is one of them giving a mid finger ....

Wtf? How is this a selfie? The camera holder is not in the picture, not a selfie

The girl in front is using a selfie stick , I guess

That girl in the centre is taking the selfie, I guess.

I guess the girl in the front is using a selfie stick ...

She is also known as the 'Sefie Queen' of Bangladesh.

Most of these people are using Samsung phones already, so no big deal.

Yup, everywhere I go, I always see a Samcrap mobile with someone [I'm from Bangladesh] ._.

Eat what? Samsung already released their Note 4 flagship for 2014 and selling like hot cakes. But where is the latest flagship from MS this year so far? NONE! All they keep on releasing are those lame low end budgeted phones. I think is MS who is eating Samsung dust.

If Microsoft says that its the number of users that is causing the app gap, then why are the existing apps garbage compared to android and IOS apps?

it's all about ecosystem. android hss bigger ecosystem thats y devs develop more for them. its also depends how u market your product well. if windows 10 marketed and also accepted well Microsoft will hardly have any garbage apps in their store

If becoming a dev is easy and creating apps is easy (App Studio), there will be garbage apps in the Store.

Hope they make it with that record, could be good for WP and its image

and girls still cry for a big iPhone for selfie. the iPhone fangirls teens are the future to growth of dumbness.

Great idea. Nice move Microsoft. Inventive and inexpensive.

what's the current world record for the "largest selfie"?

That's not selfie.. It's groupfie

I agree, could be groupie or ussie, not selfie

High quality picture if you ask me... Zoom it and is guarantee a big laugh somewhere ...

The Bangladesh people are beautiful!

To answer your question, I don't know if the world record was broken today.

Umm artists do these all the time at their concerts. Lol

At front, the "Selfie Queen" of Bangladesh.

They put the only "3" girls right in front... LOL

There's another one in the front left

Hey guys, please retwit, re-instagram, re-share this photo and get this out to the net-highway. To show that Windows phone and Lumia is the best selfie phone out there. The more the better.

We gonna break this record soon. Here I go with my 730. Call that Record book guys please ;)

I don't recognize anyone....

Wow way go my Indian friends! Very cool I thought...

Hello, Bangladesh is an independent country for the record, it's not related to india in any way (Like UK etc.).

No options to capture a selfie through selfie stick.. Because selfie stick has Bluetooth connectivity for android and ios

Ummm @itsmewasim yes you can now use a Microsoft tag and the Lumia Selfie app... Or you can user a timer app to take the selfie

That is the biggest sausage party ever. Are women not allowed on the streets of Bangladesh?

Yes, women are allowed on the streets of Bangladesh. What a weird question ._.

Sarcasm is such a lost art on the internet

There are a few women there in the picture.

Now I feel like an idiot :/

Nor is it a groupie or whatever people are calling it. It's just a damn picture!

I have the 730 and it's incredible with selfies. Not very impressed with the rear camera though, it could've been far better. Although it's a 6.7MP Carl Zeiss lens, it should've been given some extra juice.

It's not a freakin' selfie if there's more than one person in it. Selfie comes from the word SELF. Which means literally that. This is simply a group photo. Moronic terms such as 'selfie' are bad enough in the first place (and they eventually get added to the dictionary) but they're even worse when they're misconstrued.

Smart and fun. I guess thus confirms Microsoft kept some of the smart folks from the Nokia purchase.

I'm just amazed at how go the picture actually looks. Can't wait to get a flagship with a great front facing camera...

So if you have 1,150 friends, this is the best phone to buy apparently!! :P :P

Those girls are cute.. Btw, what are you saying about Lumia 730? lol...

It's from my country! Seriously, Bangladesh creates the most lame and stupid records. First, the largest human flag, now this -_- But what I'm proud is the Lumia 730 did something great! And btw, I'm anti-selfie.

What does +1020 actually mean? :s

Instead of using +1 (meaning I agree with you), we use +'phone model number'. Like I own a Lumia 1020, so I write +1020. If someone has a Lumia 930, he could write +930, and so on. :P

Lol we gotta make use of the overpopulation somehow. I'm Bengali too, living in the US. BD's got a little over half the population of the US packed in a land just a little smaller than the state of Wisconsin.

How come forming the largest human flag is stupid?

I didn't mean the largest human flag stupid, I meant it lame. I mean, what's the point of creating a flag by humans? This just doesn't make any sense [atleast to me] ._.

That chick is hot, whats her name ?

Her name is Atul. She's trans... ;P

Great way to promote the Lumia 630 like mine.

Where I can find a photo comparison between a photo taken w this new front camera (730,735,535) and the others (720,920, etc) ? But a head-to-head comparison, not someone bragging on itself with a self ( hmm ). Thanks

It's IS a selfie. The others 1150 are photobombers (such long arms the girl has) :)

Registration was mandatory to stay on the range, so its definitely not photobombs.

Meanwhile in India.....i'm still looking for a place to buy the 730.
Which is out of stock everywhere.

Bangla are so smelly here in Malaysia. They deserve to live with pigs

Stop your hate crime, you fucking pig. There's good and bad mixture in every culture.

At quick glance I counted seven women in the photo...

Largest dude selfie, I count 4 girls?

where are all the women? are they banned from participation? some of these guys must have gfs/wives right?

No they're not banned as you can see we've put the girls in front of everybody. You know basically girls like to take selfie alone, you know what I mean?

Hmmm.. Should I have convinced my wife to get the L730 instead of an Xperia C3? Discuss below in the replies. :D

Nice ms, u didn't notice your competitors billboard? Fail
Windows Central Newsletter
Thank you for signing up to Windows Central. You will receive a verification email shortly.
There was a problem. Please refresh the page and try again.