Lumia 930 paraded in latest Katy Perry music video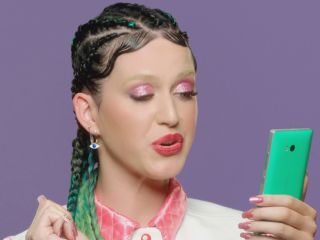 Microsoft's recently launched Lumia 930 smartphone makes a quick but highly noticeable appearance in the new music video for "This Is How We Do", the latest single from pop singer Katy Perry.
The phone makes its appearance around the middle of the colorful music video. Indeed, the green case for the Lumia 930 seems to blend in well with the art style of the clip as Perry conducts a video chat with another person via Skype.
This is not the first time Perry has used a Lumia phone in one of her videos. In September 2013, her music video for the song "Roar" featured the singer using the Lumia 1020. It would appear that Microsoft wants to continue working with Perry to promote the Lumia line even after it bought Nokia's Devices and Services division earlier this year.
What do you think of Perry's latest attempt to help promote a Lumia Windows Phone device? Thanks to the many people who tipped us
Source: Katy Perry VEVO on YouTube
But will the pop music fans (who we all know are geniuses) notice the subtle product placement?

He's only a dog, leave off.

Isn't pop culture about being the most popular stereotype of them all? If the general consensus becomes that it is popular to think in a certain way, then the popular starts to think that way. It's the most easily manipulated culture on the planet. It's not stereotyping, they are stereotype. :)

Nope. They'll probably wonder what kind of iPhone case that is.


i will punch them till death

Centurylink's naming lease ends soon on Centurylink field. Microsoft needs to buy those rights and name it "Windows Phone Field" sounds gimmicky but it's a proven effective marketing strategy.

This helps combat Apple's coolness factor among the tadpoles in high school.

I still.think Microsoft should be using the Seattle Seahawks to push Windows Phones. Samsung got alot of "coolness" by using NBA players as spokesmen for the Galaxy line. We need a commercial with Richard Sherman talking to Cortana.

Yup. Katy Perry promotion is a good thing, but some sports promotion would speak to a whole different crowd. They need to do more of this "cool people" promotion of all kinds.

I'm hoping MSFT buys the naming rights to CenturyLink field once CenturyLink's contract expires. That means at big nationally televised games the media would address it as "Windows Phone Field" which hopefully would get more people to check out WP the more and more they hear about it. There's more people unaware of WP in the US than most of us realize.

But a "Sports Crowd" is not cool. Especially if you want to reach outside of US audiences. At least Katy is a worldwide brand

You would run ads in the US using sports stars that Americans admire, and run ads in Europe using sports stars that Europeans admire, etc. It's not rocket science. In Canada, you only need to show Don Cherry using a windows phone and bada bing bada boom! :-)

Who the f*** is Richard Sherman? Everyone knows Katy Perry, she is a worldfamous star. So Perry is the better choice.

Every male 16-40 knows Richard Sherman in the US. Windows Phone has a huge marketing problem in the US hence the reason I suggested Sherman (who also happens to have a Masters Degree in Mass Communications from Stanford).

Heard of Perry. Never heard of Sherman, is he somehow related to the tank?

You non-American WP users are really pompous, anytime something doesn't involve you, you take personal offense.

I never heard of Sherman. Not being pompous, I fit your demographics and have no clue. Nor do I live in a cave, under a rock, etc. Maybe I would recognize him/her? Where's Cortana to ask...

Same here. I don't recall ever hearing that name. Ah, Bing shows pics of some guy in a football uniform. Not every US male cares about professional sports, but I don't doubt that he is very famous.

The strategy of using professional athletes to promote phones has been proven time and time again by Samsung and the NBA.

He is a tank. Disguised as a human.

Because MS obviously only has enough money to hire one.

Actually they do. How else do you think they make concerts for each store opening.

They have been, Russell Wilson starred in a commercial for the Surface.

MS should buy the Seahawks and changed the name to the Seattle One and Paul Allen could rename the Clippers to the LA Windows

Steve Ballmer just bought the LA Clippers and talent-wise it's a really good time. Maybe he'll work on some sponsorship deals with Microsoft to help raise Windows Phone's profile up and down the Pacific Coast.

Looking like a ratchet Brooke Candy ripoff.

I love Perry, and even more the fact that she supports WP in her music videos,

It's all about the money money money...

Yeah I would think that she uses an iPhone as her personal device.

WP getting promoted. That's good enough.

I think she has more than one phone... :)

For some reason I saw her movie and she was using BlackBerry when all her staff where using iPhone.
At some point she said she would never change from BB because of the phone cases she had.

She does, I , in retrospect, regret giving her one. The darn woman won't quit calling me..

Andy Sandberg uses a red Nokia 920 and he isn't paid to! Imagine that lol

I want Ellie Goulding not katy Perry. Ellie is so cute. ❤

She's cute, but Katy's voice has 'that' charisma.

Are you guys really having this discussion on WPCentral? LOL :D

And I vote for Lana! hehehe she should make one her videos with a lumia phone :P

I would probably boycott WP if that ever happens. WP is for normal people who appreciate good technology not hipsters a la Lana and her possy.

Then again, hipsters could probally help propel WP into famedom. Ugh. Damned if you, damned if you don't. :(

Didn't she have a 1020 in one of her videos too?

Katy Perry is the ish and she's pretty... We don't want Ellie Goulding whoever she is..lol

She has a nose a boxer (the dog or fighter) would not want

My favorite song on the cd. However is Jessica Alba still in our camp?

I was wondering that as well, I hope so since Jessica Alba is my favorite spokesperson for Windows Phone ;)

Brings the profile up. Just shows people don't have to be IPhone sheep

This remembers me the time when Ke$ha used a yellow 920 in her video and after a week they changed it eliminating those scenes.

Oh really... Original still exist?

Thought exactly the same while reading this article!!! Always wondered why they cut it out.
Yes, the original video still exists!

I love it! And I love the video. If you think about it, the 930 really fits the colorful theme. An android or an iPhone would really look out of place. Not her chatting with 'Jessica Thot' tho

1020 in "Roar", 930 in "This Is How We Do", who's next, the Surface Pro 3? Though I hope she'll throw her iPhone away one day.

JLO has a video with PitBull with a white 920 in her hand.

Red 2520 in "I luh ya papi"

Yeah, I love her video because I tell my friends she's using my phone x)

Deadmau5 was good making Lumia events! what happend? :/

Lets be honest. Microsoft needs to cut checks to Perry, Kim K, Rihanna, Drake, Ronaldo and few other cool kids. All this productivity talk is for old people. One day Microsoft will realize that video, messaging and pics are the real reason people pick phones, productivity be damned.

Productivity is a horrible marketing campaign. Idk what they are thinking honestly. I don't think they understand marketing.

They do cut checks, that's why the phone is in the video.

They need to cut more checks than this. You won't get that much publicity off of a 3 second spot on a Katy Perry video.

Kim K? May as well give the division to Snooki and give up.

This is sooo true. Microsoft needs that sexy, cool factor that Apple has and Samsung is constantly throwing money at. If they want the consumer market, they need to push for this, and product placement is a fantastic way to do it.

althought I LOVE Windows Phone, I still hate Katy Perry

+930, I don't like Katy, too.

Unfortunately I watched this with some friends and they were like "What kind of Android is that?"

Lol. They probably never even heard of Windows phone.

Some people still ask what my "android" is.

Good point. Some people just don't know anything about technology at all, or the latest gadgets, so not knowing what a windows phone is, is not necessarily an insult to windows phone.

You should have said its a Nokia X

Yay for promotion! For Katy Perry..... not so much. But exposure is exposure!

These product placement videos have been done several times over the years, hasn't made a jot of difference so far.

This time will be different, I swear.

Completely agree. They're really not worth it in my opinion. Most people who notice this phone in the video are more likely to presume its a coloured iPhone than a Lumia. Guarantee 99% won't know what that phone is. I think if they are going to do product placements like this, then just show a colourful Start Screen otherwise people just will not associate the product. Microsoft should drop these expensive product placements and just produce more of their own ads on TV and more frequntly too.

Tunes alright for a pop song she's a cool lady hazar for windows phone support!

What's hotter the 930's bottom right corner or Katy Perry lol

Dear god, are you joking?

Good going Microsoft.hope you advertise wp OS more.

WPs used to appear in TV series Scandal...not sure if it still does in the latest season. Product placement and celebrity endorsement is very important to reel in the young generation.

Yes, she carries a white 1520 I think Posted via Windows Phone Central App

In Under the Dome you saw WP 8 and Win8 everywhere. And in Arrrow the blond helpfull nerdy sidekick girl user a Surface Pro. Posted via Windows Phone Central App

You also see them in movies. I forget the movie title, but I will see them from time to time. L920s in The Wolverine also.

was that icecream cone twerking..... ive seen everything now XD

I wasn't gonna watch the video ... But had to find that Twerking Ice cream lol

LMFAO "Jessica THOT" on the Skype call lol

Ewww..... But I love the 930

The 1520 and 630 was also used In a hit song here in my country

There is also an orange 930 floating around in the scene straight after the green one is shown. Hawkeye ;-)

Actually there is an orange 930 and a green 930 "floating" in that scene!

I concur... This is how we do petty... the rich and wannabes partying, chasing their tails for status symbols and Katy wants to "respect" that, f*ck that! speaking of "first world issues"...

Wp's and surfaces are still used in NCIS LA.

Yep yep ... black 920s & Surfaces ... A Blue HTC 8X in the NCIS New Orleans introduction

Vampire Diaries uses Lumia, every character has a different one. I'm so embarrassed, no wonder WP is so low in market share, listen to us!

The way she's staring at that phone she's probably wondering why the Xbox music app isn't loading......

Maybe but I'm sure that when she did roar with the 1020 they told her Flipboard will be here soon and now they gave her the 930 she looked at the store and still no flipboard and is like WTF.

It needs a big ass windows logo or the word surface on the back to get maximum mileage out of that check to Perry.

Awesome promotion of lumia phones! Btw, is that caty perry? Just wow! It is katy indeed!

There's at least two 930s in the video. The green one she's using and then you can see an orange one when everything starts flying around in slow motion right after she makes the Skype call
.

I saw a green one flying too!

Yes. Good catch. There are two phones flying around in that shot. A green one on the left and an orange one on the right.

Pink one over the green one too? Can't be sure.

I think those are just sticky notes or something.

Wasn't the Lumia in"Roar" a 925?

Oops, my bad. Looked like a 925 in the beginning of the video. Didn't look closely enough.

The yellow one was accidentally mistaken for a banana by the monkey in the video... ;)

Actually it was a black 1020 :)

Love Katy Perry, and love WP. Although I think she uses an iPhone, like 99% of celebs.

Biggest turn-off to Windows Phone I've seen yet. Man, she looks nasty in that picture (and in general).

Shocking song. This is how we do what? Some sort of nounage missing there.

My boyfriend's a Katycat and he almost bought a 1020 when he saw it in Roar. Now, I'm quite sure this will get him!

There are lots of KatyCats. Now they just need Rihanna to use a Lumia in a semi-naked video and WP will crush iOS and Android

What does she need to do with the phone?

Do a technology hump video! #SNL

James Deen using a Nokia to record a topless Lindsay Lohan, in The Canyons, was probably the best product placement of a Windows Phone ( . ) ( . )

I don't know which one is hottest. The Lumia or KP.....Uhhhh.

The very next scene, at 2:00, has a green, orange and white ones floating around.

I wasn't planning to watch it but that screen cap makes all the diff

I havent seen her Roar video, but supposedly it had an iPhone in it. http://brandsandfilms.com/2013/08/iphone-5-is-the-biggest-star-in-katy-p...

The Roar video was set in the jungle, this is the lyric video, giving far more screen time to the iPhone than the 1020 got.

Bonnie from the vampire diaries also has a Lumia 1020.. All The time :P

Watched it...i wanna walk into on coming traffic right now.

And the lumia 1020 on roar

Does anyone know how apple got so "COOL"? bugs the hells out of me, saw a COOL youtube video the other day with Ian McKellen on 25yrs Nokia celebration.....that was coooooool!

Wow at all the hate on here... Exposure is exposure. What did Katy do to you anyway?

Yea. I'm tired of this "hating on pop music is cool."

I am not sure if you guys noticed it.. But there is a sound that keeps repeating in the background which feels like the sound when you plug the phone for charging in windows phone 8.1 .

I heard it too, I was wondering if it was NFC out Cortana, but you're right, it's the new WP8.1 charge noise! :D

i seriously checked my phone because i was kinda freaked out that it made the charging sound without it being connected...

There's also an orange Lumia 930 floating around in the background after the green one makes its appearance.

Not realy into Lumia 930, but it looks nice in comparison to Katy Perry, good job Microsoft.

This is a big deal. Teenage girls will want this phone

Enrique also used Lumia 925 but nothing changed. Quality apps can only help MS.

Product placement is a big deal. I like her well enough and the more Microsoft advertises the better. So overall I think it's positive.

That phone is alot better looking than she is in that photo o.O

Yes! Katy Perry is a vastly known singer and I'm sure the fact that those Lumias keep showing up in her videos help make them more noticeable and seem cooler. Besides, Katy's videos feature Nokia phones since she started, just check out her video for Hot n Cold (still one of my favorite)

God that song is terrible. Good phone though lol

I really like that Microsoft is promoting its phone but needs a much better campaign that gets to all the people because there isn't that much publicity for the public.

Today a girl got punched, heard it on fox, yes totally unrelated

Not really related to the article, but I can notice that KP has very "nice" earrings (as per article photo above). Quite unique design I must admit and most importantly, un-informed people will not recognize what they truly represent...

It's at 1:55 for those who don't wanna sit through that mess. :D Should've included that bit in the article tbh.

In the video"Hot n' Cold" she also used a Nokia phone :)

Really, I didn't notice that. Gonna go have a look!

Damn so much culture vulturing in that video.

I don't know about the video but I would gladly BANG the hell outta Katy Perry and love it!!!!

Nice... maybe will see more in the future. That is the perfect size phone and the screen is nice and bright... good choice katy. Posted via Windows Phone Central App

I think I've seen a couple of Windows phones on a movie with Sylvester Stallone, grudgement day was the name, I think

I hope they will also continue the product placements in The Vampire Diaries!

It just annoys the crap out of me on how so many AMERICANS are blinded by the iPhone. iSheep.
Trust me I see it.
I'm American and I'm a teen.

I love you all guys, you're awesome !

i hope to MS will sell more 930

Thats a Fu%#ing ugly picture of Katy Perry!

It's a shame no one knows it's a Nokia. On my orange 930 you can barely see the writing,

Cool! There's also a Nokia in her video 'waking up in vegas', although not a Lumia.

Of course the people who fall for this thing will do some due dilligence and figure out what phone it is. What they will find is that if they want a 930 today, they will need to move to a different country OR switch carriers if they aren't on Verizon. Smart MS! Place a product that isn't available and most of the folks won't be able to figure out that it is only available as an Icon on Verizon!

Right phone for the video :)
Windows Central Newsletter
Get the best of Windows Central in in your inbox, every day!
Thank you for signing up to Windows Central. You will receive a verification email shortly.
There was a problem. Please refresh the page and try again.