Lumia 950 and 950 XL will go on sale at US Microsoft Store retail locations Nov. 26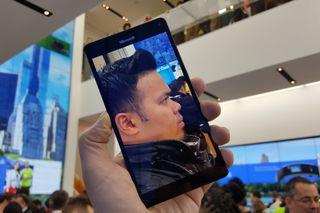 While both the Lumia 950 and Lumia 950 XL have been available to purchase online, both new Windows 10 Mobile will officially be available to purchase at Microsoft Store's retail locations in the US starting on Thursday, November 26.
Yes, that also happens to be Thanksgiving Day, which means that those stores will likely have some special store hours. Your best bet is to call them ahead of time to find out when they will be open on that day, as it is likely they will open up later or earlier than usual.
The 5.2-inch Lumia 950 has been available via AT&T online for the past few days in the US and it is also supposed to be on sale at the wireless carrier's retail stores in the US starting today as well. The unlocked 5.7-inch Lumia 950 XL went on sale earlier this week at the US Microsoft Store website, but is currently not available to purchase.
Check out our Lumia 950 review
Source: Microsoft
Windows Central Newsletter
Get the best of Windows Central in your inbox, every day!
Ship by November 25th, hmmmm...

Tipped this on Tuesday: http://forums.windowscentral.com/microsoft-lumia-950-xl/394596-950-xl-av... Tipped again today. Glad to be of service. :P

Concerned my preorder will ship on the 25th, but probably Monday...

I've given them this tip 2 1/2 weeks ago when a Microsoft regional sales manager told me it will be available on Thanksgiving. For some reason they kept going with the AT&T release date for a long time which I'm sure added to the confusion

AT&T in Pensacola, Florida has the 950 in store and on display.

I love how AT&T tries to charge $25 to existing customers eligible for an upgrade when buying from them (not sure if they do when buying off contract). I'll save for awhile and get it from the MS store in the future.

Be productive like a Boss....soon.

That seems to be the same day for Germany as well, as the retailer cyberport.de is posting that date as start of sales in his shops.

Thanksgiving.. That is too funny. Why is Microsoft having such a hard time with their phone releases?

Perfect plan to mess it up.

Flop flop flop flop flop flop flop flop..... This phones will be the biggest flops of Lumia history.

Shut up Shut up Shut up Shut up Shut up Shut up Shut up Shut up. You are the biggest flop of Lumia history

Awwww
....another tiny little fanboy got hurt......soooo sweeet.

Another ahole trolling forums. I agree that Microsoft has messed up this launch, but your comment is infintile and adds nothing to the discussion. When your maturity level raises above a 10 year old, then maybe you can have an intelligent conversation.

How did MS mess up the launch? Also the best way to handle a troll is to not response, it will go ahead when it's bored.

Don't be an Akssingh - (kingh)

I would have to disagree. That'd be the US rollout and evaporation of the Icon.

In abshekarora's defense, you are an annoying and small minded individual.

Thanksgiving / Black Friday is the biggest shopping day of the year in America. Are you stupid?

"Thanksgiving / Black Friday is the biggest shopping day of the year in America. Are you stupid?" The stores will only receive enough to cover the pre-orders and even then not all of them. That had been stated by many managers already. You can argue that the phones will draw the public into stores who might buy something else. The answer to that is no, they will not draw anything into anywhere. These phones will draw only those who already pre-ordered. And those of us who pre-ordered go to Microsoft stores at least once a week as is. These phones are underwhelming, even die hard Windows fans already stated that.
Am I stupid? I have my bachelor's in economics, so I wouldn't call myself stupid. But I have been called stupid by some people before. My brothers call me stupid from time to time, but that usually ends with blackeyes.

Underwhelming...You hit the nail on the head. Especially for $650 before tax. I think I'll keep my Lumia 1520 a bit longer.

Yep, nothing about these phones and the XL in particular warrants dropping that much on them. I'll be sticking with my 1020 on WP 8.1.

I already went for an iPhone 6s Plus, but I'm likely still getting one of these, only because my older Lumia 1020 has a defective charging usb port, and I have Microsoft store device replacement insurance, for a like for like device (32gb for 32gb). For the $100 deductible (shrug), why not? It'll be a workout/gym mp3 player. There's no way I'm braving the crowds on Black Friday or Thanksgiving weekend though. It can definitely wait until December or January. I'm assuming plenty will be available after the holidays.

Ha, yeah, it'll be a back up device in case my iPhone ever breaks or gets lost, so in the interim it'll get duty as a gym media player and maybe car music player, with a big SD card in it.

enjoy! i really dont get the abuse these phones are getting. it looks good to me and i cant wait to get one. my 1020 has done its time

I totally agree with you! I don't think these phones are going to get any awards for "sexiest phone of the year", but I'm not going to be embarrassed to own one. Compared to my 1020, this new phone is better in pretty much every way (minus the whole megapixel thing). I wasn't compelled by the 930, but the 950(XL) is a worthy upgrade from the 1020. I'm looking forward to getting one. Is there still room for improvement? Of course, lots of it. But this phone gives a lot of what people have been asking for. Top spec CPU, lots of RAM, Expandable storage, removable battery, thinner, lighter, bigger screen (for most).
The specs of this phone hit everything I've wanted (except the 41 megapixels I'm used to with the 1020).

I have a 1020 and I have to respectfully disagree. The only thing that phone is good for anymore is taking pictures and nothing else. It is now a super slow phone in my books. The 1520 is probably as old a phone as I would recommend for those not willing to upgrade. For everyone else, the new phones are complete and utter upgrade.

Exactly. Yes, Black Friday is the biggest "spending" time of the year in the US. However, these devices will not be on sale. Not many people would go buy a new phone at full price on Black Friday. Not with all the phones for half price, or less.

I just called my local MS Store, and they said they will either be closed or close early on Thanksgiving. In other words, I either can't get my hands on a 950 unlocked on release day, or I will have a limited amount of time that day to go into the store to buy it. Plus, if I order it online instead and it ships on the 25th, I most likely won't get it until the following Monday (Black Friday if I'm lucky, but I live in Hawaii so delivery usually takes longer), because they normally don't deliver on Thanksgiving or the weekend. Is there really a worse day (other than Christmas Eve/Day) to release it?

Too little to late. It's sad Posted via the Windows Central App for Android

A better question is why am I having such a hard time saving money...my only hope is in December and whether I get a big enough bonus, let alone at all! =[

At least they finally gave us a date. :-/

I had placed a Pre-Order (950XL) on Oct 17th at the MS Store here in Columbus, Ohio. Does anyone 'know' if they will be available on the 25th at the store or actually on the 26th?

I received an email from my store about my pre-order yesterday, they said I can either come in today to get the 950, or wait until turkey day night to pick up the 950XL

I just called my store in NY and they told me I can pick up my pre-order the 26th.

Which NY store? I am on long island and the one in huntington station isn't open on thanksgiving and they told me I have the 27th or the 28th to pick it up.

The flagship in Manhattan.

I got the same for the Troy, MI store. I need to find out their hours though. If they're open early enough, I'll make the run out. Otherwise, I'll have to get it later.

Please post what you find out. I also need to make a trip to the Easton town center for this. :-)

Let's carpool. I can't stand crazy Thanksgiving shopping. Finding parking, the crowds, all of that nonsense.

Now just go get CDMA approval and we'll be set.

I check the specs weekly and this week they changed the 950s spec sheet, at least on https://www.windowscentral.com/e?link=https2F%2Fclick.linksynergy.co... (not the store yet), to include Verizon's LTE band 13. The question is why? Mistake? Who knows... http://www.http://www.windowscentral.com/e?link=http2F%2Fclkde.trade...

I just looked it up on http://www.willmyphonework.net/ and it says yes to 4G LTE Band4-AWS, Band2-1900MHz. I think it just needs CDMA approval? Band13-700MHz is listed on the Microsoft website as you said. Is that what is going to hold up the phone on Verizon?

If anything the delay will be on Verizon's side.

Band 13 is needed if they go the VoLTE route like the Nexus 6p which does not support CDMA. You would not be able to get 2/3G but would get 4G and voice through VoLTE. Furthermore, you would have to activate the SIM on another device, then move it to the 950. http://www.androidcentral.com/yup-nexus-6p-and-5x-work-fine-verizon Btw, both the 950 and 950XL support VoLTE. So theoretically, if they turn on the LTE band 13 radio, they should work on Verizon's network using the method described above. Even without Verizon's approval!

This is VERY interesting. Please god, let this not be a typo! I am 6 days and change from jumping ship to T-Mobile. I really don't want to but since the update from 10581 to 10586 bricked my L735 I am willing to make a move with my 4 lines. Still needs CDMA, but VoLTE might get the job done.

If the 950 (or 951) and 950XL come to VZ I'll have large numbers of "takers" for sure. I have doubts it will happen but I can't tell you the number of times I've been asked "oh that's a nice phone, can I pick it up down at the VZ store?" It would be nice but I'm planning to switch - think the writing is on the wall. But as with all things in the rumor tree I'm willing to let this play out a few months, allow AT&T's exclusivity to run out and just see where things stand. But like most my life would be sizeably simpler if these phones were to come to VZ, not to mention that corporate contracts would be much better serviced through the VZ channel. We'll see. But don't hold your breath it'll happen and if it does it won't be real soon. Only good sign is that VZ added the Surface 3 to it's LTE channel so VZ's offerings of MS stuff on LTE isn't completely dead :)

I had enough with CDMA. I took our Sprint and VZW lines and moved to T-mobile. It's amazing the number of phones that have opened up for me on "GSM". Also, we went from 4 lines sharing 11GB, to 4 lines unlimited data. Oddly enough, TMO is frickin fast outside CHI.

I hate CDMA, I don't get why it's so special... =\

Coverage is the only thing. At least for VZ.

What a mess of a launch.
I thought the 830 had it bad. Aha now that I remember, Tmobile never even carried it like they said they would.

i don't remember them ever saying that...although, I'm sure getting one unlocked would have worked as well. What's REALLY terrible is there crippling the 810 to be encased in "Amber" forever! =[

Oh, what a pile of dog shit. I rarely curse in the comments, but this absolutely warrants it. If I want to get an XL at launch, I have to drive 90 minutes into the Black Friday he'll of St. Louis, which I am sure is as pleasant as eating a live porcupine. If I don't go that day, will there even be stock over the weekend? Why is Microsoft so inept?

Check the hours of your store. Not all Microsoft stores are open on thanksgiving. My local store says either black friday or that saturday.

That's why I said Black Friday myself. I'm not ditching Thanksgiving to drive 90+ minutes one way into STL (that's the closest store to me), just so I can get told I'm SOL when I get there. I'm starting to get the feeling MS has botched this so badly I might not be able to get a phone in 2015.

Unless you preordered, I highly doubt you'll be able to just walk in and buy. A lot of stores will only carry a handfull of these.

I know, that's mostly what I've heard from forum users. It just furthers the idea that Microsoft is a disaster with this stuff, that they are saying, "go buy these phones in stores 11/26...we possibly won't have them, though."

Dude, it's just a phone.... granted there are alot of things that should have been done differently but no amount of whinging or cursing will change that :P

And your condescending reply does what to change anything? I mean, it makes me dislike you, but that's about it.

I see what you did there...

"...it's just a phone..." ​NO $HIT!! I love my WP devices and have been an avid fan of supporting alternative platforms since my first Samsung Focus. But my life will not end nor will it's quality diminish by any of this news. These are, as you say, just (damn) phones. I'll buy one when I make it to the Microsoft Store that is just a few minutes away when it is open and when they are available. /gasp It isn't like I'm going to one to get one first before anyone else and hold it up in the air as I exit like I actually won something; I didn't. I paid for it as all of the others in line would. *cough*. LOL

Sure, I don't get why he assumed because I used foul language at Microsoft's bad logistics, it means my world is going to end. I'm irritated, not dying.

You could always call the store and put your name on one. I haven't heard of a store yet that doesn't do that.

I might, I haven't decided what I am doing just yet. Even if they have them in-stock, going to St. Louis on Black Friday is still a frightening concept.

The root of your problem is the city. St. Louis is the worst city in America.

I was at the Galleria MS Store, yesterday. I called the St. Louis Store number, and apparently MS Store has a National Call Center, and they assured me, that, and I SPECIFIED the model, that the 950 XL was in stock. I live in unincorporated Florissant, and drove the 20 miles to the store, to be informed that my pre order (which I placed 3 weeks ago), was, in fact, NOT available for purchase, and that there was NO definitive arrival date, at that time. As it was my birthday, and I had to drive back home, in Rush Hour traffic, I went and got plastered. Only to awaken to an actual availability date... Of freaking Thanksgiving. Which, of course is the day I volunteered for overtime, in order to pay for the 950 XL... W?T?F? Microsoft!! I love their products. They have to stop being inept, at product launches. No one enjoys being jerked around, because their marketing people are inept, at their jobs. Real people are trying to spend money with them. Microsoft, stop antagonizing us.

Wondering if Canada will follow suit. Our Thanksgiving was a month ago so not really any significance of them selling it on the 26th here.

I'm guessing it will be the same in Canada as the online orders also will ship on the 25th, just like the US. Either way I'm going to the store today to pick up my band so I'll ask then.

Lundon44 Ask your friend at the Eaton Center... See what he knows

Anyone know if Continuum Dock's will be included in brick and mortar 950XL sales?

If you are talking about free dock promo, yes they are included. You will have to claim it online though, stores will not give them out for free.

Correct. Once you have your new phone, you need to fire up the Lumia Offers app on that qualifying device and redeem. Then, per the T&C, you'll need to wait 8-10 weeks for delivery... I'm hoping that's just a legally safe long estimate and not indicative of actual delivery time.

Have you actually confirmed that with Microsoft? I haven't seen anything that says in-store purhases get the dock.

It has been confirmed several times by Microsoft Store managers, sales team as well as official Microsoft Store twitter account. You can read all about it on the forums.

Well I'll be getting two 950xl's via at&t next whenever they actually release the damn things.

950 xl are unlocked only through the microsoft store. Full retail price.

Ok and? AT&T will surely carry these...
...aaaanny time now...

Its been stated multiple times att will not be getting the 950 xl. IF you want it you have to pay full retail price. Att will not be carrying them.

AT&T has no intention of carrying the 950XL. I imagine it probably has to do with the expense and effort of making an AT&T specific version of the phone like they did with the 950. Would be great if carriers would just sell the unmodified version and not insist on "making the experience better".

They do, with the iphone. This might be a good place for some regulation. It gives Apple a hell of an advantage over the the other OEMs that they have the clout to push a phone that they fully control. The oems are required to make carrier specific version that preload carrier apps and require the carrier to approve any updates.

I'll be picking up my pre-order that day. I will miss my Lumia 1520 ...

And the rest of world in end of december or january ? :D RIP another fail of MS. People will again buy phones of another companies

You mean by January people will stop buying phones altogether?

John, can you confirm these are single SIM versions only? Thanks

"While both the Lumia 950 and Lumia 950 XL have been available to purchase online" Are you in the same US I am? The 950 has never been available to even pre-order at the MS store, only e-mail me when available. Right now it still says that and the previously posted price is gone (now that AT&T is charging $50 more than MS said it would be). Maybe you meant available online somewhere, but this is a story about the MS store. Any idea what the retail store plans to charge for the 950?

Just went to Cleveland store, told me both going to be on 27th :(

Some stores arent open on thanksgiving. Thats why they gave you the 27th date.

If this is only going to cover preorders, they better state that up front. But I would imagine saying it will be available for sale means they must have some extra stock for walk in customers as well. Scratch that, this is MS, they will surely screw this up too and alienate even more people.

I can pick up my XL Today!

They must be confusing it with the 950. The Call center that you get when you call the store is confusing the two.

No you can't Posted via the Windows Central App for Android

Seems like half of the posts in here are from my fellow Ohioans. :D #GoBucks

Why does that picture look so mean and pervy....hrmmm

Great! general store availability should follow a week later I guess. and then I'll get mine

Yes but what's under the hood in these devices?

Untill the So called "windows 10 phone" not perfectly works it is worthless for any high end phn like 950 n xl ...MS should improve their apps and theri functiinality..also biggest issu is app transfer...and sometimes even pdf file shared through BT not found ..and let me tell uh the SOUND of any lumia is not excellnt.

Terrible launch day. Reminds me of the Easter day launch for the 920 I believe. All the stores were closed... Posted via the Windows Central App for Android

Now to come up with the $700+ to get the XL... Yay

Well I'll be waiting for the unlocked 950. Went into the AT&T store this morning (5 minutes after opening wasn't early enough apparently, already three 950 people ahead of me ;) and the surprisingly helpful store person made it pretty clear that my best option is the unlocked one, especially with my academic discount. Just means waiting another 10ish days (as there's no way in hell I'm going in on black friday). Microsoft store person assured me they would have lots of 950 stock and waiting a few days to grab it shouldn't be a problem. Got to handle the 950 for the first time, too. I'd briefly played with the 950XL when it was on display at the MS store. 950 felt way better in my hand to me, but this is maybe not to surprising as I'm coming from a 925. I know the phablet folks say there's no going back, but too big for me. The 950 is only marginally wider than the 925 so it's still easy enough to hold (and I think it was lighter, but hard to tell with the leashes on the phone) but maybe a 1/4"+ taller. Looked nice, felt nice, didn't feel cheap to me at all.

There IS going back. I have a 1520 and while the screen is nice to have, the phone is just too big to be practical for me. Go with what feels right for you, not what people say. I'm going 950.

Well, i am using Lumia 640 xl and am more than happy, but for my growing business at jobfort, lumia 950 xl is just mind blowing. I aso use to review smartphones at times. This phone is a absolute stunning. The phone is complete package. A thumbs up for 950 XL

Any trade in programs available? My 830 is a POS and unless I can unload it for $150-200, I'm probably going iPhone instead of a 950.

No. They want all your money. Sell it on swappa. Posted via the Windows Central App for Android

I think I'll camp on in front of my local ms store like Apple people do. I gonna go tonight and take my tent.

Did anyone get email from Microsoft after you preordered Lumia 950XL online? I didn't

Yes. Edit. Nevermind. Got an email from an in store order weeks ago. Posted via the Windows Central App for Android

Only for my pre-order confirmation. Supposedly they are not sending them out yet. A manager told me they will only send out those emails once the phones are physically in stores.

I love my Windows phone. The lack of apps from Banks and Businesses and Cable is getting to me. It really stinks that Windows users get lousy support. Hoping this changes. If it doesn't, what's the future of Windows phones?

Have you tried fire-bombing? It's a joke but seriously, the market is just a lousy place, they don't care about us, they just want your money...but apparently not enough to squeeze the few pennies out of us, of course! ;)

I'm not dissing anyone but I don't get the whole "Fail" on the launch. Almost any product that the purchaser has already decided they want BEFORE it is available has an anxious wait time associated with it. In fact, when you were a kid and the Christmas presents were wrapped and labeled for you and stuck under the tree DAYS in advance, that same anxiety was experienced. Maybe it is because I am old and no longer use the word "suffer" to describe what is really just "inconvenience", I rather enjoy the excitement. I will have a 950 XL in my hands sometime very soon. It is measured now in days, not weeks or months. Where is the FAIL in that? And I doubt seriously I will consider it an underwhelming device. All data indicates that it is a worthy replacement for my beloved 1520. In fact, the very first worthy replacement. This current generation should try ordering their next car! That's something I bet few have ever done now days. Waiting was simply a way of life. :)

I just went to the Michigan Ave store in Chicago to confirm when it was going to be in store (the XL), and they said they in fact are not going to have it in store (pre-orders only) until the 27th. This was the consensus of 4 employees, so not just one talking out his ass. I said I had pre-ordered and was told I would only have 24 hours to pick up phone upon release. I told him that due to them releasing at this time, I am not even going to be in Chicago (let alone near the store) to get the phone. According to these employees, I will receive a personal email (not automated) from a staff member of that store 24-48 hours before release to confirm if I still want it. They told me if I reply to the confirmation email, I can arrange a date of my choosing to pick up the phone (within 7 days of release). I live 37 miles from this store but work directly across the street, hence why I went here to pre-order. There is going to be hell to pay if come Monday the 30th (first day I could possibly pick it up), I show up and they don't have a phone for me. Honestly with how not super thrilled I have been with the preview and how god awful my Windows 10 experience was on my pc (back to Win7 and staying that way), if my phone is not there. I am done with Windows Mobile...which I have faithfully supported since WM5. This is there last chance to keep from losing another customer.

Was this your only experience with a Microsoft Store? I too hope that your negative outlook will be shocked by pleasant results...I love the stores, they're really helpful and they bend over backwards and twist themselves into pretzels to help me. Only when I see someone acting absolutely horrid and like they'll be seen on the second day of a work week (if you know what I mean) do they ever seem difficult, but that's only what happens when you get the worst of the worst out of people and barely ever. If you pre-ordered, you should see it, unless something happens on Michigan Ave that keeps the trucks away. As if the world were perfect...best of luck to you, and don't forget, Santa is coming! ;p

The absolute only way I will get this phone is buying it for myself. My wife could afford it but I would never ask for it nor accept it if she bought it. If I want something expensive, I pay for it myself or I don't own it, plain and simple. Plus I honestly cannot wait till Christmas. My current phone (830) is near unusable. WM10 is beyond glitchy on my phone, plus I have dropped the phone once....and it 'rolled' down my leg (in a case) and hit a carpeted floor, only actually falling about a foot and landing on it's back plate. Ever since then the slightest little tap on the back of the phone and it restarts. I have to use the phone like it's fine china because any "impact" resets the device...this happens 10 + times a day and I am not even rough with the phone. I have had to make due with this for 3 months already. I will NOT tolerate it another month or longer. Either they live up to what I was told this afternoon, or I am moving on. This is not easy for me because I dispise both iOS and Android...but I have completely run out of patience with Microsoft.

Have you been under a rock for the last 7 weeks? It has been confirmed TIME AND TIME AGAIN that it will NOT work on verizon. If it were going to work on Verizon, there is ZERO doubt in my mind that WPCentral would have covered that already.

Agreed snakebitten, instant gratification has turned people into impatient children sometimes. I will wait.for my 950xl as well as my 1520 is working almost perfectly for me with the windows 10 insider preview installed. A few hiccups, but nothing that can't be worked around if needed. As mentioned in the article about at&t "supposedly" selling the 950 in stores today, I can confirm they are, as mine is waiting for me to pick up right now.

As much as I'd like them to succeed. This is just more evidence that M$ doesn't have a clue as to how to market this. First we have Astoria blowing up now this at best pathetic launch on the holiday again. I picked up a 640 as a spare phone and for what it is it's really kinda great. To pay a premium for what at best is marginal speed improvements is not what I'm looking for. M$ has a mess on their hands in both the hardware and OS parts of is wp division. To be honest I'm not sure they can fix this at the point. Posted via the Windows Central App for Android

There is no marketing these, there is only Windows 10. Smartphones are iPhone/Android the market has made this abundantly clear. Microsoft gets it, there's no overcoming this, just have a platform that is available to take advantage of things and it will wait for them to populate...but it's not kidding itself, I suggest you follow suit. These are for those that really want them, like me. Do you want them or not? Don't worry about the rest. =[

As far as I can the 950xl looks like a good phone, I was going to buy one but as this new shipping version of 10 mobile is as buggy as I expected it to be they have lost this customer, not paying a premium price for a phone with beta software. I think, I'll grudgingly have to buy apple and put up with iphone UI and keep an eye on windows to see if they can get this to work properly over the next year.

THis comment is WAAAAAY on the bottom of the pile but I wanted to voice that I'm pretty upset about Microsoft releasing the phone I have been waiting for, for so long on THANKSGIVING DAY. Sheesh. Maybe with some luck the stores will have it for us folks that preordered it at the local store the day before or something. I mean the Microsoft store should be CLOSED on Thanksgiving. Let people spend time with their families, and brace for the hell of BLACK FRIDAY. I'm still getting my phone, but I just find this latest move pretty annoying. Ok I feel better now. Sorry for the all caps on some words. // J

I figured they were for emphasis, I do it too...my Windows Phone anniversary is in December and I don't get my bonus until then anyway. I'll wait for the second wave/phase, join me? ;D

Haha I should. But I have already been waiting for so long. But gonna try and get it what ever day it shows up.

Just called my closest MS store in San Diego they currently have the 950 for ATT only. The 950XL unlocked version will be available next Friday, black Friday.

I really hope that's not the case. 365 days in the year and that is the one day I don't want to be anywhere near anything retail. Most years I stay home for Black Friday. Don't need it, don't want it. I hate the culture we have here in the US centered around the day after thanks giving. It's 1st world consumerism at it's worst. :/ It's shameful really.

Yeah. And shoppers are looking for stuff to be like 50% off....Microsoft launches a new phone, on Black Friday, at full retail. Wow?

So stores can not sell items on black friday for full retail?

Who's that guy on the phone

I don't believe that's the day. It's way to stupid.

So they will not have unlocked lumia 950 in stores on november 26th?

Yes both 950 and 950xl will be there on 11/26

Well that sucks, went by my local ms store and they don't open until 6pm. To top it all off they don't have enough phones to cover the preorders :(. I never would have guessed that a MS phone would sell out :(

with this lumia 950 (unlocked version) have dual sims?