Hands-on with the Lumia 950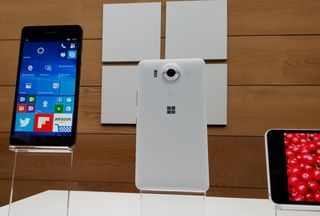 Microsoft has officially unveiled the Lumia 950 today along several other goodies. Of course we couldn't wait to get our hands on one here at the New York City launch. The Lumia 950 features a 5.2-inch display (1440x2560), 20MP PureView camera, runs Windows 10 Mobile, and more. Watch our hands-on video for more details.
Lumia 950 specifications
| Category | Specification |
| --- | --- |
| Operating System | Windows 10 Mobile |
| Display | 5.2 inches (1440x2560) |
| Processor | Qualcomm Snapdragon 808 |
| Materials | Polycarbonate |
| Qi Wireless | Yes |
| Connector | Type C |
| Fast Charge | Yes |
| RAM | 3GB |
| Rear Camera | 20MP |
| Front Camera | 5MP |
| Internal Storage | 32GB |
| External Storage | micro SD |
| Battery | 3000mAh removable |
| Charging | Qi wireless, USB Type-C, Quick Charge |
| Height | 145mm |
| Width | 73.2mm |
| Thickness | 8.2mm |
| Weight | 150 grams |
| Price | $549 |
Why I like the Lumia 950
After handling the Lumia 950 XL, I immediately turned my attention to the smaller Lumia 950. Going into this event I figured the XL was the device for me but after my initial impressions I'm leaning on the Lumia 950.
Both devices feel the same, but the Lumia 950 just feels better in the hand due to its smaller size. Also, the extra 1/2 inch in display size is not drastic enough to push me up to the XL realm. This is where critics who wished for a 6-inch device can feel vindicated as that would have been a little more substantial.
The Lumia 950 has a slightly smaller battery and fewer cores on the chipset as well. Due to the smaller display, however, none of this is likely to matter much.
The camera seemed on par with the Lumia 950 XL but I'm not quite yet ready to weigh in on quality due to the environment we were in. The camera housing design did not bother me at all and, in fact, it looks quite handsome in person.
Like the Lumia 950 XL third-party companies are stepping up to the plate to offer replacement back covers. This option should give users a little more flair for different colors, materials and designs, including even some with a metal band option to make their phones feel more premium.
I feel like I have even less to say about the Lumia 950 and yet it is the phone I am likely to pick. The button layout is traditional, without any unique experiments. The size is better for your pocket and you are getting basically the same feature set as the XL. Unless you are really set on that extra 1/2 inch display size then the Lumia 950 is going to be the more practical phone for many.
But hey, a choice is good, and I'd rather have the option between a Lumia 950 and XL than no choice at all.
Throw in Continuum and the Display Dock and this could be a very fun and productive device. It may not be glamorous, but Microsoft is angling this phone towards people who "get things done" and I think that fits.
So, am I excited over the Lumia 950? I'm not gushing enthusiastic about it but only because it's a Lumia in so many ways. If you are using Windows 10 Mobile, it is that with some more speed, a lighter housing, likely a better camera and a nifty iris scanner. This familiarity is not a bad thing, either, for Windows Phone fans who will get some of the latest features in a new phone for a modest price.
Perhaps I am more intrigued with the prospects of Panos Panay working more closely with the Lumia team for the next "true" Microsoft phone. Much has been said about Nokia's ability to make hardware but if Microsoft proved one thing today is that they too can do a lot.
Pricing and availability
The Lumia 950 goes on sale sometime in November for $549 off-contract and carrier unlocked. In the US, AT&T is confirmed as putting the phone in their lineup.
Are you interested in the Lumia 950? Or do you prefer its bigger sibling, the Lumia 950 XL (watch hands-on video)? Sound off in the comments!
Lumia 950
Surface Pro 4
Surface Book
Microsoft Band 2
I'm a bit disappointed. We finally get two new phones and even Daniel doesn't seem that excited about them. And these are supposed to be our new flagships? All this time and MS couldn't puta little but more wow into them....

Dan is concerned about the unfinished OS than the devices ... We can't judge these devices yet without the official W10M .. So as we all know .. It's MS.. And it's coming soon.. So have some patience bro ;)

Software can be improved with updates. The boring hardware, well, you're kind of stuck with that.

He didn't seem very enthusiastic about either device. Maybe it's just because we've been waiting for them for about two years and already knew what was coming. I'll probably be getting the smaller version... but I could've done without the big, silver camera button. It looks like a cyclops.

Seriously guys?!?!? Can't you just let the guy do his job? Would love to see all the comments you'd prolly make if he was STOKED over these devices. THE GUY CAN'T WIN. As he has clearly stated prior, he's concerned with the third reboot of the OS = not being up to par with the competition which is 6 and 9 versions matured. Plus he has already stated as well that the HW is less than inspiring, or something along that verbiage. Being a Zune lover down to today, seeing their mobile story evolve over the years: I couldn't agree more! I hate to say it but, you're drinking the kool-aid if you think much different.

Why do people care more about useless stuff on their devices than the actual device itself ? The phones look pretty good and i bet they will run smooth and yet people probably want tons of other useless things like curved edges or health sensor and other crap that will make the phone cost more. For instance i don`t use health apps and i don`t care about them, so selling this hardware inside the MS band for the people who want this functionality is better. The rest is just fine, the back is simple and some might complain that Samsung / Apple does it with stylish glass ... well... that glass can crack, that glass gets dirty really fast and people will for sure throw on a plastic case anyway ... so where does all those money invested in a glass back cover goes? Nowhere! ... get real ..

So you need a head of WC to like them in order for you to like them/buy them? Really? Its just his opinion.

But he does make some valid points, we are once again playing the waiting game for the software to be finished and the apps to arive. That's not someones opinion, that's what it is

Yeah, I felt like the Win10 Mobile team didn't have their assignment completed in time for class. The whole presentation skimmed right by the Mobile OS, kind of like they didn't want us to really pay attention to that part. If it was ready for prime time, they would be touting all the benefits and showing it off. That certainly didn't happen. I'm holding out that when the Mobile team DOES turn in their finished project, it will be amazing. The hardware is here. That's about all we got for phones yesterday.

I really don't even like the on screen keys. The specs are on point though but the on screen key thing is wack for me plus that round silver shining thing around the back cam is boring and old fashioned. I see that a lot on those china clone phones. That said, the app gap is something to be dealt with as well because without enough apps , all those hardware and high specifications will be WASTE.

having moved on from capactiive keys in the Android world, it's something you'll get use to.

While I as well am not a fan of the on screen keys, seeing nexus seting the example for their platform, heck even the new sp4 shows that the need for a capacitive button is long gone, giving way to on screen and SMALL bezels. Where I argue is not considering the on acreen buttons part of the "bezel." Changing the color certainly helps distinguish the difference, but those going for the traditional black buttons to match the bezel (like capacitive) see it as a HUGE FREAKING BEZEL. lol... long segue for mini rant over...

You guys and your apps. Statistics show that the average user of any smart phone doen't consistantly use 20% of thier installed apps, let alone the other 80%.

you should thank the leaks for that. when there is no surprise factor, there si no excitement.

I totally disagree! Just because it was leaked does not take away the excitement of the product. The sad thing is that the majority of those commenting on these phones have not held one in their hand. That is like judging a high end car with out sitting in it and driving it. I also hear that so many are complaining about it not having a metal exterior. What does it matter if the phone's exterior is metal or not? Every person I know who has any other flagship phones, including the iPhone and Galaxy S6, has it in a case so that you can't appreciate the beauty of its design anyway! However, over the past two years the biggest gripe with flagship phones has been that they lack expandable memory or a removable battery and YET here are two flagship phones from Microsoft the sport both! You just can't win for losing with you guys. GO TO THE MICROSOFT STORE AND HOLD AND TOUCH ALL THEIR NEW DEVICES AND YOU MIGHT JUST BE SURPRISED!!!

This design is step down in class for 9xx series. But price is still in premium segment. I dont really care about third party case manufacturers, I wanted a real premium device to compete with Samsung SGS6, iPhone 6S, Sony Xperia Z5 not that piece of plastic crap that runs W10M. It's more like 850/850XL or maybe even 7xx/7xxXL not 9xx.

Composite is better than metal. My Lumia 1020 is still going like a champ, also $549 and $649 are not premium prices compared to the other flagships, the specs in this phones are also way better than other flagships.

no it dont. it did not seem faster on the video. I hope that it is because its a not finished windows 10 mobile OS

Well it's not surprising, no one would be completely amazed by these phones because we had so many leaks, which spoiled the surprise.

Finally someone with half a brain

That's what I thought too. Verdict still to be given - after the phones are available & the OS has made some more progress.

Looks like a bigger leak
Posted via dungeon

This thing looks beautiful. WANT.

I'll try both and see how i like them. But the XL can certainly wow my friends.

Looks great with the leather back. Not sure the image will show but posted it on the forums: http://forums.windowscentral.com/microsoft-lumia-950-xl/386779-little-te...

Speaking of the back... I remember my old Samsung Epix WinMo device...
I could switch the back cover out for a deeper one, and use the optional larger battery... I actually think it came with the larger back, and battery.... I hope they have those for future Lumia's.

@Rodneyej, Either the 950 or XL with Mugen extended batteries... now that's a mouth watering prospect when it comes to battery life / charge to charge times :P.

See, I told you guys. Yeah, the black looks awesome. I think the next month will be interesting, cruising eBay and elsewhere for stunning back covers. Them I can afford.

I woner if the Qi charging works through leather. Not through metal I'm sure.

Here you go. http://www.microsoft.com/en/mobile/phones/lumia/?PMDM_DUALSIM=on&order_by=Latest

If you look on Microsoft store, they have them listed. There is indeed a "Dual-Sim" for both phones

Earlier today they weren't listed lol, looked straight after the event :P.

That Panos Panay guy is one hell of a dude. Made the whole event much more,exciting. Loved his delivery style and the enthusiasm. Made me laugh a couple of times too. Excited to see what he can do in the future with Windows Devices. Im sure a Surface Phone and Surface Desktop PC are in the works and will be on par with the Surface Pro 4 and Surface Book levels (also, hopefully a bigger vision for Band, the Band 2 is an improvement and is cool, but not Wowing)

Yeah, Panos was really hyped today.

I really enjoyed his presentation. Arguably the best presenter I've seen in tech. Elop was excellent in a more expected way, but Panay channels awesome energy and tone that I wasn't expecting. I'm already looking forward to the next time we see Panay on stage unveiling a new service. Totally awesome dude!

I really did miss my main man Joe though. Posted via the Windows Central App for Android

I'm pretty sure they got the hint and left him home, it was a much better event just for that fact to some

I like Joe's Style... He is a passionate presenter...

This was a hardware event and Joe runs a software team. I'm sure he will be on stage when win10 mobile is ready

I really wish Satya Nadella gives Panos Panay money and resources so we can have a 6 month flagship phone release from Microsoft as Samsung does today with their Note series launched in Q3 and Galaxy series launched in end of Q1. All we need now is project Astoria finished ASAP so carriers of different countries around the world get interested in these devices as they are with the Samsung Galaxies and iPhones.

This. When he started to talk about the Book, I swear I lost my shit for a minute. Never been this excited about Microsoft hardware. The guy knows how to pull the audience in.

I agree with most of you comment except the Surface PC. I doubt Microsoft is going to step on thier partners in the desktop realm. There are some really awesome desktops out there spread and many of the folks who would be the targets for a Surface PC build their own systems.

I like 950 more than XL. Seems nicer to me.

Yeah! I'm definitely going back to a smaller device after having the 1520 for a while now. I mean, it is nice, but too big ...

I find myself switching back and forth between my 930 and 1520. In any event, the 1520 makes a nice backup phone that is nice for reading in bed. The battery life is outstanding too.

In white it looks fantastic. Posted via the Windows Central App for Android

So is the XL really worth the eXtra $100?

simple answer no, more complicated answer still no. :D but to be honest neither are priced competitively.

Ok they both are better speced then the new iphones and are cheaper also cheaper then the galaxy line and have just as good if not better specs but there not competitive. LOL

Well, no they're not, due to the software, and the app situation.

They are priced competitively. You're just cheap.

To each his own... Why should one pay more than say Comparable nexus devices that have similar specs.... The apps situation is much better on Android... and Google Now on Tap seems awesome... And you get better MS apps than whats available on Windows right now... These devices should have been priced similar (probably cheaper) than Nexus devices

I don't feel like the Nexus devices are comparable. To me, wireless charging, expandable storage, and removable battery are all worth the extra $120 compared to the 32GB nexus 5x. Actually, for me, I top out my 32GB 920 so I want more storage, so Nexus 5x is a non-starter. For me, I would have to get a 6P for 64GB at $550. I don't necessarily want that big of a screen so the Nexus costs the same as a Lumia 950 plus the micro SD card I need. I know that this is not the case for everyone, but 32GB plus expandable is absolutely necessary for me. So for me, these are priced reasonably. If I didn't want wireless charging I would probably get a Lumia 640. My mother-in-law's works great and has better storage optionst than the Nexus. So for me, a $79 640 is better than a $350 nexus.

There is no comparison. The Lumia 950/950XL is hands down superior an so many ways!

They are priced in line with the nexus 6P for the 950XL and the 950 is better speced than the N6X

I do not think we can tell yet. Depends on how you use the phone and if you plan on using Continuum or if you are a gamer.

The 950 looks better in hands-on pictures than it does in renders, but I'm still leaning towards the XL. I just hope that Microsoft doesn't pull a Surface Book in Q1 2016 and release an awesome device that no one was expecting.

I actually hope that happens haha

They probably won't do that because first of all, presenting a new device in Q1 2016 will cause a loss of customer trust. People won't be willing to buy MS devices because "there might be releasing some better device withing 3 months or so". And second, MS usually never releases hardware in Q1 of a year. Usually it's around september.

Not sure what "usually never" means, but the 1st gen Surface Pro was released in Feb 2013, and I don't think they've released enough hardware to consider that "usually never."

Ow, my mistake. I was wrong.

After that presentation, seeing the passion Panos had for the new Surfaces and the utter lack of passion he had for the phones...it's making me want to wait another 6 months to see what they've been designing for Lumia.

There is no cdma radio, so no Verizon or Sprint :-\

I thought Verizon is getting rid of CDMA

I thought CDMA Bands were listed.
"WCDMA: 2 (1900), 4(1700/2100), 12(700). I'm not sure what bands Verizon uses.
I wish Verizon customers would blitz them with questions. Like "Why did you screw this one up?"

I thought CDMA Bands were listed.
"WCDMA: 1(2100), 2(1900), 4(1700/2100), 5(850), 8(900). I'm not sure what bands Verizon uses.
I wish Verizon customers would blitz them with questions. Like "Why did you screw this one up?"

@tale 85. In layment terms WCDMA basically is 3 / 3.5G. These phones ONLY have universal gsm radios. Here this might help clear things up for you. http://www.differencebetween.net/technology/difference-between-wcdma-and-gsm/

WCDMA is not CDMA. There are no CDMA listings in the specs.

They are listed but Verizon will not authorize the bands for use with any new MSFT product because they disrespect Microsoft and there is friction between the both of them. I have always believed that Verizon in general has great customer service bout because of their attitude torward Microsoft I am dropping them as my service provider. The way they handled agreements that they had with MSFT they showed just how unprofessional they are within the executive level.

http://i13.photobucket.com/albums/a274/robol/950_zpsbetayswo.jpg

They lied to you or the lied on the specs page. Its simple to go to the web site and click "Compare" and select the 950(xl) and the Lumia Icon. Then see Band 13 is missing and the section that shows CDMA is blank. http://www.microsoft.com/en-us/mobile/phones/compare/?action=productcomp...

950 looks better than XL at first sight.

Since the L950XL doesn't support pen as earlier rumored. So I'm leaning to L950 now. It is easier to manage.

This site reports the XL does have a pen: http://m.digitaljournal.com/technology/lumia-950-950-xl-microsoft-reveals-windows-10-mobile-flagships/article/445763 Are they wrong? I'd prefer a regular 950 with a pen.

I'm a little disappointed you didn't show which build it was running. I think there will be a Windows 10 Mobile launch where they will show more of these devices and the software.

Daniel showed build 10546 on the 950 XL. I'd hazard a guess that 10546 was also running on the 950.

The Windows 10 build was shown in the 950XL hands on, suspect its the same one

They were running build 10546 (someone took a photo from the settings page)

W10M isn't even finished. Is the OS on the 950 even stable?

Will be in a month when it is realeased. Today, just a newer insider build.

Does the 950 have radio like the 950XL has or...? Cause I have a low data cap and I always listen to radio stations on the hour ride to college. So that will probably be my deciding factor on if I should get the 950XL or just the 950.

I'm wondering this too. According to the specs pages though, no, it doesn't. I'm hoping it's an error though considering my 3 year old 822 has radio. The XL does so I'd imagine the 950 would also (as they are essentially the same phone) but they have an extra half inch to cram it into the XL. Hoping we get a definitive answer on that soon.

That's because when that phone was released the Internet was not invented yet, so people listened to radio. Posted via the Windows Central App for Android

The 640 has one. And there was a big push for it on all smartphones a while back. Most have the radio, it's just disabled by the carriers.

Yeah, it shocked me too, I m leaned towards 950 and lack of FM radio(especially in India) is a bummer. Microsoft please clarify it or correct it soon.

The specs page on the Microsoft Canadian site confirms that the 950 does have an FM radio like the 950XL.

MixRadio hardly uses any memory, update when on wifi? 1520 has FMradio as does 920

UK availability ?......dates ?......cost's ?

Happy that the back ring isn't as bad as the renders led us to believe :)

Both devices are pretty cool, personally I'll set this one out since I got a 930 few months ago & I'm really happy with it... but if I was looking for one, it will be the medium-sized-950 :P

The 930 is such an underrated device. I have one too and love it, especially the heft, liquid-feeling rounded glass, and the sharp metal frame.

Nice but still where is that flagship phone we have all been waiting for...

The iris scanner or Windows Hello for phone is much better in reality than what I was imagining with you actually having to hold the phone up to your face.lol This is going to be very cool. Posted via the Windows Central App for Android

I prefer the size of the XL, but I really like that the 950 has the "correct" power and volume buttons. I don't understand the change in the XL.

proved on thing -> proved one thing They did. A really nice Surface!

More interested in the L950 I think it's the perfect size. Take my money and send me one ASAP.

550 is pictured in error?

And 32, 64, 128 GB options, might be an error too.

Doesn't seem right to me either... and makes no sense with an SD slot

Will the 950 and 950xl have glance ?

I'm definitely a bigger fan of the 950. I've been using the 1520 for a while now, and it's great, but I'm starting to feel like it's too big. I have lengthy fingers and usually I can handle my 1520 without problem, but it's impossible to type in landscape mode because my thumbs just can't stretch that far. Being that I type way faster in landscape mode, not being able to do so really does hinder daily use. For that reason, and because the price, I'm leaning towards the 950. Oh, and also because the button placement on the 950 is far superior. :p

The rumoured pen support on the XL had me sold on it, but given the lack of information about it at the event. It was probably curtailed at the last minute, slowly leaning towards the 950 now as the 808 SOC is plenty fast. Never the less going to wait until I've seen them in stores before settling on a decision.

I don't know about landscape mode, but in portrait you can enable one-handed typing. Check out the keyboard options!

One handed typing is coming in Windows 10.

Nah,still don't like it..on screen buttons and that washer on back...didn't like the XL either.. Posted via the Windows Central App for Android

What version of WIFI will it use? Also with those premium covers, these phones will look totally bad ass. Something in bamboo with the metal edge would rock!

Edit: Oops wrong link lol. http://www.microsoft.com/en/mobile/phone/lumia950/specifications/#head_connectivity

99% sure I am going for this one! I have never been into phablets for practicality. The bezels seems smaller than expected, so I could at least have a fairly small phone with a big screen (waiting to see the feel of the phone in reality but it seems okay on that point). And the 950 does look really really nice, especially with the back covers from third parties. In these 3 I would hugely hesitate between the black leather and brown leather...would probably go for the "safe" (but still premium) black leather & metal, and see later for another one if I want to change. Christmas will be sooo hard to wait for :) !

I'm more impressed by the tan brown cover. Wonder if they include Qi charging.

They should as otherwise they wouldn't be show cased the event, wouldn't really make sense otherwise...

If I was to switch from Android to the Windows platform this is the phone I would get providing that the app developers for the Android apps i use now port them to Windows phone. I have a Lumia 520 play phone but not too impressed with the apps.. I do like the Display box concept though..

Dan after pointing out that these are the "enterprise" phones, do you think it will be worth waiting for the "enthusiast" phones, or the "true" Microsoft phones as you stated in this first impression? And if so, how much longer do you reckon it might be before we see them?

It's abundantly clear that Lumia fans & users are WAY more excited about the 950 & 950XL than anyone at Windows Central right now. It's quite annoying reading all these dull& pessimistic articles. Don't rain our parade just because all you care about is getting a surface phone. Have you considered the fact that some of us are actually really glad that MS have kept a lot of the Lumia features we loved. Getting quite sick of it tbh!

You're saying they can't voice their opinion? This article is called "impressions" for a reason...

That AWFULY incompetent article comparing 925 to 930 to 950 that is now removed from the site was a bit too much. And now they just don't have any article on 950/950XL theme other then specs and small hands-on. Like it is some generic tech site and not a win central.

+ 640 XL. MS rulled the presentation but now WC coverage sucks. Looks like we can't have them rulling at the same time, lol.

Isn't that first picture on the article a 550?

It has the right bands, the question will be VoLte. Without it Tmo will likely balk.

And I'm curious if/how T-Mobile's Wi-Fi Calling will work if they don't offer this phone. I'll gladly pay the unlocked price but missing out on the Wi-Fi Calling feature would be a huge turnoff. Maybe we need to start hitting up Legere's Twitter page...

His concern will be WiFi Calling on Band 12, the whole Nexus thing is getting VoLte. Now the T-Mobile 640 is on their Band 12 capable phones, so cross your fingers. John might just chime in on Twitter. With their lack of enthusiasm about the 640, Tmo may just welcome the 950's as a "Bring your own" device. Or.....it was reported a while ago that Tmo would have them..../maybe.
So lets all tweet the man!

This is the phone I'll be getting... Hmm black or white? Love the options for interchangeable back plates.

Those extra cases save the day...it'll give top tier touch to those phones

Yeah, I was going to say the same thing. The phones are a bit drab, but the ability to swap it out like that will be great. It'll also mean I can take a drill to it and make me a lanyard hole!

Can't wait to get one. Posted via the Windows Central App for Android

To me the 950 is prettoer

I just need it to be on Sprint.

It won't be, no CDMA. Honestly just move off of Sprint there is nothing compelling about their service especially if you are in the Windows Phone camp.

Can anyone confirm the CNET article stating that its AT&T exclusive? http://www.cnet.com/news/microsofts-new-lumia-phones-are-exclusive-to-at-t-in-the-us/

I think they're saying exclusive based on the fact that AT&T is the only one to step up to offer them in their lineup. They're unlocked from Microsoft, so nobody can be exclusive.

It says AT&T will be the only carrier to offer them - not an exclusive deal (though the rest of the story makes it sound that way). The unlocked phones being sold in the MS store can be used on any GSM based carrier. Not sure if the CDMA bands are missing from the spec sheets or just not available - it's a shame if they won't be.

They updated the article with a correction stating that AT&T does not have an exclusive on these Lumias.

Back covers! My 930 is green and as great as it's been the color has been a little distracting lol. Could use a nice stitched fake leather or plastic one :P

How do we get T-Mo to carry this? I know the unlocked version will work great on their network, but I want Jump and WiFi Calling if possible. I wonder if Microsoft will consider their own payment options at the store to get us more carrier agnostic. Wishful thinking I assume.

Email John Legrere, join the group. If you're on reddit, stop by /r/tmobile and bring it up. They hinted about it a couple months ago, remind them.

And it might help to hit up Legere's Twitter page. I might just sign up for Twitter to make my voice known.

Well apparently Tmo has twitted back. They're scaling back on Windows phones. But they're the champions of "Bring your own device". So here we go.....or wait till this afternoon when everyone changes the rules again.

I wish this 950 had XLs camera design, its the only thing that puts me off :/ Otherwise its sexy phone and I would go for white.

The same. It'd be a good if it had the xl camera housing

Me too I was hoping it would be removable.

I am very much concern about the gorilla glass screen...

Hoping the XL comes to T-moble.

Let them know. Email John Legrere. Call 611, use Twitter. We can try to make it happen. If nothing else, you might get a T-shirt.

The thing I really want to know about the camera is whether it will shoot in slow motion or not. Anyone?

A website in India is showing the camera will record 4K video and slow motion video http://www.bgr.in/news/microsoft-windows-10-devices-launch-live-updates-... The best thing vs the iPhone 16GB model is that you can use up to a 2TB microSD card on these phones to save your long 4K video from your family events/weddings without worrying about storage space which is great.

Thanks. I checked the link, but didn't see a sample. Still couldn't find anything that shows that it can do it. Hopeful. As for the 2TB, yea when my friend first mentioned it, I thought he misread. Ridiculously great!

Hmm, more tiles on the XL...

My mind was made up about which to buy (950 for me) for some time now. The Surfacebook / SP4 debate is going to be much more difficult for me.

*sigh*...I'm still undecided.

CDMA? Spectrum frequency?

WCDMA: 1(2100) 2(1900) 4(1700/2100) 5(850) 8(900)
They're listed in the Microsoft website. Only the XL is listed, I'm hoping the 950 is the same.

http://www.differencebetween.net/technology/difference-between-wcdma-and-gsm/

I believe the 950 and 950 XL are both compatible with Verizon. Here's why: I called the Microsoft store and the rep verified the bands for the XL were the Verizon bands. He did not have specs on the 950. However, if you go to the Microsoft Store, and compare the 950 and 950 XL using the Compare feature, all the specs are listed for both devices and the bands for both are the same. Fingers crossed.

But I did notice that only LTE bands are compatible - no CDMA bands. Unless there is VoLTE on the phone and supported by Verizon, it may be a no-go.

For Windows sake I hope you're right. We could use full carrier coverage.

Hey everyone. Just had a quick question: I remember using Windows Phone 7, and that the top icons (battery, signal strength, wifi etc) would dissappear after a few seconds and you had to double tap the top to bring them back. I thought this was a cool feature cause it kept the screen clean. Did they remove this with 8.1 or is there a way to get it back?
Thanks

They're there all the time since 8. It was super annoying to constantly have to tap the top just to look at those icons to see what time it was or how much battery you had left. It's much better being there all the time imo.

I'm kinda on the fence for both. I agree it's good to have them there all the time, but it was also cool how they would go away and give the phone a clean look.

They have a "notification" area now. You swipe down for the infomation you described, plus a bunch of other notificatons, like who tested you, called you, emailed you, sent you a friend request, etc.

Yeah I love the notification area. I just liked how WP7 used to make the icons go away and have everything very minimalist.

They have all the LTE Bands, including Band 12. We should be able to pop a SIM in and go.

Probably no Wifi calling though, or VoLTE (Voice over LTE), since it's only available on official T-Mobile devices.


WPM will never be finished they will keep on pushing features which scares me . It's ok to have unfinished OS on desktop but on phone I need finished OS .

Let me ask a silly question. If Verizon and sprint are CDMA and AT&T and T-Mobile are different. By offering a carrier exclusive with AT&T, reports being the phones will not work on CDMA why offer unlocked? For the T-Mobile users I guess???

There's more to this world than the 4 carriers in the US...

This allows them to make one iteration of the phone for the whole world. You don't have to deal with things like the 1520.3 model or concerning yourself with roaming radios.

Go unlocked and prepaid, you'll save enough over a year or two to pay for the phone.

Thank you....works for me. And you don't have to worry about identity theft either. Oh wait.....can they hack my refill card?

Not listed under audio..http://www.microsoft.com/en/mobile/phone/lumia950/specifications/#head_video-and-audio

I was hoping to hear what the build number was on the OS for those devices, did you not look, or did they not let you say?

watch the xl vid - or look through the comments on here.

This might be late. One was 10240, the other was 10546.

Agree with you Daniel on waiting for Panos' DNA on a Lumia/Surface phone.

Dan has ruined me..... I was 100% for the XL, now, it is much trickier. I really wanna feel them now. Unfortunately, that means I have to wait until the dummy units go into the shops. When I bought my 920, the units still had not got into some of the shops. I really want them to be in there before I have to pre-order. Hell, I would even buy a dummy unit if possible.

The retail Microsoft Stores will have real demo models and likely ATT, as well, since it sounds like they're partnering with Microsoft for this device.

It looks better than the renders, but I still don't like that camera ring. I also think that the side buttons are too light/reflective for my liking. Maybe it's just the lighting in the video, but I link my matte 920's buttons are darker. Of course, that's not much of a deal, I can't say it's something to sway my interest. Just goingto sit and wait for some more carrier and specific release date info while checking that 950 XL video now.

I agree that the camera ring is less attractive, but I never look at the back of my phones. I turned over my iPhone before typing this and all I see is the back of a case. Even if one uses it naked, would you ever really see it enough for it to be a difference-maker?

Well, very little is a difference maker on its own. The question is how many other negatives get piled up in the process. Luckily, the answer with these devices is that it's pretty few.

I'm actually impressed, they check all the right boxes including glance, and the only bad part seems solved thanks to interchangeable covers, not really covers in this case but the actual outside housing of the phone, this means this phone can be a standard plastic affair, or an all metal one like htc's, or glass sandwich like iPhone/sony's or even a leather clad thing like Motorola does, and it mimics a w10 pc, has something potentially better than fingerprints and keeps all the good from previous lumias, if that black leather+metal case keeps the qi charging, and the low light performance is same or better as 92x lumias, I'm completely sold, only thing missing would be a xenon flash but I guess that's just wishful thinking anyway

I'll have to wait to fondle them. I would probably get the XL just because I have a Lumia 640 and an iPhone 6 Plus and like the bigger phone a lot better. I'm not sure whether to upgrade the 640 or wait to see what the "Surface Phone" leaks provide over the next few months. Was the dual SIM confirmed?

Mostly just glad that they didn't do that weird thing with the power button between the volume buttons. This was a huge relief for me!
And for $550 new this is very reasonably priced right off the bat! I will probably pick one up early next year when I pay off my SGS6 that has been giving me so many issues the past few months. SGS6 hardware is fantastic (got the Active version)... but man, Android, or at least Sammy's version of Android really sucks. I'll trade in a whole world of apps for an OS that works right!

They did it in the Lumia 950XL, the power button is between the volume buttons.

Wow at&t exclusive lame. RIP flagships no one will buy these great phones if they don't get worldwide sales deals.

It is too heavy because of useless QI chargeing and oversized camera. They fired flop so they should stop implementing his stupid ideas. At least it has removable battery and microSD slot so finally Microsoft/Nokia managed make phone better than Samsung Ative S. But I think it was cheaper to pay Samsung and HTC to produce decent models with WP instead of nokia acquisition.

You MUST be joking! Icon was far superior to the Ativ S.....Those were my options with Verizon the last time I had the chance to upgrade and it wasn't even close

You may feel different about qi charging after using it for an extended period of time.

I've loved Qi since the day the 920 was released are you joking? And please explain how much weight you think it adds?

Yea after a year with the Note 4 in ready to downsize a bit.. 5.2 might be the sweet spot for me.. I'm guessing the wireless charger isn't included in the box??

I'm a huge fan of Nokia. Always has been. But honestly after they stopped working with each other I feel like the quality overall went downhill. For me the best Windows Phone so far is Lumia 930 hands down. Like the quality of the phone is just something else. But the new ones are made with a cheap plastic cases that feel like a 2nd rate android phones. Moreover, I HATE THE FACT that the new Back, Home, Search buttons are now touchscreen. Having them phsyical gave a different feel to the phone. Im not hating on MS, just trying to give them some feedback as to what to do in the future. Is anyone here with me? Do you like the new looks/design of the recent phones? And what about the buttons being touchscreen?

I'm constantly activating Cortana in my pocket when the screen is off and her and the back button when sometimes just holding the phone. I like the idea of hiding buttons in reading mode, watching a video, listening to music, etc. but the jury is out until I use it.

Do anyone knows the framerates for video recording or it shoots only 30fps as the usual ?

30fps at 4k, so I read in one of the articles.

it does record at 60 fps. Watched the hands on of the "other" website

Why! Why on screen buttons? :'(

Totally happy, but still zero info about the app situation.... I want and need my Marantz, Panasonic and many other apps!!! Posted via the Windows Central App for Android

Useless QI charging?!?! You obviously NEVER used it.... Posted via the Windows Central App for Android

I used it all the time with my 920, miss it with the 1020. I'll use it with the 950. It's still Qi so my accessories will still work too.

I use Qi 99% of the time at home and office. Have had this replacement 920 since May 2013, never had to send it in or replace batteries. It gets plugged in in the car if using GPS navigation and into the PC when loading music. Plugging in a phone charger daily is a first world problem I never want to have again.

I think the phone(s) look great! I cannot understand the trivial nature of some of the complaints both before & after release. The reality is with technology you always need something to shoot at. The specs on these phones are spot on and in many respects superior to other offerings. Offering them unlocked and direct through traditional and online stores should increase the amount of people who are able to get their hands on them when compared to previous devices that were carrier bound (Icon, 928, 1020, 1520) These are all positives and since these were meant to get MS back in the game I'm sure they will continue to push the envelope as the newly merged devices team matures (see Surface lineup)

Removable battery? No more double tap to wake?!?

Double tap to wake is still in the most current insider build. It will likely stay as an option.

I like the 950. Interesting that the MS Store only shows the 950XL right now http://www.microsoftstore.com/store/msusa/en_US/pdp/productID.326602300?....

I don't care how innovative or suped up the phone is. If the apps and market share aren't there, it matters not.

"I don't care how innovative or suped up the phone is. If the apps aren't there, it matters not." Fixed it for you - market share doesn't matter if apps are there. If apps are there market share increases. Apps are key - and everything for you apparently...

A smartphone without apps is just a really high specced feature phone. It's like driving a Corvette at 35mph.

950 looks great!! i must be the only one that likes the camera ring.. but having the removable back cover and the 3rd party option definitely dealed the deal.. i'm surprised they didn't make a bigger deal out of that.. can't wait to see some metal back cover for the phone (although some of the leather looks really nice)..

Maybe I missed something, but I assume there's nothing in the way of a mobile payment system?

Gabriel failed on firmware development, he should be fire. That's the rules of project management.

Seeing as they didn't provide us with some sample images from either camera I'm guessing they may not be ready yet and either way it's the same old same song for me as a T-Mobile customer. If I like it(and I really do like it)I'll have to save up for it and get it "some time later on." For credit card owners it's no biggie but I don't own a credit card or have the luxury of trying out a device for the full upfront cost. Plus I like to have a way out which is exactly what T-Mobile's Jump plans give me. Posted via the Windows Central App for Android

Daniel, Does it have capacitive buttons on the bezel? I couldnt really tell.

No, it's software buttons now.

I really wanted you to show us how fast the camera takes pictures.

Why 550 is completely sidelined ? Quick question, Does 550 have USB Type C?

Pretty meh design with all that hype about the design being so new and different.. Nice specs though. Hopefully they can help get WP back on track.

I'm kind of curious why Verizon isn't on board, if you truly want this to be bought and used by all Windows 10 consumers not inviting the largest carrier in the US to the dance isn't very smart. I'm actually with AT&T so its not like I'm whining because I can't get this phone I'm just perplexed at the strategy here or did Verizon thumb they're noses at wanting these phones??? Either way this is going to hurt sales, promoting and acceptance across the board which means ATT will just stick these phones in a corner with a small sign above them and continue to push Apple and Android phones :(

I have seen Verizon employees actively talking people out of using a Windows phone. I asked about one, they didn't know I was set on getting a Lumia Icon and the saleswoman was actively telling me how terrible it was and the she only sold two in the past 6 months and both of those customers brought it back.... Verizon hates Windows phones and apparently has passed this on down to their sales people. I hate that because I am on Verizon....can't get much of an AT&T signal at my house.

After hearing about the replacement backs with a metal band, I'm even more excited to get this Posted via the Windows Central App for Android

Yeah, I think that is really nice too! Having something beyond just different color plastic shells or backs is a nice premium touch. Of course, I doubt I'll be willing to let mine live naked, so I hope there are also a wider range of cases from manufacturers than we've seen in past couple years.

So am I reading the specs correctly and none of these new phones have NFC support?

Well if i were going to buy one of these bad boys it would be the 950. I would choose it if for no other reason than id rather have that 808 processor. The 810 is probably ok but there is some stigma attached. Oh well ill probably just get the 550 but $60 more than the 640 it better have the sd 410 and not that sucky 210.

That screen looks stunning! Also those leather backplates are very interesting!!!! I think we'll be seeing a lot new accesorries now! :D

Can someone please confirm - in the US you can pre-order the 950 XL from Microsoft online, but if you want the 950 you have to buy it from a physical store on the day of release? And does anyone know if the 950 can take .DNG photos?

What on earth!! My humble 830 looks far more sexier than this. So boring. And that camera ring just doesn't do it for me. :-\ Hope the non flagships looks better.

The 830 is one of the better looking Lumias for sure! I'm not a fan of the 'black circle' of the 830 and 950xl camera hub, but beyond that the 830 with it's metal sides is a sweet looking phone.

Neither. Ugly designs and only a 20mp camera make this a less-than-exciting device for me.

It's funny how us in the WP world can talk about 'only 20MP' :-) It would have been nice to see them take it to the next level beyond the 20MP cameras but maybe someday. For now, we can find comfort in knowing that Lumias are still going to be top of the camera heap, even if we don't have a 1030, 1040 or 1050. I think the flagship drought in this OS has just been too long; Microsoft has to get their feet wet in the flagship level and now they can start finally looking at how to improve. I was totally planning on passing on these and waiting for a 1020 replacement to come, but I honestly don't think we'll see one on the market before 2018. I'm just hoping the software for the camera is fast at loading and shooting, and if that's good, I'm sure I will be happy with the pictures a 20MP camera with f/1.9 aperture can take and I'll just continue to save up for that dream flagship.

I need these features in next WM10 built..
-ability to show live images in live tiles
-show the time when app went to background
-working multi window at a time in 5" or more displays
-combined camera app with panorama, refocus, selfie.
-off course lag free built
But I know these will not be coming forever..

Not too keen on the camera bezel but maybe there are some cool lookin cases that will cover it up.

Throw in Continuum and the Display Dock

If that niche feature is the highlight of those devices it tells a lot about Lumia / Windows Phone's current stage. While its a nice gimmick I still don't see the masses of customers will have any use for it.

Is it constructed from the slipperiest material known to man, like my 930?

Nope it's plastic with removable back so you can buy a new back to make it like your 930

unffff finally! can't wait!

For me it all comes down to the performance of the storage if I am going with the 950 or the XL. Snapdragonn 810 has support for eMMC 5.0 an ddr4 which the snapdragon 808 has not. So there could be a huge difference in storage and memory performance between the two.

this phones don't have dedicated home, search and back buttons like Lumia 930?

They are on screen digital ones

Can we just talk about how there is no phone on the market right now with someone of these specs??? The screen is miles better than that retina bs on the iPhone 6S

november is a mistake. I was just about to cancel my nexus 5x, but i am gonna wait it out now.

Does anyone know whether the 950 has an LED notification option for things like new emails, new texts, calendar reminders, etc? Dan wrote an article about this a few weeks ago. My memory is that MS built support for it into the new OS, but that it was up to the manufacturers to develop the hardware and drivers to support the functionality. Did MS do that with these phones?

Guys, Did you check out glance screen?

I'm very glad these have glance - one of those features I thought I'd never use, but now that I'm on a backup HTC 8X instead of my Lumia 920, I sorely miss having glance.

"The Lumia 950 has a slightly smaller battery and fewer cores on the chipset as well. Due to the smaller display, however, none of this is likely to matter much." If I'm not mistaken, they both have the same resolution. Regardless, I'm inclined to agree with you that I don't think the difference between the 808 and 810 will matter much, or at least it won't $100 matter.

Yeah, and since both have the same camera, same aperture, same triple flash, I don't see a $100 worth of benefits to getting the XL over the 950 for myself, either. It's a tad bigger than the 830, and I really like the feel of that phone.

What I still want to know, how's the Android/iOS app intergation project going? Can we run them natively? At least Android apps would be nice.
Anyone on this?

I'm wary about Intel in a phone, at least for the first rev or two. So, I see no reason to wait for a rumored Surface Phone with an Intel processor when I can grab the 950 which is the first suitable replacement in the US (reason why it couldn't be the 930) for the Lumia 920.

no preorders before November possible? hmmm phones didint blow me away but those are still the best windows phone one could lay their hands on. and it is not good just in comparison, thos are beast of phones that would perform. they might not sell given the current windows phoen market becuase such premium phones to sell would, right now, require android and apple folks to jump ship which is surely a tall order. but i really can't complain about these devices. they have robust internal, for looks i think they stand shoulder to shoulder with the iphone 6 and later. will they perform, my guess is they will outperform all their major competitors on any given front except sales. all phones and any phone will always lack something that you want, it was with all the past devices, it stands true today and will remain so. i am happy.

Ha-Za! A back plate and not a cover AND THEY LOOK GOOD! No more slippery polycarbonate .

How would you say, besides weight of course, how the 950 and 950 XL compare to the 1520 in responsiveness and display? I am using a 1520 with 10536 and my contract expires in November with AT&T. Perfect timing if I decide to go with a 950 or XL and keep my Android HTC M8 in my desk drawer.

This checks everything I wanted: Removable battery micro SD slot Optical Image Stabilization Wireless charging Up to date CPU and good amount of RAM As a bonus, USB C port Now, just to wait for the reviews and see if the camera quality is up to snuff as well as shot to shot time. Great job, Microsoft!

I know it's all subjective but in order to make these phones look any better you need to buy a 3rd party case? I really miss Nokia. I know that people say that these designs are what Nokia already had intended but I don't believe that. Microsoft, to me personally, make functional but extremely boring looking devices. There's no 'desire to want one' there when you look at them which to be honest, is a big part of why people buy things. The original Lumias had that wow factor to them when they were released. The unique unibody design exuded sexiness, these just don't. The last true Nokia design was the 830 and although that's a mid level device it is way sexier and premium looking than the 950 / 950xl. Anyway, not that I'll be buying one anyway. Windows Phone is all but dead here in New Zealand. I don't even think these phones will be sold here. No one supports the hardware (carriers, retail stores, Microsoft themselves... seriously, they don't, I've tried them when I had Lumia 820 issues and they keep pointing me overseas for help becasue no one there 'knew' the phone?!). I hope they do well though.

This is disappointing. I am on Tmo and don't mind buying from Microsoft but it's still not up as a product in the MS store. Unless there is some kind of crazy last minute bargaining going on (which I doubt), I have a sick feeling AT&T will be the only seller of this phone in the U.S. I absolutely do not want to haul around an XL. Argh.

to prove those phone are flagship, they have to be sell at avery carrier...

Why, why, why it's not Dual-SIM? Microsoft you don't like travellers at all!

this probably sounds like a stupid question but do both of these devices support double tap to wake up? i noticed Daniel used the power button? also can you confirm it has super sensitive touch?

windows hello should have an option from settings to enable a button on screen to activate it. that way ppl with glance deactivated can still see the time without unlockin the phone.

Really glad to see the 950 will be sold unlocked, an AT&T exclusive would have ruined my plans to get a 950, 950XL, and the new Band. I'm not sure my wife would like the XL and two XL's would probably stop me from splurging on the Band. Love the optional case backs too!

whats about the android apps on windows 10?

Microsoft is shooting themselves in the foot with no Verizon version. I don't see AT&T being an option for me. I was looking forward to getting a high-end Windows 10 Phone, but now I'm unfortunately probably gonna go back to iPhone. I'd really like to come back some day once they get their stuff together and get universal apps for NHL, Snap Chat, and many others.

What exactly does "universal apps" mean?

I can't wait. I will be upgrading my 920 to the 950 ASAP. Any idea when in November it will be available from AT&T?

Website says Coming Soon but I was in AT&T store yesterday & the salesman said that he thinks they will be in next week. He's a salesman so take what he said for what it's worth. I may switch from Verizon to AT&T when they carry it. I have an Icon with Windows 10 Preview & love it.

good specs but looks a bit cheap.. most flagship phones have a metal surround as the 930 did.. seems like a backward step in the design dept. unless they are holding off for the surface phone, either way I wont be swapping my 930 for this.

Based upon my interaction with the 950 XL today at the NYC Flagship store i will be going with the 950 rather than the 950 XL, Simply because of the button placement on the 950 XL is so ridiculously uncomfortable.

Iiiiii want I want I want I want I want I want I want ​it, yeah......Luuumiia 950! (To the tune of 'I wanna be well' by The Ramones)
Windows Central Newsletter
Get the best of Windows Central in in your inbox, every day!
Thank you for signing up to Windows Central. You will receive a verification email shortly.
There was a problem. Please refresh the page and try again.