Hands-on with the Lumia 950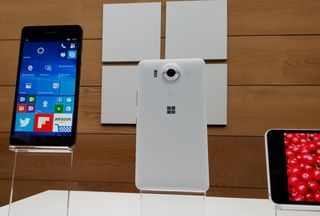 Microsoft has officially unveiled the Lumia 950 today along several other goodies. Of course we couldn't wait to get our hands on one here at the New York City launch. The Lumia 950 features a 5.2-inch display (1440x2560), 20MP PureView camera, runs Windows 10 Mobile, and more. Watch our hands-on video for more details.
Lumia 950 specifications
Swipe to scroll horizontally
| Category | Specification |
| --- | --- |
| Operating System | Windows 10 Mobile |
| Display | 5.2 inches (1440x2560) |
| Processor | Qualcomm Snapdragon 808 |
| Materials | Polycarbonate |
| Qi Wireless | Yes |
| Connector | Type C |
| Fast Charge | Yes |
| RAM | 3GB |
| Rear Camera | 20MP |
| Front Camera | 5MP |
| Internal Storage | 32GB |
| External Storage | micro SD |
| Battery | 3000mAh removable |
| Charging | Qi wireless, USB Type-C, Quick Charge |
| Height | 145mm |
| Width | 73.2mm |
| Thickness | 8.2mm |
| Weight | 150 grams |
| Price | $549 |
Why I like the Lumia 950
After handling the Lumia 950 XL, I immediately turned my attention to the smaller Lumia 950. Going into this event I figured the XL was the device for me but after my initial impressions I'm leaning on the Lumia 950.
Both devices feel the same, but the Lumia 950 just feels better in the hand due to its smaller size. Also, the extra 1/2 inch in display size is not drastic enough to push me up to the XL realm. This is where critics who wished for a 6-inch device can feel vindicated as that would have been a little more substantial.
The Lumia 950 has a slightly smaller battery and fewer cores on the chipset as well. Due to the smaller display, however, none of this is likely to matter much.
The camera seemed on par with the Lumia 950 XL but I'm not quite yet ready to weigh in on quality due to the environment we were in. The camera housing design did not bother me at all and, in fact, it looks quite handsome in person.
Like the Lumia 950 XL third-party companies are stepping up to the plate to offer replacement back covers. This option should give users a little more flair for different colors, materials and designs, including even some with a metal band option to make their phones feel more premium.
I feel like I have even less to say about the Lumia 950 and yet it is the phone I am likely to pick. The button layout is traditional, without any unique experiments. The size is better for your pocket and you are getting basically the same feature set as the XL. Unless you are really set on that extra 1/2 inch display size then the Lumia 950 is going to be the more practical phone for many.
But hey, a choice is good, and I'd rather have the option between a Lumia 950 and XL than no choice at all.
Throw in Continuum and the Display Dock and this could be a very fun and productive device. It may not be glamorous, but Microsoft is angling this phone towards people who "get things done" and I think that fits.
So, am I excited over the Lumia 950? I'm not gushing enthusiastic about it but only because it's a Lumia in so many ways. If you are using Windows 10 Mobile, it is that with some more speed, a lighter housing, likely a better camera and a nifty iris scanner. This familiarity is not a bad thing, either, for Windows Phone fans who will get some of the latest features in a new phone for a modest price.
Perhaps I am more intrigued with the prospects of Panos Panay working more closely with the Lumia team for the next "true" Microsoft phone. Much has been said about Nokia's ability to make hardware but if Microsoft proved one thing today is that they too can do a lot.
Pricing and availability
The Lumia 950 goes on sale sometime in November for $549 off-contract and carrier unlocked. In the US, AT&T is confirmed as putting the phone in their lineup.
Are you interested in the Lumia 950? Or do you prefer its bigger sibling, the Lumia 950 XL (watch hands-on video)? Sound off in the comments!
Lumia 950
Surface Pro 4
Surface Book
Microsoft Band 2
Get the Windows Central Newsletter
All the latest news, reviews, and guides for Windows and Xbox diehards.