Lumia 950 XL dual-SIM now getting Visual Voicemail on AT&T with Insider Fast Ring build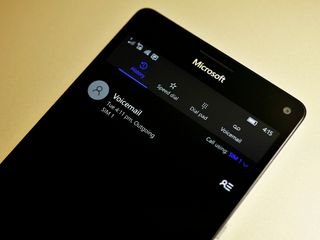 Visual voicemail is now enabled on the AT&T Lumia 950 XL dual-SIM for Windows Insiders on the Fast Ring. We were first tipped to the feature addition by a reader, and we were able to confirm that visual voicemail is indeed active on our own Lumia 950 XL (dual-SIM) running the latest Windows 10 Mobile Fast Ring build.
With visual voicemail, users will have access to a visual interface for interacting with and managing voicemails. It's a pretty big feature addition, so it's nice to see it make an appearance.
It is important to note that we've only confirmed visual voicemail's appearance on a dual-SIM Lumia 950 XL connected to AT&T's network. It's unclear if the feature is also available for the Lumia 950 or even on other networks for those running the latest Fast Ring Insider build for Windows 10 Mobile.
We should also caution that in our initial tests while we can setup visual voicemail and the Phone app does check for new messages we have yet to actually see a visual voicemail on our device. This is a known issue with the Fast Ring as detailed in the release notes:
Despite it not being fully functional hope springs eternal that this is the first step in enabling visual voicemail on the Lumia 950 XL and other dual-SIM Windows 10 Mobile devices.
Thanks to @scipio13magnus on Twitter for the tip!
Dan Thorp-Lancaster is the Editor in Chief for Windows Central. He began working with Windows Central as a news writer in 2014 and is obsessed with tech of all sorts. You can follow Dan on Twitter @DthorpL and Instagram @heyitsdtl. Got a hot tip? Send it to daniel.thorp-lancaster@futurenet.com.
Even if it's not yet fully functional, at least we know that our screams haven't fallen on deaf ears and that we will likely see it working. Coming Soon(tm). Posted from Windows Central for Windows 10

It's not specifically for at&t either, it works with t mobile as well. All I did was press the button, then it asked me if I wanted to set it up. This was with a 950xl dual sim

This is one of the reasons why I returned my 950XL. Having to call-in to listen to my voicemail, after having had visual voicemail for years, felt like going back to 2007.

While I agree with the sentiment, thankfully it is no longer 2007 and I very seldom have people leaving voicemails. Thankfully, most people tend to hang up and send an email or send me a quick text message instead. I would definitely like the feature back, since my mom still leaves voice messages, and very long ones at that. So VVM is useful for jumping ahead in messages to get a quick overview and then can go back and listen to the whole thing later when I actually have time to do so. :-)

I saw this too with the latest update however I have yet to see any voicemails populate to it. I have so far still had to call into voicemail to retrieve.

I left myself to voicemails and it did not populate despite me seeing it check the server. It is a current known bug in the Fast ring, howevever.

Yep, exactly the same experience I had, but I didn't expect it to work because of it being a known bug.

I can confirm that I now see the voicemail tab on my dual SIM unlocked 950 (not XL) as well (running on at&t network). But, as mentioned in the article, no actual Voicemail showing up yet which I expect to be fixed in the upcoming builds.

I can also confirm the 950 DS on AT&T has the VVM tab. It will shown up after checking voicemail. I was prompted for my password and the tab appeared. This is the same thing that happened on my 1020 with an earlier insider build. Hopefully seeing this enabled isn't the actual cause of the bug delivering VVM in the first Redstone build!

Call voicemail (hold 1 on dial pad), enter your pin code, and then disconnect. VV will start showing up.

FYI, running xxx.107 on an icon. Just moved to att on Sunday and it prompted me while I was setting up my phone on att. It's also on a 550 that I connected this week running a factory OS.

It's also on my 640 that I just connected running a factory 8.1 OS

iseevm is a great alternative, i don't miss VV at all

Not only it is just a great alternative, but I think it is just better period. The only reasons I would consider going back to att visual voicemail if available are: 1) Privacy Concerns 2) Having one less app running in the backgroud and using a live tile spot. Other than that, Iseevm much better.

It really is. A while back, I suggested that WC write an article about it in light of the dual-SIM phones not supporting VVM.

same here, was at first upset and felt like YES I was going back in time many years. But installed iseevm and have been happy with it

now get double tap, no drain glance etc and we will be back to where we were in 2013 - at least not move backwards! Sometimes I can't understand what is wrong with Microsoft. Do they have a 5 developer team for windows mobile? There was a time with WP 7 / 8 (post mango) when the OS itself was complete and not unfinished. Apps were and are a different story. But MS seriously dropped the ball on the OS with W10 mobile - its perpetiually unfinished. /rant ... well at least visual voice mail is checked off, happy about it!

To be fair, a brand new mobile OS that shares a large amount of it's code with a full desktop OS is going to take a while to optimize. This is new ground.

It's 2016 and you still have a lot to learn.

I can confirm Visual Voicemail not working on 950 ATT.

Is for me. Posted from Windows Central for Windows 10

From the blog: There is one known issue with this preview build:

Visual Voicemail notification and delivery is not working in this build; causing devices to not receive any new visual voicemails. You can manually check your voicemail by calling your voicemail to listen to any new messages. You can call your voicemail within the Phone app by clicking "…" > Settings > "Change more settings for Phone" > "Call voicemail"; this will also leave the Voicemail call in your history to make checking voicemail easier.

I know that. I was saying that as a reply to what was concerned in the article.

Dan Thorp-Lancaster apparently didn't. I see they have since updated the article though

Have you dialed and checked your voicemail?

You can call voicemail just by holding "1" on Dialer.

my 950 been asking me to activate it since i got the phone in December and i am on ATT, my wife uses it on her 950

My wife has had it too, from day 1.

It has always worked on the AT&T 950. It is the unlocked, dual-sim phones that don't support VVM (or possibly didn't if indeed it is working once the Insider build issue is fixed).

Ok, can someone tell me how to setup the Visual Voicemail on ATT? I have a 950xl, a 1520, and a 640. No visual voicemailon any of them. I asked ATT reps about it for years, they say only for Iphone.....smh

Just dial your VM from your phone. It will prompt for the password. that's it and then on, you will see VVM populates automatically. 950XL still seems to be not working.

Ok, I've dialed my voicemail for now, never seen Visual Voicemal. Where does it show up? All I've ever seen was the tape icon on my phones

After you dial into vm and hang up, a pop-up window comes up asking you to enter your vvm password, which is your regular vm pin. That then adds the vvm pane to the dialer afterwards.

Shows up in the phone app. Slide/Swipe sideways.

Back in the day, AT&T would add VVM to your account when it was provisioned for LTE; I got it when I got a 900, my first LTE phone. It's since worked on a half-dozen or so other Lumias. Call AT&T up again and ask them to double-check that your account is provisioned for VVM. It definitely should be working on your non-dual-sim phones, and it's definitely not an iPhone-only feature.

Now time for the new firmware for locked phones. Soon. Please? My 950 really needs the stability and camera improvements.

That is an AT&T issue. I'd suggest complaining to them. Not that it'll help much. Am I right? Huh? Huh?

Ummm, didn't the latest fast ring announcement specifically call out Visual Voicemail notifications etc not working? I'd link to the post on the Insider Blog, but the idiotic spam filter here won't let me.

Right, but up until now the 950 XL on AT&T did not even have VVM. Now it at least sets up.

The article has now been updated to better reflect that fact. Thanks.

It is there on the 950XL AT&T. Just left myself a VM, and it did not sync.

That's confusing as the only 'known bug' for the lastest insider build is visual voice mail doesn't work.

Notifications for VVM do not work. This is the first time you can set it up on a 950 XL on AT&T

Good catch. The problem now is there is no indication that you have a new VM.

Visual voicemail? The iPhone 4 says Hi.

Hell Windows Phone 7 says hi.

Actually it was iPhone 2 or 3 that had visual voicemail and Windows Phone has had visual voicemail for a while. Just seems to be an issue with Windows 10 mobile and these new phones.

Okay, so since I see you're being a smartass... We have had Visual Voicemail since Windows Phone 8. With Windows 10 Mobile builds, it broke for dual-SIM devices due to the ordering of the way the driver loads when the OS boots. Microsoft does not own the API driver for VVM, so they needed to do some reworking. Single SIM devices like the Lumia 950 on AT&T get VVM just fine as do other Windows 10 Mobile devices, so this is a limited-scenario case that only affects certain (limited) devices. Better?

I don't have the option for VVM on dual-sim L640 or L730 running WP8.1. Isn't this just a dual-sim issue for WP8.1?

Well, there's trolling, and there's tongue in cheek. Mine was the latter. These are gadgets after all, so we gotta have a John Oliver-esque sense of humor about these things.

thanks for clarifying this. One thing I was hoping for is that this would become an opportunity for skype. where we would get a VVM, but it would then go to outlook, and we would see it across devices. I hope this is a goal...


Source? But seriously, knowing the problem was acknowledged and the cause was identified is reassuring. Most of the time I feel like MS is unaware of a problem or a problem is limited just a few people (me). Thanks for the update! Nice to have an "Insider".

Right, my wife's old Lumia 1020, my old Lumia 920 (WP8.x), my wife's even older Samsung Focus S (WP7.x), and my test Lumia 520 all say hi from the VVM club too... Posted from Windows Central for Windows 10

Wow, had The Focus, HTC Titan, 920, 1520, 640, and now 950xl all on ATT. Never got Visual Voicemail on any of them! Had to use Youmail 3rd party apps. Still using ISeeVMail right now for this.

It always involved going into an AT&T store (note, not one of the authorized reseller stores... actual AT&T stores with AT&T employees) and having them add the feature to the account and enable it for the SIM in that device. In fact, even on every iPhone I had prior to moving to Windows Phone, I had to ask to have it added.

Your account must not be provisioned for VVM. I would hit up AT&T and see what the deal is. I've had it since my original Samsung Focus (WP7).

You just needed the feature activated once and they ask would have had it.

All* - Posted via W10M device

iPhone? My Windows Mobile device from 2002 says Hi. iPod? My Windows Mobile device from 2002 with Pocket Media Player says Hi. iPad? My Windows Tablet PC on a Toshiba Protoge from 2004 says Hi. iPad Pro? My Surface Pro says Hi. iPad Pro Pencil? Windows for Pen Computing from 1992 and my Surface Pen says Hi. Apple App Store? Windows Marketplace says Hi. Game Center Achievements? Xbox Achievements says Hi. AppleTV? WebTV says Hi. Apple Watch? DataLink and Band says Hi. Safare? Internet Explorer says Hi. iTunes? Windows Media Player says Hi. Should I go on, or have you scurried back over to iMore or one of your other Apple hangouts by now, telling everyone about how cool you are because you got in your useless jab about VVM?

Great. How about a firmware update?

this is interesting since in the release notes they indicated that they broke VVM in the latest release.... for me on my ATT 950 on build 14267 VVM s broken

Notifications are broken. Not the setup procedure.

I can too enable it on my 950xl dual sim with orange FR.
Quite impressed if it really end working on a dual sim device. Like others no msg in it for now

Also here on T-Mobile US.

Anyone have problems with the latest update on fast ring with 950 XL ??? Posted from Windows Central for Windows 10
Microsoft 950 XL

i had ALL the problems, hard reset twice, and same issues, not going back to this build until new one comes out, also my 950XL still doesnt got the latest firmware, so i dont know if the issues are related...

Had none of the problems but I'm on the latest firmware. Posted from Windows Central for Windows 10

while on the phone another call was coming in , it went to voicemail shortly thereafter the VVM password came up. after entering it in numerous voicemails populated some over 1 month old! Sim 2 does not seem to have this feature and my guess is it only applies to the sim pulling the data which on my phone is set as sim one. this is a 950xl on at&t 10.0.14267.1002

Are both of your SIMs with the same carrier? I expected VVM to come to dual-SIM phones, but suspected that it would either be implemented as "data SIM only" or "both SIMs IF they are with the same carrier." I'm curious to see which way they went.

Love 950XL international on T-Mobile U.S! I thought I share some love with ya'll AT&T rascals :D

I was able to enable it on my 950 XL on T-Mobile but I guess we'll have to wait for them to fix that bug before we can confirm if it works

Waiting for visual vm on my dual sim Lumia 950 on t-mobile. Not on insider previews atm tho.

Still kind of lame that Windows Central never wrote a post about this ridiculous omission on a $650 flagship. That should have generated a headline when the XL first came out to pressure MS and to warn prospective buyers.

If they did I missed it. Do you have a link?

I've had visual voicemail since day one on my 950 for AT&T. It's missing now on the current insider build, but I fully expect to see it back once this bug is fixed. Posted from Windows Central for Windows 10

Yes. Only dual sim phone didn't have it before. And in the latest insider, it is broken for everybody. So now we are in the Same boat yay :) next insider build should make it work for everybody.

Unfortunately doesn't show up on mine. Dual sim unlocked in ATT.

Go to the phone setting, and call your voice mail. Set it up again and it should show up there after. That is what happened to me.

I'm on T-Mobile and was able to set up VVM on my 950 XL with this build, but like everyone else, the voicemails don't display.

Was wondering this. Not an insider anymore but was hoping it would apply to us T-mo's too

Ok, stupid question time. How do you enable it? 950XL. Not showing up on mine even after update.

Call voicemail. It will prompt for password when you're done. Posted from Windows Central for Windows 10

You need to call your voicemail, enter your PIN, listen for a minute then hang up. The phone should then prompt you about it. However, I just tried multiple times and I can't get it working. I'm on the latest Insider build and am using an unlocked 950 XL dual SIM like the article says. I get that VVM is not working currently, but I can't even get the setup to happen which others are getting. I wonder if those getting it working are ones who have a different phone showing on their line?

Has it ever worked for you, on a different phone? You might need to get the carrier to provision VVM again. Posted from Windows Central for Windows 10

Call your voice mail. It is in setting, system, phone.

Call your voicemail. It is in setting, systemphone,

i always had that feather on my 950, it would pop up on my screen wanting me to activate since i got the phone in December. My wife has been actually using it on her 950.

What about 640 dual SIM on w10 insider?

This build hasn't been released for the 640 yet, so there is no way to know.

I have a 950 and ive had it since day 1. Im not apart of the insider program either

It worked on my AT&T 950 up until the latest build. Now I'm even getting voicemail notifications at all. Not live tile, no lock screen, nothing.

Yes. It has been working on 950 single sim until now. This is a known issue. They are improving it for dual sim phone so it is currently broken for any insider. As an insider, you will have to live with that or go back to production builds.

I'm well aware of the assumed risk of the Insider program. I was merely pointing out that Visual voicemail has always worked for me since some people are reporting having never been able to get it to work for them.

Only enables after you call your voicemail, let it check for vm. Then hang up and it should prompt you for the password. I had to do all that first and then it finally asked me. Just calling my vm wouldn't get it to asking me for my password.

I can confirm the same thing on my dual SIM 950 on T-Mobile. The VVM pane shows up, but it doesn't show any of my voicemails in it. Hopefully they fix that bug rather than turning off the VVM pane like it was.

ATT 950XL has only single SIM.

There is no AT&T variant of the 950XL.

Yayyy!! They're listening.

It never stopped working on this build for my 950 on O2 here in the UK. Posted from Windows Central for Windows 10

Because it's single sim Posted from Windows Central for Windows 10

I was under the impression visual voice mail wasn't meant to work on the new insider build?

Yay! Hopefully they'll get it to start working, so I can finally start using it again. I miss my visual voicemail, and never realized how much I appreciated it until it was gone. Posted from Windows Central for Windows 10

What if it is setup and working before the update? Will it still work afterward if we don't reset?

It's there for T-Mobile, too. I turned it on and it seems to be working (in its broken known issue way.)

Glad to see this is coming, even though I hardly use my phone as an actual phone. Still, it will be nice to have a feature back that I've been accustomed to for years. Posted from Windows Central for Windows 10

As noted, the worst part right now is there are no notifications since the dial voicemail tab is gone along with its notifications and the VVM doesn't work yet so it doesn't have any notifications to show. Limbo...... Other than randomly calling voicemail to check.. This is fairly lame.

Lame that they are improving on the feature so they took it apart and broke it in a development build?

No... Just fairly lame that I won't have notification for a while

This is great because this was the thing stopping me buying a 950XL. While I know Verizon is not in love with Microsoft at the moment, I have a friend with a M8 on Verizon would love for VVM to work there too. The iPhone does it so clearly some APIs exist to make it work behind the scenes... would be a nice bonus in W10M if that could be made to work like an iPhone too.

My 950 on att always had VVM. Are they saying is was missing with latest build?

Any idea if this is regional? My dual sim 950 XL won't set it up, tried calling voicemail. I'm on ATT in Texas.

Probably not correctly provisioned on your account. Contact ATT. Posted from Windows Central for Windows 10

I'm in co and just moved to att. Had this on my icon and a 550 the second we plugged in the att sim.

There is hope !!!! it was very sad thing for me to see it did not work on dual sim phone, hope I will work completly sooner then later

Finally! It's been bugging me since I moved from my 920. Now we know that they are working on it :)

Wow I remember this in wp8.1....progress

I'm not getting the prompt for SIM 2, just SIM 1 Posted from Windows Central for Windows 10

Are you sure? I just moved to att on sunday and I have it on my icon.

Its showing on a 950Xl on TMo

I am in the UK and have a Lumia 950 dual-SIM (bought from Amazon in France as no dual-SIMs available in UK) on the Three UK network. I have Three's voicemail offering but no sight of VVM options/tabs, etc., and have used Three's voicemail countless times but no prompts to set up VVM. So, any people out there with a successfully activated and working VVM on a Lumia 950 using Three UK network? If so, let me know how, if not what is the reason (as I'm sure you've bugged Three to explain)?

Awesome news. Though this probably means I need to get LTE working in order to get VVM. Sounds like a trip to the ATT store is in order.

I've been running xxx.107 on a lumia icon for a while, I just moved to att a few days ago and I've had visual voicemail since I first connected my phone with att. It's also working on a factory OS 550 on att. Same with the 550, the second I connected to att I had it.

Thank F'ing God/Buddha/Flying Spaghetti Monster! This is an update that I will be willing to go through the trouble of resetting my phone so I can get updates.

Its a shame that Rogers dropped support for vv+(which strangely looks like the vzw app)

I find it curious that they are doing this for the 950XL dual sim, but aparently not for my non XL 950 dual sim.

After updating to the 1004 release, I now have vvm working on my dual sim 950 on at&t. Posted from Windows Central for Windows 10

Same for me, dual SIM 950 updated to 1004. Only difference is my phone is on T-Mobile.

This seals it for me. I was struggling between the choosing single or dual sim for literally this reason. If I didn't have visual voicemail I'd most likely never listen to any voicemails left for me so it's a must have. Now I can get the dual sim version with a warranty and be happy.

Like many others, I also don't really need vvm, but was waiting for MS to fix it. I tried ordering the single SIM 950 XL from Eurorpe, but the site I was on wouldn't accept a US shipping address. As soon as I read this article and comments, I ordered the phone (the user comments sealed the deal -- would be nice if I didn't have to filter through the iTrolls though :( ). I can confirm that VVM has always worked for my wife on her ATT 950 (and my 1520, and 920 and Samsun Focus from 2010???), and I now have VVM on the dual-sim, unlocked 950XL (as of v 10.0.14267.1004​).

I need VVM and am very disappointed it does not work on my new Lumia 950 XL Dual SIM. I've read it was supposed to be fixed with yesterday's Win10 1511 update. It does not. I worked with ATT to make sure the set up at their end is right and it is. I called Lumia Support and they said they are aware of the issue and are working on it and will release it as soon as it is fixed. We will not have to wait for the next major release.
Windows Central Newsletter
Get the best of Windows Central in in your inbox, every day!
Thank you for signing up to Windows Central. You will receive a verification email shortly.
There was a problem. Please refresh the page and try again.