Lumia and iPhone imaging expert, Ari Partinen, joins Microsoft's Surface team
Ari Partinen's expertise could help fix one of the Surface Duo's biggest flaws.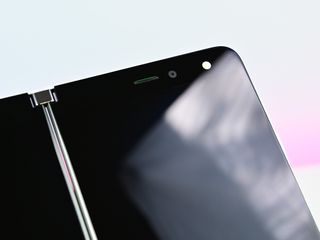 (Image credit: Daniel Rubino / Windows Central)
What you need to know
Ari Partinen just joined the Microsoft Surface team as the director of imaging.
Partinen was the Lumia photography lead for Nokia and was a senior design engineer for Nokia working on cameras.
He also worked at Apple as a senior manager working on camera validation and testing.
Microsoft's Surface Duo may have just gotten the shot in the arm it needs to fix one of its biggest flaws. While the Surface Duo is an incredibly innovative device, its cameras are a major shortcoming. The good news is that this could change as Ari Partinen has joined the Microsoft Surface team as the director of imaging. Partinen has years of experience working on smartphone cameras, most notably Nokia's Lumia lineup and Apple's cameras.
Partinen is a well-respected name in the industry and brings years of expertise to Microsoft's Surface team. He worked for Nokia for a total of seven years, the last of which was as its Lumia photography lead. He also worked as a senior design engineer for over six years at Nokia.
Following his time at Nokia, Partinen went to Apple. The majority of his time at Apple was as a senior manager working on camera validation and testing. He was in that role for three years before moving to AAC technologies.
Partinen worked at AAC Technologies for the last two years working on image quality and testing.
The about section of Partinen's LinkedIn profile (opens in new tab) reads:
Partinen announced his move to Microsoft on Twitter and on LinkedIn (opens in new tab). His LinkedIn post states:
The Surface Duo saw mixed reviews when it came out, many of which mentioned its camera. In his Surface Duo re-review, our executive editor Daniel Rubino points out that the camera is still bad. Despite its camera, the Surface Duo does have some positive aspects. Its support of the best pens for the Surface Duo, its thin design, and a growing library of Surface Duo optimized apps make for a unique mobile experience.
Fans of the Surface Duo will likely be thrilled if Partinen can improve the image quality of future Surface Duo devices. Recent job listings from Microsoft suggest that the company is working to improve the camera quality of the Surface Duo 2. In conjunction with Partinen's hiring, it seems that Microsoft is prioritizing cameras going forward.
Windows Central Newsletter
Get the best of Windows Central in in your inbox, every day!
News Writer and apps editor
Sean Endicott brings nearly a decade of experience covering Microsoft and Windows news to Windows Central. He joined our team in 2017 as an app reviewer and now heads up our day-to-day news coverage. If you have a news tip or an app to review, hit him up at sean.endicott@futurenet.com (opens in new tab).
Light at the end of the tunnel, and or a flash in the dark? I hope for the former.

I hope Microsoft is smart enough to delay the Surface Duo 2 until at least next year. If Partinen is allowed to put his mark on the device, he should be given ample time to do so. Not rush another Duo out of the gates.

I am sure Microsoft has already integrated the new camera from a good vendor. Partinen will help get the phone optimized for the Duo v2. But he was hired to oversee Surface Imaging. Everyone assumes he will work on the Duo camera. But there may be more to the story than making a good Duo camera. I don't know if MSFT owns any good camera IP. I don't think they kept the IP for PureView from the Lumia days. Nokia is using the technology to make their current android phones.

Given how the first-gen Duo went over, I think a delay is a bad idea. We saw that the Duo was built with a specific SoC in mind, and that SoC was nearly 2 years old by the time the Duo launched. Launching with aged tech and limited features at a high price was a trifecta of BIG negatives for the Duo, despite being a unique and intriguing product. Pushing the next-gen Duo out means it would probably be AGAIN launching with a set of internals 18 months older than its competitors. Remember that the fall release cadence means Microsoft's mobile devices ALREADY launch at a 6-month hardware disadvantage. The camera in the Duo might suck now, but getting it to passable should be within reach, so holding back the entire rest of the device to get it "perfect" is likely not worth it.

As I've always said, no matter what a mobile devices perceived intent is it must appeal to all types of users, and perform well in various usage cases. Even a mobile device intended to be a productivity device must have a good overall camera experience, or it will not appeal to a wide range of consumers. Duo has to appeal to a wide range of consumers or it will not be successful.

The camera is sufficient (barely). It could use a spec bump for sure but that's not the deal. It has a single lens so will not compete with phones that have 2 or 3 lenses. What they do need to fix is the software/UI experience. If the cam app just worked more reliably, I'd be happy with any specs bump in v2.

Yes. Totally agree.. Although I would like to see better image quality (especially in low light situations), the biggest issue is usability.. If they would just add a screen lock, or manual screen switch/lock, I would be happy.. We shouldn't have to wait for version 2 to see that. Are you on our Surface Duo Central Facebook group?

I disagree: the camera is not good enough. Its true that software issues makes the Duo a lemon but the camera is critical topic to fix.
Software also, both need to be fixed as well as the huge screen bezels that scream "2007's iPhone Edge"! I won't use it as my Phone as long as the camera is not one of the best ones because:
- my phone is the only camera I have with me all the time
- I won't buy two phones of this price... If they want to exist on the phone market they need to compete with the iPhone and the best Android phones, while bringing their dual screen unique approach to convince people to switch. Bad specs will never help them to succeed, they need to be the best in their category like they did with the Surface Pro 3 when it was announced.

Why don't you just buy a quality camera if that's the most important feature for you. It'll damn sure blowout your current phones camera.

No one just carries a DSLR around all the time. I have one and I only take it out when I know I'm going to use it. All other times, my phone gets it done. The Duo 2 must have a camera that can match the Pixel if using a single lens, but preferably more than one to deal with different situations. And for what they are charging, I expect that, or no deal.

A pocket camera with a 1"-type sensor is all you need. It'll match or exceed any phone's pictures without the intense computational photography.

The Duo camera is a slouch but nowhere near as bad as a phone from 2007. That's a silly exaggeration. On the other hand, if you've framed any photos you took with your phone in the past 10 years, you may wonder what the fuss is all about. Are you looking at your photos zoomed way in on a 4K monitor? If so, why?

The camera isn't just outclassed by multi-camera setups. It's not even particularly good by FFC standards, and those are usually the third- or fourth-best camera on a phone. If you took even the second-best camera on a modern smartphone, it would likely embarrass the Surface Duo's single camera, which is relatively low-resolution and lacks things like OIS and a Night Mode to support it. I don't need the Duo to be the best camera on the market. What hurts it so badly is that it's both the worst camera on the market AND a major downgrade from older devices and modern budget phones.

That it's sold as a mobile device, but then sold as NOT needing to replace anything, is the problem. The Neo wouldn't have these same issues because it would be sold more as a tablet replacement or laptop alternative. Things like camera expectations are much different (and massively lower) than with modern phones. That the Duo is sold in a phone-like form factor, it comes off as a phone replacement. The form factor is pat of why the camera is such a sticking point. If you're expected to replace our smartphone, then having something that struggles to take good photos--something increasingly common and important in the age of Instagram and social media--is going to be hard to accept. If you can't sell the camera as acceptable for the user base, then you're expecting people to add the Duo to their device collection. That seems even hard in a world where phones are constantly being expected to do everything as your one daily device. People aren't likely to want to spend $1,400 to add a niche device to their pockets.

Agreed, and well said. 👍🏾

This is fantastic news. Dreaming of a Duo/Lumia 1020 love child.

The camera hump on the Lumia is as thick as the Duo (one side). But yes, it was a killer camera.

That was on a 40MP device from 2013 though. Now, we're getting 108 MP sensors in "normal" smartphones. You can do a LOT in a smaller package these days.

Ari is and has always been working in testing and quality assurance. He is not developing anything. Most likely he is really good at that and will be great asset for Surface. I do not remember him at all from Lumia and I used to work in several Lumia Product Programs around the same time as Ari. That "Lumia Photography Lead" title that he uses in his LinkedIn profile is something that everyone does; upgrade and polish the old titles especially if the organisation/company does not exist anymore.

Very glad to see MS finding great people to work on the camera. I assume it's too late for much impact on the Duo 2 (surely, if that's being released even late this year, the hardware must be pretty set already)? Maybe he will work on software improvements for Duo 1 and 2 and hardware for Duo 3?

Hallelujah!
This is awesome news!
Can't wait to see what happens with duo 2 (most likely duo 3 will have alot more Ari Partinen's influence on it).

My Lumia 928 had a great camera that took several generations for iPhone and Android to match. I wonder what IP Microsoft can provide to Partinen to speed the improvement in cameras for Team Surface

This was a real need. I mean, my Lumia 520 took beter pictures than my actual Xiaomi flagship.

I believe the Surface Duo 2 will have a quality camera, one rear and one front. Ari Partinen will lead the photographic staff of the Duo (which has been working with the Surface group for many weeks) in order to speed up the work, which I believe we will see already from the second generation of the Surface Duo.

Interesting, since Lumia devices seemed to generally underperform their specs, and that deficit seemed to widen under Microsoft. They were always capable cameras, but things like strange white balance/hues in many photos held it back. That said, they were something of innovators in making cameras a big deal in smartphones, starting with OIS and the high-MP cameras like in the 1020. I hope this means significant camera improvements for the Surface Duo's second-generation efforts.
Windows Central Newsletter
Thank you for signing up to Windows Central. You will receive a verification email shortly.
There was a problem. Please refresh the page and try again.