Lumia Black now available for the Lumia 521 on T-Mobile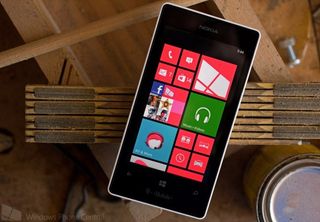 It was two days ago that we finally saw a sign that the Lumia Black firmware update would be out soon for T-Mobile's Lumia 521. On Nokia's support website the status of the update went from 'waiting for approval' to 'coming soon'. It still listed as coming soon on Nokia's support page, but we're getting a number of tips that Lumia Black has begun its over-the-air rollout for the Lumia 521.
Lumia Black brings a handful of Lumia specific features to the Lumia 521 in addition to Windows Phone 8 Update 3. Between the two you can look forward to new features and functions like Driving mode, Bluetooth fixes, screen lock orientation, Glance screen improvements and more!
After you update you should be rocking software update 3056.0000.1404.0034 on your Lumia 521.
Looks like the rollout has just begun, but you can check to see if the update is available for your Lumia 521. Just head into your phone's settings, hit phone update, and start to the process to check if there's an update available for your phone.
Be sure to hit up the Lumia 521 forums to talk amongst your brethren if you have any issues.
Source: T-Mobile Support (opens in new tab)
Thanks for the tip Travis!
Congratulations Lumia 521 users! Now you join the 925 users with the Black update. Sorry, 810 users. I think you all deserve to get the 521 or 925 for free.

It has certainly made me very unlikely to buy a phone from T-Mobile again.

My 810 is feeling very neglected.

I heard the 930 is coming out soon. Maybe it will be an upgrade for the 925 on T-Mobile, but most likely not. One thing T-Mobile is good at is not failing to disappoint. Don't worry, I think you'll be getting Windows Phone 8.1 along with us, sometime before we die.

Finally, updating right now as we speak!!!

How long did the download take?

Took about 5 minutes to download (depending on your internet speeds) and another 20 minutes to finish installing the update.

Sweet, not that bad. Thanks for the quick response.

Nice , I have the 925 on TMOB an the wife has 521 she's happy. To go black, she'll never go back :-)

Yessssssssssssssss, finally. Now I'm ready for WP 8.1 developer preview.

Cool. It sucks that the 810 users are left in the cold.

Well here is me speaking for all the 810 owners... Where is our update? :( Anyways I'm happy for the 521 owners. Enjoy.

Just wait, you guys are getting Windows Phone 8.1 anyway.

Agreed, this phone (Lumia 810) not even 2 yrs old and no Black update?? At least devolper preview got me GDR3, and should get us 8.1 next month...

I heard Nokia has Black ready for the 810, but T-Mobile is just not moving on it. Don't know if it's true or not, but I could surely believe it. Such a bummer. But then again, most of us were sure we would never get Amber. And then it arrived.


There is no black for the 810. Nokia has it listed as "Not Available." Unless something crazy has happened recently I doubt it has changed.

Glance screen...! I think black update brings double tap to wake instead of glance screen for 521

Indeed, Glance could destroy the screen of the Lumia 520 and 521 series.

Still waiting in Telcel Mexico :/

521 gets black. 810 gets blacked out.

Still can't update my 520. Keep getting an error after installing the update... Any suggestions?

Maybe a factory reset will help. But be sure to backup everything before you attemp. If that doesn't work. Then start buggin your carrier for help.

Already try resetting. Didn't worked.

I cant update over cellular, despite being in town with unlimited 4g 8x faster than my WiFi at home. Go figure. :\

I could not update over Cellular either, force to use Wifi has well. But my wifi is faster anyways.

This is my case. I have GDR3 and it won't let me install using my data but gf's phone doesn't have GDR3 and I updated hers using data just fine. No WiFi at home and all the damn free hotspots I have connected to are as slow as it was for Black to come to us!

Oh hey, I didn't know TMobile knew they had WPs...

Does anyone know if the Lumia 810 will get the 8.1 update?

I guess yes if you will use the dev preview

I will second the first WOO HOO! ... and ask the secratary to enter a vote into the minutes. All in favor of "WOO HOO!" indicate with a nod.

Is the SD Card bug fixed? When putting my music on it, it would corrupt my files, saying that i had four of each file and not being able to play stuff. It was a disaster.

I've had that problem too. When you restart your phone, does it say "SD card malfunction or not working properly"?

What features do we get with the update?

Are we finally done with every model of Lumia getting Black but the 810?

I am so down on t-mobile right now for shutting out 810 owners with no update and not having any other choices of phones besides the 925. when my contract runs out and they still have not gotten any other high end windows phones by that time I guess I will have to change and that sucks because I been with them for 9 years

they didn't "shut them out". the device is eol. as such, nokia hasn't made any upgrades for it anymore.

Where's the glance screen?

No glance screen. Its "double tap to wake up" feature that they meant

I'm on metro pcs and I just got the update message this morning (updating now). I believe T-mobile and MetroPCS share the same network, so it should be there soon for you.

I've used Update 3 on my Lumia 521 since the Preview for Developers app came out, and Glance isn't coming to Lumia 521. Is there anything besides double-tap to wake that will be new on my Lumia 521 with Black?

Lumia 520 users on the Rogers/Fido/Chatr networks have been upgraded to Black as well

Lumia 620 users on TELUS are still waiting... maybe forever?? I think we are going to be the very last to get it... world wide!

And also available for CV Malaysia Lumia 620! :) Update Manually , NOW!

Shoot. Gives me an error. Won't let me check. :(

Hey folks - so got the Black update no problem here in Phoenix. - But have noticed what may be an issue. When connected to WiFi - Phone app shows WiFi calling - not TMO. When I turn off Wifi - TMO shows back up. So is this a feature or a problem and is anyone else getting this.. I am not seeing anything in settings to turn off Wifi calling. With Amber firmware and GDR3 I was able to run both Wifi and TMO on all day with voice coming over TMO and Data connections via WiFi... thanks.

Go into the WiFi Calling app and turn it off if you don't want to use it.

Thanks Mike - yeah - I did a little due diligence and saw that. The problem is I had removed the app - so now it looks as thought the only way to get it back is a hard reset...

I found this link, but it says the app is not available. They must have some issue with WiFi Calling: http://www.windowsphone.com/en-us/store/app/wi-fi-calling/882e2925-fdca-... Bummer if you have to reset... I used it without issue last summer on my Lumia 521, but haven't used it for a while, so maybe something has changed with firmware updates?

Thanks.. Yeah once I logged into the Store said it's wasn't valid for my phone as well. It's not that I don't like WiFi calling - but having to have a seperate app to control the settings just seems wierd. Did the Reset and the app is back. Actually I needed to do a reset and clean house.. thanks again for the help..

Still waiting for Black on my metro pcs 521

Is anyone having issues with double tap to wake not working after update? Mine seems to have developed a new bug......

Nevermind it was an oversight on my part, had to go into the settings & turn it on.

So glad I switched from Sprint.

Wow. I can't believe I'm reading this post. Let me go check it out. BrB!

I'm traveling today, hit system update, and there it was. So happy to use T-Mobile data for update, download took less than 4 minutes, go T-Mobile!!!!.

Sadly, Nokia Beamer won't download :(

For metro pcs 521 anynews?

mines been stuck at 100% for awhile. has that happened to anyone else?

@Stephen It's still preparing the update. The actual update process starts when you see the gears. It takes a few minutes though.

thank you.. like 5 sec after i posted that it started lol

Glad to finally have it. Was downloading it before I saw this article.

Any update for Metro PCS users on Lumia 521? Same software as TMobile version.

I haven't gotten it. I'm starting to get concerned that it was for the T-Mobile 521 only...

That's odd because they are both the same one / same software. It even says on the Metro PCS box: TMUS kit

Hello MetroPCS Lumia 521 friends, today morning I hit update and it is showing downloading updates 0%. Let me update when it updates!

I got it this moring on MetroPCS! So it should be there soon for you guys :D
Windows Central Newsletter
Thank you for signing up to Windows Central. You will receive a verification email shortly.
There was a problem. Please refresh the page and try again.