Lumia Creative Studio Beta brings support for editing Living Images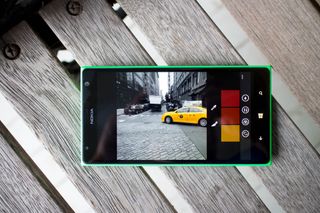 Microsoft has announced a new Lumia Creative Studio Beta, a testing ground for updates to its popular image editing app of the same name. The most notable addition in this beta release is the ability to edit Living Images captured with Lumia Camera. Microsoft is inviting all Lumia users to try out the new beta release and tweak their photos with filters and adjustments for brightness, vibrance, and clarity, among others. There are some known issues in this build that you should be aware of, however:
Following edit operations are either not supported for Living Images or contain some limitations for them:
Clarity (under Enhance category)
Blur
Blur background
Image saved with Creative Studio is not shown in Creative Studio's landing page until the application has been restarted
If Creative Studio was launched from Photos, Lumia Storyteller or Lumia Camera's camera roll, image saved with Creative Studio is not shown in the application in question until it has been restarted
Changed aspect ratio is not shown correctly if edited Living Image is re-opened with Creative Studio.
An important thing to note if you're planning to test the app out is that the download link for the app appears to only work when opened from your phone, and only returns an error if opened in a desktop browser. So, if you want to give the beta app a go, hit up that store link below on your phone to get started!
Download Lumia Creative Studio Beta for Windows Phone
Source: Microsoft
Thanks for the tips, everyone!
Windows Central Newsletter
Get the best of Windows Central in in your inbox, every day!
Dan Thorp-Lancaster is the former Editor-in-Chief of Windows Central. He began working with Windows Central, Android Central, and iMore as a news writer in 2014 and is obsessed with tech of all sorts. You can follow Dan on Twitter @DthorpL and Instagram @heyitsdtl.
Awesome! And is not on android or ios hahahaha

When its not perfect and in beta, its windows phone first!

It's a playground. Read the post.

There's hundreds of other photo enhancement apps out there better than this. Don't act all jolly. Same crap different dev.

Page not found on store link

Same here running w10though

Living images stop working on my phone.

I don't see how I can choose a frame of the living image??

Yeah, this is what I thought we were gonna get :(

Thats what I thought the purpose of living image was to begin with. Still cant figure out how to pick a frame. Moments also seemed like it would fill that gap. Much dissapointment.

Lots of links lately show up as not found. Even scanning the barcode can't find it. Not for WinXM perhaps?

Looks like it. Same goes for free apps by myAppFree on my 10.
Probably because it's two different stores

Likewise, can't find the Lumia Camera Beta either (to fix the HDR lines bug)

Is it available on W10 mobile store?

Doesn't find it, resuming ... for ever. W10 latest build.

Can you share these images or are they still just to look at on my phone

That's the problem I've had, my pictures when I share them don't look the same as the way it does as a"living image" in the photos hub. So I dint think living images are shareable.

It seems as though it's not available for wp10 like all the other Lumia apps

I miss lumia selfie and lumia creative studio, even video tuner apps. Even though im running WXMobile, im still using a Lumia device. I hope they bring the Lumia Creative Studio Beta to the W10 Mobile store.

It's time to rebrand this app as Microsoft Creative Studio and launch it in the Windows 10 app store as well. I want universal apps across all my devices starting with this and podcasts.

Also for iOS and Android. Microsoft is a software company after all and those are the biggest platforms..

I'd like to just see them combine Creative Studio and Storyteller and make that the default native Photos app in Windows 10 and Mobile. And figure out a way to share Living Images.

Oh yea Exclusively for Lumia, I like apps like that.

Here's a question: If I take a picture with living image activated, then move the picture to another device e.g. hard drive or PC, then I wish to view the living image again....can I? Thanks for answers in advance

I can't figure it out either. Anytime I try sharing an image from the Lumia camera 5 with living images they never look the same shared or exported as they do in the app. Everyone else seems to be asking the same question. Daniel? Do you know?

If you transfer the files to PC the living image is stored as an MP4, with an added file extension. Just rename it to remove the extra extension and it'll play in whatever.

I don't understand. Isn't the point of living image so I can choose the best frame, and save as a pic?

That's 4k recording with frame grab not rich capture

Where is this app on the latest build, I can't find it.

The Lumia exclusive apps are not universal apps, so you cannot find them in the Windows 10 Store. I consider the removal of the WP8.1 Store a move too early to make...

How do you share "living images", these images that Lumia camera 5 on denim take look freaking incredible, bit when sharing them, they never share the living image, they only share the basic crappy images.

For now, we don't. MMS can only share JPG format. But maybe with 10, we can convince them to let us share to other destinations.

That doesn't make any sense, if it is going to enhance my photos by stitching a small clip into a picture, than why can't I share that final picture that it creates?

Seems like the link is broken for everyone... can't get it on 8.1 phone either.

Keep crashing when opening photos on my 1520

You cant share living images because there's a separate file that contains the "video" and its only supported by lumia phones with Denim. If you share the photo it will look as when the animation finish.

I'll wait until is more polished

For those who don't have living images like 630 , there is no use of this for them especially for me

Anyone able to download this on win10 mobile? Can't find it in the store. And really annoyed not able to download Movie Creator Beta win10 mobile.

Agreed...I want Movie Creator Beta back

Doesn't work for Windows 10 mobile

Not able to go to store in w10 mobile

Can someone post a comment to peck Daniel's head. That was too funny yesterday! Man got MAAAAD

And it's still a piece of SH%%! Used Photoshop express ever since they updated it!

Microsoft needs to realise that the this app also needs to be on desktop. If the photos desktop app has all the functionality, then why are we creating this app? If the photo desktop app does not have the functionality as what the lumia creative studio does, then perhaps what they need to do is to reinforce their ideas surrounding their photos app . We dont want to develop an app that is redundant. It creates more work later when we want to integrate this more to main app.
Windows Central Newsletter
Thank you for signing up to Windows Central. You will receive a verification email shortly.
There was a problem. Please refresh the page and try again.