Lumia Cyan update rolling out for Lumia 625 in Canada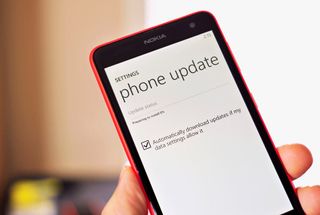 The Lumia Cyan update is making its way to the Great White North as Nokia Canada has announced that the new firmware is rolling out for the Lumia 625 in that part of the world.
The update was announced on the official Nokia Canada Twitter account, and according to what tipsters have told us it is available for Rogers and TELUS customers who own the budget priced Windows Phone. This would appear to be the first such device in Canada to get an over the air update to Windows Phone 8.1, You may remember that a few days ago there was a false alarm when Nokia Canada claimed that the Lumia 1020 was getting the Cyan update and then quickly pulled that post from its Twitter account.
If you own a Lumia 625 in Canada are you excited about getting the Cyan update? Thanks to the many people who tipped us!
Source: Nokia Canada on Twitter
Where is the one for CV UK 1320? They forgot us! :(

Seriously, why can't they just release the update for everyone???

because carriers. But factory unlocked phones that arent in anyway tied to carriers on the other hand should all have it in my opnion. There isnt anything other than microsoft that would be holding them back. My assumption is that microsoft is running the show when it comes to those. http://www.nokia.com/global/support/software-update/wp8-software-update/ the links on the site listed above show the status of the updates and where they are in the process.

So then why can't the carriers release the update for all the devices they work with at the same time?

That would be a question better answered by someone who wont be guessing. The page shows which devices that Microsoft has made it available for, the carrier would be the best bet to ask why they don't have simultaneous releases to all devices on their respective networks. The situation is more akin to android than iPhone. also below someone mentioned that the 625 is actually the newest device in that particular market. That would be a big factor in deciding which device to update first. The newest device which they are still shipping brand new from the manufacturer should have the newest firmware with the updates going to the other products later.

I'm in South Africa I own a Lumia 625 and the carrier is MTN..im also puzzled by this..the cyan update hit south Africa like 2 weeks ago and MTN never released the update and I decided to call MTN and they said they havent received the cyan update from NoKia...i called NOKiA and they said the update will be released this week bt I'm sure. Thts an empty promice

when i go to the link i listed it says its currently in under testing. Under testing = undergoing final testing with Microsoft, country or operator to achieve approval

Just be patient brother! We here in SA usually get these updates before even the USA. MTN has a good track record when it comes to updating their lumia devices as do Vodacom, I think because they dont even bother testing it as all 3 of our major carriers basically sell country variant models that are fully unlocked so as soon as Microsoft releases that sucker we should be getting the update.

Thanks those are relieving news I thought maybe its going to take for ever to release the update MTN is the best carrier for me..thank you

I'm in uk got an unlocked Lumia 625 had the update for weeks this model was the first to get cyan update

Yes its better if you have the unlocked model the software doesn't need carrier approval it just goes straight to ur phone and u can download it m thinking of getting an unlocked Lumia when I upgrade so I wont have whine about the update

Maybe they're manually load-balancing the distribution? Maybe the servers hosting the files cannot handle the load if all phones tried to update at once

I agree. The firmware should be no different. It just involves a small localisation of the OS, after all.

But those are carrier based. If you had the preview, in theory we all were supposed to have it by now, despite the carriers. The only reason we don't is because of stupid bit locker. I dunno why they had to pull the whole update. If a company is using bit locker, it's their problem, not mine as a consumer. Everything is based on policies. Let their ITs disable updates to the phone if they are using bit locker. Consumers don't use it and not all businesses will. So, the vast majority is being held back because the few may have an issue.

The servers may not be able to take it. Maybe borrow power from Azure?
Edited)
Plus the carriers have to approve... There must be a couple factors.

Carriers have to approve it. It's not Microsoft but the carriers. It's one of the reasons Dev Preview was created, to bypass sluggish carriers.

Because that might cause customers to feel satisfied with their carriers. Carriers want you to be dissatisfied, but stuck with them regardless.

If they could've they would

When is it coming to Telstra?! Arghh!!

God dammit, how long will it take for the 920 to see some love?

Impatiently waiting for my 920 update as well!...I FINALLY get the freakin FitBit app after waiting an entire year for it and guess what I have to do now.......continue to wait for an update just so the app isn't a useless waste of space on my phone....Seems like us power users are always waiting for something!...LOL...Next phone, next update, next BIG announcement...I guess that's what keeps us going though :-)

Was speaking to AT&T support today and he let slip the 920 should get Cyan/8.1 next month. So not that long.

They don't know what they're talking about.

Dying. I was hoping sooner.

If you have the DP then you are going to have to wait like the rest of us (at&t)

625 got the update in india as well at least 4-5 days back

+30 deg cel. I wish it was white today!!!

What about pfd? When they will start rolling out Cyan for pfd? Any news?

Waiting for 620 in India.. But need it with bit locker fixed.. ;)

You'll have to roll back to Windows Phone 8.0 anyways to update it to 8.1.

I thought koodo(a subsidiary of telus) got this weeks ago

When is cyan for the 920 coming to the UK ?

Hopefully this/next week. Could be an other extra week if 1020 gets the update first.

And also does any one know how to go back to windows phone 8 from the developer preview ?

i'd start with the Nokia software recovery tool.

Yes. The Nokia Software Recovery Tool. I just used it to go back to WP 8.0 from 8.1 DP, in anticipation of the Cyan update being close to release for my Lumia 620. Worked like a charm. No problems at all.

Much like those on AT&T, there are users on Rogers and TELUS wondering when their 1020 or 920 will be getting an update. I guess this is a start!

@ least they dont have to worry like ativ s(lte variant in Canada) users we could have the update sometime between October to December like gdr3

Not necessarily. There's no exact timeline for those Lumia devices, but I do agree about the ATIV S and HTC 8X/8S. Both companies have been quiet about these updates even though they were fairly quick with GDR2 and 3.

Yeah. When I had my 8x I was surprised how fast Verizon was on approving those.

They forgetting the older models, why start from the latest to the oldest. When 520 owns most of the market share of WP.

No they haven't. People wouldn't buy new phones if the old ones get the update first.

I hardly think a 920 or 1020 owner will be swayed by what's been released so far....

Because they can ship new batches of phones with the update preinstalled that arent eol

I need the update for my USA 925 now t mobile not later

Just started for "Lumia 1520" in Turkey. Till now, only Lumia 925 and Lumia 1520 got the update. Others are still waiting.

Man come'n .... Read the previous article here .. In the end there is a link to the guide to do that ..!!!

Updates should stop until the Preview for Developers problem gets fixed. Over one million downloads and frustated users.

Its actually a good thing means server wont be slowed by users

Guys I have a 820 , with DP 8.1 , when the cyan update is. Available for my phone , do I have to downgrade to get it ?

It's not available for Lumia 820 in many countries. The update for PD stopped by Microsoft/Nokia due to some issues. And there is no specific date when the update will be available for PD again:( [May be it'll be available with GD1 Preview again in mid-august] So, you have to downgrade your device when the update is available for Lumia 820. (unless Microsoft fixes the problem)

Thanks man ! , I'm good with Developer preview I'm not interested in cyan in won't give some great features it's just the framework and some minor fixes , I will wait until they give us. A solution !

I have Lumia 920 with DP. I prefer waiting, too. I don't want to turn my device back to WP8.0 for Lumia Cyan. I'm looking forward to updating to GDR1 Preview. Cyan's minor changes are not so necessarry for me :P May be Microsoft fixes the problem while we're waiting for GDR1. Or may be we get the Lumia Cyan with GDR1 Preview, who knows :)

Yeah , I'm. Gonna wait ;)

Thanks Robbers. I have a 520, 920, and 1020.

Wish Lumia Cyan would hurry up for the 520 on AT&T, I've been waiting since the update was released.

Now if they can fix the 8.1 dev preview, I would be so happy!!!

dears , i have 920 and i updated with DP8.1 , what i heared that we can not get cyan update until we do factory rest to the phone , is that true?? advice me pls

Noooo , the update. Isn't available to 920 yet , and since you have developer preview , the update was stopped by Microsoft to developers . Because of an issue , even if you do a hard reset that wont solve the problem , you have to wait until they find a solution , or when the updates comes to 920 you can downgrade. To WP 8.0 and then get the cyan ! I really don't recommend you downgrading , because the cyan won't bring great features it's just the framework and minor fixes , I recommend waiting , and ill Wait too !

Thank you yahia_malkawi for the information , i think i shouldn'h update by DP but i couldn't wait since Microsoft take long time to release any update so i was in hurry to use new features in this update , anyway no chance just wait :(

I'm looking for Rogers l920 update, anyways I have to downgrade which I can't do since laptop is messed up. So yeah

Yet another phone is updated before tmobile updates even one goddamn phone themselves. Wow.

I lived in India and I haven't received cyan yet..courtesy ny dev preview version and Microsoft's greatness in taking so much extra time in solving a problem..
Really shameful for Microsoft to compel the users to downgrade when it first made them a part for their testing purpose..:-\

Well no... the user (ie you) made the conscious decision to install the Preview app, enroll and update your phone. You made the choice, therefore you have to deal with the consequences.

And you agree to be part in that testing purpose... i choose to wait because i know all the fuss with incomplete updates.

It also means you waive the right to whinge, moan and complain if it goes wrong.

Okay..i would wait..i don't want to downgrade to 8.0..leaving Cortana and swipe and action center..
wp8 had hubs..the best and most distinctive feature for a smartphones..
Wish wp9 could integrate hubs with the features of 8.1..**dreams**

The Nokia support page states that the German country version of the 625 is also available

When will cyan be available for my 3210? I've been waiting for the best part of 15 years!!

S-L-O-W as hell! Country variants doesn't need to wait that long for a simple update. I'm on a 720 CV and probably won't receive Cyan before the end of august, just because Nokia/Microsoft doesn't want me to have this update.

Does it have Cortana and if so how well does it work?

Canada's getting it and I STILL don't have it on my flagship Icon, from "the world's largest cellular network"?

I'm Using Nokia Lumia 1520.1 - I Live in Jakarta, Indonesia. And i think i'm now upgrading my phone to Windows Phone 8.1 As i'm writting, my phone is upgrading the OS to Windows Phone 8.1. Before that, i have to do some little update first, and then the Windows Phone 8.1 Update is ready to be installed. I will inform you guys if this is just a Lumia Black update or Lumia Cyan update.

And, it's TRUEEEEEEEE.... my Lumia 1520, is now LUMIA CYAN.

Still waiting for cyan for my Lumia 920 in the UK. Does this worth to upgrade my Lumia 920 to Lumia 1020 (sim free Lumia 1020 is only £279.99 from expansys and I like photography)? And if I buy the phone from Expansys, is the phone CV GB version?

Wait for other devices that are coming soon ;)

Cortana and Swipe are the big winners for me. Rearranged the tiles so that I only have clear ones in view without scrolling. The background pic is a nice personalization.

I get 625 update in India last month

When kings game is come to India in windows phone

So they forgot about 720? :\

when will be available with 920 :(

By the way, the Rogers/Fido variation of the 625 got 8.1 this past weekend.

So does Canada now have Cortana?

I don't think so unfortunately... But will be happy if someone proves me wrong

And Sweden got LumiaCyan for Lumia 1520

Does this include localized Cortana support?

Unfortunately, I doubt so

I must be in the minority but I have a 1020 on AT&T and I'm not in any particular hurry for the update. I know the updates are rolling out on all phones and carriers soon. Don't get me wrong, I'm really looking forward to it but I have patience when it comes to this. Honestly, only iOS enjoys device wide OTAs and then then have the invariable x.x.1 patch days later. Android is so darn fragmented on updates it's nuts.

Maybe one day they roll out the updates to all windows phone at the same time

Lol still waiting for my 520 cyan update patiently

Must be nice. Verizon is keeping its customers in the dark about everything. Nothing new there.

Don't see why the updates are rolling out so slowly....we should be seeing Cyan releasing for atleast 3 models per week (country variants).

Just installed it. Had to downgrade back to 8.0 but the update was there and it worked! My 625 is now happy with Cyan. I just hope Cyan can help my 1020. It's dog slow with 8.1 with the nokia camera.

Do u downgrade your mobile to 8.0

Yes, just like I said I did! ;)

When will be the philippines have the update of lumia cyan?

They should make promise to release update on October and release it before September. People will praise MS good job! And no more people whining where is my update in every thread.

Damn! The wait is now irritating. When will my 720 get an update?

Does Cyan bring any improvements to the 1020? Looks like all the new feutures are made for the ones with the new snapdragon soc. Which is a real dissapointment being that the 1020 is the best camera on the market but won't get any love with this cyan update

I'm really anticipating the cyan update for the 521 in the US. *sigh* hopefully within the next two weeks?

In the next two weeks the GDR 1 will be released , I hope in the coming days !

Singapore received cyan update.
It comes as package with cyan and 8.1. I downgraded my preview and immediately received the update. Cheers

Microsoft and its idiotic mind. Why everyone don't access the update?

I have been waiting for cyan here in east Africa but still nothing. Hoping soon it will be released. I'm on dev preview with all updates but no cyan yet Denim is on its way. This is pissing me off
Windows Central Newsletter
Get the best of Windows Central in in your inbox, every day!
Thank you for signing up to Windows Central. You will receive a verification email shortly.
There was a problem. Please refresh the page and try again.