Lumia Cyan with Windows Phone 8.1 roll-out starts today!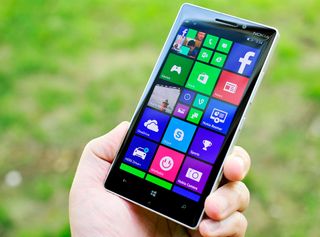 Microsoft has started rolling out Lumia Cyan with Windows Phone 8.1 to Lumia devices. With Windows Phone 8.1, Lumia Cyan owners will get several new features, including a third column in the launcher, Wi-Fi Sense, the new Notification and Action center, and — perhaps most importantly — Cortana.
On the Lumia-specific front, Lumia Cyan brings an updated camera experience with a newly simplified Nokia Camera interface "with one-tap access to edit and share" your photos. Creative Studio 6 is bringing new filters and image enhancement tools, but it's yet available from the Windows Phone Store.
The new Device Hub in Cyan makes it easier to track your connected accessories. By combining awareness of which devices are connected, when they're connected, and where they're connected (and when and where they loose that connection), Device Hub can tell you exactly where you last left that gadget. It will also offer app recommendations for use with said accessories.
Owners of the Nokia Lumia Icon and Nokia Lumia 1520 will see additional enhancements from Lumia Cyan. Already powerhouses when it comes to camera recording, the two phones are also getting enhanced audio recording with Nokia Rich Recording and Dolby Digital Plus 5.1 sound. Screen Share will be integrated with the two smartphones, so you can, well, share your screen. And the SensorCore SDK Beta will also be integrated, bringing additional motion and location data to apps and accessories.
Lumia Cyan is rolling out starting today around the world, though it may not be immediately available for your device. Microsoft states that it will be "available for all Windows Phone 8 Lumia devices in the coming weeks."
So check it out, give it a download, and let us know what you think of Lumia Cyan!
More Tools
We'll be updating our Windows Phone 8.1 and Lumia Cyan tracker throughout the next few weeks as we have confirmation of active updates. You can also use the Lumia update page to see the current status (opens in new tab) e.g. AT&T is listed as "in testing".
To learn more about what you can do in Windows Phone 8.1, check out our tips and tricks topic page!
Source: Microsoft
Windows Central Newsletter
Get the best of Windows Central in your inbox, every day!
Derek Kessler is Special Projects Manager for Mobile Nations. He's been writing about tech since 2009, has far more phones than is considered humane, still carries a torch for Palm, and got a Tesla because it was the biggest gadget he could find. You can follow him on Twitter at @derekakessler.
at last! the daily "check for updates" will stop..

No. I think it just began.

I did it twice in less then a minute!

Help us all! The suffering is worse than hell itself!

Finally after a long wait the roll out is going to begin. Yay!!
Release the update for India at least as there are no carriers here. Why is it in testing status I have no damn clue !

After the long wait, the long wait can begin.

Yeah, so do I... Especially as UK is right at the bottom of the Nokia Cyan update page...

Been tapping check for updates for what seems to be months now, but actually the UK is simply a "End" key press away from the top, alot better than any other country! yay for alphabetisation :D

Thank you, shit I never knew that, or I can use 'search for' on my IE11 on my WP... That works too, but I would've looked at that if it hadn't been for your reply. Thanks mate

Not for me. An update just popped up on my Indian Lumia 925 running latest version of dev preview. :)

http://www.nokia.com/global/support/software-update/wp8-software-update/

Shortest. Article. Ever. :P

under testing cyan update!!!! http://www.nokia.com/global/support/software-update/wp8-software-update/...

Thanks for the link. It's rollout to carries, not to dev preview. Dammit! Be at least 1 to 2 weeks yet! ATT Lumia 1520.

Imagine the wait for older devices, like the 920. That's what I'm going through.

I'm up for a new phone to replace my 920 in November. I bet the ATT 920 still won't be updated by then. Hope I'm wrong though...

I think we will get it September, October latest. But didn't people who bought a phone on AT&T before 2014 were eligible for upgrading 18 months after buying that phone? I think we are available to upgrade. I have two upgrades, so I'll probably get an Android device as well.

Yea ATT needs to "rigorously" test it to make sure it doesn't bring down their network!

Thx for the link yay Lumia icon is in testing for Verizon!!!!!! Woot! Can't wait! -currently running wp8.1 dev

Any idea how long "testing" takes?

Is there a same page for other regions, like North America?

http://www.nokia.com/global/support/software-update/wp8-software-update/ It lists all the regions, choose yours.

Yeah, but its for regular people, special ones that with AT&t have to wait till Christmas :(

check this out !!! http://www.nokia.com/global/support/software-update/wp8-software-update/...

funny thing is Mexico is part of North America AND Latin America, should be North/South America OR Anglo/Latin America.

Normally, id agree, but AT&T were the first to release Black on the 1020.

All I want to know is, will the AT&T approved 8.1 update remove DataSense. I love having it and will riot if they do.

You install it first and let me know! I love data sense-would be pretty stupid of them to disable it. Being that it is a separate app how can they disable it?

yeah...still waiting for the update to popup..

And a bonus for you folks with a Lumia 520, Lumia 525, Lumia 620 or Lumia 720: If you currently run local HERE Drive, you'll get a free upgrade to global HERE Drive+.

I've L720 and I paid for Here Drive+ when I was abroad. After two months there comes the free upgrade. I guess L620 was preinstalled with Here Drive+

You should download first the country where you are planning to go to. But what I know, here drive is free.

So microsoft are naming their updates by color names and that too in alphabetical order, Amber, Black, Cyan, so I guess next will be Denim or deep something.

And the heavens parted and the hosts of angels began to sing.

Waiting like an idiot. Sleepless nights

What does this for us A) on the Dev Preview and B) who are ATT customers... Anything?

It will give you Cyan if you have a Lumia phone that doesn't already have it.

No - I mean is this pushed out through the Dev Preview or independent of it. Will those on ATT and the Dev Preview receive this update before 'vanilla' ATT users or will we be stuck in ATT limbo...

Cyan is not part of the Dev Preview. You'll be treated the same as a non-DP user, I'd assume.

Immaterial. Everyone gets 8.1, which we already have, and everyone gets Cyan, which we don't yet have. So when ATT approves the rollout we get Cyan.

So Cyan is firmware & WP8.1 is OS?

Its like a box of breakfast cereal (8.1). with a toy in it (cyan). You have a box of cereal with no toy (8.1 dev). In order to get the toy (cyan) you have to open another special box of cereal. You dont just get the toy on its own. You just have to wait for the Supermarket (phone carriers) to tamper with it and then stock it. lol

Haha! The best explanation.

They also updated software rollout page http://www.nokia.com/global/support/software-update/wp8-software-update

That means the availability????

Each and every country other than Finland in the Europe says "Cyan under testing" - What did they do all these days and weeks and months BEFORE "rolling out"?

I guess we continue to play the waiting game... All I know is that Cyan wasn't even mentioned on that page this morning (Danish time)

The mobile version still just shows Windows Phone 8 as far as I can see from that link. :/

Click on your region. For example Europe http://www.nokia.com/global/support/software-update/wp8-software-update/... It shows whether or not a specific phone in a specific country gets Amber, Black and/or Cyan.

All wp will receive the 8.1 update. Ups, except the tmo Lumia 810.

Not yet available! Lumia 925 India

I wonder when it will arrive to Mexico... I'm stuck in Amber.

Sounds like a personal problem

LOL. Hope he can be cloned by scientists millions of years from now.

Ha! Fringe reference! Thanks, I needed that today

Milkshakes would be a daily affair if I had a lab assistant like Astrid.

Question. If I carrier-unlock my phone, will Cyan arrive earlier?

Can't wait for the T-Mobile update for the 925!

Sorry to say bt u wil have to wait a little longer as u know they wil test alot bt patience is must :)

Will Cyan be available independently of carrier for people on 8.1 Developer preview? In other words, as soon as it hits download servers?

Always hits the carrier first for testing. Then goes to users. Except in some regions where that tie is nonexistent.

Usually you can flash the firmware on, but that generally requires a hard reset of your device. Afaik there's no way to get it OTA without the carriers.

Hot buttered lug nuts! Yes!!!! Finally!!!!

I guess I might have to hit a free WiFi if the file size is too large for cellular download

Hehe yeahhh me too..... trying to Hack my Neighbours Wifi :P :D

Finally! Time to check my updates

And I wonder how this is going to go since I left ATT on Friday for StraightTalk.

You will get it the same time as if you were still with AT&T

Which means most of us will get I in a few months :P

Great news. Thanks Derek. Hopefully I'll get it here in Morocco today before USA, hehe

I'm surprised there's a Moroccan in here , thought I was the only one :D

Salam my brother ;) WPCentral has people from all around the world

The USA is in North America, south of Canada and North of Mexico. Finland is in Northern Europe and shares a border with Russia to the East, Sweden to the West and Norway to the North. Does that help?

Lol..!! Do you carry an Atlas??

No, I just checked Here Maps on my Surface. I was surprised about the fact that Finland bordered Sweden and Norway as I didn't recall that.

Yeah. I can see Russia from my kitchen window!

Richard Durisin for US Vice President! He has all the credentials!

Actually that would be Richard for Tina Fey's spot on SNL, as Sarah P never said that. But I digress.....

And for HTC users... *crickets*

SRSLY... This is the longest wait ever. My 8X will probably be 3 years old by the time they update it. Sigh. Posted via the WPC App for Android!

Yay now another 3 month wait

Backing up data in progress

Good news for lumia lovers!

Is released in India ????

Everyone happy but no one see update.

Darn I checked for updates and it 2 minutes longer than normal.. then came "phone is up to date".. got my hopes up for nothing lol. Will check again in a few hours :P.

And they will say we rolled out it in mars ... And it will roll out in earth by this summer ...

In India too?? Will just check

Grumpy cat is not impressed

And so starts the wearing out of the phone update button!

They all still under testing.. Means not ready yet :(

This is the shortest news ever released in WPC that I can remember since the release of Instagram app. HAHAHA
Any news for Indonesian user?

"and will be available for all Windows Phone 8 Lumia devices in the coming weeks." Like Joes "UK > Cortana > Soon" statement?

Just checked but it says my phone is up to date :/ guess it depends on your carrier

http://www.nokia.com/global/support/software-update/wp8-software-update/ Looks like everything is in testing for NA still except the 810 of course. Looks like the 620 on AIO might be getting it to. Shame for the 810.

Yeah, so sad. I love the developer preview.

And hey, it's the second week of July too. :D

It is already the third week.

Hell of a story that you have here, Derek.

Just checked and no update yet...

And the counting begins for how long AT&T customers will see this "Lumia Cyan Under testing"

I don't see Canada on that list m :|

I do, on the North America list. I saw models from Rogers listed.

It's there. Under north America you will see it mixed in with the American carriers

Glad I only have an ativ s & an icon. With the ativ s chances are it will be updated before any Canadian variant of nokia device(I'd give them till about dec.) but not without 3 months of testing I give maybe oct. Nov.

Lol Lumia 810 on TMobile still shows not available. I have a friend waiting on that.

Nokia page says 3056.40000.1349.2005 is available for my device on my carrier, but I have 3056.40000.1349.2001 Running 8.1 Dev Preview up to date as it will let me

Till autumn 2016 we will all receive this update .


What does under testing means ? Is it worse than 'coming soon' & 'waiting for approval' ?

Under testing on AT&T means that we will receive it on JANUARY 2015.

Ya. They'll wait until after the next round of WP devices are sold for a few months with 8.1 and cyan out of the box.

They take forever to update those stats too. Lol

Under testing is the worst. but eventhough it's great in some ways for that ensures quality.

Windows phone has always on slowly movement... Need an extra patience.

Still,it is better than Android, update wise. Most Android phones never get the latest updates. :P

Exactly most of android phone sticks to the stock Roms only :P :D

Aahhhhhh aaghhhhggg! Aaahhhhhhhhhhhh updating ahhhhhhhhh! Thank gawddddd u existttttt

L925 US... Can't be too far off *fingers crossed*.

Some time in the next 3 months I suppose? Why can't they just push it out to developer preview phones straight away

Not sure that this is news at all really... We've known about the rollout for some time now

Unless you live in the future we still didn't know when it was going to happen.

We still don't really. All we still know is that it will be *soon*

Huh another two or three weeks

Desperately mashing the update button....

Does anyone know something in relation with the Ativ S update?

Lumia cyan. No Ativ S cyan.

Depends on which one theres several variations sgh-t899m(LTE aws)/GT-I8750(hspa) ativ odyssey ativ s neo ativ se

sadly, it's still under testing in my country :(

Just push it MS straight away... Why dont you understand it

- Support for Windows Phone Cyan.
- Customer receipt printing after SW Update.
- Installer checkbox for "Change user name?" to prevent changing the retailer name accidentally.
- Few bug fixes since 4.1.0.

The development team Nokia Software updater has been updated

Yes..Finally cyan update begins

I have the dev preview... Should i be excited too??

Yes, you'll get the Cyan firmware.

The only reason for not getting excitted is that you don't own a lumia...

Yes, because you will finally have optimized firmware for 8.1 that will make your phone run more efficiently and smoothly instead of just the naked 8.1 OS.

Factory unlocked phones????

It'll depend on the region I guess. From my expirence with Amber and Black it'll take just as long as a carrier version of the same phone. At least that's the way it worked with my 520.

And they said "It will be available in coming weeks" ruined all the happiness.. :( just like they said "It would be available in 1st two weeks"

THERE IT IS!! THERE IT IS!! THERE IT IS!!

Waiting on my At&t 1520. Already got DP.

I wonder how this will work for 1520.3 users. Technically my phone is only attached to AT&T because of the SIM card in it. I wonder what my options are for upgrading it to CYAN.

If its completely unbranded, it should come right from Nokia. If that's the case, your probably in better luck than most AT&T users. I'd be mashing that update button if I were unbranded. Haha

Fantastic news and not a moment too soon. Looking forward to seeing how the updates work on the 1020, especially Cortana

Nokia software recovery tool has a update hmm I wonder

Not yet available for my 720 indian. :-(

Did you hear any news about Samsung firmware?

Waiting for official 8.1 on my Ativ S. I hope we get it

Waiting here with WiFi connection...

New Creative Studio looks really cool!

Got it already in Finland ^_^

Is there a shortcut to forcing the device to update like before?

Hahaha its quite funny but now every hour I am checking"phone update"

Any words on the Samsung firmware update?

Just checked, still no update for my Lumia 1520

This basically translates to "WP8.1 and Cyan will be on each and every* WP8 device by 31st Oct 2014." *AT&T? Haha.

With the WP Cyan released, we don't have anything interesting to wait for!!

8.1 Update 1 is still coming.

still not available here philippines

ou nga... cyan nalang, wala na cgurong pagbabago if ever ma.update... kunti lang cguro if meron..

Nokia truly makes their customer a first-class citizen. Look at that status page, so detailed. I can only envy.

"third column in the launcher" - Launcher? "but it's yet available from the Windows Phone Store" - "Not yet"

Dude, he mean that the lumias like 520,525,620,625,720,820,920,925,928,1020 except 630,930,1320,1520 have 2 column in the start screen(launcher) u can u 3 column now after the Cyan Update.

I very well know that, thank you. I was commenting on the use of the word "Launcher" as it is predominantly an Android term. We prefer "Start Screen"

In Thailand - under testing http://www.nokia.com/global/support/software-update/wp8-software-update/...

I've already got 8.1, so I'm just assuming I'll only get Cyan with this update. Any new features planned for the Lumia 520 with Cyan?

Fake news. Its still under testing for indians.

Not fake news. Nokia/Microsoft has released the update to carriers just as it says. Any delays in availability are now on the carriers, not Microsoft.

There are no AT&T / T-mobile type carriers in India that test the update before Its publically available.. The Updates in India are Independent Of carriers :) he is true still not available to Update on my L 1320 :( bt this is not the fake news it mean Microsoft/Nokia is Ready to make the Servers Publically available :(

Still no update for Lumia 920 AT&T in US

Knowing AT&T there won't be an update for any of their devices for the next few months.

Looks like a delayed post from Nokia. If you look at their tracker page here, the only countries/phones that show up as Available are the ones WPCentral already knows about from the last few days (625 in Thailand, 925 in Finland etc.). http://www.nokia.com/global/support/software-update/wp8-software-update/ Everything else is "Under testing". No use checking for updates so soon.

Can anyone tell me dose the update proceed if screen is locked??

Why Microsoft won't release the update's directly a la Apple? Why the hell we have to wait for every stupid carrier to decide when to do it? This is so retarded

Because Microsoft doesn't have the same market position and bargaining power to influence the carriers like Apple did/does. One of the smartest moves Jobs ever made was to force AT&T to let Apple control the updates in exchange for exclusivity. It pretty much guaranteed that the other carriers would knuckle under too.

Well they do if the device is unlocked and not carrier dependant.

The title of this article is somewhat misleading..

As it says that it is rolling out today but may take time to reach different devices and regions in weeks. As i checked out in ph. update, it says that phone is upto date. So as per few links provided by some users above, it show & maybe in testing. Hope it get started soon. Fingers crossed. ✌

Still under testing in India.

And everyone starts checking 'Phone Update' in their devices... And the barrage of THE SAME QUESTION starts: "How come I don't have the update in my phone yet?" Keep Calm And Be Fcking Patient!!!

Ha ha ha... You tell 'em, mate. And of course after everyone has the Cyan/8.1 Update, there will be the usual barrage of "it's s**t, my phone has less battery life" etc, etc... And on and on.... As if the 'official' 8.1 will be any different to the DP or the Cyan update is the magic cure-all everyone is anticipating. Same rules apply: update, hard reset etc......

No update yet on my unbranded Lumia 1520.... -_-

Finally, now I can see my 1520 look even more awesome...they need to hurry up and reach Trinidad

Did u get theupdate on ur 1520..?

Not yet, am anxious though...do u have a 1520 too?

Under testing. Will probably arrive in a month or so if the stars are aligned properly. :(

I hope I don't have to wait as long as I did for the Black Update, almost 2 months. Lumia 521 on Metro PCS.

Wow :D And a bonus for you folks with a Lumia 520, Lumia 525, Lumia 620 or Lumia 720: If you currently run local HERE Drive, you'll get a free upgrade to global HERE Drive+.

Nothing from Colombia Lumia 520

Microsoft making me helpless.

We'll get to see all the why no love for (insert Lumia device here) for the next coming months now!

What a fake ! Cyan update is not even available for the 1520 and has been like this for three fuk*** months ! And how the hell is this rolling out first to carrier devices than to unlocked models ? Well done shitofsoft! If God has mercy of us we will get the update before christmass in Latin América.

Not yet available.. L520 India :(

My 930 is waiting as well ! :)

Good, WP8 devices without Nokia bonuses gets as first, but now Nokias gets WP 8.1 even with bonus as first and others must wait even longer. Superior support!

Where is the update ?
It seems its all on paper and will remain there !

Under testing... Black lasted 4 months since it started "rolling out" worldwide to come to Colombia so I better don't hurry... Yet I almost burn the Check For Updates button haha

Where is our Developer Preview of Cyan?

Nice, now that it's official lets wait patiently :)

Waiting for it desperately...... :(

This is a poorly written article and misleading title. I'm assuming the article is about WP8.1 update rolling out to non-dev preview devices. Cyan still seems like a long shot. That's why nobody out here has gotten and update.

I Hate hate hate.....and I would even venture to say it a fourth time, (but the effect wouldn't have the same impact) that the 810 got shafted on the Black update, and now the Cyan update. It kills me. I got the 810, and its a great phone, and maybe 2 months after I got it, Tmobile stopped offering it, and now they won't even update it. Its like the red-headed step child. And yes, I already have the developer preview running, but still, its not the same, and I still feel shafted.

Is there going to be anything different from the dev preview? or is it just going to be bug fixes?

Soooo I'm assuming that if you don't have a Lumia device you will be getting 8.1 last? Awesome

Did Nokia start another round of promises?

I feel bad for 810 users of T-mobile never going to be available. I almost got that phone a while back. I decided to get the 8x which I was happy with, until it was stolen and at that point I got a 925 which I still have and love

Yyyaaayyy ... That should finally put an end to "When will my Lumia < insert number> get Cyan?"

With Windows Phone 8.1, Lumia Cyan owners will get several new features, including a third column in the launcher, Wi-Fi Sense, the new Notification and Action center, and — perhaps most importantly — Cortana.

Not wanting to flog a dead horse, but should that not read "perhaps most importantly - Cortana, if you live in the US". Or am I going to get a pleasant surprise when my phone updates?

I use dev preview n I m from India . I use Cortana by changing country n trust me buddy it works so correct n It shows everthn perfect .

Under testing for America http://www.nokia.com/global/support/software-update/wp8-software-update/...

Now we wait,a bit longer :P

Will the update roll out for WP8.1 Dev Preview users?

Yes users with preview will also get it as soon as the carries release it, no need to worry :)

I'm still waiting for the news from Microsoft that suppose to shock the world

Seems as thought the update is still under testing so i can't see anyone getting it anytime soon, unless you have the Lumia 925 and live in Finland.

The 8.1 update tracker page isn't working in the WPCentral app.

I can watch this video forever. Adam is so beautiful.

This is always a tease. My phone will stay "under testing" for the next few months and by the time it finally gets released, the hype is over and two new phones have come out

I'm looking forward to this update very much but what I'm looking forward to even more is when apps are updated with the 8.1 features..........

T mobile.... Come on down... Lol

"In the coming weeks" more like in the coming decades...

Quick question, what about non-lumia device?

"During the summer" I guess.

8.1 is only to Lumia only I think...

The leaked Benelux schedule turned out to be accurate.

MMM I have serious doubts about how this works. I have my phone in Costa Rica, I bought it in amazon and it is from Hong Kong (RM-937_apac_hong_kong_222). Currently the about info in settings says I have firmware revision number: 1028.3562.1402.0003, the page in nokia says that the Costa Rica 1520 is testing the version 1028.3562.1402.0001, and the version 1028.3562.1402.0003 is being tested in Hong Kong. But I already have that version number, and I don't have Cyan, in the extras+info says I'm on Lumia Black. What I need to wait (using those version numbers) is the Hong Kong release and not Costa Rica, but I'm a little bit (or big time) confused.

Note to 'Carriers', "millions have already downloaded & are using the preview WP8.1 and it works fine on your networks..release the darn thing!

Cyan! Yaaay!
How can I check update for middle east region?

Wish Samsung can roll out such list for their WP8 Devices :)

Wait wait wait wait... How about HTC 8s???

It's considered the same as Lumia devices ;)

oh. hope it is worth of waiting :)

Did anyone got it in USA untill now?

THE ARTICLE I WAS AND MY FELLOW INDIAN BROTHERS WERE DYING TO SEE FOR.....!!!!!!

Is it available in india ?

Yeah for Lumia 925 & 625 right now

And so, the update will arrive to my country by December

Do like they did with W8.Push the updates thru the store and bypass the carrier bullshit.

It's called the Start (screen), not the launcher.

Do I need to revert back to install Cyan on my L1020? I am presently using Windows 8.1 dev preview.

Icon 8.1 developers south Carolina..... Not here yet

Side show, no updates yet. Waiting for BBM too. The waiting game on Broadway, brought by Microsoft directed by....!

Downloading later when I get home...yepey.:D

Just downloaded an update on my Lumia 625 in The Netherlands. No idea what it is yet, but I had dev preview 8.1 on my phone already and been checking for updates frequently for the past month, so it isn't an old one that I missed earlier or something like that. Preparing for install now. Update: after downloading and preparing for install it says it's an Nokia update for Windows Phone. That's all the information it gives.

Not getting update in India till now. :(

I just got my update for 625 and its currently getting downloaded... I am happyyyyy..
Lumia 625 India, will reply back with updates once this is complete

Really??? You are kidding, ain't you?

No he is right
Lumia 925 & 625 getting update right now for India

Tomorrow am taking cortana out for lunch my phone just got the update

Getting an update on Nokia 925 now in India, will update once I know what type of update it is. I guess the wait is finally over.

Hungary, unlocked 925 available.

Receiving the update in INDIA!!

I asked Cortana when cyan update is coming..... She replied: "Here is the forecast for today" hmm, interesting

India .. Got the update .. Yes!!! Lumia 625

Tell us experience bro.... Can't wait anymore with my L520

925 factory unlocked just updated to Cyan here in Italy

Don't mean to brag but I now have cyan update in uk on l625 unlocked region usa and running dev preview check my last couple of tweets @stokes1510 on twitter at last the long long wait is over...well for me anyways

what I don't get is -- aren't all of these features already in 8.1?

I got the update yahooo....india L925

Downloading.... Lumia 925 Unlocked Portugal

Correction! Device Hub is NOT part of cyan. It's an update to system apps available to any [Nokia] 8.1 user, cyan or not. And I know this because I'm running 8.1 (release version via the preview) on my Lumia 810 with Amber and it has it.

Fellas from India, please tell us your experience with the new update... How cool is that???

I'm not even that much excited. Cos over here in Nigeria (where carrier does not even exist) we are to expect it soonest three months from now if not by December. SMH

625 and 925 update is everywhere, except for US...(sigh) CAN WE DO ANYTHING FAST ENOUGH?

I thought that too. Though I'm just happy WP8.1 is now out in the publics' hands somewhere, I think it's weird an American company doesn't roll out a major update in its home country first, or at least as one of the first places. I'll keep an eye out and keep refreshing Nokia's availability page with crossed fingers.
My Indian brothers, tell us of the wonders of WP8.1!

Updated my Lumia 925 to Cyan in United Arab Emirates..!!

Well I'm on Lumia 625 just done update 8.1 cyan EE UK

Internal info from local Nokia staff, for Indonesian market, today's roll-outs is only for 925 & 625. Other models will starts next phase of roll-outs by end of July to 1st week of August this year. And the good news is that most probably BBM for WP to accompany next roll-out for Lumia Cyan. Let's just wait patiently...

There is only one thing I will praise that fruit based conglomerate for above windows phone and it is the availability of their updates. All done in one go, as soon as it is announced. None of this making people wait for their device, or even for the roll out to start on any device. They should just announce it and say 'oh btw you can get it now'. Maybe a little simplistic but that is the only fault I can find. Which I guess is a testament to Microsoft and Windows Phone.

Why do I keep checking the update?

Cortana outside U.S. when?

Not finding update for my Lumia 625 India

Derek
It's NOT Launcher!!!
It's Start Screen bro

Cyan update for Nokia Lumia 1520 (Singapore, country variant) just coming out today. Equalizer and doulby can be setting without plugging headphone anymore. :)